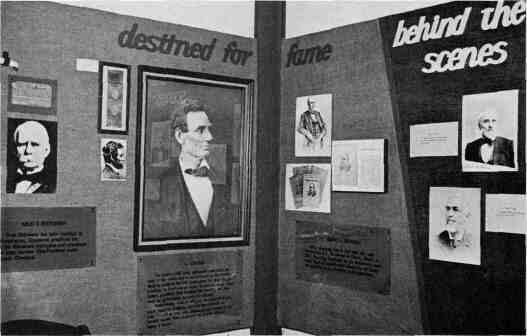 Large display at Metamora Courthouse features portraits and biographical sketches of Adlai E. Stevenson I, Vice President under Grover Cleveland: Lincoln; Robert G. Ingersoll, renowned public speaker and social reformer, and David Davis (not shown in this display), all of whom frequented the Metamora Courthouse, the latter as a judge, and the other three as attorneys.
IPR SPOTLIGHT
Metamora Courthouse
— New Exhibits Highlight Lincoln's Role As Circuit Lawyer
By Jeanette Smith
A visit to Metamora Courthouse northeast of Peoria is like a step back in time to the era of Abraham Lincoln, circuit lawyer. Built in 1844, it served as the county seat of Woodford County until 1894.
The first circuit court in Woodford County attended by Lincoln was not at Metamora, but at Versailles. In 1843 the county seat was moved to Hanover, now Metamora, and the courthouse was built. David Irving, a local contractor, constructed the Greek-Revival building from bricks he baked in a kiln west of the village. He felled timber from nearby forests for the lumber used in the courthouse. The total cost of the 40 x 50 foot, two story building was $4,400.00.
As a part of the old Eighth Judicial Circuit, the halls echoed the voices of Lincoln, Adlai E. Stevenson I, Robert G. Ingersoll, Judge David Davis. and many other distinguished lawyers. The circuit was very large at one time, encompassing 11,000 square miles. Lincoln traveled this circuit full time for 12 years. His famous story telling at the Metamora House, the boarding house in which the circuit riders stayed, made the weary hours of travel by horse and buggy or horseback more tolerable. His appearance in court brought large crowds into town, and a picnic in the park across from the courthouse was a part of the day's activities. The horseshoe playing area was put to use and visiting with neighbors they seldom saw made it a holiday for all.
Political campaigns have been a vigorous part of American tradition. In 1858 Abraham Lincoln and Stephen Douglas both made speeches in Metamora during the famous 1858 Senatorial campaign; Douglas on September 30th and Lincoln on October 2nd.
When the county seat was moved to Eureka, Illinois in 1894, the courthouse became an opera house used by the townspeople for dinners, plays, dances, and many other social events. Ex-Governor Joseph W. Fifer, in an address at the 1920 Old Settlers Days celebration, suggested that the state take over the court-
Illinois Parks and Recreation 30 January/February 1983
---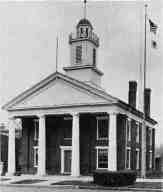 Metamora Courthouse served as Woodford County Courthouse for 50 years — from the time it was constructed in 1844 to 1894 when the county seat was moved to Eureka.
A valuable adjunct to the state parks and memorials, Metamora courthouse is one of only two original courthouses still standing in which Lincoln practiced law.
house to preserve it for future generations. A bill was introduced in the legislature, was passed, and in 1921 Metamora Courthouse became a State Historic Site. Today it is on the State and National Register of Historic Sites.
One of the two remaining original courthouses still standing in which Abraham Lincoln practiced law, (the other one is at Mount Pulaski, Illinois), the building is structurally the same today as it was then. A few years ago we discovered that the original flooring had been left on the second floor. We began our renovation work by uncovering the random width, rough hewn oak flooring. The lawyer and spectators' platforms and the Judge's bench have been rebuilt. The stairway was restored to its original line and a door bricked in many years ago re-opened. The walls of the courtroom were taken down to the original plaster and the woodwork stripped. The local Womens and Junior Womens Clubs, as our first volunteer groups, took on the job of stripping all the woodwork, and we owe them a great deal for a job well done. The ceiling and walls of the courtroom have been painted, and the primer coat has been put on the woodwork. The original floor revealed where the original railing had been and a reproduction of it will be put in. The judges and lawyers chambers and the jury room will be furnished as they would have been. All the furnishings in the courtroom are original except the judge's chair and the jury chairs.
Nowhere in the state historical site system was there an exhibit that explained the old Eighth Circuit per se. It was decided there was a need for such an exhibit and recently a new Eighth Judicial Circuit Exhibit was completed at Metamora Courthouse. Designed by James Alien — Chief of Interpretations and Collections. Division of Land and Historic Sites, Department of Conservation — it was the first exhibit built completely on site and by department and site staff.
It cost approximately $2,000.00. Using modern media, the exhibit describes the nature and importance of
LINCOLN ANECDOTE
In one of his appearances at the Metamora Courthouse, Lincoln defended a woman. Melissa Goings, on a charge of murdering her husband. Sensing that the woman's trial was not going very well, he called for a recess and led his client outside to talk to her. When the court reconvened and Mrs. Goings could not be found, Lincoin was accused of advising her to flee, a charge he vehemently denied. He explained, however, that the defendant had asked him where she could get a drink of water, and he pointed out that Tennessee had darn good water! She was never again seen in Illinois.
HISTORIC COINCIDENCE
A new twist was added to Woodford County's renown as a historic place in 1980 when Ronald Reagan was elected President. Both Lincoln, the circuit lawyer, and Reagan, graduate of Eureka College, went on to become Presidents of the United States. No other county in Illinois can claim the distinction of having been the spawning grounds of two Presidents.
Illinois Parks and Recreation 31 January/February 1983
---
METAMORA (cont. from p. 31)
the circuit in the development of the American judicial system.
We have quite a number of original desks and tables and a museum of pioneer articles.
A trip to Metamora Courthouse is both enjoyable and educational. It was here, in this small building in this small town, that three men destined to become national leaders, one as a President, one as a U.S. Supreme Court Justice, and another as a Vice President, earned a livelihood as (Continued on p. 34)
Illinois Parks and Recreation 32 January/February 1983
---
METAMORA
(cont. from p. 32)
practicing lawyers on the Old Eighth Judicial Circuit. It is a fascinating coincidence in Illinois and American history.
ABOUT THE AUTHOR: Jeanette Smith, born and reared in Metamora, is site superintendent of the Metamora Courthouse, She has been an employee of the Division of Land and Historic Sites, Illinois Department of Conservation. for 19 years. A graduate of Metamora High School, she and her husband are parents of three daughters and grandparents of four children.
Illinois Parks and Recreation 34 January/February 1983
---