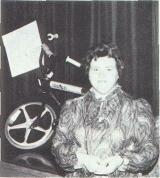 Author Jo Anne Dunkovich operates a booth to raffle off a bicycle at a Summit Park District carnival.
Checklist For A Successful Carnival
Planning Ahead Is The Key
By Jo Anne Dunkovich
One of the nice things about a carnival is that it will practically run itself if it is well planned. And to plan it adequately, such matters as a time and place and extensiveness of the carnival should be thought out and arranged several months in advance. Other details can be worked out later — but don't wait too long. Panic can ensue if you wait until the last minute!
Here is a brief checklist that we have followed in planning carnivals for the Summit Park District, which you may be able to adapt for your purposes in planning a similar activity:
1. Soon after your Board approves the carnival, start organizing committees to handle each operation of the event. If possible, appoint at least one Board member to each committee so that when the Board meets progress reports can be given on each aspect of the carnival by an informed person. Give each committee a specific duty, for instance, handling parking; food and beverages; publicity, etc.
2. Date and place: Check the schedules of other recreational organizations to minimize chances of overlapping with their activities. You probably will find that holding an indoor carnival requires more advance planning than an outdoor one since the adequacy of size of the building and several other factors have to be considered.
3. Check the schedules of various amusement rental businesses to make sure that you can rent the things you need on your planned date.
4. Make a decision on the types of booths and other furnishings you will require for such things as arts and crafts; large or small appliances; beverages stand; toys; such seasonal equipment as lawn furniture, barbeque grills, charcoal, swimming equipment, etc.; and a stand for handmade articles such as quilts, pot-holders, knitted items, etc.
5. Types of games to be played, for example, ring toss, basketball toss, goldfish bowl toss, baseball throwing contest, etc.
6. Food and beverages to be served. Check with local caterers or merchants for food prices and services.
7. Liquor, if any is to be served, will require that you check whether it is permitted under the circumstances.
8. Police or other security will depend on the size of the carnival. Check with the police station.
9. Make a decision on the theme for your carnival, for instance, Spring Fling, or Fun Time, or something that emphasizes local renown (in Springfield, the hometown of Lincoln, a new July 4th festival is called LincolnFest).
10. Plan your decorations around the theme of the festival. To help with this, you could contact the art departments of your local high schools or colleges for volunteers to prepare banners, posters, etc.
11. Ask your local Chamber of Commerce for a letter of endorsement regarding solicitation of donations of money or prizes from local businesses for various booths or prize drawings. If you plan any raffles, check with the company supplying raffle items for possible discounts on the merchandise. For this you should write a letter to the company 6 to 8 weeks in advance.
12. Usually a local printer will pick up the costs of printing raffle tickets if his firm is permitted its name on the tickets as a donation.
13. The publicity committee should be headed by a prominent staff writer or broadcaster of the local media. Inform your local papers and radio stations and plan to place spots on TV if the station broadcasts a community affairs calendar. Distribute posters to all stores and offices.
14. Make sure you have plenty of volunteers so that no one has to work for the entire day or evening. A good idea is to contact the local civic, church, fraternal and veterans organizations in the community and offer to donate $100.00 to each organization that sends ten persons to work at the carnival.
Plan well and then enjoy the profits. It is not uncommon to clear $6,000.00 in a ten-hour carnival. It has been done and you can do it too.
ABOUT THE AUTHOR: Jo Anne Dunkovich, Secretary-Treasurer of the Summit Park District at Summit, attended Argo High School and Northern Illinois University. She has been an employee at the Park District since 1980.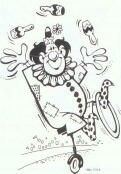 Illinois Parks and Recreation 30 May/June 1983
---