Heather Booth and Gale Cincotta:
from grass-roots troublemakers to national leaders
By PATRICK BARRY
This is the sixth article in our series on community organizing in Illinois, made possible by a grant from the Woods Charitable Fund, Inc. For details on the other articles in the series, please turn to page 3.
Heather Booth and Gale Cincotta. If you had just one word to describe them, "artists" would fit best. To most people their names mean no more than the titles of their organizations, Citizen Action and the National Training and Information Center. Yet they are two of the best organizers in the country, and you can find them, sometimes, in their Chicago headquarters: Booth working two phones at once under a timber-beamed ceiling, Cincotta at her corner desk looking over a roomful of organizers. In very different ways, each has harnessed "people power" and
---
---
Using tools ranging from
phone banks to winning
smiles, the two are
at the front
of the latest and most
powerful wave of
organizing in U.S. history
---
---
produced extraordinary results.

Booth is a tall, erect woman with a voice that she changes from supportive to demanding in the course of a sentence. She has built an organization of 1.75 million members that spans 24 states and routinely affects legislation and elects progressives to office. Cincotta is a heavy-jowled former housewife who is well-known in bank boardrooms around the country. Through a shrewd combination of confrontation and strong-arm legislation, she has forced banks to lend $1.6 billion in neighborhoods that need reinvestment.

The two are at the front of the latest and most powerful wave of organizing in U.S. history. Based out of Chicago like so many earlier organizing trailblazers, they have evolved from grassroots troublemakers to national leaders, using tools ranging from legislative research and phone banks to winning smiles and a knack for negotiation. They don't work alone. They link up with others, provide training, hustle resources to keep the work going. Many of their associates have been with them since the civil rights days, providing a ready network of leadership, and both have cultivated allies in Congress, business, local government and the media. They have small armies at their command.

It is 30 hours after election night when Heather Booth, who had been working flat-out for the campaign of Michael Dukakis, takes the podium before 160 activist women in the Hotel. The talk so far has been strained by disappointment over the Bush victory, and now Booth, in an emotional voice, is opening her soul: "I came here today because I wanted to be with friends and women and committed activists. . . to see our way through."

Booth will admit later to a fierce and surprising anger at Dukakis for losing the big race, but instead of voicing that sentiment here, she injects steel into her voice and lays out a directive that goes something like this: "Let's keep it going because this battle is too important to lose.'' She will deliver variations on the speech four times in the next three days, each time describing what she calls a "progressive opening" in American politics. "I know the opening exists," she says later. "Whether we are strong enough to widen it and take advantage of it, I don't know."

Gale Cincotta is working her own magic at Chicago's Bismarck Hotel. It is November 14, the first day of a National Training and Information Center (NTIC) conference on housing issues, and Cincotta has a formidable lineup of speakers doing her work for her. One after another, top executives from Aetna Insurance, Harris Bank, BP America and Allstate Insurance Co. tell 350 listeners that the federal government store its commitment to housing programs for moderate-income Americans. Edward Williams from Harris Bank even suggests that corporate America should link arms with community groups and go to Washington to demand renewed investment.

This same Edward Williams was once nose-to-nose with Cincotta, who had demanded inner-city investment by his bank and had helped pass a federal law to make him listen. Harris coughed up $35 million, and now that the former adversaries work together,




22 | January 1989 | Illinois Issues
---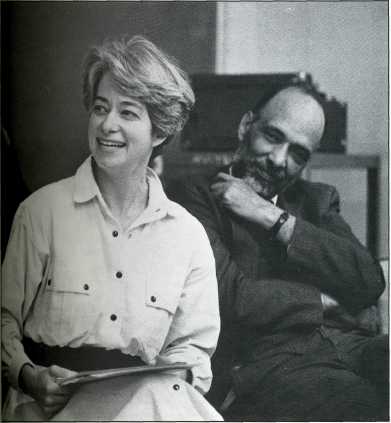 Heather Booth and Chicago civil rights leader Al Raby enjoy a lighthearted moment in Professor Carol T. Williams' classroom University. They were speakers on a panel entitled "Remembering the 1960s for the Politics of the '80s." The panel discussion was held November 14 and was Raby's last public appearance. He died on November 23, at the age of 55, a year after the death of Mayor Harold Washington, whose election he had helped make possible. Photo by Paul L. Merideth
the bank has pledged $50 million more. "She's crafty," says Williams. "She used to think you had to take someone around the neck and shake him until he said uncle. Now she reliazes you can get as much done and faster by talking the issues through."
Cincotta laughs heartily at that story and suggests that it is the banking industry that has matured. She is still quite willing to get rough, as she did last May when she led several hundred people on four "hits" in Washington, D.C., one them at the home of Sam Pierce, U.S. secretary of housing and urban development. The hits are a trademark technique of Cincotta's other organization, National People's Action, a loose coalition of grass-roots groups that converges on D.C. or another power center once a year for a big meeting and a day's worth of hits.
Cincotta, now in her mid-50s, cut her organizing teeth in the West Madison Street restaurant of her immigrant Greek and Latvian parents, where as an only child she listened to late-night discussions of class struggle, labor organizing and Depression-era survival. She married an auto mechanic and mothered six boys on Chicago's racially changing west side, discovering her knack for organizing in the early 1960s when she joined the PTA and almost instinctively put together a campaign to bring new resources into the neighborhood. She learned by listening and by doing her homework, and by being herself. "You should talk to anyone the way you usually talk; you don't have time or energy to be someone else. And you can't bow and scrape, or be awed. You might be remembered more if you deal with them straight." Cincotta recalls an early fight over school policy when she came up against a reluctant mid-level administrator and told him, "Look, you're a nice man, but as long as you stand in the way we are going to pound on you." He got out of the way, and Cincotta was soon talking to the school superintendent and to Mayor Richard J. Daley. In the process she realized that organizing at the local level simply wasn't enough. Banks and mortgage companies were "redlining" her neighborhood; the school board was sending its resources into wealthier areas, and federal laws worked against local progress. What drove her early on? "Anger," she says. "Just anger."
In the mid-1960s she joined and eventually became president of the Organization for a Better Austin (OBA), where she met up with two professional organizers: Tom Gaudette and Shel Trapp. Gaudette, a student of Saul Alinsky and founder of both OBA and the Northwest Community Organization (NCO), now
January 1989 | Illinois Issues | 23
---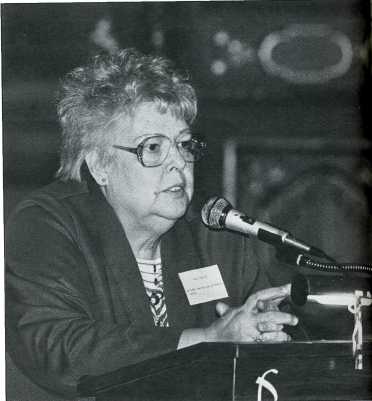 Gale Cincotta addresses the National Conference on Initiatives for Affordable Housing: An Action Agenda for the '90s. Sponsored by the National Training and Information Center and held in Chicago in November, the conference called for a national consensus on housing policy and covered a wide range of nuts-and-bolts topics. Among them were secondary mortgage markets, union/community partnerships, new visions for public housing, neighborhood-based for-profit developers, HUD foreclosures and innovative loan pools. Photo by Paul L. Merideth
does consulting work with community groups nationwide. Trapp, who served as director of OBA and NCO, still works with Cincotta today. She says: "Tom would tell me that I was doing it all wrong, that I had too many demands. But I figured we should get as much as we could, so I would go into a meeting with the list and keep my thumb on the one we were discussing. If we got number one, I would move my thumb down to number two and it became number one."
She ended up breaking a lot of rules. She was a woman in a field dominated by male leaders, and she rejected Alinsky's dictum that problems should be approached on a strictly neighborhood basis. She and Trapp linked up with the Northwest Community Organization and then created a new group in the territory between, forging the first multi-neighborhood coalition in a city that is now webbed with such groups. "Gale's political maturity and insight are awesome," says Trapp, now staff director and chief trainer for NTIC. He praises Cincotta's singular ability to bring opposing forces together, as she did at the conference with big business and community groups, but says such alliances begin on a quite different note. "I don't recall a single victory that started with us being nice. It always starts with confrontation; you know, using a two-by-four to get the mule's attention. And if someone is screwing people over, Gale will come down with both feet and crush them."
It is a fitting image because Cincotta is a heavy woman who fuels herself through a four-hour, wide-ranging interview by sneaking candy from a drawer in her desk. But while she clearly enjoys storming bureaucrats' offices, her real strength shows up later at the follow-up meetings when she methodically uses the legislative process to control America's lifeblood: money. She helped write and pass the federal Community Reinvestment Act of 1976, which requires financial institutions that are being bought or sold to prove that they lend money in the communities they serve. The law alone might have gone unenforced, but Cincotta sent her troops into the microfilm rooms of Chicago's City Hall, and they found enough evidence of inadequate lending to bring First National Bank of Chicago, Harris Bank and Northern Trust to the negotiating table. They pledge $185 million to get Cincotta and seven other groups of their backs. With that victory and related hard-won regulations like the federal Home Mortgage Disclosure Act, NTIC began a national training effort that has produced scores of agreement worth about $1.6 billion. "We didn't even know that our bank was being sold until Gale called us," says Steve Banker, executive director of the Southern Counties Action Movement in Herrin, which negotiated a $5 million pact with Boatmen's Bank
24 | January 1989 | Illinois Issues
---
of St. Louis. "Cincotta is a role model for us. She has shown us that the important thing about organizing is the details, like knowing how to get past security on a hit."
Critics say Cincotta has accomplished all this with a hit-or-miss program that does not truly represent a national constituency. NTIC gets by with a staff of 14 and an annual budget of $475,000, and National People's Action (NPA) does its work almost entirely at the grass-roots level, with just $25,000 to coordinate the annual leadership meeting and the big conference. And while member groups notch regular victories on issues ranging from toxic waste to farm policy, the main focus remains tight on lending, mortgage insurance and housing issues. Cincotta is unapologetic. "I've never had a grand plan to build the ultimate organization; my intent has always been to win, that's all." She smiles a great endearing smile that no doubt plays a key role in turning adversaries into allies. She likes the work and she likes to win.
So does Heather Booth, but she goes about it in a different way. While both leaders are careful not to disparage the other, they are clearly at odds over strategies. They share common views on many of what Booth calls the bread-and-butter issues of modern America — toxic pollution, housing affordability, energy costs, health care — yet they haven't worked together since 1981, when NPA and the Booth created Citizen/Labor Energy Coalition staged a joint confrontation at the American Petroleum Institute convention in Chicago. Booth chose not to comment on Cincotta's approach, but her followers were less reluctant. "The NPA people believe that if you have a big enough demonstration, it will change the world; we don't consider that an adequate approach,'' says John Cameron, associate director of the Illinois Public Action Council, one of Citizen Action's most powerful affiliates. "Our sense is that direct action works only if there are 100 voters behind every person at the action. You have to prove that on election day.
To do that, Booth and Citizen Action use phone banks, a national door-to-door canvass network, constituency research, and even "opposition research" (a.k.a. digging up dirt). In the process they have infiltrated America's other power base: government. By knocking on 20,000 doors every weeknight and making a million phone calls a year, Citizen Action affiliates raise $20 million per year and rack up impressive victories. In 1986, they backed 334 candidates nationwide and 260 of them won. More impressive yet is the progression of Citizen Action staffers and board members into local and national office. In 1986, 23 Citizen Action leaders were elected in 10 states, and seven more were elected the following year. Illinois Congressman Lane Evans (D-17, Rock Island) was one of the first victories, defeating an incumbent Republican in supposedly conservative western Illinois, and both U.S. Rep. Charles Hayes (D-1, Chicago) and U.S. Rep. Cardiss Collins (D-7, Chicago) are Illinois Public Action Council board members. "Heather combines idealism and strong convictions with an understanding of the nuts and bolts of the political scene; that's something a lot of the progressive groups can't do," says U.S. Sen. Paul Simon, who taps Booth's expertise regularly. "You can ask her what is going on in Idaho and she'll be able to tell you, and to connect you with some
---
---
They share common views
on many of what Booth calls
the bread-and-butter issues
of modern America . . .
yet they haven't worked
together since 1981
---
---
people there."

Booth, 43, has accomplished such feats in anything but a hit-or-miss fashion. She is a tightly wound thinker who works methodically, quickly and on a dozen projects at once. Her desk has four neat racks jammed with files, and two telephones which she often uses simultaneously and with remarkable calm. She is most of all a master strategist. "What Heather does very, very well is formulate a new direction and rally people around it," says Brad Karkkainen, an organizer for Citizen Action in the early '80s and now chief of staff for Chicago 49th Ward Aid. David Orr. "She is the one who is most often at the cutting edge of whatever is the newest thing. She reacts to a changing situation and formulates the new argument."

Her latest argument is that the enormous changes in the American workplace and family are driving a "populist progressive movement" that could grow into the new majority. She points to the continuing gains by progressives in local and national office; the advance of bills on toxics, health care and South Africa sanctions; and to a 1988 poll of 3,200 Citzens Action members that showed sweeping support for universal health insurance, expanded child care and parental leave programs, and stronger housing and poverty programs.

She says, "For the last eight years people's most decent feelings were put on ice; a new selfishness was encouraged. But I think that is changing." Booth's delivery is carefully paced and articulate, with regular pauses as if she tests sentences in her head before giving them voice. "It's funny. What I'm talking about are these shifts in history, and when you're making history, it's hard to see that you're making it. In 1960 when I was picketing Woolworths [where southern stores wouldn't seat blacks], it was hard to know that a full-blown civil rights movement would sweep the country. In 1965 it was hard to imagine that there would be a woman's movement by 1970. Now in 1988 I think we are just a few years away from a new progressive opening in the country."

It is a bold pronouncement for a woman who, as Sen. Simon points out, does most of her work behind the scenes. After building the 1,200-employee machine of Citizen Action, it is as if she is afraid the tool will not be put to its proper use. But like Cincotta, Booth didn't start out with grand plans. Born in Mississippi and raised in Brooklyn, she jumped into a heavy schedule of civil rights work in 1963 at the University of Chicago. That included speaking tours for the Student Nonviolent Coordinating Committee and local organizing for Chicago's Coordinating




January 1989 | Illinois Issues | 25
---
Council of Community Organizations, headed by Al Raby. But her early work was straightforward, single-purpose: the boycott of Woolworths; Chicago civil rights activities; antiwar rallies; a 1965 sit-in at the University of Chicago health clinic after a friend, raped at knifepoint, was denied a gynecological exam. "With struggle," she says, "there was change."
But as the civil rights and anti-war movements lost steam, Booth was increasingly restless. She had settled into a mainstream publishing job, and for practical reasons that included two young sons and an unemployed husband, "had vowed to stay out of trouble." But when a co-worker's salary was cut to finance the raise of another worker, Booth rose up angry and led a union organizing drive that culminated in her getting fired. She filed suit for back pay, and when she won
---
---
Gale Cincotta: 'If we won
enough and got Utopia,
maybe I could quit'
---
---
in 1972, she used the money to start an organizing training center called Midwest Academy. That was her launching pad.

"What happened over time was more wonderful than we expected," she says, laughing with satisfaction and fiddling with the fabric of her white corduroy dress. "Our first retreat was a small gathering in the woods, but by 1988 we had 1,800 people, and it was so high-spirited and energy-filled and dynamic. " In the interim, Booth worked with and nurtured an ever-expanding team of leaders. Nationally they include Ira Arlook of the Ohio Public Interest Campaign, now executive director of Citizen Action; and William Winpisinger of the Machinists Union and William Hutton of the National Council of Senior Citizens, who at the height of the energy crisis brought their powerful constituencies into the Citizen/Labor Energy Coalition. In Chicago are Steve Max, Booth's director of training at Midwest Academy, and Paul Booth, her husband and teammate, who co-chaired the Citizens Action Program in the 1970s and now directs organizing in Illinois for AFSCME, the American Federation of State, County and Municipal Employees.

Part of Booth's magic is her habit of almost constantly dishing out compliments and thanks to activists around her; on the phone and at conferences, she listens well and almost always encourages further efforts in a sincere and supportive voice. She considers organizing work as a road to personal transformation and can tick off the names of people around the country who have bloomed in the heat of battle. She also keeps a keen eye on the larger picture and moves on when the next challenge becomes apparent, leaving behind a trained group of organizers drilled in three rules: 1) win change for people with measurable results; 2) organize to give power to others and to transform them so they deepen their commitment, and 3) build ongoing, financially stable institutions that become respected in the community. She stays loose enough to jump back to an area that needs shoring up, or to push into a ripe frontier. She exercises regularly, and in between the 17-hour-a-day busy periods, she rests with husband Paul. "Paul is wonderful," she says, opening herself up as she so often does. "Not only do we love each other but our relationship is based on a common set of commitments and values. We met at a sit-in against the war in Vietnam, so we understand the kind of life we each lead." They also schedule time together, including a weeklong vacation after the election. When asked
---
---
Heather Booth: 'And of
course the main goal is
the transformation of society'
---
---
where they are going, she laughs and declines comment.

It is nonetheless a good question. Where are Heather Booth and Gale Cincotta going? And as these artists of social change lead their troupes into the 1990s, will there be a symbiosis between the group that puts people in office and the one that pounds on government until it listens? Robert Kuttner, in his book The Life of the Party: Democratic Prospects for 1988 and Beyond, writes that Citizen Action and the similarly ambitious ACORN (Association of Community Organizations for Reform Now) "are rapidly becoming part of the de facto Democratic machinery. . . and they are just now attaining full political maturity." Cincotta's alliance with big business and her clout with government is reaching a similar stage; when the NTIC conference on housing broke up, the framework for a $20 billion National Housing Trust Fund had been established, and the big banks and oil companies were on the team. Cincotta warned the crowd that "this one might take us a year or so to win,
a time frame that she later admitted was wildly optimistic.

"If we won enough and got Utopia, maybe I could quit," she says. "But right now I have to wear blinders because of all the other problems; I wish there were more people to work on the hospital problems and recycling and other issues." Says Booth: "One thing about this work is that if you don't think it's fun and reinforcing, you should not do it because you will get burned out." She is thinking right now in terms of the next four years, a reasonable time frame, she figures, to widen the progressive opening. But she gives herself away when she uses a scrap of paper to sketch a chart showing Midwest Academy's progression of training. "The goals are over here," she says, "and of course the main goal is the transformation of society." Now that might take some time.

Patrick Barry is a Chicago free-lance writer who has been covering organizing and community development groups since the early 1980s. He also works for Chicago s Resource Center as an organizer on recycling development issues.




January 1989 | Illinois Issues | 26
---