Names
New directors:
Rundquist at ag;
Lane to IDOT;
McGinnis to corrections
Illinois' new agriculture director brings more than 40 years of farming experience to his new job. John F. "Jack" Rundquist of Butler was tapped to head the state's Department of Agriculture by Gov. James R. Thompson, effective December 1. Rundquist replaced Larry Werries who left the post in October for a job with the Bush administration.
Recently retired as president of Evergreen Farms Inc. and Illini Grain and Livestock Inc., Rundquist retains part ownership and is active in running both businesses. He is a former member and past chairman of the Illinois Farm Development Authority. From 1977-83 he served as director of the National Pork Producers Council and since 1978 has been a member of the Illinois Board of Livestock Commissioners.
Rundquist's annual salary will be $65,835.
Taking over the reins of the Illinois Department of Transportation (IDOT), one of the state's largest executive agencies, is Department of Corrections director Michael P. Lane. Effective January 15, he will succeed Gregory W. Baise, who resigned in November to pursue his campaign for state treasurer.
Lane, corrections director since April 1981, joined that agency in 1970. As IDOT secretary, Lane will be paid $71,321 annually.
Replacing Lane at the Department of Corrections will be Kenneth L. McGinnis of Jacksonville. He has been warden of the correctional center in that city since 1983. Previously he had served as warden of the Pontiac Correctional Center (1982-83) and as warden of the Graham Correctional Center near Hillsboro (1979-82). He joined the agency in 1972. McGinnis' new annual salary is $65,835.
The three appointments must be confirmed by the Senate.
Ward to step down from state's high court
The Illinois Supreme Court's senior justice announced in November that he will retire in December 1990, four years before the end of his term. Daniel P. Ward, a Democrat from the 1st Judicial District (Cook County), has sat on the high court for 24 years. With his retirement, there will be three seats on the court up for election this year. The two other justices who earlier announced their retirements are John J. Stamos, also a Democrat from the 1st Judicial District, and Howard C. Ryan, a Republican from the 3rd Judicial District (stretching across the state from Rock Island to Kankakee counties). The seven-member Illinois Supreme Court presently consists of four Democrats and three Republicans.
Ward was first elected to the Supreme Court in 1966 and was retained in 1974 and 1984.Prior to becoming a judicial officer, Ward spent six years as Cook County state's attorney. From 1955-60, he was dean of the DePaul University College of Law.
Considered a moderate to liberal justice, Ward wrote the court's 1989 opinion in the chicago Magnet Wire Corp. case in which the high court ruled that federal regulation does not prevent a state from bringing criminal charges against employers who subject their employees to hazardous working conditions. The ruling was upheld last October by the U.S. Supreme Court.
Kimbrough gets Chicago's top education post
California educator Ted Kimbrough returns to Illinois this month as superintendent of Chicago public schools. He has promised to fight truancy and to transform the problem-plagued system into a national model for school reform. Chicago's public schools were labeled the nation's worst by former U.S. Educations Secy. William Bennett in 1987. Major reforms, which decentralize control, are now being implemented in Chicago's schools.
Kimbrough, who was selected for the post by the interim Chicago School Board in October, replaces Manford Byrd Jr., superintendent since 1985. Kimbrough's annual salary — $175,000 — is $75,000 more than his predecessor received.
New commission to guide affordable housing efforts
Gov. Thompson in October appoints the first members of the newly created Illinois Affordable Housing Advisory Commission. It was established by legislation signed by the governor in September which also created an
28/January 1990/Illinois Issues
---
Affordable Housing Trust Fund. The fund will be used to help finance low- and moderate-income housing. Revenue will come from the transfer fee on real estate transactions, which was increased by the legislation from 25 cents to 50 cents per each $500 of a sale price. The program will be staffed by the Illinois Housing Development Authority.
Members of the commission include Rance Carpenter of Springfield, a chief planner with the Department on Aging; Jeffrey Darling of St. Charles, associate director of the Ray Graham Association for the Handicapped in Elmhurst; Patricia Harris Eissens of Rockford, a statistic clerk with Winnebago County Para-Transit Service; Lucinda J. Goodson-Herrera of Ottawa, deputy executive director of the Housing Authority of LaSalle County; Daniel Goodwin of Oak Brook, board chairman of In-land Real Estate Corporation; Richard Heise of Chicago, chairman of Financial Place Corporation: Genevieve Houghton of Carbondale, founder of the Carbondale Women's Center (a shelter for domestic violence victims); Henry Mendoza of Glenwood, board chairman of Chicago's MAECORP Inc.; Thomas Moss of Chicago, vice president for government and community affairs for the First National Bank of Chicago; Willie B. Nelson of East St. Louis, vice president and branch manager of Illini Savings and Loan; and Barbara Shaw of Chicago, coordinator of housing services for the Center for Neighborhood Technology.
No expiration dates have been set for commission members' terms.
Two new committees to assess Chicago/Cook County health care delivery
Gov. Thompson, Chicago Mayor Richard M. Daley and Cook County Board President George Dunne announced appointments to two committees that will help map out a new taxpayer-funded health care delivery system for the residents of the state's most populous county. The committees will examine and recommend ways to improve health care access and quality, to coordinate public sector provider services, and to enhance the integration of public and private health care services in Chicago and Cook County.
The Policy Steering Committee, chaired by Illinois' public health director, Dr. Bernard Turnock, is charged with establishing the principles to be used in planning improvements for Cook County's health care system. Public hearings are planned to give county residents the opportunity to identify problems in the health care system and to propose solutions.
Chairman of the System Design and Management Committee is Richard M. Krieg, acting commissioner of the Chicago Department of Health. This committee will develop specific steps for implementing design changes in the county's health care system.
Both committees are to complete their work by mid-April.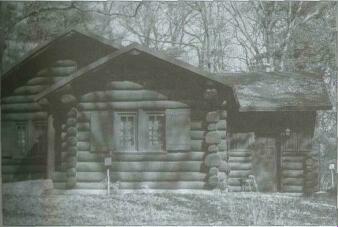 Gov.James R. Thompson cut the ribbon at the grand opening of the newly renovated White Pines Inn in Ogle county on October 26. The inn, first built in the 1930s by the Civilian Conservation Corps, is located on the grounds of the 385-acre White Pines Forest State Park. The $2.16 million project was jointly funded by the Department of Conservation and the Capital Development Board.
The white Pines Inn has a lodge with a historic lounge and restaurant which seats more than 220 guests. There are also 25 guest cabins, one of which is pictured above. Meeting and banquet facilities are also offered. The inn is managed by Mr. and Mrs. Lamont Gaston.
Thompson and governor of Niigata, Japan, sign intergovernmental agreement
Gov. Thompson joined Kiyoshi Kaneko, governor of the Japanese state of Niigata, on October 25, in signing an intergovernmental agreement establishing the Illinois-Niigata Council on Education and Economic Development. The council, which is to encourage cultural, educational and business exchanges between the two governments, will have 32 members. Thompson and Kaneko will serve as honorary chairpersons. The signing capped a five-day visit by Kaneko and his delegation to Illinois.
During their visit, the Japanese also visited Southern Illinois University-Carbondale. SIUC set up the United States' first university branch campus in Japan two years ago. Located in the city of Nakajo, the campus welcomed its first students in May 1988. Intensive English language training was the initial curriculum focus. The three-year program prepares students to complete their degrees at U.S. universities — preferably those in Illinois.
Phase I construction at the campus was completed in May 1989 with funding from the Niigata government. The $7 million facility includes classrooms, a library, administration offices, and both student and faculty housing units. Currently underway, Phase II construction will double the size of the campus.
DCCA's interim director
Temporarily serving as director of the Department of Commerce and Community Affairs (DCCA) is Steven D. McClure, effective in mid-November, when Jay Hedges left the post for private business. McClure, assistant DCCA director since December 1987, joined the agency in 1983 as a legislative liaison. From 1985-87, he served as manager of DCCA's governmental relations division and most recently as assistant to the director for policy development.
Governor's office
Gov. Thompson's new assistant press secretary in Springfield is Jill Fowler. She replaced Mary Frances Fagan, who took over the governor's Chicago press office on November 1. Fowler came to the post from the Department of Commerce and Community Affairs where she had been an administrative assistant in the agency's communications division since 1985. She will be paid $29,700 annually.
Frank J. Llano of Petersburg is the governor's new assistant for education. He replaced Gail Lieberman, who moved to the Illinois State Board of Education (ISBE) as assistant superintendent for special education in October.
January 1990/Illinois Issues/29
---
Names
Bucks for bass
Bag the right bass and you may capture more than dinner. Fish scientists from Southern Illinois University-Carbondale tagged and released approximately 2,000 largemouth bass along a 70-mile stretch of the Ohio River between the Smithland and Uniontown locks and dams. Anglers who return the green plastic ID markers are eligible for a lottery-type drawing next fall. Five winners will receive cash rewards ranging from $50 to $500.
According to the project's coordinator, Barbara A. Woolard, scientists from SlUC's Cooperative Fisheries Research Laboratory want to discover how much of a body of water fish use. "There's not much understood about how much a fish uses a large body of water like this," Woolard said. "They're capable of moving 70 miles. We want to know if local fish stay in one place or if they use the whole pool."
The tags are three inches long and were attached to the dorsal fins of bass over one foot in length. The tags carry an identification number and the address and phone number of the SIUC lab. If an angler catches a tagged fish, the tag should be removed and returned with the angler's name and address, as well as information on where and when the fish was caught and whether it was kept or let go.
The study is directed by SIUC zoologist Roy C. Heidinger and is funded by the Department of Conservation.
If you're planning a fishing tournament along this stretch of the Ohio River or if you'd just like more information, call Woolard at (618) 536-7761.
Llano came to the governor's office from the ISBE, where he had held a number of posts since 1987. Previously he had been a teacher for the Chicago public school system (1973-77) and an instructor at Southern Dlinois University-Carbondale (1971-73). Llano's new annual salary is $53,500.
Higher education appointments
Gov. Thompson made appointments and re-appointments to boards of higher education. Effective immediately, the appointments require Senate confirmation and pay expenses only.
• Illinois Board of Higher Education: New members include Robert J. English of Lisle, president of English and Associates Inc. and PMA Financial Network, replacing Robert Powers: and attorney Gayl S. Pyatt of Pinckneyville. replacing John Gilbert. Reappointed were Rey Brune of Moline, former director of external communications for Deere & Co. and now retired, and Dr. Diego Redondo, a Deerfield pediatrician. All will serve until January 31, 1995. The board oversees higher education in Illinois.
• Southern Illinois University Board of Trustees: Newly appointed Molly D'Esposito of Winnetka, a former loan officer for Springfield's Illinois National Bank, replaced Carol Kimmel. She will serve until January 16, 1995. The trustees are the governing board for the university's several campuses.
• Board of Governors of State Colleges and Universities: Reappointed were Dominick John Bufalino of Norwood Park, vice president of Paterno Imports; Nancy H. Froelich of Hudson, a homemaker: and attorney William E. Hoffee of Fairfield. All three will serve until January 16, 1995. The board governs Chicago State University, Governors State University in University Park, Eastern Illinois University in Charleston, Northeastern Illinois University in Chicago and Western Illinois University in Macomb.
• Illinois Board of Regents: David T. Murphy of Cary, senior vice president of Resource Development International Ltd., replaced Harry Wellbank. Reappointed were Carol Burns of Peoria, group product manager for Caterpillar, and D. Brewster Parker of Lincoln, president of the Logan County Title Company. All three will serve until January 16, 1995. The board governs Illinois State University in Normal, Northern Illinois University in DeKalb and Sangamon State University in Springfield.
• Illinois Community College Board: Springfield's city treasurer, Judith E. Madonia, replaced Lorraine Genesen. Madonia's appointment expires June 30, 1991. The board is the coordinating agency for Illinois' public community colleges.
Other boards and commissions
Gov. Thompson made appointments and reappointments to a number of Illinois boards and commissions in October. Unless otherwise indicated the appointments were effective immediately, require Senate confirmation and pay expenses only.
• Illinois Council on Aging: Newly appointed members include Edith A. Sanders of Rock Island, director of senior services at Moline's United Medical Center, and retiree Lois D. Stevenson of Chicago. Sanders replaced Dorothy Hittmeier; Stevenson replaced Regina Merritt. Reappointed were Margaret Noliene Ward of Danville, food service director for Danville School District 118, and Rev. William S. Warford of Quincy's Illinois Veterans' Home. The appointments and reappointments expire January 1, 1992, and do not require Senate confirmation. The council advises the director of the Department on Aging and annually prepares a report for the governor, the General Assembly and the director evaluating the level and quality fo all programs, services and facilities provided to the aging by state agencies.
Continued on page 33
Illinois' elderly to benefit from Johnson Foundation grant
Illinois' elderly citizens will be the ultimate benefactors of a $250,000-plus grant from the Robert Wood Johnson Foundation to the Illinois Housing Development Authority (IHDA). Over the next two years, the funds will be used to help the elderly at 25 IHDA developments around the state lead fuller and more independent lives.
"Illinois was one of just 10 states initially chosen to take part in this exciting project," according to IHDA director Peter R. Dwars. "The first year's grant of $49,598 was used for research at seven IHDA facilities to determine exactly what kinds of services our older citizens want and are willing to pay for."
This research identified three areas in which seniors wanted help: transportation, heavy household chores and prepared meals.
The seven IHDA facilities that participated in the first year of the project included Fornof Manors in Streator, Garden House of Maywood, Luther Center and The Terrace, both in Rockford, The Tower in Joliet, Westwind Tower in Elgin and Westwood Terrace in Moline. These facilities represent nearly 1,000 units.
The new funding will allow 10 more IHDA facilities to participate this year, and, by the end of the third year (October 31, 1991), a total of 25 developments will be involved. It is anticipated that additional needs will be identified during this period. All participating facilities will be expected to continue these expanded services for the elderly using their own funds when the foundation funding runs out.
Besides Illinois, other states that received initial funding were Colorado, Maine, Massachusetts, New Hampshire New Jersey, Pennsylvania, Rhode Island, Vermont and Virginia. Since being established in 1972, the Robert Wood Johnson Foundation has awarded more than $1 billion to improve health care in the U.S. It is based in Princeton, N.J.
30/January 1990/Illinois Issues
---
Continued from page 30
• Children and Family Services Advisory Council: Reappointed members include Julie Ann Morrison of Deerfield, homemaker, and Betty Williams of Evanston, director of social policy for Chicago's United Charities. Newly appointed was Lewis Koch of Evanston, executive director of Parents Intouch Project. Koch replaced William Causer and will serve until January 21, 1991. Morrison and Williams will serve until January 18, 1993. The positions do not pay a salary or expenses. The council advises the director of the Department of Children and Family Services.
• Advisory Board to the Department of Conservation: Newly appointed members include Cecil E. "Bob" Becker of Godfrey, marketing director for Olin Corporation, replacing Edward L. Kozicky; and Charles S. Potter of Chicago, executive vice president of the North American Wildlife Foundation, replacing Dick Kehn. Reappointed was Victor R. Lindquist of Thornton, director of placement and associate dean at Northwestern University in Evanston. Lindquist was also named the board's vice chairman on November 1 by Mark Frech, director of the Department of Conservation. All three will serve until January 16, 1995. The board formulates long-range policies concerning outdoor recreation facilities, cooperation in pollution management, forestry, wildlife management and the protection and conservation of the state's renewable resources. It also advises the director regarding land acquisition needs.
• Employment Security Advisory Board: Evanston Mayor Joan W. Barr was reappointed. She will serve until January 21, 1991. The board advises the director of the Department of Employment Security.
• Illinois Fiduciary Advisory Committee: Reappointed were Joan Baratta of Bloomingdale, senior vice president at Harris Trust and Savings Bank, and Charles Guy Dalton of Homewood, senior vice president at Chicago Title & Trust Company. Dalton's term expires January 1, 1992; Baratta's term expires January 1, 1993. The committee advises the Illinois commissioner of banks and trust companies regarding the administration of fiduciary accounts by corporations, the examination of supervisory policies and procedures, and the minimization of unsafe and unsound practices in the field of corporate fiduciary administration.
• Guardianship and Advocacy Commission: Reappointed were Robert W. Gettleman of Evanston, an attorney with D'Ancona & Pflaum; attorney Corrine Hallett of Hinsdale; and Carol Madison of Edwardsville, director of the Illinois Center for Autism. Madison's term expires June 30, 1991; Gettleman's and Hallett's expire June 30, 1992. The commission is an executive agency created to enforce the rights of the disabled by providing advocacy and guardianship services.
AIDS reporting: high school journalism contest
For the second year high school journalists are being asked to submit entries for the Department of Public Health's AIDS reporting contest. The competition honors the best news stories, columns and/or editorials published in a school newspaper during the 1989-90 academic year. This year's contest also includes a separate category for students who write for college newspapers.
The overall incidence of AIDS has been increasing. Between 1981 and 1989, 21 percent of all AIDS cases reported in Illinois were in the 20-29 age group. It can be speculated that a number of these individuals sexually contracted the disease as teenagers. Public health's contest is meant ". . . to encourage student journalists to report on the factual aspects of AIDS, the importance of avoiding high-risk behaviors, the need for compassion and understanding for people who are living with AIDS and the role of society in dealing with this epidemic," according to department director Dr. Bernard J. Turnock.
Cosponsored by Blue Cross and Blue Shield of Illinois, the contest offers first place winners in each category a cash award of $1,000; each of the two second and third place winners will receive $500. The contest deadline is May 31; winners will be announced by July 1. For more information, contact Tom Schafer at public health, (217) 782-5750.
• Illinois Health Facilities Authority: Retiree Ruth Edelman of Chicago replaced Alfred Clement. She will serve until June 30, 1995. The authority was created to provide assistance and alternative financing methods to participating health care institutions to aid them in providing facilities that will assure admission and high quality care to all who need it.
• Illinois Housing Development Authority: Reappointed was Arthur F. Quern of Evanston, a former Thompson chief of staff and currently president and chief executive officer of Rollins Burdick Hunter Company in Chicago. Quern will serve until January 17, 1993. The authority studies and analyzes housing needs and tries to meet such needs by extending mortgages or other loans to individuals or groups seeking to build housing for low and moderate-income people.
• Illinois Human Rights Commission: Aloysius A. Mazewski Jr. of Chicago, an account
Continued on page 35
January 1990/Illinois Issues/33
---
Continued from page 33
administrator with the First National Bank of Chicago, was reappointed to a term ending January 18, 1993. He will be paid expenses plus $24,688 annually. The commission adopts rules and regulations concerning the enforcement of the state's Human Rights Act, makes decisions concerning complaints filed in accordance with this act and approves proposed settlements.
• Lottery Control Board: Retiree Mary Ann Koppel of Skokie was reappointed to a term expiring July 1, 1992. The position pays expenses plus $100 per diem. The five-member board conducts hearings regarding violations of the Lottery Act, establishes advertising policy and advises and makes recommendations to the lottery director concerning the functions and operations of the state's lottery.
• Board of Natural Resources and Conservation: Reappointed was Seymour Schlanger of Evanston, a professor of geology at Northwestern University. His term expires January 21, 1991. The eight-member board considers and decides matters pertaining to the state's natural history, geology, water and atmospheric resources, forestry and allied research and appoints a scientific staff to conduct research in these areas.
• Illinois International Port District Board: Dr. Robert C. Hamilton, an orthopedic surgeon from Chicago, replaced former state Rep. Sam Panayotovich. The appointment expires June 1, 1990, and pays $20,000 annually. The board generally seeks to develop and improve harbors, sea ports and port-related facilities and services and to increase foreign and domestic commerce through the harbors and ports within the city of Chicago.
The Judiciary
The Illinois Supreme Court recently announced the following resignations by circuit judges:
10th Judicial Circuit
James M. Bumgarner of Hennepin, effective December 4, 1989. He had been a judge since 1979.
16th Judicial Circuit
Rex F. Meilinger of Sycamore, effective August 3, 1990. He has been a judicial officer since 1971.
DePaul law professor heads international penal association
For the first time in a century, an American sits at the helm of the International Association of Penal Law (IAPL). M. Cherif Bassiouni, a professor of law at Chicago's DePaul University since 1964 and IAPL secretary general since 1974, was elected president by the association's members in October.
Founded 100 years ago in Vienna, Austria,
New name, new logo
In August the Illinois State Scholarship Commission changed its name to the Illinois Student Assistance Commission (ISAC). In recognition of the change, the commission also decided to adopt a new logo. In September, all currently enrolled postsecondary students in Illinois were invited to participate in a statewide art competition.
After the 134 entries were judged, the top three selections were ranked by IASC employees. The winner, announced in November, was Michael A. Wood, a senior at Southern Illinois University-Carbondale. He received a cash award of $1,000. Second place and $500 went to Leo Castillo of Northern Illinois University-DeKalb. Bill Gunn, a part-time student at Prairie State Community College in Chicago Heights, won third-place honors plus $250.
the IAPL is the world's oldest scholarly criminal justice association. Currently, its 3,000 members represent 68 countries. The association is the scientific sponsor of the International Institute of Higher Studies in Criminal Sciences (IHSCS) in Siracusa, Italy.
Bassiouni was first appointed to the 43-member IAPL board in 1970 and was elected deputy secretary general in 1972. His selection as secretary general in 1974 marked the first time an American had held that post. Bassiouni also currently serves as president of the IHSCS, a post he has held since 1988.
Other appointments
• Tom Hecht is the Department of Energy and Natural Resources' (DENR) new information services section manager. He was appointed to the post on October 16 by agency director Karen Witter. DENR's information services section produces and disseminates agency news releases, public information programs, a number of energy and environmental newsletters, and audio-visual, graphic and print
Continued on page 37
January 1990/Illinois Issues/35
---
Continued from page 35
productions. Hecht has 16 years of commercial broadcasting experience. He joined state government in 1977 and came to DENR in 1985.
• Bloomington dentist Francis P. Green was appointed in October to fill a vacancy on the Department of Professional Regulation's Board of Dentistry. The appointment, which was effective immediately and which expires September 20, 1993, was made by the agency's acting director Robert C. Thompson. Green has been a licensed orthodontist since 1964. He is a past president of the McLean County Dental Society, an executive council member of the Illinois State Dental Association and secretary-treasurer of the Illinois Society of Orthodontists. The 10-member Board of Dentistry serves in an advisory capacity to the department and to dentists in the state.
Center for Community Leadership established
Chicago school reform will be getting an assist from the University of Illinois' Cooperative Extension Service. The extension service's soon-to-be-opened Center for Community Leadership will provide training and educational support for the new school advisory councils that were created as part of the Chicago school reform package passed by the Illinois General Assembly in 1988.
James D. Oliver, associate director of statewide urban programs with the Co-operative Extension Service in Chicago, heads up the training program, known as the Urban Leadership in Education Initiative. Program coordinator is Yvonne Horton. Funding ($500,000) for the training program was amended onto the University of Illinois' appropriations bill by Sen. Emil Jones Jr. (D-17, Chicago).
The center is located on Chicago's far south side. Its staff, which is comprised of professionals from the extension service, will draw on the School of Education of the University of Illinois at Chicago for expertise in subject matter and will work directly with the 68 elementary and eight high school councils in the surrounding neighborhoods. Besides offering training programs for council members, the center plans to maintain a 24-hour answerline and to produce a monthly newsletter. It is hoped that the center will be a model for similar centers in other city neighborhoods.
Once the center opens, participants will elect a Leadership Advisory Committee whose task will be to identify the kinds of training and educational programs needed by the local school councils.
For more information about the center, contact the Cooperative Extension Service at (312) 996-3535.
• Keith A. Sias is the new legislative liaison for the Illinois Municipal Retirement Fund. A native of Springfield, Sias is a former policy analyst for the House Republican staff. He will be based in the fund's Chicago office but will be in Springfield when the General Assembly is in session.
• The Illinois Women's Funding Federation has a new executive director. Barbara O'Connors was appointed to the position in October by a federation search committee. She is a former member of Gov. Thompson's staff and is a member of the Individual Consultant Community Project. The Illinois Women's Funding Federation is a coalition of 23 organizations serving women across the state. The group's first priority is to gain access to the state employees combined appeal campaign and to pay-roll deduction fundraising.
Crawford 1989 Outstanding Young Scientist
Clare Crawford, a senior at Downers Grove North High School, is the winner of the Museum of Science and Industry's 1989 "Outstanding Young Scientist" competition. She is the first student from her high school to receive the award. One of 79 student competitors from Chicago area schools, Crawford was selected because of her consistent record of academic excellence in her school's science program. She received an all-expenses-paid week-long trip to Stockholm, Sweden, in December to attend the Nobel Prize ceremonies. Both Crawford and her school also received $500 cash awards and commemorative plaques.
The seven-year-old competition is conducted annually by the Museum of Science and Industry in cooperation with the Nobel Foundation. The Naico Foundation provides additional support.
Two Illinois teachers win presidential awards
Susan K. Eddins of Glen Ellyn, a mathematics instructor/team leader at the Illinois Mathematics and Science Academy in Aurora, and Ronnee E. Bernberg of Evanston, a science teacher at Chicago's Lake View High School, received 1989 Presidential Awards for Excellence in Science and Mathematics Teaching in October.
The Presidential Awards program was begun in 1983 by the National Science Foundation
Concluded on page 38
January 1990/IIIinois Issues/37
---
Continued from page 37
on behalf of the White House and Congress. Teachers are nominated first on a state level by colleagues, school principals, superintendents, parents and other individuals. Nominees must spend half-time or more in a public or private middle, junior or senior high school and have a minimum of five years teaching experiece. State winners are determined by the Illinois Science Teachers Association and the Illinois Council of Teachers of Mathematics. National winners are selected by the National Science Foundation, the National Science Teachers Association and the National Council of Teachers of Mathematics.
Three Illinoisans receive National Medal of Science
Three Illinois professors were among 1989 recipients of the National Medal Science, the nation's highest award for scienfic achievement. President Bush presented the awards to 19 scientists in October.
Illinois' winners included two University of Chicago professors: Saunders MacLane in mathematics and Eugene Parker in physics. Harry Drickamer, professor emeritus of chemical engineering, chemistry and physics at the University of Illinois at Urbana-Champaign, was the state's third medal winner.
MacLane was cited for his work in homological algebra and category theory, two highly abstract mathematical disciplines which seek to describe the connections between apparently dissimilar areas of mathematics. He is also the author of a leading modern algebra text-book.
Parker was honored for his study of solar winds. These winds can spark magnetic storms that can affect radio transmissions.
Drickamer was recognized for his work in pressure tuning spectroscopy, the study of electronic phenomena under high pressure. work has contributed to advances in the study of molecular, atomic and electronic properties of matter.
Deaths
Robert P. Howard, 84, long-time Illinois journalist and author, died in Philadelphia on October 21, following a brief illness. Joining the Chicago Tribune as a reporter in 1944, he earned a reputation as the preeminent state government reporter during his years in Springfield for the Tribune from 1957 to 1970.Upon retirement in 1970 as a reporter, he turned history. A past president of the Illinois State Historical Society, Howard authored Illinois, A History of the Prairie State and Mostly Good and Competent Men: Illinois Governors to 1988. The latter was published in 1988 Illinois Issues and the Illinois State Historical Society.
38/January 1990/Illinois Issues
---