By ANGIE WATSON
Filling the gap in health care: Consider mid-level practitioners
Alexa Castor, due for an immunization shot, warily scans the examining room and begins to cry. Sherry Wintory produces a diversion. She places a flashlight in the child's hands and shows her the button that makes the beam of light flicker off and on. The 23-month-old girl begins to relax until she eyes the inch-long needle used for immunizations. Wintory coaxes her cooperation and ends the ordeal with a quick prick and a cherry sucker. "If you act like it doesn't hurt, they forget," Wintory says. Minutes later the girl bounds up and down the hall of the community clinic and it's business as usual.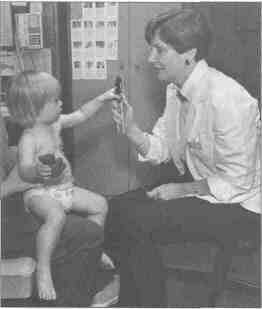 Nurse practitioner Sherry Wintory is just finished with a young patient in need of her regular checkup. More than a nurse but not a doctor, Wintory practices in Alexis, 17 miles northwest of Galesburg where her supervising physician practices. Photo by Randy J. Squires
To residents of Alexis (population 900), 17 miles northwest of Galesburg, Wintory is the answer to a onetime lack of health care in the community. She is a nurse practioner and is more than a nurse yet not a doctor. Within the medical field her position is classified as a "midlevel practitioner.'' Two recent state studies have recommended that mid-level practitioners be used to counter a lack of health care in both urban and rural Illinois.
Alexis had tried to get a doctor in the mid-1970s after the local physician died. The search produced one candidate willing to relocate to Alexis: a doctor serving a prison sentence for Medicare fraud. No other doctors would settle in this mostly agricultural community that boasts a fire truck manufacturer as its main industry. "We [the community] didn't have the finances,'' says Joyce Johnson, head of the physician search committee. Young doctors graduating from medical school with big debts, she says, wanted a guaranteed salary to pay off their loans and community-paid start-up costs.
Wintory sees herself and other nurse practitioners as a way to extend health care to communities that might not otherwise get it. She works without a physician at the hospital-sponsored clinic but stresses that she is not a substitute for a doctor. She refers complicated cases to a supervising Galesburg physician and must request that he write prescriptions if they are neeeded. Based on written agreements,

14/June 1990/Illinois Issues
---
called protocols and determined by the Galesburg physician and she can treat many illnesses.
Chicago, a sharp contrast to Alexis, does not lack physicians but is still unable to deliver health care to all of its residents. For example, the mostly impoverished neighborhood of West Town has some private physicians and a health department clinic. It also has the Erie Family Center, which provides basic health care, prenatal and postnatal care and counseling on substance abuse and mental health. Doctors rotate among Erie's West Town clinic and three others, but the majority of care is provided by mid-level practioners: nurse practitioners (like Wintory), nurse midwives physician assistants. (See box, at right, for further definitions.) Loretta Mohr, a nurse practitioner at the clinic, says the center offers community residents the opportunity to are despite a prevailing lack of money and transportation a language barrier (many of the mid-level practitioners are bilingual). "There are a lot of barriers for Hispanics to go to a tertiary care center [hospital]," she says.
Using mid-level practitioners to fill in the Illinois health care gap is not a new idea, but it is receiving greater attention in light of the state's worsening health care statistics. Seventeen counties lack a health department to provide prenatal care and family planning, and 20 Illinois hospitals have closed since 1985. Illinois Department of Public Health research suggests that 32 counties and parts of 52 others are short on medical manpower. They have a doctor/patient ratio of 1 to 3,000 or 1 to 3,500. (The poverty level and infant mortality rate are factors when determining whether a shortage exists.) Even more startling is the fact that 22 nations have lower infant mortality rates than Illinois. Chicago's infant mortality rate is higher than those of Jamaica, Trinidad and Tobago, Bulgaria and Cyprus.
---
Using mid-level practitioners to fill in the Illinois health care gap is not a new idea, but it is receiving greater attention in light of the state's worsening health care statistics
---
To offset Illinois' lack of health care in both rural and urban settings, the Lt. Governor's Rural Health Task Force report, released in April, recommends scholarship programs to increase the number of mid-level practitioners, and the Chicago and Cook County Health Care Summit report, also released in April, recommends investigating ways to increase use of mid-level practitioners. (For summit report, see box, page 17; for rural report, see "The state of the State," May Illinois Issues, pages
Mid-level practitioners
• Nurse practitioners are registered nurses who have additional education at the master's level or through a certificate program. (Illinois offers graduate level programs but training varies throughout the United States.) Most nurse practitioners become certified by passing a national board exam covering their specialty. They are trained, like doctors, to make physical assessments and recognize irregularities but, unlike doctors, they cannot prescribe medicine in Illinois. Their emphasis is primary care and patient education. They work in many settings such as hospitals, community health clinics, health management organizations and schools and may specialize in pediatrics, gerontology, primary care and critical care. About 500 certified nurse practioners work in Illinois and 30,000 in the United States.
• Physician assistants perform tasks similar to those of nurse practitioners but the physician assistant is more dependent on the doctor. "Ultimately they [the physicians]. . . call the shots," says Lily Gage, president of the Illinois Academy of Physician Assistants. The only training available in Illinois for physician assistants is at the Cook County Hospital. Physician assistants are trained to take medical histories, order laboratory tests and study the results, and make preliminary diagnosis. They are not always nurses, but in order to qualify for training they are expected to have studied college-level anatomy, biology, chemistry, English, math and physiology. Physician assistants are required to take a national certifying exam after one year of study and another year in a clinical internship. They can specialize in primary care, surgery, emergency medicine and obstetrics/gynecology. Nearly 103 physician assistants practice in Illinois and 20,000 in the United States.
• Nurse midwives are registered nurses who have received training at the master's level or through a certificate program. They are trained to give prenatal and postnatal care, can deliver low-risk babies and do some gynecological work. They usually achieve certification by passing a national examination. About 175 certified nurse midwives practice in Illinois and about 4,000 practice in the country.
Once certified, like nurses, all three types of mid-level practitioners must continue education courses and be re-certified. They are considered team players, required to have a working relationship with a supervising physician or physicians to allow consultation and referral of patients when complications arise. The physician does not have to be at the site but should be available if needed. Mid-level practitioners operate under guidelines for treatment, which are established by the physician or a hospital; guidelines for the nurse practitioner must be in writing and are called protocols.
Angie Watson
June 1990/Illinois Issues/15
---
8-9.)
The federal government has already acted to encourage mid-level practitioners in rural areas. Doctors hoping to receive higher Medicaid and Medicare reimbursements under the federal Rural Health Clinic Act must have a nurse practitioner or physician assistant at their rural clinic. U.S. Sen. Paul Simon (D-Illinois) told a Springfield rural health conference in April that he views nurse practitioners and other mid-level professionals as "alternatives" for rural areas that fail to lure physicians to their location.
Dr. Jerry Beguelin, an Irvington physician in rural Washington County, uses a nurse practitioner as a way to emphasize health maintenance. "I think the major problem in medically underserved areas is that the physicians are so involved with patients that are seriously ill that there's not adequate time to do preventative care."
While shortages appear to create a demand for mid-level practitioners, these health professionals are not always fully accepted by physicians. Nor are Illinois laws and regulations always clear in defining the role for mid-level practitioners.
At issue in Illinois is the nurse practitioner working at a clinic or elsewhere without the supervising physician at the site. The Illinois State Medical Society (ISMS) has no formal position, but there are expressions of caution. "We need to carefully study where the responsibility ultimately lies," says Dr. Eugene Johnson, a former president of the ISMS. "It should be with the physician who is backing up that nurse. He should see that the direction of the care is good quality."
---
While shortages appear to create a demand for mid-level practitioners, these health professionals are not always fully accepted by physicians. Nor are Illinois laws . . . clear . . . for mid-level practitioners
---
Dr. Raymond Webber, chairman of the board of the Illinois Academy of Family Physicians, says having a doctor on site allows the mid-level practitioner to learn more on a day-to-day basis and ensures the best health care. "You can't closely consult with a physician unless they're there," he says. "There's a great difference in telling someone there's a rash and seeing it. It's an issue of the quality of care. It's the difference between a Cadillac and a Chevrolet."
Webber doubts that using mid-level practitioners in under-served areas is the solution to the absence of quality care. "We need to address the real problem at hand," he says. "It's not that there is a health care provider shortage in rural Illinois; there is a physician shortage."
Advocates of mid-level practitioners point to successes in other states. They claim that mid-level practitioners can provide cheaper basic health care services, expand health care in needy areas and provide more personal attention in teaching patients preventative health care measures. In 1986 certified nurse midwives delivered 89,810 babies in hospitals across the country, and studies as early as 1961 credit their help in reducing the number of low birth-weight cases and lowering infant mortality rates in the areas where they worked. A 1978 study published in the American Journal of Public Health found that nurse practitioners and other mid-level practitioners identified more signs and symptoms and offered more nondrug therapy than did physicians. They also tended to follow up specific patient problems more than physicians did.
Vague language in the Illinois law covering nurse practitioners has meant that fewer of them seek work in clinics like the one in Alexis. Physician assistants are regulated by the Physicians Assistant Act, but nurse practitioners and nurse midwives are included under the Illinois Nurse Practice Act. The latter refers to them under the professional nursing class as nursing "specialties,"
A new law is necessary, according to Louise Shores, executive administrator of the Illinois Nurses Association. Regulatory challenges to nurse practitioners have created questions that could undermine the profession. The lack of access to health care and the regulatory challenges of nurse practitioners across the state have forced the issue, says Shores.
The Illinois Department of Professional Regulation has responded to three complaints about nurse practitoners in the last two years, according to public information officer Mike Manning. The department is usually required to determine if the nurse practitioner is diagnosing and treating an illness "without the direct supervision of a physician." Department officials declined to specify what "direct supervision" is.
Nurse practitioners say the lack of clear legal definitions in the law and regulations is the largest detriment to their practice in Illinois. "The law is so vague that it offers us no protection," says Carol Miller, a Peoria pediatric nurse practitioner. "There's no way to say when you've stepped over the line. You're left hanging out there."
A recent department investigation of a Freeport nurse practitioner working in a private clinic halted the use of nurse practitioners in the local health department. "The whole issue has upset our normal way of doing things," says Martin Tinberg, public health adminstrator of the Stephenson County Health Department. The department's family planning and primary care clinics drastically scaled back services because doctors withdrew their protocols from the nurse practitioners. Without the written protocols from a physician and a working relationship with that physician, nurse practitoners cannot practice. "Physicians want to be assured that what we're doing here is within the expectations of the Department of Professional Regulation," says Tinberg.
The effects of an investigation are far-reaching. "If a nurse practitioner is challenged by the Department of Professional Regulation, it limits the practice of every nurse practitioner in the state," says Shore.
16/June 1990/Illinois Issues
---
Chicago and Cook County Health Care Summit
• The Chicago and Cook County Health Care Summit mid-April report suggests ways to improve Cook County's fragmented health care system. Last August the summit was called by Gov. James R. Thompson. Chicago Mayor Richard M. Daley and Cook County Board President George W. Dunne, who convened representatives from medicine, labor unions, hospitals, community groups, clinics and county and state health officials.
The summit report recommends creation of a system for planning, coordinating and governing Cook County public health services. It also proposes to provide more services at no additional state or local cost by maximizing reimbursements from the federal government under Medicaid.
The three-year plan would redirect to the state Medicaid program money that Chicago and Cook County already spend to provide health services for the poor. In the first year, the state pays $17 million, and the federal government contributes $14.3 million via its one-half match of Medicaid costs. Cook County the first year spends $9 million to expand a referral program, add staff and acquire and renovate Provident and Bethany hospitals. For the second and third years, federal matching funds cover the county's and city's expenses to increase patient capacity at specific clinics and to consolidate the clinic system.
The summit plan depends on using city/county funds to maximize federal matching dollars. It recommends expanding Medicaid coverage by enrolling all those who are eligible and increasing reimbursements and covering additional services. During the third year, however, it recommends, if justifiable, a special Cook County tax for health.
Major recommendations include:
• Establish eight city and five suburban Corridors of Care to aid planning. The corridors take into account natural boundaries; existing referral efforts between doctors, hospitals and clinics; high risk populations; transportation patterns; the number of medically needy; cultural and ethnic makeup. Patients would not be limited to seeking care in the corridors where they live.
• Establish Preferred Provider Partnerships (PPPs) to coordinate services among providers serving in specific geographic areas. The PPPs would include links between medical providers, social support services, substance abuse treatment, nutritional counseling and others. Incentives to join a PPP include higher Medicaid reimbursements and the sharing of services (lab, radiology, pharmacy, case management).
• Establish an overall coordinating group, the Cook County Health Council, and encourage the development of boards for each corridor to help design the health system within the corridor. The council will advise and coordinate local boards and oversee the Medicaid program for PPPs.
• Establish a Health Care Legislative Commission to monitor the council and suggest needed changes.
• Reconfigure the current in-patient care to provide the 1,000 hospital beds needed for the poor, including up to 500 beds at a replacement Cook County Hospital, 300 at Provident Medical, 250 at Bethany and/or St. Anne's hospitals, and 100-150 at the University of Illinois Hospital.
• Contract in suburban Cook County for low-risk delivery of babies for an estimated 950 uninsured women.
The plan cannot proceed without state action, and the governor has told the legislature he will not approve health care solutions for Chicago and Cook County unless rural interests are also met.
Angie Watson
In an effort to establish clearer regulations for nurse practitioners, Sen. Margaret Smith (D-12, Chicago) introduced S.B. 2278. Smith wants to enact a separate law distinguishing nurse practitioners from other advanced nurses. The bill failed in committee this spring, but Smith hopes the issue will be studied. Her bill attempted to map the authority and certifying requirements of the nurse practitioners. One of the most controversial provisions would have allowed the nurse practitioner to prescribe some medication, but only when it was included in the written guidelines or protocols drawn between the physician and nurse practitioner.
Establishing birthing centers in rural Illinois and allowing nurse midwives to practice at them is another issue. Eighteen counties in southern Illinois lack obstetricians, and women there may have to drive up to 50 miles for prenatal care and delivery. Rep. David Phelps (D-118, Eldorado) believes that certified nurse midwives should be allowed to set up birthing centers to provide obstetric care. Freestanding clinics not connected with a hospital or physician draw the greatest opposition from physicians and some certified nurse midwives. They argue that low-risk births can turn into complicated births requiring immediate treatment at more technically equipped hospitals.
Phelps admits that most politically acceptable in Illinois would be birthing center wards at hospitals. Betty Schlatter, a certified nurse midwife in Chicago, agrees. In that setting, she believes, nurse midwives provide equivalent and less expensive care than physicians for low-risk pregnant women. Nurse midwives, she says, provide a more personal birthing experience because they usually see the woman throughout the pregnancy and stay with her during the entire birth process. They emphasize a natural birth with little intervention. "We support the women but don't try to hurry the process unless the mother or baby are in danger," she says.
Birthing centers with nurse midwives, clinics with nurse practitioners and physician assistants — these are nontraditional health care options for Illinois. Many states already use mid-level practitioners extensively and in some cases allow them prescriptive privileges. Proponents of a greater reliance on mid-level practitioners to provide health care say that Illinois is behind the times, but the powerful Illinois medical community says the state should move cautiously in any change affecting medical care.
Meanwhile, for nurse practitioner Wintory, business is steady at Alexis-North Henderson Community Medical Service. After 10 years in practice Wintory knows almost everyone who comes in the door. "The community has been very supportive," Wintory says. "Before I opened the doors I thought, 'Why would anyone want to come to a nurse?' And they started piling through the door. I stopped asking the question."
June 1990/Illinois Issues/17
---