Chicago jazz: a dream followed
By JERRY TROXELL
Bud Freeman. Crazeology: The Autobiography of a Chicago Jazzman, as told to Robert Wolf. Urbana and Chicago: University of Illinois Press, 1989. Pp. 103 with index. $15.95 (cloth).
Bud Freeman's autobiography is the story of a dream followed. It began in Austin, a western suburb of Chicago, in the teen years of this century, and it continues today, having spanned decades and continents. For anyone with an interest in the early years of jazz as it was shaped and formed in Chicago, this modest book provides a warm and affectionate memoir of the people, the times and the events which made it all happen.
Studs Terkel, in his brief foreword, pays tribute to the author and the man, Bud Freeman: " 'Crazeology' is more than a light hearted journey through romantic attachments, idiosyncratic colleagues, world travels . . . and very funny stories (I lost count of the number of times that I laughed out loud). It is about the everlasting debt we owe the black jazz artists for enriching our lives. From the first glowing moment that Bud and his Austin High School buddies traveled to the South Side and heard young Louis [Armstrong] with King Oliver and Bessie Smith and Earl Hines and Jimmy Noonc, his life was transformed. And so was ours whether we realized it or not."
Bud Freeman's dream was to become a jazz musician, and together with his brother Arny, who sought with equal fervor to become an actor, he found his way into the passionate, open and often wild times of Prohibition-era Chicago. He listened to the recordings of the Creole Jazz Band, the New Orleans Rhythm Kings and early pianists like James P. Johnson and Willie "The Lion" Smith. He heard these groups and any others that he could, spending night after night with friends in clubs, letting the music fill his ears and his mind. He tells of visiting the Lincoln Gardens in 1923 to hear King Oliver and the young Louis Armstrong. "Aspiring white jazz musicians used to go there all the time, and the people there were wonderful. They paid no attention to us; they knew we were there to hear the music. The big black doorman weighed about 350 pounds, and every time he saw us he would say, 'I see you boys are here for your music lessons tonight.' He knew. That was rather a sage thing for him to say because hardly any whites knew about this music." As Terkel notes, "Bud's simple manner in describing the graciousness of his black mentors and of the black community puts to shame much of the shallow, 'profound' commentary on race that we hear these confabulating days."
Photo by Sherwood E. Fohrman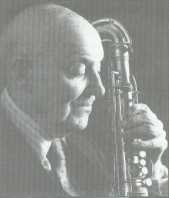 The candor with which Freeman discusses his ability, or lack of it, in his early years is delightful. The image of a young man getting his first saxophone, a C melody, and attempting to make the music he was hearing with little help or instruction is difficult to reconcile with the wonderful sound and sureness that was to come later. He talks about learning during his apprenticeship, and what he says should be taken to heart by teachers. "I was so involved in listening to jazz that I can't tell you what life was like in those days. We did not live as other people did. Music was twenty-four hours a day. When we weren't performing we were listening. Whenever a new Bix [Beiderbecke] or Louis record came out we would have a party. Some guy would serve wine and food at his parents' home and we would discuss the record, but not as critics would. We talked about phrases. We would sing a phrase and play it over and over. We were learning, but we were learning through feeling. No one was invited who did not feel it. This is what we did for years on end."
He is equally candid when he discusses performing as an elder statesman of jazz. "I think audiences come to hear older musicians like me just to see if we can pick up a horn without falling over. That's why impressarios don't hang up on me when I tell them I only play short sets. They probably know that I'm senile, too, that when I start playing I forget about time. I remember two years ago I was playing a benefit in a Chicago club called Andy's, co-owned by Penny Tyler. I was supposed to play for only 20 minutes but when I got off I was told that I had been up there for an hour. That says something for the power and the joy of this music. That is why I continue playing, why I still travel to festivals. During 1987-88 I played festivals in New York, Wisconsin, Arizona, and Illinois, Pennsylvania, and California, plus half a dozen dates in the city where Louis and King Oliver discovered a beat that will be with us forever, the city where Bix and Bessie Smith, Jimmy Noone, Earl Hines, and a score of other greats developed a music that came from the spirit of the blacks, the city where it all started for me and where I live again. Chicago."
Robert Wolf has structured the material in this "as told to" memoir so that it retains a page-turning pace throughout. The book is not another of those "and then I did" chronologies that so often dominate the genre. A short, annotated discography at the conclusion of the work will be useful to both historical researchers and fans alike. It stops at 1963, however, and later recordings are both available and good. Catch Bud Freeman, his wonderful sound and his beautifully shaped lines on both early and late recordings. His love of the music and his love of the jazz life are heard in them all.
Jerry Troxell is a composer and saxophonist who writes and performs both new music and jazz. He has recently returned from Yugoslavia where he was Fulbright Artist In Residence at the University of Belgrade. He has taught jazz history courses for the past 20 years at Sangamon State University and Albion College.
July 1990/Illinois Issues/33
---