Names
McDonald takes over at DCFS; Johnson to Chicago's Hull House
Gov. James R. Thompson moved another of his top aides into an executive position in July when he tapped Jess McDonald, his human services assistant since 1983, to head the Department of Children and Family Services (DCFS). McDonald, whose appointment was effective July 21, replaced Gordon Johnson, the agency's director since 1983.
McDonald's involvement with the human services area spans nearly two decades. He spent a year as a DCFS caseworker (1970-71) and, after earning a master's degree in social work from the University of Chicago and serving a brief stint as a legislative analyst, returned to the agency in 1974 as assistant to the director. In 1975 he moved into the post of executive deputy director. McDonald left the agency again in 1976 to take over the health and social services division at the Bureau of the Budget, a post he held until 1983 when he moved to the governor's office and back into close contact with DCFS.
McDonald's appointment must be confirmed by the Senate. His annual salary is $65,835.
Johnson, whose tenure as DCFS director was the longest in the department's 25-year history, is now executive director of Hull House, the Chicago-based social service agency. One of his premier efforts as DCFS director was the establishment of the One Church, One Child minority adoption program. Conceived by the Rev. George Clements of Chicago, this program received a 1986 Ford Foundation Innovations in Government award and has been duplicated in 27 other states.
Pullen wins
Rep. Penny Pullen (R-55, Park Ridge) won her renomination bid on September 21 when the Illinois Supreme Court declared her the winner of the March primary. Pullen and Rosemary Mulligan, a Des Plaines paralegal, had finished the election tied, but Mulligan won a coin flip on July 18. The Supreme Court ordered spoiled ballots counted where a voter's intent could be determined, giving Pullen a six-vote win.
Bradner to ACTION; Yeates moves up at GOVA
Jeanne H. Bradner, director of the Governor's Office of Voluntary Action (GOVA) since 1984, resigned in June to accept the post of regional director of ACTION, the federal domestic volunteer agency. She was replaced at GOVA by Patricia Yeates, the agency's assistant director.
While at GOVA. Bradner worked with other state agencies and with nonprofit and business organizations around the state to stimulate a number of voluntary initiatives, among them the Illinois Literacy Council. Before joining the Thompson administration, she was development and marketing director for the Association for Retarded Citizens of Illinois from 1981-83. From 1980-84 she was trustee and village treasurer of Winnetka. Bradner was elected village president last year.
In her new post. Bradner will be responsible for such ACTION programs as Volunteers in Service to America (VISTA) and the Retired Senior Volunteer Program (RSVP) in Illinois, Indiana, Iowa, Michigan. Minnesota and Wisconsin.
Yeates, assistant GOVA director since 1985, was administrative assistant to the deputy governor and special assistant to the governor from 1977-85. An Aurora resident, she will be paid $35,000 annually.
Appointments, reappointments to the Human Rights Authority
Gary E. Miller, director of the Guardianship and Advocacy Commission, announced a number of appointments and reappointments to the commission's Human Rights Authority (HRA) in June and July. Appointed by the commissioners, the new regional HRA members include —
In the Carbondale region, Susan Frassato of Pinckneyville and Stanford E. Rubin of Carbondale. Frassato is coordinator of client and professional services for Du Quoin's Five Star Industries Inc. Rubin coordinates the rehabiliation program for Southern Illinois University's Rehabilitation Institute. Reappointed was Cheryl Maynard of Marion.
In the Champaign region, G. Dugan Strom of Farmer City, assistant executive director of residential services for Bloomington's MARC Center. Reappointed was Richard E. Krandel of Champaign and Laura Wozniak of Urbana.
In the Chicago region, Barbara C. Coats of Oak Park, a medical social worker with the University of Illinois at Chicago.
In the Elgin region. Wilmcttc resident Alan G. Spector, executive director of Glenkirk in Northbrook. Reappointed was Howard R. Katz of Batavia.
In the Peoria region, Sandra L. Blankenship of East Peoria, a paralegal at Swain. Johnson and Gard; and Terence L. Cumberworth of Pekin, director of the Tazwood Center for Human Services. Richard D. Johnson of Gilson was reappointed.
HRA members investigate alleged rights violations of disabled persons in public or private facilities. They serve three-year terms and receive expenses only.
Correction
There's no golden apple for us. In our "Names" in the August-September magazine we meant to list the 10 winners of this year's Golden Apple Awards. Only nine names appeared. Our apologies go to Charles Sentell of Chicago, a teacher at Glenview's Henking Elementary School. The annual awards by Chicago's Foundation for Excellence in Teaching honor exemplary educators in Cook, DuPage and Lake counties.
Editor
Wheaton resident to chair Prairie State 2000 Authority
Alice E. Phillips was elected chairperson of the Prairie State 2000 Authority's board of directors in July. Phillips, a government relations consultant for the Chicago Title Insurance Company, has long been active in government and politics. She is a former Illinois House staff member.
Phillips had been reappointed to a second term on the authority's board in June along with Herrin Junior High School teacher Jacob Rendleman of Carterville. Kent D. Griffiths of Chicago, corporate president of Northbrook's Kencor Inc., is a new member, replacing Robert English. Griffiths' term expires July 1 1991, Rendleman's July 1, 1993, and Phillips' July 1, 1994.
The authority, created in 1983, provides grants and loans to Illinois companies that need to retrain employees in order to remain competitive.
Boards and commissions
Gov. Thompson made the following appointments and reappointments to boards and commissions in June. All appointments were effective immediately, require Senate confirmation and pay expenses only, unless otherwise indicated.
Chicago Transit Authority: New appointee Kim Fox of Chicago, executive director of Citizens for Thompson and a former member of the State Toll Highway Authority, replaced John Hoellen. The appointment was effective September 1 and expires September 1, 1997. Fox's annual salary is $25,000.
Comprehensive Health Insurance Plann Board: Dr. Joan E. Cummings of Glen Ellyn, a physician with the Edward Hines Jr. Veterans Administration Hospital, was appointed to replace George Wilkins Jr. Reappointed were Howard J. Bolnick of Chicago and Bryan W. Swank of Libertyville. All three will serve until July 1, 1993. The board operates the comprehensive
Continued on page 32
30/October 1990/IIlinois Issues
---
Names
Continued from page 30
health insurance plan that provides health insurance for Illinois residents who have been rejected by other insurance carriers.
State Board of Education: Marcene Mitchell of Chicago was appointed to a term expiring January 21, 1991. The investment manager with Robert Sheridan & Partners replaced Jacqueline Atkins. The board supervises all aspects of Illinois' public schools.
Educational Labor Relations Board: Eugene Thomas Flynn of Philo, assistant to the associate vice president for personnel administration at the University of Illinois at Urbana-Champaign, replaced Randi Abramsky. His term expires February 1, 1996; his annual salary is $49,376. Reappointed as board chairman was Gerald Berendt of Evanston. His term expires February 1, 1994; his annual salary is $54,862. The three-member board oversees collective bargaining matters relating to public employees of school districts and state educational institutions.
Health Care Cost Containment Council: New appointee Steven B. Scheer of River Forest, executive vice president of the Illinois Hospital Association, replaced Charles Van Vorst. Nine of the 11-member board were reappointed: Robert K. Burger of Wilmette, William Frayser of Broadview, Charles Goulet of Geneva, Larry Lawler of Decatur, Johanna Lund of Rockford, Edward H. Mazur of Wilmette, Kenneth Morrissey of Naperville, Ruth M. Rothstein of Chicago and Raymond Werntz of Glenwood. All terms end September 5, 1993. The 11-member council collects and publicizes hospital financing and cost data, reports to the General Assembly on the state's health care financing system and provides counsel to the general public on effectively finding and using health services.
Health Facilities Authority: New appointee J. Robert Thompson of Oak Park, a retired pathologist, replaced Alfred J. Kiessel. He will serve until June 30, 1992. Katherine Janega of Glencoe was reappointed to a term ending June 30, 1997. The seven-member authority provides for management, operation and/or construction of health facilities in the state.
Illinois Lottery Control Board: Charles D. Joseph of Rockford, president of Charles Joseph Traffic Services Inc., replaced Richard Gromer. Rixon A. Irvine of Chicago was reappointed. Both terms expire July 1, 1993.
Public Administrator/Public Guardian: A number of new public administrators/guardians were appointed. In Greene County, Shirley Myers, a White Hall farmer, replaced James Guis; in Jackson County, Marlene Gibbs of Murphysboro, owner of McGregor Real Estate and Insurance, replaced Robert E. Fingar; in Kankakee County, L. Patrick Power of Kankakee, an attorney with Power and Kick, replaced Duane J. O'Connor; in Lawrence County, Jeffrey Gray of Bridgeport, the director of Cunningham Funeral Home, replaced William Strange; in McDonough County, William E. Dillavou of Macomb, retired sales manager with NH Insurance Group, replaced John D. McMillan; in Morgan County, Jacksonville attorney Eddie Carpenter replaced Jack Mathews; in Piatt County, Kelly Finet of Monticello, an accountant with H&R Block replaced William F. Tracey II; and in Washington County, Edward Kemper of Nashville replaced Jene Driskill. All appointees' terms end December 6, 1993, except McMillan's, which expires December 5, 1994.
Reappointed were, in Carroll County, John LeComte of Savanna; in Cass County, Edward Houston of Arenzville; in Clay County, Albert VanDyke of Louisville; in Clinton County, James W. Hummert of Breese; in DuPage County, Cary Pierce of Wheaton; in Ford County, E. Leslie Conkling of Kempton; in Franklin County, David F. Daisy of Benton; in Iroquois County, Roy Seiling of Gilman; in Jasper County, Harold Webb of Newton; in Jefferson County, Emmit Wilson of Mount Vernon; in Jersey County, Lawrence J. Roland of Jerseyville; in Kane County. Henry J. Banser of Aurora; in Kendall County, Richard J. Reedy of Oswego; in Logan County, Donald A. Behle of Lincoln; in Macon County, William R. Mattson of Decatur; in Macoupin County, Sam Molen of Girard; in Marion County, Michael Jones of Centralia; in McHenry County, Anthony Varese of McHenry; in Mercer County, Raymond Matter of Violar; in Montgomery County, Frederick Floreth of Litchfield; in Peoria County, Thomas Trager of Peoria; in Pike County, Barbara Sue Dyer of Pittsfield; in Pulaski County, Barbara Bode of Mound City; in St. Clair County, Robert Stookey of Belleville; in Stephenson County, George A. Koehler of Freeport; in Will County, Richard J. Kavanagh of Bolingbrook; and in Williamson County, Homer Askew of Marion. All terms expire December 6, 1993. A public administrator/guardian handles the real or personal estates of deceased persons without an executor until one can be found and oversees the estate and welfare of any disabled adult in need of a guardian.
Illinois Racing Board: Newly appointed members include Lorna Ellen Propes of Evanston, an attorney with Kane, Obbish & Propes, replacing Hubert Messe; and Gary Starkman of Chicago, an attorney with Arvey,
Household hazardous wastes to be collected
It's been 10 years since you painted the nursery and there's still some paint left in the can. Or, you just moved into a new house and discover several nearly empty bottles of pesticide in the basement. Do you pour the chemicals down the drain? Do you put the nearly empty paint can in your trash barrel for the garbage man to collect?
Generally, according to Will Flower of the Illinois Environmental Protection Agency (IEPA), the answer to both questions is no. Yet, many people do — unwittingly — dispose of their household hazardous wastes in improper ways. Flower believes that a major reason for this is the attitude that, if products can be used around the home, they must be safe. Stored correctly and used according to directions, most household products are safe — until it's time to dispose of them. It's then that they can pose a pollution problem.
How should people get rid of these wastes? The IEPA has one solution: its Household Hazardous Waste Collection Projects. These projects, which the agency began conducting in 1988, collect such materials as banned or unwanted household pesticides, weed killers, paint, paint thinners and removers, antifreeze, various petroleum products and pool cleaners. During the last fiscal year, the [EPA hosted seven projects and collected more than 2,000 drums of household hazardous waste.
This fiscal year's collection sites and dates include Pekin on October 13, Effingham on October 27, DeKalb on April 6 and Orland Park on April 20. (Two projects have already been held.)
Communities that would like to cosponsor a collection project should apply to the IEPA. (The agency has already received more than 50 applications.) In selecting sites, the agency tries to spread them geographically around the state. Cosponsoring communities must have a suitable site, handle publicity and provide workers to direct traffic.
If your area has no project scheduled, IEPA's Flower offers the following suggestions on how to handle household hazardous waste. First, use it. If you can't, then consider storing it until it can be disposed of properly. Or, encourage your community to hire a private contractor to conduct a collection project. Flower warns, however, that this last option is not cheap and could cost the community several thousand dollars.
But, Flower emphasizes, perhaps the most important thing that everyone can do is to become more educated about the products they use around the home and the yard and the effects these products can have on the environment. If in doubt about the proper use or disposal of such products, contact the IEPA.
32/October 1990/Illinois Issues
---
Hodes, Costello and Burman, replacing Dan Webb. Reappointed were Thomas J. Garvey of Oak Brook and Irwin Jann of Chicago. Propes and Starkman will serve until July 1, 1992, Garvey and Jann until July 1, 1996. The due-member board regulates horse racing in Illinois, issues licenses and investigates alleged violations.
Illinois Student Assistance Commission: Bethany D. Baker of Chicago, a student at Roosevelt University, replaced Dan Dring, and Roberto A. Armendariz of Cicero, the director of group industrial engineering for Chicago's Newark Electronics, replaced Maxine Wortham. Baker will serve until January 21, 1991; Armendariz's term expires June 30, 1995. The commission administers 12 financial assistance programs including scholarships, loans and grants and has jurisdiction over loans under the state's guaranteed loan program.
Illinois State Toll Highway Authority: New appointee David R. Gilbert of Glencoe, president and chief operating officer of Lesnick Public Relations in Northbrook, replaced Kim Fox. The appointment, which was effective September 1, expires June 1, 1991, and pays an annual salary of $16,459.
The Judiciary
The Illinois Supreme Court has announced the following appointments and resignations:
Illinois Courts Commission
• Appointed as alternate member: Bernard E. Drew Jr. of Waukegan, a circuit judge in the 19th Judicial Circuit, effective September 1. He succeeds 17th Judicial Circuit Judge John E. Sype, who retired.
Appellate Court Administrative Committee
• Reappointed: 2nd District Appellate Court Justice Philip G. Reinhard of Rockford.
Cook County Judicial Circuit
• Resigned: Circuit Judge Peter F. Costa of Oak Park, effective August 31. He had been a judicial officer since 1973 and was a member of the Illinois Judicial Conference's juvenile justice study committee.
7th Judicial Circuit
• Appointed by circuit judges as associate judge: private attorney John R. Keith of Springfield.
10th Judicial Circuit
• Appointed by circuit judges as associate judge: private attorney and former mayor of Peoria E. Michael O'Brien.
12th Judicial Circuit
•Resigned: Circuit Judge Michael A. Orenic of Joliet, effective August 31. He had been a judicial officer since 1964 and served as chief judge of the circuit for many years.
13th Judicial Circuit
• Resigned: Circuit Judge Thomas R. Flood of Ottawa, effective August 31. He had been a judicial officer since 1973 and was chief judge
Continued on page 35
October 1990/Illinois Issues/33
---
Names
Continued from page 33
of the circuit.
14th Judicial Circuit
• Resigned: Circuit Judge Wilbur S. Johnson of Geneseo, effective August 31. He had been a judicial officer since 1972.
15th Judicial Circuit
• Appointed by circuit judges as associate judge: Robin A. Minnis of Oregon. Minnis was an Ogle County assistant state's attorney.
17th Judicial Circuit
• Resigned: Circuit Judge John E. Sype of Rockford, effective August 31. He had been a judicial officer since 1972 and was chief judge of the circuit. Sype was an active member of the Illinois Judicial Conference and a long-time member of the Supreme Court Rules Committee.
18th Judicial Circuit
• Appointed by circuit judges as associate judge: private attorney George J. Bakalis of Glen Ellyn.
20th Judicial Circuit
• Appointed by circuit judges as associate judge: private attorney Ellen A. Dauber of Belleville.
Thompson a first in UI post
The University of Illinois is an institution rife with traditions, and one of these has been that its general officers were exclusively men. That all changed on August 21, however. when Michele M. Thompson, special assistant to UI President Stanley Ikenberry since 1985, took over as secretary of the UI Board of Trustees and of the university. One of the institution's top nine corporate officials, Thompson replaced Earl W. Porter who died last February after serving 24
Concluded on back cover
Solid waste management top topic for discussion
Most experts agree that the nation is in danger of being buried beneath an avalanche of garbage. Strong community opposition to the siting of new landfill facilities, the reluctance of consumers to recycle applicable materials and the refusal of industry to provide markets for recyclables have combined to create a dilemma of ever-increasing proportions. The political, environmental, social and financial dimensions of the problem will be the focus of a number of upcoming conferences and meetings.
Public response to the Chicago-area balefill facility proposed for Bartlett will be the topic of a special issue luncheon to be held October 19 at the Omni Morton Hotel in Chicago. The speaker will be William Abolt, director of northern Cook County's solid waste agency. The luncheon is sponsored by the National Association of Professional Environmental Communicators (NAPEC). If you'd like to attend, call Jennifer Beese at (708) 520-3153 or write to NAPEC, P.O. Box 068352, Chicago 60606.
The University of Illinois at Chicago's 18th Annual Energy Conference will focus on the Energy Aspects of Solid Waste Management. To be held October 29-30 at Chicago's Ambassador West Hotel, the conference's four half-day sessions will use individual presentations and panel discussions to explore the current state of the solid waste problem in Illinois and the Midwest, to review siting policies and the new waste-to-energy technologies and to examine the energy implications of modern landfill technologies.
Keynote speakers for the conference include, on October 29, Joan Bernstein, vice president for environmental policy and ethical standards for Waste Management Inc., who will open the proceedings; and J. Michael Davis, the assistant secretary for conservation at the U.S. Department of Energy. On October 30, Richard E. Storat, vice president of the American Paper Institute, and DuPont's Paul Wyche will address the energy, economic and environmental aspects of paper and plastic.
The registration fee is $90, which includes a copy of the conference proceedings. For more information, contact James Wiet at UIC's Energy Resources Center, P.O. Box 4348, M/C 156, Chicago 60680; or telephone (312) 996-4490.
Coping with Solid Waste in the 1990s is being presented by the Government Finance Officers Association (GFOA) on November 1-2 in Lake Tahoe, Nev. A number of speakers will address various financial issues surrounding solid waste management, including determining the costs of operating a solid waste system, establishing user fees and minimizing expenditures through recycling and source reduction.
The cost of the conference is $285 for GFOA members and $355 for nonmembers. For more information, contact D. William Graham, GFOA, 1750 K St. N.W., Suite 200, Washington. D.C. 20006; or telephone (202) 429-2750.
October 1990/Illinois Issues/35
---
Names

Continued from page 35

years in the post.

Thompson joined the UI staff in 1977 as an assistant chancellor for academic affairs at the Urbana-Champaign campus and has since held a number of positions in personnel management and affirmative action. In 1985 she left Illinois for a brief stint as director of personnel administration for the nine-campus University of California system but returned to accept the post of special assistant to Ikenberry.

As the university's sixth secretary, Thompson is responsible for all communications with the board, for executing all official documents and for keeping the board's official proceedings. She also maintains a faculty post as lecturer in the UI School of Public Health on the Chicago campus.

Thompson resides in Evanston with her husband, state Rep. Woods Bowman (D-4, Evanston).

Community college trustees elect new officers

The Illinois Community College Trustees Association (ICCTA) elected its 1990-91 officers in June. The four new officials began their one-year terms on July 1.

The new president is James H. Griffith of Homewood, ICCTA vice president last year. Griffith is a trustee at Prairie State College in Chicago Heights.

The association's new vice president is Jan Wagner of Lansing. A trustee of South Suburban College in South Holland, she will become ICCTA president next year.

Nancy Bates of Danville, a trustee of Danville Area Community College, is the new secretary. And, returning as treasurer, is Ronald E. Keener of Winfield, a trustee of the College of DuPage in Glen Ellyn.

The ICCTA, created in 1970, lobbies for community college interests before governmental and legislative bodies. Its membership is comprised of trustees from the state's 39 community college districts.

Illinois ACLU chapter elects DePaul University law professor as new president

Jeffrey M. Shaman of Evanston was elected president of the Illinois chapter of the American Civil Liberties Union (ACLU) by its 60-member board in June. A constitutional law professor at DePaul University since 1973 and a principal author of Illinois' Freedom of Information Act, he will serve a one-year term.

Shaman succeeds Diane Geraghty who returned to her post as ACLU general counsel. Geraghty, a Loyola University School of Law professor, served four terms as president of the 15,000-member Illinois chapter which is considered one of the most active in the nation.

A 20-year member of the ACLU, Shaman has been on the board of directors since 1984. He served four years (1986-90) as the organization's vice president for policy. Considered an expert on judicial ethics, he served from 1984-89 as director of the American Judicature Society's Center for Judicial Conduct. He is currently a senior fellow with the Chicago-based society.

Shaman says the ACLU's top three concerns are reproductive rights, AIDS and the growing threat posed by new technologies to individual privacy.

Other appointments

• John F. Whitney was reappointed in July by Comptroller Roland W. Burris to serve as chairman of the Comptroller Merit Commission. Whitney was first appointed to the commission as a member in 1981 and has served as chairman since 1982. Established in 1979, the commission reviews regulations, disciplinary actions and appeals, and personnel procedures for the comptroller's office. Whitney is currently serving his second one-year term as central region president of the National Association of Civil Service Commissioners. A Chatham resident, he also teaches political science at Lincoln Land Community College in Springfield.

• Dr. Kenneth G. Eggen was named the state's new chief medical coordinator by the Illinois Department of Professional Regulation's (IDPR) director, Kevin K. Wright, on July 23 Eggen has been medical coordinator for Chicago and northern Illinois for the past three years. He has served on IDPR's Medical Examining Committee (1979-84) and since 1987 has been a permanent member of the Medical Disciplinary Board's complaint committee. In 1988 he helped establish IDPR's Impaired Physicians Program and since then has served as its administrator. In his new post Eggen is the chief enforcement officer of the state's Medical Practice Act of 1987. He reviews complaints against physicians, surgeons and chriropractors concerning physical harm, patient negleet and discrepancies in the prescribingan and dispensing of drugs for nontherapeutic purposes.

• Cathy Monroe, a reporter for the State Journal Register in Springfield for the past two years, was hired by the public affairs division of the Illinois Commerce Commission in June as its new public information officer. She replaced Beth Bosch, who became the governor's assistant press secretary March 1. Monroe's 12-year newspaper career includes stints with Lee Enterprises, The Southern Illinoisan and the St. Louis Globe-Democrat.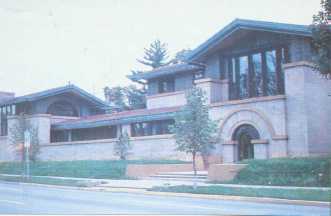 Springfield's Dana-Thomas House State Historic Site reopened to the public on September 7. An example of architect Frank Lloyd Wright's early Prairie style, the house recently underwent a three-year, $5 million restoration. Accomplished in three phases, the project ran the gamut from basic structural repairs to the restoration of more than 400 original an glass windows, lamps and other Wright-designed fixtures. Individual and group tours can be arranged free of charge by contacting the site, located at the corner of Lawrence Avenue and Fourth Street, at (217) 782-6776. The site is administered by the Illinois Historic Preservation Agency.
Patricia Burtie-McCredie
---