Names
Evanston's Branch named Teacher of the Year
Illinois Teacher of the Year William Branch believes that one of a teacher's primary responsibilities is to be a role model for young people. The social science teacher at Evanston Township High School has spent the last 12 years — 11 of them at Evanston — trying "to demonstrate to young people of all races, but especially to young blacks, that success is possible within the system."
One aspect of success that Branch stresses in all of his classes is the need for teamwork. He encourages his stronger students to work with the weaker ones so that all can realize and develop their potential. Branch also designs his classes to provoke discussion and debate among the students. He believes that this is the only way that students can truly understand what they are being told — not only in the classroom but in the larger world outside the school.
The larger world outside the school is also an important part of Branch's teaching. An advocate of school-community interaction, Branch involves various experts from the community in some of his classes and encourages his students to become involved in volunteer efforts. According to Branch, "'The community should serve an advisory role — not an adversarial one — and continuously provide feedback to schools about what it needs from us and how well we are doing." His students can earn class credit for taking part in community service activities and participating in a number of projects aimed at bringing young people and senior citizens together.
What would he like to see changed in today's schools? Branch believes that they could provide better multicultural education. He believes this is becoming more important in Illinois as the state's population becomes more diverse. He also sees a shortage of minority teachers. According to a recent report by the Education Commission of the States, unless recruiting and training minority teachers is given priority, nearly 95 percent of the nation's elementary and secondary teachers will be white in the year 2000, while 35 percent of enrollment will be minority students.
Branch was one of 334 individuals honored by the Illinois State Board of Education for exemplary contributions to both public and private elementary and secondary schools in Illinois during its 17th annual Those Who Excel awards program on September 21. As Teacher of the Year, Branch will spend the spring semester participating around the state in workshops, seminars and conferences for teachers and addressing community and civic groups. He received a one-year paid leave to pursue graduate work and a lifetime tuition waiver at Illinois' public universities. A resident of Bellwood, he is a graduate of Northeastern Illinois University in Chicago and Concordia University in River Forest. Branch is married to a teacher and has two sons.
Branch will also represent Illinois in the National Teacher of the Year program. The winner of the national program, which is sponsored by Good Housekeeping magazine, Encyclopaedia Britannica, the Council of Chief State School Officers and a number of other national groups, will be announced in the spring.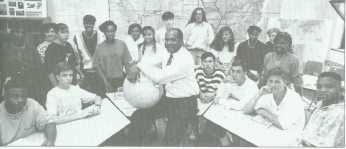 Illinois' human rights director leaves for EEOC
Joyce E. Tucker, director of the Illinois Department of Human Rights since the agency's inception in 1980, was confirmed by the U.S. Senate on September 27 as a member of the federal Equal Employment Opportunity Commission (EEOC). She was nominated for the post by President George Bush in mid-July. Tucker will complete the term of former EEOC chairman Clarence Thomas, who became a U.S. appeals court judge for the District of Columbia Circuit Court on March 8.
Tucker had worked in state government for nearly 20 years. She began her civil rights career in 1974 when she took over the affirmative action and equal employment opportunity programs at the Department of Mental Health and Developmental Disabilities. Tucker earned her law degree in 1978 from the John Marshall School of Law in Chicago.
Commissioner of Banks and Trust Companies lose three top veterans
The commissioner, the first deputy commissioner and the manager of interstate banking will all be leaving the office of the Commissioner of Banks and Trust Companies on December 31. The office examines and regulates state-chartered banks and trust companies.
William C. Harris has been the commissioner for the past 13 years. The Pontiac Republican and former Illinois Senate president (1973-74) served 22 years in the Illinois General Assembly, elected first to the House (1954) and then the Senate (1960). While Senate president, Harris oversaw passage of legislation creating the Regional Transportation Authority and the state's first campaign Finance disclosure law.
Also stepping down is John E. Treston, first deputy commissioner since 1980 (he has been serving in an advisory capacity since officially resigning September 30). He began his regulatory career in 1949 as an assistant bank examiner. He was a field examiner (1955-74) and chief examiner (1974-80). Gov. James R. Thompson appointed Scott Miller, deputy commissioner since 1988, to temporarily fill Treston's post on October 1. Miller's new annual salary is $63,000.
Resigning after 42 years of state employment is Harold F. Boede, manager of the interstate banking division in the commissioner's office. During his career he was chief examiner and executive assistant to the commissioner.
Guardianship and Advocacy Commission announces appointments
Gary E. Miller, director of the Guardianship and Advocacy Commission, announced several appointments and reappointments in September.
John B. Lower of Chicago is the agency's new general counsel and director of its Legal Advocacy Service division. Previously senior counsel of the Department of Mental Health and Developmental Disabilities, Lower earned his law degree in 1981 from Northern Illinois University in DeKalb. In his new post, Lower provides legal counsel and guidance on disability law to the agency's director and to commission members. He is also responsible for monitoring and enforcing the rights of the disabled in both state and private human service agencies.
John H. Wank of Rogers Park is the new chief counsel of the Office of State Guardian division, which is the largest office of its kind in the United States, serving the legal and social service needs of more than 5,000 wards of the
December 1990/Illinois Issues/31
---
Names
state. Previously the division's managing attorney for northern Illinois, he has been with the agency since 1984. Earlier he handled consumer fraud cases for the Illinois Attorney General's Office in Chicago. Wank is a 1981 graduate of the DePaul University College of Law in Chicago.
Miller also announced appointments and reappointments to the agency's Human Rights Authority, which conducts fact-finding investigations into alleged rights violations of disabled persons in public and private facilities. Members are appointed by the commission to three-year terms.
• In the Chicago region, Ann Brownlee and Rita Brusca, both of Chicago, and Barbara C. Coats of Oak Park were reappointed.
• In the Rockford region, Chris Lauffer of Rockford, assistant executive director of the Barbara Olson School of Hope, was appointed. Reappointed were John C. Beck and Sharon R. Rudy of Rockford and Mary A. Olson of Sycamore.
• In the South Suburban region, Carmen I. Fontanez of Schaumburg, assistant administrator of HCA Riveredge Hospital in Forest Park, was appointed.
• In the Springfield region, Loretta Maldaner of Chatham was reappointed.
Devine steps down as IHPA director, remains as state historian
Explaining his desire to return to historic research. Michael Devine, state historian since April 1985 and director of the Illinois Historic Preservation Agency since July of that year, resigned the agency directorship on October 1. He remains as state historian. The director's duties were taken over by Susan Mogerman. She has been the agency's deputy director since 1989 and earlier worked in Gov. James R. Thompson's press office.
A native of Joliet, Devine came to Springfield from St. Mary's City, an historical, archaeological and natural history museum complex at the site of Maryland's first capital, where he had been deputy director since 1982. Devine is a former Peace Corps volunteer and Fulbright lecturer.
Boards and commissions
Gov. Thompson made the following appointments and reappointments to boards and commissions in October. All were effective immediately, require Senate confirmation and pay expenses only, unless otherwise indicated.
Illinois Council on Aging: Newly appointed members include Robert H. Harlan of Freeport, a retired Foreign Service officer with the U.S. Department of State, replacing Ernest Hanson, and Eugene Verdu of Belleville, program and services director for the Older Persons/Business Assistance Center at Belleville Area College, who replaced Eleanor Wooten. Reappointed were Dorothy Crowder of Flora. Regina Kulys of Clarendon Hills, and A. Abbot Rosen and Silvia Zaldivar, both of Chicago. Hanson and Wooten will serve until January 1, 1992; the others until January 1, 1993. Senate confirmation is not required. The 31-member council advises the director of the Department on Aging and reports annually to the governor and the General Assembly about state services, programs and facilities for the aging.
Chicago School Finance Authority: Deborah Pardini of Chicago replaced Jean Allard. The appointment does not require Senate confirmation, and her term expires January 31, 1993. The five-member panel controls the finances of the Chicago School Board.
Illinois Export Development Authority Board of Trustees: Lawrence Warner of Chicago, president of Lash Warner, replaced Irwin Diamond on the nine-member board. His term expires January 18, 1993. The board promotes and helps fund export activities in the state.
Illinois Health Care Cost Containment Council: Frank Gramm of Libertyville, vice president of Benefit Trust Life Insurance Co. in Lake Forest, replaced Don Ames. He will serve until September 5, 1993. The 11-member council collects and publicizes hospital financing and cost data, reports to the General Assembly on the state's health-care financing system and provides counsel to the general public on effectively finding and using health services.
Joliet Regional Port District: Romeoville mayoral assistant Donna Rickman replaced Ted Mackey on the seven-member board. The term ends June 1, 1993. The board, whose members are all Will County residents, promotes industrial, commercial and transportation activities within the county.
Nature Preserves Commission: Newly appointed to the nine-member commission were Gerald W. Adelmann of Chicago, executive director of the Upper River Valley Association's Open Lands Project, replacing Charles Potter; Thomas E. Donnelley of Lake Forest, vice president of special projects for R.R. Donnelley & Sons of Chicago, replacing Roger Anderson; Francis Farwell of Lake Forest, a partner in William Blair & Co. of Chicago, replacing Nancy Rich; John Schmitt of Chicago, executive director of Nature of Illinois Foundation, replacing George Burger; and retired commercial artist Judith Spasovich of Dupo, replacing Ann Phillippi. G. Tanner Girard of Elsah was reappointed. Adelmann, Farwell and Spasovich will serve until June 30, 1992; the others through June 30, 1993. Senate confirmation is not required. The commission compiles and maintains inventories of natural areas and plant and animal species (particularly those that are endangered or threatened), approves additions to the state's nature preserves system and advises the Department of Conservation regarding policies governing the protection of the state's nature resources.
Prairie State 2000 Authority Board of Directors: Evanston resident Leslie Dennis, director of external programs for Loyola University's Institute of Industrial Relations, replaced Louis Masotti. The term ends June 1, 1991. The authority provides grants and loans to Illinois companies that need to retrain employees in order to remain competitive.
Public Administrator/Public Guardian: Newly appointed were, in Champaign County, Peggy C. Thompson of Champaign, an attorney with Meyer, Capel, Hirschfeld, Muncy, Jahn and Aldeen, replacing Blake Weaver; and, in Kankakee County, Deborah Ann
| | |
| --- | --- |
| | Mary Block's poured aluminum sculpture, "Justice," was installed at the Chicago Bar Association's new offices at 321 S. Plymouth Court in August. Commissioned in July 1989 by Stanley Tigerman, the building's architect and dean of the University of Illinois at Chicago's architecture school, the nine-foot sculpture stands 40 feet above the main entrance. It is a gift to the association from developer J. Paul Beitler, co-owner of the building. Block conceived the sculpture as an "allegorical figure tempering law and order with fairness and mercy .... [H]e represents a legal system with an integrity within the reach of every human being." Born in Missouri but reared in Illinois, Block received her BFA degree from the University of Illinois. She lives in Forest Lake and teaches at Columbia College. |
32/December 1990/Illinois Issues
---
Woodruff of Bourbonnais, an associate attorney with Ackman, Marek, Boyd & Simutis Ltd., replacing Patrick Powers. Reappointed were, in DeWitt County, Robert Morin of Clinton; in Effingham County, F. Ronald Ealy of Effingham; in Gallatin County, Joe E. Wright of Shawneetown; in LaSalle County, Robert N. Shafer of Mendota as public administrator and Wayne R. Whitmore Jr. of Mendota as public guardian; in Massac County, Edward Joe Hinners of Metropolis; in Ogle County, Louis D. Quick of Polo; in Richland County, Jerry D. Miller of Olney; in Schuyler County, Charles A. Burton of Rushville; and, in Stark County, John A. Leezer of Toulon. Hinners and Wright will serve through December 5, 1994; the other terms expire December 6. 1993. A public administrator/guardian handles the real or personal estates of deceased persons without an executor until one can be found and oversees the estate and welfare of any disabled adult in need of a guardian.
The Judiciary
The Illinois Supreme Court has announced the following appointments, assignments and retirements:
Appellate Court Administrative Committee
• Reappointed as member; 4th District Appellate Court Judge Frederick S. Green of Urbana.
Cook County Judicial Circuit
• Assigned to duty: Retired Circuit Court Judge Dean M. Trafelet of LaGrange Park, effective September 28 and until further order of the court.
• Retired: Circuit Court Judge Thomas J. Maloney of Chicago, effective December 3. A judicial officer since 1977, Maloney withdrew his declaration to be retained.
1st Judicial Circuit
• Appointed circuit judge: Associate Judge William G. Schwartz of Murphysboro, effective October 1, to fill the vacancy created by the retirement of Richard Richman.
17th Judicial Circuit
• Assigned to duty: Bradner C. Riggs of Rockford, a retired associate judge, effective October 1 until December 15.
Child support in Illinois
It's an all too common story: Boy meets girl. They may or may not get married, but they have children. They break up or get a divorce. He leaves town and disappears. She's left with the kids and a marginal job. Court-ordered child support guarantees he pays, right?
Wrong, according to Wendy Epstein, executive director of the Illinois Task Force on Child Support: Only 58 percent of the 8.8 million Illinois women raising children in
Continued on page 39
December 1990/Illinois Issues/33
---
Names
Continued from page 33
single-parent households have a court order for child support. Of these, only 48 percent receive the full amount of support due; 26 percent receive nothing at all. Three years ago, the mean amount of child support a woman in Illinois could expect was $3,017; the amount she actually received was probably closer to $2,000, according to Epstein.
As a result, Epstein estimates that more than half of the female-headed households in Illinois live below the poverty level. The only option often available to these women is welfare. This link between nonpayment of child support and welfare was recognized 15 years ago by Congress when it added Title IV-D to the Social Security Act, requiring all states to implement a child support enforcement program.
IV-D programs were to give participants access to legal and enforcement services that were normally beyond their reach. Absent parents would be located, participants would be represented in court, noncompliant employers would be prosecuted, courts would keep records of payments, delinquent parents would be reported to the Inernal Revenue Service and to credit bureaus, and state and federal income tax returns would be intercepted.
Illinois in the past 10 years has gone even further, according to Epstein. Legislation has expanded the IV-D program to custodial parents not on welfare, created statutory guidelines for support awards, permitted the use of income withholding as an enforcement tool, required that children be added to employer-provided health insurance plans, established an expedited child support system using hearing officers rather than judges and mandated a presumption of paternity based on blood test results.
The results of these child enforcement efforts have been "remarkable," says Epstein. In the four-year period, 1984-88, the number of successful cases establishing paternity went from 4,000 to 26,000 annually. The number of support obligations nearly doubled (from 19,000 to 33,000 a year). Total annual collections in Illinois rose from $42 million to $103 million, and the number of families leaving the AFDC (aid for dependent children) rolls because of child support collections rose from 700 to 8,000 a year.
To provide "tangible rewards" to those who have helped in this child support enforcement program, Epstein's task force presented its first annual child support awards in ceremonies in September. Honorees included Aviva Futorian of Chicago, the former supervising attorney of the Women's Law Project at the Legal Assistance Foundation of Chicago, who helped found the Illinois Task Force on Child Support and coauthored the state's 1984 Parentage Act; S. Benton Kaincs of Springfield, a staff attorney with the Illinois Department of Public Aid for 25 years, who has played a key role in developing the state's child support program; Donald P. O'Connell of Chicago, the presiding judge of the 1st Municipal District of the Cook County Circuit Court, who has helped reform and increase the number of Chicago's parentage courtrooms; and Debra Pharms of Matteson, director of the Welfare Reform Agency, who has organized grass-roots support for child support issues in Cook County's south suburbs.
The task force has a child support hotline, provides referral and individual advocacy services, conducts community-based workshops and distributes an array of publications and educational materials. For further information, write to the Illinois Task Force on Child Support. 53 W. Jackson Blvd.. Suite 1006, Chicago 60604; or telephone (312) 786-0291.
Leininger's support of rural education nets award
Illinois' superintendent of education, Robert Leininger, was one of two individuals honored by the National Rural Education Association in October. He and Raymond J. Earnhardt of the University of Alaska's College of Rural Alaska each recieved an Outstanding Service Award during the association's annual conference in Colorado Springs, Colo. This is the fifth year for the award.
Leininger was cited for his leadership role in Illinois' STAR Schools program, a joint venture between the Illinois State Board of Education and Western Illinois University in Macomb that established one of the nation's first interactive satellite instruction networks (for more on this program, see "Satellite TV connects rural classrooms nationwide." by Debi Sue Edmund, Illinois Issues, January 1990, pp. 19-20). The superintendent was also lauded for promoting inservice training for teachers in rural schools and for advocating equitable school funding.
ENR receives award from American Farmland Trust
A model land protection project cosponsored by the Illinois Department of Energy and Natural Resources (ENR) received a 1990 Agricultural Conservation Award in September from the American Farmland Trust. The awards recognize individuals and organizations whose contributions set examples for other conservationists to follow.
The demonstration project, conducted on 12 farms around the state, was designed to compare conventional farming systems with alternative systems that reduce fertilizer and herbicide use. Participants were provided with free soil-testing services, access to sustainable agriculture publications and limited technical assistance. A $6,000 grant from the Ruth Mott Fund allowed small cost-share payments for the participating farmers. Participants used a variety of practices aimed at demonstrating the profitability, energy efficiency and environmental
December 1990/Illinois Issues/39
---
Names
benefits of sustainable agriculture.
In 75 percent of the demonstrations, farmers were able to maintain or increase yields while reducing costs and environmental risks. ENR's Deborah Cavanaugh-Grant cautions that these are not hard research results. "They are not necessarily replicable." she said. "They're more like snapshots in time."
The next round of demonstrations will include some demonstration projects similar to the first 12 but will also include on-farm research trials. Cavanaugh-Grant reported in late October that ENR had already received demonstration proposals exceeding three times the appropriation of $200,000 for 130 projects.
ENR sponsored the state's first sustainable agriculture conference last January and more than 200 people turned out. Another conference is being planned for February. For more information about ENR's sustainable agriculture efforts, contact Cavanaugh-Grant at 325 W. Adams, Rm. 300, Springfield 62704; or telephone (217) 785-8582.
Michael named outstanding young scientist
A Naperville Central High School senior is the 1990 winner of the Museum of Science and Industry's "Outstanding Young Scientist" competition. Forrest Michael was among 85 students from Chicago-area schools to be nominated for the award. One of 10 finalists, Michael was selected by the five-member panel of judges on the basis of his consistent record of academic excellence in math and science and his extensive extracurricular activities.
As winner, Michael will travel to Sweden this month to attend the Nobel Prize ceremonies. He and his school's science department also received a $500 cash award and a commemorative plaque. The other finalists and their schools' science departments each received $250 in cash and a plaque.
The eight-year-old awards program is conducted annually by the Chicago museum and the Nobel Foundation. For the past three years, additional support has come from the Nalco Foundation. The foundation, which is funded by the Nalco Chemical Co., has made grants totaling more than $19 million since 1953 in support of education, health, civic/community affairs, and culture and the arts in the cities where the company is located (Chicago, Garyville, La., and Sugar Land, Tex.).
Bill of Rights celebration by Illinois ACLU
The Illinois Chapter of the American Civil Liberties Union (ACLU) will host a special dinner celebrating the Bill of Rights on December 9 at Chicago's Ambassador West Hotel. The Bill of Rights, the first 10 amendments to the U.S. Constitution, will be 200 years old in 1991.
Proceeds from the dinner will go to the Roger Baldwin Foundation, the group's non-lobbying, nonprofit arm. Roger Baldwin founded the national ACLU in 1920.
Special speaker for the evening is Andrei Codrescu, poet, essayist and commentator on National Public Radio's All Things Considered. Tickets for the event are $100. For reservations or additional information, contact Curtis Wright at the Baldwin Foundation, 20 E. Jackson Blvd., Suite 1600, Chicago 60604; or telephone (312)427-7330.
Ingersoll Prize winners feted
The 1990 Ingersoll Prize winners — poet Charles Causley and historian Forrest McDonald — were honored at a black-tie dinner at Chicago's Drake Hotel on November 8.
Causley received the T.S. Eliot Award for Creative Writing. The Englishman taught school for 25 years before retiring to write books — more than 30 of them — as well as editing 11 others and writing several plays.
McDonald received the Richard M. Weaver Award for Scholarly Letters. A Texas native, McDonald currently is a distinguished research professor at the University of Alabama. A preeminent authority on the U.S. Constitution, he has authored 15 books on American history. In 1986, McDonald was a finalist for a Pulitzer Prize.
Both men received a cash prize of $20,000.
The Ingersoll Foundation is funded by Rockford's Ingersoll Milling Machine Company. The prizes are administered by The Rockford Institute and "acknowledge authors of abiding importance whose works affirm the moral principles of Western civilization."
McBroom of Kankakee dies
Former GOP legislator and Kankakee County central committee chairman Edward McBroom died October 2 at age 65. Between 1959 and 1988, McBroom spent 22 years as chairman of the Kankakee County Republican Central Committee and 16 years in the Illinois General Assembly. McBroom served in the House from 1963-65 and again from 1977-83. From 1967-75, he was a member of the Senate. McBroom was also president of the McBroom Cadillac agency, the oldest car dealership in the Kankakee area.
Patricia J. Burtle-McCredie
---