By TOM ANDREOLI
Aldo Botti of DuPage:
Political acumen required to make good
his promise to cut taxes for county
The buffet was roast beef, the bar open. The long campaign season had ended only hours earlier, when the polls closed, leading the faithful to their victory party at the Drury Lane dinner theater in Oak Brook. The crowd looked Republican, well-dressed, white and professional. They waited eagerly for their conquering hero.
At 10 p.m., Aldo Botti, newly elected DuPage County Board chairman, made his entrance. "Al-do, Al-do, Al-do," the room chanted. He pressed forward slowly, exchanging kisses and handshakes. On reaching the podium, Botti blinked at the fierce TV lights through thick glasses. For all that, he appeared quite at ease.
"I did not enter this race for power," said Botti, 53, whose law firm of Botti, Marinaccio, DeSalvo & Tameling Ltd. is among the most successful in suburban Chicago. "I did not enter this race for any ego trip. I entered this race for senior citizens and the next generation standing before me." Below the podium a giggling troop of school girls posed in yellow T-shirts urging, "Say no to drugs. Say no to taxes. Say yes to Botti."
Botti's message was to the point. "I'm going to tell all of you, whether you voted for me or not, that there is going to be a difference in the lives of DuPage County residents," he said.
"I'm going to work hard. I'm going to keep my promises. I'm going to reduce taxes," Botti pledged, invoking the mantra of his campaign. "We're going to have a more efficient government at less cost to the taxpayers with no reduction in the quality of life." The crowd, relatively speaking, went berserk.
The message is captivating, and Botti has sold it well. In the Republican primary last March, Botti used his tax-axing, dump-the-bums rhetoric to pull off a stunning upset of 12-year incumbent county board chairman Jack Knuepfer, considered unbeatable by most pundits. The 2-to-l margin of victory in the three-way primary race only emphasizes Botti's populist appeal.
This was revolution. Knuepfer practically stood for DuPage County, as Richard J. Daley once had personified Chicago. The 70-year-old former state senator had presided over a pivotal decade in DuPage County history in which this hitherto loose-knit agricultural region had emerged as a sprawling suburban powerhouse to rival its big city neighbor. During the 1980s county population rose 23 percent to 814,000, and employment jumped 46 percent to 416,000 jobs.
Knuepfer meanwhile orchestrated more than $1 billion in public works projects to meet the growth. His success in wooing state and federal dollars to help build DuPage County's infrastructure was unprecedented. Knuepfer's swan song was the North-South Tollway, or Interstate 355, which opened only last year. It crosses the East-West Tollway in the heart of the county, and the two form a vital transportation network tracking rich commercial corridors. As visionary was a $350 million pipeline from Lake Michigan, to start pumping next year, that will provide a virtually unlimited supply of fresh water to the county's 34 parched municipalities.
Knuepfer dreamed big and played for keeps. Typically, Knuepfer simply saw a need, secured money and broke ground, if necessary after a perfunctory county board approval. He could be ruthless, as evidenced in his mid-1980s takeover of the DuPage County Airport Authority from neighboring Kane County towns. Knuepfer won authority in the Illinois General Assembly to appoint the majority of members to the airport's governing board. The board subsequently approved a controversial $100 million airport expansion backed by Knuepfer, In the primary, however, voter resentment over everescalating property tax bills in DuPage County descended on the industrious county board chairman. Some home-owners had seen their tax bills double in the past five years, That, coupled with his imperious management style, cost Knuepfer at the polls.
Botti, on the other hand, gave the people what they wanted. His campaign themes touched a raw nerve in the DuPage County electorate, generating a strong 64 percent majority in the general election over Democratic candidate Michael Donohue. No major newspaper in DuPage County endorsed Botti for the chairman's post. So appealing was his message that Botti claimed his mandate without ever really delivering a program to cut taxes. He didn't have to.
The hard part comes now. Botti must govern. He must meet DuPage County's daunting service needs without going to the well on new taxes. "Solid waste and flooding are the big issues I have to address right away," he says. Both also are highly charged emotional issues that could test Botti sorely as a statesman. Then there's the property tax issue. To deliver, Botti ultimately must demonstrate the political acumen to enforce austerity on DuPage County's 270 independent taxing districts,
16/January 199I/Illinois Issues
---
Photo by Richard Foertsch/Photoprose
Aldo Botti, DuPage County Board chairman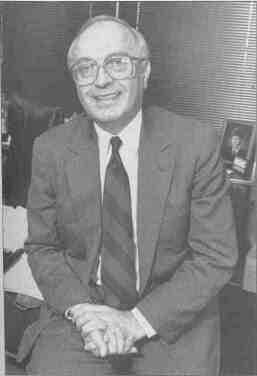 notably the schools, which collectively account for more than 80 percent of the total property tax bite.
The key to Botti's agenda can be found in the Bauhaus axiom "less is more." The implicit paradox doesn't faze Botti much. "I think we're taxed out of existence," he says. "What should be done is to eliminate the waste and inefficiency. What bothers me is we've been indoctrinated to believe that you have to have increases in taxes to have good government."
Botti's strict adherence to this credo will be tested from the outset as DuPage County completes its state-mandated solid-waste management plant this spring. Along with the rest of Chicago's collar counties, DuPage County must submit its plan to the Illinois Environmental Protection Agency by March 1. The plans will direct regional solid-waste management policies into the 21st century.
The dilemma facing Botti is how to deal safely and cheaply with DuPage County's surging garbage stream. The county currently generates 6.3 million pounds of solid waste each day, an output expected to increase 47 percent by 2010. None of Botti's alternatives is cheap or politically painless. Among his less onerous alternatives are waste reduction and recycling, both of which already appear to enjoy wide public support. Even the mandatory composting of grass clippings and other backyard materials, as required beginning this summer by state law, has gained grudging acceptance. The stickier decision lies in what to do with the leftover garbage that can't be eliminated or recycled. This accounts for more than half of DuPage County's solid waste stream. The county's two existing landfills at Mallard Lake and Greene Valley, along with the rest of the landfill capacity in northeastern Illinois, could well be exhausted by the mid-1990s. Even under a more optimistic scenario. Mallard Lake and Greene Valley would be full within 20 years.
Botti opposes a new landfill in DuPage County. "You have to have an alternative means of disposing of solid waste," he says. "You don't have to rely on landfills." A new landfill would cost $17.4 million. Similarly, Botti opposes a massive garbage incinerator at a cost of $100 million. Aside from serious environmental questions, the cost of either project eventually would get passed along to DuPage County residents.
The other means of disposal currently under discussion is to export DuPage County's garbage to whatever locale will take it. Botti calls this option "a consideration.'' To environmentalists, exporting garbage is the same as spreading disease. "It looks like DuPage County is planning to export a lot of their garbage to a downstate landfill or to Iowa or to North Dakota," says Kevin Greene, research director of the Chicago-based Citizens for a Better Environment. "They shouldn't be exporting their problem." Over time, Greene adds, the cost of transporting mountains of waste will exceed the cost of addressing the problem at home, whatever form the localized solution might take.
Unlike solid waste, creating a flood control program imposes no statutory deadline on Botti. But the anguish of thousands of homeowners and business persons along Salt Creek in eastern DuPage County, who periodically find their basements awash, has given flooding an urgency unmatched by any other regional issue. Salt Creek's last big flood in summer 1987 left behind $162 million in property damage.
On flood control, Botti has a clear-cut revenue source in place to cover most of the estimated $158 million required in capital spending for levees, channel improvements, reservoirs and property acquisition in the Salt Creek flood plain. Following the '87 floods, the Illinois General Assembly authorized DuPage County to levy a property tax for stormwater management. In the three years since, the county has used the tax to fund the study of a half-dozen proposed projects — notably, huge reservoirs near Elmhurst and Wood Dale — but so far not a spade of mud has been turned.
The inactivity has dampened the optimism of Salt Creek's neighbors for a county solution. In truth, Botti offers them little solace. "We didn't see anything with Knuepfer so it's got to be an improvement. It can't get any worse," says Michael Iozzo, cochairman of Salt Creek Citizens for Flood Control and a Villa Park homeowner. To prod the county, Iozzo's group has proposed its own plan for flood control on Salt Creek, at a cost of only $33 million. County officials, however, strongly dispute the group's cost estimates. "We're looking for something to happen right now," lozzo says.
January 1991/Illinois Issues/17
---
If Botti senses the political urgency of the flood control issue, he nonetheless refuses to commit to any construction without a countywide engineering plan. "We should have our whole program in place before we start putting money in this area or that area separately," he says. With the operating costs of any flood control system pegged at upwards of $3 million annually, prudence now could save precious tax dollars downstream. In October, Botti derided a $100 million general obligation bond issue for stormwater projects called for by Knuepfer as a parting political shot. The county board did not vote on Knuepfer's bond proposal.
The upshot is that Botti won't be harried or bullied on spending. He remains very much the poor Italian kid from Brooklyn, who grimly balls up his fists each moming before going out to take on the world.
In dealing with the 25-member county board, Botti's best course would be diplomacy if he hopes to muster a majority with any consistency. He won't run into partisan conflicts in the all-Republican body, but hurt feelings among the membership still smart in the wake of Botti's biting, anti-establishment campaign. Botti's threats to reduce the size of the board haven't won friends either. The backlash so far has strapped Botti with a bare-bones budget for this year — down 17 percent to $207 million — which the board adopted last month in Knuepfer's final days in office.
Botti, on the other hand, wields several potent political weapons. To a great extent he can control the issues before the board because he assigns the chairpersons to the committees, where the legislative work really gets done. "It's not going to be council wars," says Ken Moy, a two-term board member from Hinsdale. While the business of legislating won't grind to a halt, Botti can expect to encounter vocal opposition, Moy adds.
Yet Botti could find his best efforts thwarted when it comes to shrinking the hated property tax bill. County government itself only accounts for 6 percent of the total property tax levy
More saliently, Botti will oversee redistricting of the county board this year, which could be enough to keep even the most recalcitrant political opposition in line. Every county board member must stand for reelection in 1992 after redistricting. Botti, meanwhile, will serve an entire four-year term. Botti is the first DuPage County board chairman to enjoy the luxury of a four-year term, following a statutory change from a two-year term passed in the General Assembly. Ironically, the extended term originally was intended for Jack Knuepfer when Illinois Senate Minority Leader James "Pate" Philip (R-23, Wood Dale in DuPage), a Knuepfer ally, backed the legislation.
In any case, Botti eventually will have to build a coalition --a tricky proposition among the increasingly independent-minded board members. The regular Republican party in DuPage County is fractured, as reflected in a meager 21 percent straight-ticket vote in November (in 1986, 30 percent voted Republic straight tickets). "I'm the type of guy who came to the board uninvited, so I have to do what's right for the people who elected me," says Moy, a good barometer of the maverick board members. ' 'I was not in Knuepfer's inner circle, and this is how I will conduct myself with Botti."
Botti is sanguine on the crucial 13-votes required for a majority. "I got 'em," he says. He further insists that he can work within any budget he inherits. If necessary, Botti says he will cut programs and eliminate staff to hold the line on spending when he proposes his own budget for fiscal year 1992 next fall.
With his discretionary spending narrowly limited however, Botti concedes he probably won't touch DuPage County's controversial impact fee on new development or its local 4-cents-per-gallon gasoline tax. Both taxes were enacted over the past two years to increase funds available for roadwork by targeting the developers and commuters ostensibly responsible for worsening traffic congestion. Together the two taxes were on a pace to bring in $12 million in county revenues in 1990.
On the campaign trail, Botti hammered away at the two taxes as "knee-jerk" reactions to a development policy gone wild. Both received little careful consideration prior to enactment, he contends. The constitutionality of the impact tax is being challenged in DuPage County Circuit Court. Moreover, Botti argues, the $500 million road improvements program the taxes are supposed to help fund over the next decade far outstrips the county's needs and its ability to pay.
Yet Botti could find his best efforts thwarted when it comes to shrinking the hated property tax bill. County government itself only accounts for 6 percent of the total property tax levy. The share rises to 15 percent when such related countywide taxing bodies as the forest preserve, water commission and airport are included. But Botti's authority over property taxes end there. He may wield a sharp cleaver, but Botti's got the pig by the tail.
The biggest spenders are DuPage County's highly regarded schools, with 66 percent of the total property tax levy. Education officials strongly reject budget cuts. From 1985 to 1988, the tax levy for Glenbard Township High School District 8 in Glen Ellyn soared 61 percent to $41 million. Glenbard is good school. It boasts small classes, averaging fewer than 19 students, and a graduation rate of 94 percent. Of its students, 75 percent go on to college. "Could we do it for less?" asks Glenbard Supt. Robert Stevens. "No."
Echoes Gary Kline, president of the Wheaton Warrenville Education Association, a union local representing 700 teachers. "If you're going to drive a Cadillac, you're going to have to pay for a Cadillac." This spring Kline will begin contract negotiations with Wheaton's Community Unit School District
18/January 1991/IIIinois Issues
---
DuPage County's average percentage change by type of taxing district, 1985-88

Tax rates

Equalized assessed valuation

Tax levies

County

0.47%

42%

43%

Forest preserve district

1.6%

42%

44%

Park districs

15.8%

45%

65%

Fire districts

21.0 %

33%

62%

Unit school districts

6.2%

47%

56%

High school districts

6.3%

41%

49%

Grade school districts

1.0%

41%

42%

Townships

-10.0%

44%

29%

Township road districts

-26.0%

44%

5%

Cities/villages

-8.9%

52%

33%

Sanitary districts

-16.0%

47%

22%

Source: Taxpayers' Federation of Illinois, which made the calculations from data of the DuPage county clerk
200. Under the expiring contract, his members earn anywhere from $22,000 to $50,000 a year. Kline expects to win a raise for his teachers.
To succeed on taxes, Botti will have to sell his less-is-more message to the schools, as well as the municipalities, the parks, the libraries and DuPage County's myriad other taxing districts. To do that, he's going to have to become the politician he swears he's not. "Is he willing to become a kingmaker?" wonders Douglas Whitley, president of the Taxpayers' Federation of Illinois, a Springfield-based watchdog group. The federation last year published a detailed study of DuPage County's property tax trends that pinpointed the county's "confused and confusing" variety of taxing bodies as a major obstacle to fiscal restraint. According to Whitley, Botti must function not only as a symbol of tax resentment but also as a political operative, installing like-minded allies on school boards and other elected bodies that levy taxes. By any measure it is a giant political challenge. ' 'Botti's caught a wave and he's riding it well," says Whitley. "The question is: How long's the ride?"
There is a magic bullet. With state approval, Botti could switch DuPage County over to a Cook County-style tax classification system, in which residential property is assessed at a lower percentage of its market value than commercial property. The rates in Cook County are 16 percent and 33 percent, respectively. The effect would be twofold: Botti at once would enforce a county wide shift in fiscal policy, affecting all taxing bodies, while delivering on his campaign promises to homeowners. Botti admits he finds the idea seductive.
Beyond strictly fiscal issues, Botti has a busy agenda. He wants the twice-monthly board meetings rescheduled from mornings to evenings, the better for DuPage County residents to keep an eye on government. Botti also wants to hire a full time administrator to handle the day-to-day business of county government. "The chairman of the county board is like the chairman of a corporation," he says. "He makes decisions; he doesn't do the paperwork." Botti plans to chop his salary in half, to $34,000 a year, and to push for legislation to limit the county board chairman's tenure to two terms.
What Botti envisions is giving county government back to the people. "County government, the purpose of it is to get people like you and me into it, to put in our time and get out," Botti says. ' 'It's not a place where you hang your hat and find a home, as they used to say in the Army."
Botti has sunk deep roots since moving to DuPage County 21 years ago. As a kid in Brooklyn, Botti says, he longed for the Midwest of Huckleberry Finn and Tom Sawyer, all barefoot days on the banks of the Mississippi. At home Botti shared a two-bedroom apartment with his parents and 10 brothers and sisters. The Army was Botti's ticket out. After a tour of duty in Japan during the mid-1950s, he enrolled in Rockhurst College, a tiny Jesuit institution in Kansas City, Mo., and graduated in 1962. He finally made it to the banks of the Mississippi while at St. Louis University on scholarship, where he received his law degree in 1965. Botti followed an older brother to Chicago but could not secure work as a prosecutor with Chicago's Democratic machine. In 1967 he married Sheila Higgins, a Chicago native, and moved to DuPage County two years later to work as an assistant state's attorney. He founded his 14-member law firm in 1971. The Bottis have six children, ages 12 to 22, and live in Hinsdale.
Botti appears to be a study in contrasts. He is a self-professed lifelong Republican, who was born at the height of the New Deal. He appears painstakingly ethical, yet says he admires Richard Nixon. Meticulously groomed, his manner is unaffected and his conversation disarming. He no longer reads fiction and never has found time to dawdle by any big river. For fun? "I like to sit down to a big plate of spaghetti and a glass of red wine with some friends and talk," Botti sighs.
Although the county board chairman's job is his first elected post, Botti has been involved in politics since arriving in DuPage County as a contributor, campaigner or professionally as an attorney. He didn't like what he saw. "What we've had is an aloof Republican hierarchy in DuPage County that has taken things for granted and been rendered somewhat callous," he says. "They weren't minding the store, so to speak."
Botti says he didn't seek office for power, but in victory he just may have tapped into the future of DuPage County politics. "Botti reflects a new era in DuPage County," says Paul M. Green, director of the Institute for Public Policy and Administration at Governors State University in University Park. "His victory was due not only to the issue of taxes but also to a new demographics taking shape in DuPage County." For Green, Botti represents the newcomers, the ethnics and the Catholics. Botti represents the professionals, who like himself have made their mark in DuPage County and now demand a political voice. That constituency also will demand results. "If Botti is shrewd and fair and tough on spending as chairman, then he will develop a power base that is going to surprise people," Green predicts. "If not, his impact is going to be quite limited. "
Tom Andreoli is a Chicago writer.
January 1991/lllinois Issues/19
---