The state of the state
Inauguration Day and the day after:
Gov. Edgar makes first move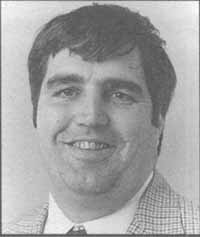 By MICHAEL D. KLEMENS
The 1991 inaugural celebrations, as such events usually do, combined theater and symbolism. Limousines plied downtown Springfield streets ferrying dignitaries to one or another of the receptions and parties thrown by the new state officers. The state's geographic and cultural diversity was showcased with musical performers from across Illinois.
Inauguration Day, January 14, opened with a church service for elected officials at Gov. Jim Edgar's church. Central Baptist Church. Videotape of the service was made available via satellite transmission. At the site of the inauguration, a handful of protestors gathered outside the Prairie Capital Convention Center to criticize the country's military involvement in the Persian Gulf.
Inside, the festivities began on a patriotic note with the presentation of the flags of Illinois units deployed as part of Operation Desert Shield. Performers included Miss America, Marjorie Judith Vincent of Oak Park, who played Chopin. Young Suzuki violinists from Mount Prospect warmed the crowd with "An American Hoe Down."
There was nostalgia. James R. Thompson, the longest serving governor in Illinois history, received long and warm applause from a standing crowd as he was introduced. He later got a personal thanks from Gov. Edgar: "On behalf of the 11 1/2 million people of Illinois, I want to thank him and Jayne for all they have done for so many others."
Edgar's speech broke no new ground but repeated the themes of his campaign. Edgar proved again that he is no orator, but the Republican crowd didn't seem to mind and frequently interrupted with applause for lines that included:
"We must demand and provide quality education at every level, in every corner of Illinois."
"We must act in this decade to save our environment, not only for ourselves but, more importantly, for our children and grandchildren."
"We must meet priority needs without asking more from our taxpayers."
"'We should not raise taxes at the state level, and we must provide relief from skyrocketing property taxes at the local level."
"I seek cooperation, not confrontation with the legislature."
"I will be governor for all of Illinois, and we will need all of Illinois, working together for the common good, to succeed."
The day following the inauguration also began with symbolism. Edgar, accompanied by television crews, walked the block and a half from the Executive Mansion to his office in the Capitol.
Later in the morning he summoned reporters to his office and outlined plans to cut spending in his office and to curtail other state spending. Edgar said that demands for human services, especially from the Department of Public Aid, were running ahead of projections.
The governor's Bureau of the Budget boosted its estimate for spending in fiscal year 1991 by $175 million, from $13.591 billion to $13.766 billion. At the same time the budget bureau left its $13.471 billion revenue estimate unchanged. The revised estimates would hike the structural deficit (the excess of spending over revenues] from $120 million to $295 million, the largest deficit in the history of the general funds.
At that rate Illinois, which began the fiscal year with $395 million in general funds available for spending, would end its fiscal year on June 30 with $100 million available, provided that economic slowdown does not cripple revenues. Edgar said that he was moving to shore up that balance by cutting spending in the current year, but he declined to name a target. He said that a $200 million balance would be ideal, but if the economy turns down, he
10/February 1991/Illinois Issues
---
might be satisfied with $100 million.
Edgar named a three-person spending control committee that included Sally Jackson, his director of government operations; Joan Walters, director of the Bureau of the Budget; and Stephen B. Schnorf, director of Central Management Services. The panel was charged to:
• Scrutinize new consulting contracts and review existing contracts to determine whether they should be renegotiated or canceled.
• Halt new capital projects and property leases and purchases not deemed essential.
• Review purchase and lease of equipment and commodities to eliminate nonessential spending. • Reduce use of automobiles and mobile telephones.
• Impose travel restrictions.
• Cut newspaper and periodical subscriptions and reduce printing and mailing costs.
Edgar also directed agencies under his control to propose specific cuts within 10 days. And saying he wanted to lead by example, Edgar cut bodyguards assigned to state officials, and he downsized the staff in the governor's office. In his own office Edgar said he would reduce the size of the governor's office from the 182 employees who worked there under Thompson to 147. The office budget would decline from $9.4 million to $8.4 million, an annual savings of about $1 million or 11 percent.
The day after his inaugural Edgar's first substantive action was to restrain spending. He made a substantial move toward credibility by acknowledging that current year spending estimates were unrealistic, and he made substantial cuts to his office budget. His program to review current spending and make cuts may prove to be substantial. But, in terms of the overall state budget, the cuts that Edgar actually made his first day in office were more symbolic than substantial.
Edgar gets points for recognizing that state spending is the problem. (Although he did not lay blame, state lawmakers have authorized and Thompson signed that spending.) Edgar's move to reduce spending was correct, although his "no tax" pledge and the looming recession left him little choice. Symbolic action will not get Illinois back on solid financial ground. Only substantial budget cuts will do that; they will have to come soon.
February 199 I/Illinois Issues/11
---