Chicago
Future city coalitions:
Hispanic potential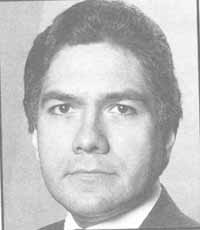 By MANUEL GAL VAN
In a city where no single ethnic group controls a majority, coalitions will be the future of Chicago politics, just as they have been its past. Black and Hispanic majorities elected Harold Washington mayor. White and Hispanic majorities elected Richard M. Daley.
Various ethnic groups are now often a coalition called "whites" and account for a rounded 40 percent of Chicago's population. Blacks, also with 40 percent, gained political power with Washington's first election. But it was Latino votes, as the late mayor himself acknowledged, that put him over the top.
Hispanics, at just under 20 percent, were not the swing vote for Daley's wide margin of victory. But they were solidly in his camp and will remain there in this month's primary. Unlike African Americans and whites, Hispanics in Chicago have never had a serious mayoral candidate. Nor will they in this election. Instead, they will coalesce behind Daley in acceptance of his overtures and in rejection of any renewed black-brown coalition with African Americans.
When Washington died, so did a singular direction of the movement composed of blacks, Hispanics and whites who elected him. In an effort to unite behind an individual black leader, the division of leadership split the black community and shut out many of its white and Latino allies.
The majority of Hispanics aligned with Daley in his 1989 bid for mayor. In the eyes of Latinos, they had already been abandoned by blacks seeking to "take back City Hall." There was no longer talk of a coalition, only of color.
Daley moved rapidly after his election to turn his campaign words into deeds. He appointed four Hispanics to his cabin quadrupling the number of Latino commissioners Washington had named. Daley also selected several Latinos as deputy commissioners and made more than Hispanic appointments to boards and commissions.
When city treasurer Cecil Partee was named Cook County state's attorney to fill the vacancy created by the new mayor, Daley chose attorney Miriam Santos as Chicago's fiscal officer.
In the 1987 Democratic primary, Washington ran with Gloria Chevere, a Latina, as the city clerk candidate. She lost to incumbent Walter Kozubowski, but she currently ranks as the most likely candidate to replace 31st Ward Aid. Raymond Figueroa, who chose not to seek reelection.
Yet, it was Daley who brought a Hispanic into the trio of elected, citywide offices and is running in the February primary with Santos and Kozubowski as the Democratic party ticket.
"I am qualified and have done a good job," says Santos, a master's graduate of Northwestern University's Kellogg Graduate School of Mangagement. "I am also, someone who happens to be Hispanic and a woman." As a Hispanic running with Daley, she reminds fellow Latinos that "when it comes to addressing the needs of our community, we're responsive to them."
Not all Hispanics agree with that assessment. Juan Andrade Jr., executive director of the Midwest/Northeast Voter Registration Education Project, which monitors Hispanic voting patterns, maintains that "Daley is only doing as much
36/February 1991/Illnois Issues
---
as the winds of change demand, acting out political necessity, rather than conviction."
Andrade believes that Daley should take a stand on redistricting that is more favorable to Latinos. Whereas Washington had pledged to support a Hispanic congressional district, Daley has largely left the General Assembly to decide the boundaries for two fewer Illinois seats in Congress. Experts estimate four new Latino wards will be drawn from 1990 census data, doubling the likely number of Hispanic aldermen. But, when Hispanics called for a delay in this month's aldermanic election until the data could be used for a new ward map, Daley declined. The mayor reasoned that because court battles will ultimately dictate a map and any special elections — as they did in 1986 — he would rather let litigation follow its course. Those empowerment issues could provide a climate ripe for another candidate to carry a Hispanic majority. But that posibility remains remote. "Danny Davis stands the best chance of waging a viable campaign," Andrade estimates. "Hispanic voters will respond to a message presented clearly and effectively. But Davis' time is short and his money scarce."
Ald. Luis Gutierrez (26th Ward) and Ald. Juan Soliz (25th Ward) endorsed Daley early in the mayoral campaign. However, Aid. Jesus Garcia (22nd Ward), who has worked closely with Davis on the city council, took a neutral stand at the start of the campaign. While he may have wed Davis, his Hispanic constituents supported Daley.
Her Accidency, Jane Byrne, may get more votes from Hispanics than LaRouche candidate Sheila Jones, but not more than Daley or Davis.
As to when Chicago will see its first Hispanic mayor, that depends on how soon the rapidly growing Latino population outpaces blacks and whites in the city, how much stronger Hispanics can develop politically and the length of Daley's tenure as mayor.
"In one way or another,'' Andrade predicts, "Daley will be replaced by a Hispanic mayor."
Manuel Galvan is a member of the Chicago Tribune editorial board and covered City Hall for the newspaper during the term of Mayor Harold Washington.
February 1991/Illinois Issues/37
---