By MICHAEL D. KLEMENS
House GOP leader Daniels:
his victories, defeats and views
Rep. Lee A. Daniels (R-46, Elmhurst) is beginning his ninth term as a state representative and his fifth as House minority leader. He follows the footsteps of his grandfather, Lee E. Daniels, who served for six years in the Illinois House. His goal is to become House speaker.
Daniels has participated in state legislative organizations at the national level. He has been active in the National Conference of State Legislatures since 1977 and served as president of the organization in 1990. He is currently the president of the National Republican Legislators Association, which recognized him in 1984 as one of the country's 10 outstanding legislators.
A gymnast in high school and college, Daniels enjoys sports. He plays golf, skis and ran in a triathalon in 1989. He is 48 years old and lives with his wife, Pamela, in Elmhurst. They have five children. He has been a partner in the Chicago law firm of Katten, Muchin & Zarvis since 1984.
Daniels took time on February 7 to reflect on the triumphs and travails of being minority leader and on where he sees state government headed.
Lee A. Daniels runs the Republican operation in the Illinois House of Representatives, a partisanly unfriendly environment. As House minority leader he champions the philosophy of his members, a philosophy that calls for government restraint, local solutions to problems and reduced spending. "We don't think that government should be the answer to every single problem," Daniels says. As House minority leader, Daniels must determine the Republican positions on legislation and attempt to prevail in the face of overwhelming Democratic majorities.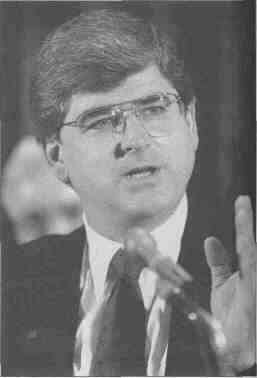 (Lee A. Daniels Illinois House Minority Leader)
For eight years, he worked with Republican Gov. James R. Thompson, who was more moderate than many of Daniels' members. Now he must work with Republican Gov. Jim Edgar, who promises to be similarly moderate. Although Daniels is often considered a conservative, he says that the mantle of a moderate Republican probably fits him.
Daniels was elected leader of the House Republicans in 1983, succeeding George H. Ryan who became lieutenant governor that year. Daniels lacks one basic thing that Ryan enjoyed, a Republican majority. When the size of the House was reduced by the Cutback Amendment in 1982, Republicans went from a 91-to-86 majority to a 48-to-70 minority. In succeeding elections they have held no more than 51 of the 118 House seats.
Still, Daniels was able to lead his House Republicans to some victories. In 1983 Gov. Thompson proposed a permanent $1.6 billion income tax increase, the first since the tax was enacted in 1969. Daniels and his Republican members balked and then countered with a temporary 18-month income tax increase that was ultimately adopted: "I developed a temporary tax program that worked because the purpose of the temporary tax concept was when you have one-time debt and you're in a recession and you're moving out, you can pay off the bills, improve that cash flow, allow the government to recover, and then terminate the tax."
In 1985 Daniels and his House Republicans held the Department of Public Aid' s budget hostage at the end of June in a dispute over the allocation of funds under the new Build Illinois
14/March 1991/Illinois Issues
---
program. House Republicans complained that the original allocation would have sent most of the money to Chicago. "Instead, we spread this money throughout the whole state, and it's worked," Daniels says.
Lately, there have been more defeats than victories. The most crushing may have been in 1989 when Democrats, in a matter of four hours, proposed and passed out of the House a 20 percent temporary income tax increase. There were no Republican votes on the original plan, and there was no House Republican input into the final two-year surcharge tax plan enacted. Daniels calls 1989 a "very tough year."
Daniels labels the 1989 income tax surcharge as bad tax policy. He says that it was drawn to steer money into Chicago and that municipal governments, which received roughly half the surcharge revenues, neither requested nor needed the money. Furthermore, sending $375 million to local governments limited the opportunity to address problems with human services, corrections and with schools. Good tax policy, in his opinion, would have directed state money toward revising the school aid formula. "It took out of the discussion the need to revise the education formula. It delayed it," Daniels maintains. The other half of the surcharge revenue went to schools.
There have been electoral defeats, too. The Democratic votes on the 1989 temporary income tax increase translated into no new legislative seats for Republicans in 1990. It did mean, Daniels believes, a primary loss for one of his closest allies, Rep. Gene Hoffman, one of eight Republicans who voted in the House to accept Senate revisions to the original proposal.
Instead of shrinking the Democratic majority in November, Daniels' party lost five seats to Democrats, and the results in a sixth race, a 37-vote Republican victory, have been challenged in the House. Daniels says that it was simply a bad Republican
---
"I think he [Speaker Madigan] may have felt a little violated . . ."
---
year: Rep. Anne Zickus, Rep. Linda Williamson and Rep. Ron Stephens fell victim to Democratic gubernatorial candidate Neil F. Hartigan's strong showing outside Chicago. Rep. Wayne Goforth got burned by a National Rifle Association letter attacking Republican secretary of state candidate George Ryan. John Terranova lost a solid Republican seat in Rockford when hometown voters rejected two fellow Republicans' efforts to move up the political ladder: Lynn Martin's bid to move from Congress to the U.S. Senate and John Hallock's attempt to move from the Illinois House to fill Martin's seat in Congress.
Those losses sparked a call for dumping Daniels as leader, an effort that he easily beat back. Daniels says that his first reaction to demands for improvement was defensive. "I'm working myself to death. I'm driving my staff to death." He then agreed that there could be improvements. Daniels says there will be internal changes that he won't divulge, but in general the changes will increase individual members' involvement. "It will be less, perhaps, leader-driven and more member-driven," he says.
Daniels is a little more laid back than in 1983. He says that he has become more patient. "I understand that you can't fight all the legislative battles. You're just going to lose some of them when you don't have the majority."
If he has changed little, the relationships among the legislative leaders have changed markedly, Daniels says. Once there was the sense that the four leaders could sit down and compromise; more recently they have come away from summit sessions with differences unresolved. Daniels says that he senses that the leaders are again becoming more willing to work together to resolve differences. The test will come in attempts to reach consensus on redistricting and state spending. Daniels says that he has had differences with both Senate President Philip J. Rock (D-8, Oak Park) and Senate Minority Leader James "Pate" Philip (R-23, Wood Dale) but respects both and calls them friends. His relationship with House Speaker Michael J. Madigan (D-30, Chicago) began well when Daniels in 1983 moved that Madigan be elected speaker by acclamation. That relationship has since become rocky. The root of the problem was in the 1985 fight over Build Illinois, Daniels says. He recalls that Madigan and Gov. James R. Thompson had come to an understanding over how the projects were to be allocated and that he ended up fighting both of them. "I think he [Speaker Madigan] felt a little violated because we had worked so closely together. Hindsight is always better. He may have been right," says Daniels.
Over the last year Daniels says that he has suggested to Madigan that they try again to work more closely. One way he reached out to Madigan was by appointing a number of House Democrats to leadership positions in the National Conference of State Legislatures during Daniels' tenure as president.
In the battle over Build Illinois, Daniels acknowledges that he may have isolated himself. "I think with Build Illinois I burned some bridges. That was a pretty major victory." He says that the hostage strategy on the public aid budget, which could not be passed after June 30 without Republican votes, was crafted by his floor leader. Rep. Sam Vinson, not believing it would take a week to resolve. "I'm not so sure that was the best strategy, but the end result was the payments went out, nobody really suffered, and we passed a very fine Build Illinois program," Daniels says.
During 16 years in Springfield Daniels has seen his relationship with the press change, too. In 1975, as a freshman representative, after a seven-day, 88-ballot deadlock in selecting a speaker, he voted on the 89th ballot for Democrat William Redmond, with whom he shared a district, and Redmond won. "I became a favorite at that time," says Daniels. That changed when he became minority leader, according to Daniels, because he had to present the party line and defend the governor, even when he thought the governor wrong. His media relationships seem to be improving now, Daniels says. "I don't have any complaints about the press, and I don't believe they have any
March 1991/Illinois Issues/15
---
complaints about me."
Two issues of importance to Daniels' 46th District in DuPage County have not found resolution by state lawmakers: Chicago's O'Hare Field and property tax relief. Daniels' constituents are bothered by noise from the airport and worry about airport expansion and their safety, he says. Someday he will prevail on the issues, says Daniels. He continues to push for noise abatement for O'Hare and for building a third Chicago-area airport to relieve O'Hare. On property taxes, he believes they should not increase simply because a house has become more valuable: "State government has an obligation and that obligation is to reduce the property tax bite on its citizens because local units of government won't do it. I'm for forcing that to occur."
Daniels says the inability to resolve either problem does not reflect badly on him, on Republicans or on the governor. "If we win, it'll be a government win for the people. If we lose on it, it'll be a failure of government. And it will be all of us in government."
House minority leader viewpoint
Lee A. Daniels' views on issues, in his own words:
• On taxes: "Speaking for myself and I think for a majority of opinion, I believe that taxes are not necessarily evil. I don't think that in all cases you should avoid this terrible thing of increasing taxes."
• On tax policy: "When a tax increase removes money from people and then does not go to a better form of government or services and does not solve the problem that it was meant to solve, then it becomes bad tax policy."
• On the 1989 income tax surcharge: "It was even labeled Operation Cobra and really, truly, is one of the dark days of Illinois politics."
• On the future of the 1989 surcharge: "I believe that the temporary tax as crafted by the Democrats is gone, is history."
• On lawmakers: "If you brought in 118 legislators, 115 of them at least would say they're fiscally conservative."
• On his own record: "I like to point to a record that Bob Genetski, the recognized guru of the conservatives, would approve of. At the same time Jim Thompson has said, 'You know during the time that I was the governor, you served me well as my leader in the House.' "
• On O'Hare Field: "There's no reason why they don't have a noise abatement plan similar to almost every other airport in the country."
• On his district: "These are not $200,000 homes. These are homes you're going to find on the average street in Chicago, in Bridgeport and other areas. These are working people that can't afford the taxes they're being hit with."
• On the composition of the Illinois House: "The makeup of this state is not 46 Republican districts; it's more like 57, 58, and then in a good year, a majority."
But it is not the 1983 temporary tax or Build Illinois or even a future victory on O'Hare or property taxes that Daniels says will give him the greatest satisfaction when he leaves government. That place is reserved for legislation he has sponsored to help the mentally ill and developmentally disabled. The father of a brain-damaged daughter, Daniels' office is filled with awards that he has received from advocacy groups for the disabled. He says his proudest accomplishments are programs that help the disabled find work, provide financial support to families who keep disabled children at home, and provide small group homes for those who can live in the community with some support.
Daniels sees three big issues looming before the General Assembly this spring: redistricting, extension of the 1989 surcharge and the budget. He hopes for consensus on all three.
Driving everything will be redistricting, the decennial drawing of the maps for state lawmakers' and congressmen's districts from which they must run in the 1992 election. Daniels says that both Republicans and Democrats will have the same data and the same computer programs: "Nobody's going to snooker anybody." As a result, he believes lawmakers might better compromise on a fair map than take a chance on having a federal judge draw the boundaries.
A fair map, to Daniels, will mean more seats for House Republicans. He believes that the 1981 map would today be ruled unconstitutional because there is no way that Republicans can win a House majority in what he calls a "swing" state. He says that Republicans should control 57 or 58 House districts in a normal year.
The state budget will require substantial cuts that Daniels feels are best arrived at by consensus. Cuts will be required with or without the surcharge, according to Daniels. "It's going to be a monumental task," he says, adding that the budget problem can be better addressed by legislative agreement than by gubernatorial vetoes.
A decision on the continuation of the surcharge — the temporary income tax increase forced down Daniels' and House Republicans' throats two years ago — must be made because it expires June 30. Daniels says that he and most of his members would reject extension of the surcharge, as is, but he believes a package could be passed if it included property tax relief, some improvements in school funding along with the extension.
Daniels points out that the state budget may now be dependent on the spending added since the 1989 surcharge. "Without it [the surcharge] we could be facing cuts of $1.6 billion [or] $1.7 billion, and the people of the state will not tolerate the size of those cuts," Daniels says.
To round up the votes to extend the surcharge, Daniels believes a property tax component is necessary. He favors the proposed 5 percent cap on growth in property tax levies by all local governments. He would also strengthen truth-in-taxation measures to allow citizens to get a better understanding of local government decisions affecting their taxes.
Unlike 1983, there are no plans to craft a separate House Republican package on the surcharge. Instead, Daniels predicts that his members will work closely with the governor. He also predicts that extension of the surcharge will require help from Chicago Mayor Richard M. Daley and Democratic leaders in the General Assembly. It will also require Republican votes, delivered by House Minority Leader Daniels.
16/March 1991/Illinois Issues
---