BY PETER ELLERTSEN
Richard Durbin: congressman
who loves his job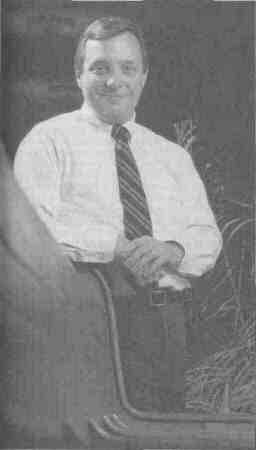 Photo by Terry Farmer/Showcase Photography
U.S. Rep. Richard Durbin
Democrat, 20th District
Fifth-term U.S. Rep. Richard Durbin sponsored one of the resolutions debated in Congress this January on the president's war powers, but his lasting fame may be tied to a one-minute speech two years ago. On July 26, 1989, Durbin of Springfield, the Democrat representing Illinois' 20th Congressional District, exercised his prerogative under a rule allowing one-minute speeches on matters not before the House.
"Mr. Speaker," he intoned. "I rise to condemn the desecration of a great American symbol. No, I am not referring to flag-burning; I am referring to the baseball bat. Several experts tell us that the wooden baseball bat is doomed to extinction, that major league baseball players will soon be standing at home plate with aluminum bats in their hands. . . . Are we willing to hear the crack of a bat replaced by the dinky ping? Are we ready to see the Louisville Slugger replaced by the aluminum ping dinger? Is nothing sacred?"
Durbin's speech was, in comparison to his key role in forcing a congressional vote on the Iraqi war resolutions and his legislative achievements, a dinky ping heard 'round the world. "The response to that was amazing," he recalled later. "I still have people whom I meet for the first time, and they'll say, 'Oh, you're the guy who gave the speech about the baseball bat.' "
Only one piece of legislation has won Durbin anywhere near as much national attention. It was his sponsorship of the 1987 ban on smoking on domestic airline flights. Its appeal also cut across ideological lines, although it irked senior tobacco-state lawmakers. Along with his opposition to congressional speaking fees and his recent championing of Lithuanian independence, the smoking ban helped give him a reputation for taking on causes that other members of Congress might not consider expedient or politically rewarding.
Durbin's congressional career has been both consistent and pragmatic, and he routinely wins reelection with 65 percent of the vote or better. Considered a "liberal," he tends to vote his conscience on social issues and foreign affairs, but he is a reliable supporter of the agricultural interests that drive the economy of his district, which runs from Quincy to Decatur. He is a team player on the Illinois delegation. He stays in close touch with his district, coming home every weekend, but some think he intrudes too deeply in home-district politics, namely Springfield's.
Durbin tends to oppose national Republican administrations on social issues and foreign affairs. But he said it doesn't make
April 1991/Illinois Issues/11
---
him any the less effective an advocate for a district that voted for Ronald Reagan and President George Bush: "I trust that even if people disagree with me on foreign policy questions, they'll respect the fact that I stand up and defend my point of view. I sense that's the reason I am reelected."
For the most part, Durbin wins accolades from across the spectrum. Not atypical is Lester Brann, president of the Illinois State Chamber of Commerce, who has worked with him on unemployment insurance issues: "Our members see him as a congressman who can get things done. We find him to be very responsive on bipartisan issues where business and labor get together."
'Our members see him as a congressman who can get things done'
Len Gardner, executive director for governmental affairs for the Illinois Farm Bureau, which tends to be conservative on labor and social issues, said Durbin has only a 50 percent Farm Bureau career voting record, but he said Durbin is entirely accessible. "On ag issues we've been quite close. On some of the broader philosophical, social program issues we haven't been as close, but we work with Dick on appropriations and special projects for Illinois. He's been very attentive to our needs. On the key issues, I'd say Dick has been with us."
Durbin is not without detractors. One who praises him with faint damnation is 20th District Republican State Committeeman Don "Doc" Adams of Springfield: "Well, Dick's a hard-working, very partisan congressman. He carries a lot of water for the Democrat party, and my guess is he'll be in the Democrat leadership one of these days. I don't think people in the district realize what he does out there [in Washington].''
They know he dabbles in local politics, though. In this year's Springfield mayoral election (officially nonpartisan), he endorsed the incumbent instead of the choice of the local Democratic party. In 1986, Durbin irritated Springfield's "Republicrat'' power elite when he testified in court to bipartisan slating in the city's nominally nonpartisan elections; and he angered Sangamon County GOP Chairman Irv Smith when he worked for Smith's opponent in the next municipal contest: "His participation in the [1987] city election, where he went door-to-door before the TV cameras, against several nonpartisan candidates, was an attempt to hurt the people we supported." At the time, however, an in-house Democratic poll showed Durbin with a 71 percent approval rating among local Republicans.
More biting criticism comes from right-to-life advocates and anti-gun-control groups. Personally opposed to abortion, Durbin has voted since 1989 for amendments which in effect would ease restrictions on abortion in cases of rape or incest. He considers the votes a matter of conscience; they do not please the anti-abortion lobby that already considered him a "wolf in sheep's clothing" for his support of family planning.
Durbin tends to favor gun control, a position that his 1990 Republican opponent, Paul Jurgens of Decatur, sought to make an issue. He challenged Durbin to a pistol shoot: "The sportsmen of this district have been consistently misled by Congressman Durbin ... we must have a congressman that legislates against criminals and not against law-abiding sportsmen." Jurgens also tried to pin 10 years of deficit spending on Durbin: "It isn't administration budgets or federal revenues or tax cuts. It is Congress' raw greed for ever more federal spending."
Durbin is a definite booster for spending federal funds in Illinois, a state that gets little in defense contracts or other big-ticket items, compared to the tax dollars Illinoisans send to Washington. As a member of the agriculture and transportation subcommittees of House Appropriations, he is in a position to help bring home the bacon statewide. He says he takes on the job gladly. "When it comes to the economy of the state, these appropriations mean a lot," he said in an interview. "I've really tried to be a clearinghouse for the whole delegation, both Republicans and Democrats, whether it's railroad relocation [in Springfield], research funds for the University of Illinois or help for my colleagues in other districts."
Durbin said lawmakers from Chicago and downstate Illinois work together at the federal level; they simply have to put aside the upstate-downstate rivalries so important in Springfield. He said, "I wouldn't be on Appropriations if it weren't for a Chicago Democrat named Dan Rostenkowski. He asked me to 'remember Chicago,' and you bet I do." Rep. Rostenkowski (D-8, Chicago) is considered a close ally, as is Majority Leader Richard Gephardt of Missouri.
"With very few exceptions, I have been able in Congress to work with both sides of the aisle," he said. "The same is true for Republican governors. [Former Gov.] Jim Thompson and I worked closely together. I didn't view helping Jim Thompson as a political advantage for him; I viewed it as something for the state. I've already met with Gov. [Jim] Edgar. He started in state government a year before I did; we spent many years together in the state Capitol, and we're going to work together."
Durbin, 46, today rejects ideological labels. Before "liberal" got to be a term of partisan invective, he identified himself with the liberal wing of the Democratic party. He has since characterized himself as "pragmatic and a hybrid." The National Journal rates his voting record as 61 percent liberal on social issues and 60 percent liberal on economic issues.
Durbin's political career started in Springfield in 1969, when he came to Springfield to work for Lt. Gov. Paul Simon (now U.S. senator) and later as state Senate parliamentarian. A native of East St. Louis, Durbin received his law degree from Georgetown University in 1969. He lost his first bids for office: for state Senate in 1976 and lieutenant governor in 1978 (with Michael J. Bakalis). In 1982 he won his current congressional seat, upsetting former U.S. Rep. Paul Findley (R-20, Jacksonville), and he has won reelection four times.
Political scientist David Everson, of the Illinois Legislative Studies Center at Sangamon State University, said Durbin
12/April 1991/Illinois Issues
---
touches the right "constituent-related" bases and predicts he will have a long career. From his studies of elections, Everson has isolated the few factors that make present-day incumbent congressmen vulnerable. Everson sees a couple factors affecting Durbin: "One is redistricting, but the Democrats control the legislature. The other, which I think is even more implausible, is some kind of personal scandal or a policy issue that alienates people. I would rate the chances of that close to zero."
On issues, Durbin considers U.S. military involvement in the Persian Gulf as the most difficult he has faced. Before war broke out with Iraq, Durbin sponsored a resolution reminding President Bush that Congress had the authority to act on any military engagement. It was the first of three debated and voted on January 12, four days before U.S. military forces began the air war against Iraq's military machine. Durbin's resolution was approved in the House, 302 to 131. He joined the House Democrats in urging continued economic sanctions over military action on the second resolution, which was defeated with 183 ayes and 250 nays. Scoffers at home say that he went with the Democratic leadership on what essentially was a partisan roll call, but Durbin considers the Iraqi war the most difficult issue of his career. "I spent a lot of sleepless nights remembering the faces of the young men and women I saw at the National Guard send-off here in [Springfield] and the reserves in Decatur," he said. "I carry around with me letters from mothers of kids on the front line in Saudi Arabia. I've met with them, and they've cried and asked me to do what I can to bring their kids home safely .... It is the toughest call a politician has to make."
The vote on the third resolution, authorizing the president to use force, was passed 250 to 183. Durbin said that as soon as the ayes and nays were recorded, he fell in line behind Bush.
"The president prevailed; the national policy was established. I fully support it, and I will make certain we give these men and women the resources to make sure they come home safely as quickly as possible. History will ultimately judge whether that policy decision was right, but we cannot let that debate take away anything from our support of the men and women over there."
On international relations, The Journal put Durbin's record at 84 percent liberal. Newly appointed chairman of the Budget Committee's task force on defense, foreign policy and space, he insists he favors a strong national defense. But he says there is a cost involved. "We are in fact making the choice that Dwight Eisenhower told us of: For every missile you build, he said, there's a child who goes without an education, or health care or immunization. In the Budget Committee, I face that debate every year."
Durbin is also a member of the Select Committee on Children. "It's not considered a major committee, but in terms of what it's done to shape me, it's had a major influence," he said. "Some of the things I've seen — Belle Haven, Fla., with the Haitian immigrants and the terrible AIDS situation there, the 'welfare hotels' in New York where children are literally afraid for their lives going to and from school — open your eyes to a part of the world which we in Springfield and central Illinois may not see every day."
On economic and agricultural issues, Durbin tends to vote the bottom line. In spite of what he terms a Midwestern distrust of large corporations, he is an acknowledged booster of coal technologies and agribusiness concerns like Archer Daniels Midland Co. and A.E. Staley Manufacturing Co., both important to the 20th District. "If a corporation is involved in the community and employs people, almost without exception the community is very supportive," he said. "It's a neighbor. Its management is the folks you see involved in the United Way committee, in civic affairs. . . . We become boosters for what they're doing, whether it's hospitals in Springfield or ADM and Staley and their products in Decatur."
Durbin supports ethanol additives to gasoline, sugar import quotas and other measures of interest to central Illinois corn growers and processors. As a result of his support of sugar quotas — which raise the price of corn-based fructose sweeteners — his campaign contributors include interests like the Florida Sugar Cane League and the Southern Minnesota Beet Sugar Cooperative. His contributions average $350,000 an election, about par for a House member.
When it comes to transportation, he is pragmatic. His mission on the transportation subcommittee of House Appropriations is to get all he can for Illinois. That, he said, takes bipartisan cooperation.
. . . he is an acknowledged booster of coal technologies and agribusiness concerns . . .
With powerful allies, key committee assignments and a good working knowledge of the legislative process, Durbin is considered an insider with a bright future on Capitol Hill. Also considered a bit of a crusader (the smoking ban) in an institution by habit lukewarm to crusades, Durbin says he's satisfied with his somewhat anomalous niche on the Hill. "I have a tendency to be fairly eclectic when it comes to issues," he said. "I grab issues, and sometimes I ruffle feathers a little bit with the so-called leadership team."
He lost decisively in his 1989 bid for vice chairman of the Democratic caucus, the No. 4 leadership position, but now says he isn't as keen on moving up the leadership ladder. Nor does Durbin consider a run for statewide office in his future: "I've done that before. I am the answer to the most challenging trivia question in the history of Illinois: 'Who ran as the Democratic candidate for lieutenant governor in 1978?' It was an eye-opener."
Durbin is a congressman in love with his job: ". . . [A]s I've said before, I'd drive a taxi at night to keep this job. I'll be happy to stay here as long as the people of the 20th District are happy. "
Peter Ellertsen is a Springfield free-lance writer.
April 1991/Illinois Issues/13
---