By DONALD SEVENER
The makings of a revolutionin
education from bottom, not top
This is the second of two articles dealing with reforms of public education in Illinois. The first, also by Donald Sevener, was published in the May magazine and focused on specific reforms passed in 1985 by the General Assembly.
Far from legislative chambers in Springfield where six years ago lawmakers, bureaucrats and the governor crafted a package of sweeping and largely ineffective education reforms, a quiet revolution is taking place in some Illinois schools.
In Malta and Sparta, Danville and Jacksonville, Cairo and Chicago, Quincy and Pekin, teachers and administrators are turning the idea of schooling upside down. In these communities and a few others, educators are demonstrating that true, fundamental reform of schools can occur when it bubbles up from the schoolhouse rather than cascading down from the Statehouse, "Top-down decision making is quick," says Chuck Bowen, principal of Broadmoor Junior High School in Pekin. "And very often it is wrong." Adds Lavonne Dawson, a special education teacher at Broadmoor, "I don't know where state officials get their ideas for reform, but I wonder: How much do they talk to kids?"
Broadmoor school is one of 20 members of the Illinois Alliance of Essential Schools, a federation of secondary schools that have adopted the reform philosophy of Ted Sizer, dean of education at Brown University and one of the nation's most prominent and creative school reformers. Sizer is the author of Horace's Compromise: The Dilemma of the American High School, the product of a three-year study of high schools that led to founding a growing network of "essential schools" (essential in that they teach an essential body of skills and knowledge). Sizer's Coalition of Essential Schools is one of several grass-roots movements designed to rethink what schools do and how they do it. Under labels only educators could conjure up — essential schools, accelerated schools, reading recovery, site-based management, teacher empowerment — these movements are endeavoring fundamental reform of education on virtually a school-by-school basis. "For once," says Barbara O'Brien, a Broadmoor social studies teacher, "this is not a Band-Aid approach to the problems of education."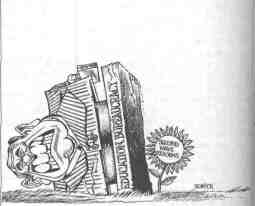 These grass-roots movements, often called the "second wave" of education reform, come on the heels of major surgery undertaken by the General Assembly in 1985, known as the Year of Education in Illinois. In all, the legislature enacted 169 initiatives designed to cure the ills of Illinois schools, although for the most part the reform measures were closer to cosmetic surgery than to long-lasting remedies for the problems of education. "The 1985 so-called reforms were accountability reforms," says former state Superintendent of Public Instruction Michael J. Bakalis, now president of Triton College. "Till recertification of administrators, testing of kids, testing of people before they are certified to be teachers — essentially they were saying, let's get a handle on what we're doing. I think that was neccesary. But that stage is now gone. We've set the stage to do more than that now."
Bakalis and others say the time has come for teachers, administrators and parents to seize the initiative for school reform, to rethink what happens inside classrooms. Little by little, this is happening. Says Dorothy Magett, associate superintendent for the State Board of Education: "If we're ever going to get the attention of the institution, change needs to start from the bottom up, simply because we've tried so much of the other and it's been so meaningless."
One of the most dramatic of these "second wave" reforms, at least in scope, has been the effort to wrest control of schools in Chicago from a moribund central bureaucracy and invest parents and teachers and other citizens with a greater role in running the schools. That effort is still too inchoate to produce any definitive conclusions about school improvement, but the point of this so-called "site-based management" approach undergirds the whole philosophy of the new, grass-roots reform
10/June 1991/Illinois Issues
---
movement: Changes will take root only when cultivated by the people with a direct stake in their success. "The Chicago reforms have basically dealt with governance," says Bakalis. "They didn't make kids read any better. But those changes, too, were important to do."
At the other end of the spectrum from the massive overhaul of the Chicago school system is a fledgling but growing program that is designed to make kids better readers. It is called "reading recovery" and involves a new — and expensive — way of training teachers to teach reading. Reading recovery, which was imported from New Zealand via Ohio State University, differs from traditional supplemental reading programs in that it doesn't attempt to solve a student's reading problems built up over several years of schooling but rather to accelerate a youngster's reading ability before the deficiency is allowed to take hold. Reading recovery involves intensive individual reading instruction for the bottom 20 percent of first graders. It provides one-to-one instruction 30 minutes a day with a specially trained teacher; after an average of just 12 to 16 weeks, 90 percent of the youngsters read at grade level. Research shows that the skills students develop in the reading recovery program stick with them as they advance in school. With foundation support and some funding from the State Board of Education, two training sites for teachers have been established at the University of Illinois and National-Lewis University in Evanston. By the end of this school year, 117 teachers will have been trained in reading recovery techniques and 1,500 first graders will have received the special accelerated reading instruction.
There is also a growing number of entire schools that call themselves "accelerated" (the vocabulary of educators seems infatuated with speed, as if schooling were a race: "slow" learners, "fast" track, "accelerated" schools). Twenty-five elementary schools have joined the Illinois Accelerated Schools Initiative which, among certain unifying principles, encourages shared decisionmaking between teachers and administrators regarding curriculum and teaching strategies. Although the schools are broadly representative of Illinois' geographic diversity, their enrollments share many common characteristics: low-income, high student mobility, low reading scores, large ethnic or minority representation, limited English-speaking proficiency, high rates of retaining students in grade level and below-average attendance rates.
Also characteristic of accelerated schools — again they attempt to accelerate, not remediate — is their willingness to rethink traditional approaches to schooling. They are not chained to the conventional grouping of students by age, and they have undertaken innovative pedagogical techniques such as cooperative learning among students of different levels of academic readiness, peer tutoring, after-school enrichment programs, integrating technology in the classroom and the like. "These kinds of programs represent basic breaks with the past," says Fred Coombs, associate dean of the College of Education at the University of Illinois.
Nowhere are these departures from tradition and convention more extraordinary than in places like Broadmoor Junior High School in Pekin. It is here and in the other 19 secondary schools that form the Alliance of Essential Schools that the spirit of innovation has converged with the determination to make schooling different and demonstrated the shape of true school reform. "We're not interested in change that tampers with the edges," says Dorothy Magett, who oversees the essential school project for the state board. "If your school is not turned upside down, then we've failed."
Three years ago Broadmoor Junior High did not seem like a school that was going to be turned on its head. It was like most schools in Illinois — comfortable and self-satisfied. "We were doing the same thing year after year," recalls Linda Harris, a Broadmoor special education teacher. "The kids were changing — their home life, the job market, family life — but we were not." Harris says a small core of the Broadmoor faculty that was increasingly dissatisfied with the school's complacency decided to look for change. Four teachers and two administrators journeyed to Brown University to investigate the Coalition for Essential Schools and, as it turned out, their own attitudes and values about schooling. "The coalition," says Harris, "really made us question our school and question ourselves as teachers. What was so scary was that we realized we could do a better job."
Reading recovery involves intensive individual reading instruction For the bottom 20 percent of first graders. It provides one-to-one instruction 30 minutes a day with a specially trained teacher
Emboldened with that belief, the Broadmoor group succeeded in convincing colleagues to join the Illinois Alliance of Essential Schools, which was being developed by the State Board of Education. It was a step, notes Magett, of some courage, if only because Broadmoor and its faculty could have continued to ride out the wave of reform without having to change much at all. "People have learned through the years that if they wait this out, it'll go away. Even in instances where teaching is not successful, it's been safe. In many cases, teaching is not such a bad job. It's a lifetime job that has a lot of nice perks." Even so, she adds, there are ripples of discontent. "Teachers take a bad rap nationally," she says. "They know things aren't right. Even if you feel successful as a teacher, your success is lost in this national sea of failure. So the good professional must be dissatisfied with that."
"I have never been more excited about my profession than I am now," says social studies teacher Barbara O'Brien of the "reformed" Broadmoor school. As an essential school it encompasses many of the values and goals of the second wave reform movement — site-based management, a child-centered approach to curriculum and teaching, and empowerment of
June 1991/Illinois Issues/11
---
teachers to take greater responsibility for the success of the school.
As developed by Sizer, essential schools are based on certain principles. For instance, schools have an intellectual focus and stress teaching young people to use their minds rather than emphasizing an exposure to a comprehensive curriculum. Coalition schools have simple and universal goals, such as that each student master a limited number of essential skills and areas of knowledge. Teaching and learning are personalized and teachers ideally have no more than 80 students during the school day. Decisions about curriculum, schedule and choice of teaching materials rest with the faculty and principal, not a central administration. Students are regarded as workers, not passive learners who listen to teachers deliver lectures. Diplomas should be awarded on the basis of a successful demonstration of mastery — an exhibition — of the central skills and knowledge of the school's program, rather than conventional final exams. The familiar progression through school based on age and grades and for "credits earned" by the time spent in class is considered unnecessary. Coalition schools are to operate on a budget no more than 10 percent higher than traditional schools, meaning that some services offered in the comprehensive high school may have to be phased out.
Bells will ring to begin school and end the day; in between, students will be in classes that will run as long as teachers think necessary to complete a lesson
"This is a pretty radical change in the way we think about kids," says Chuck Bowen, Broadmoor's principal. Says Lavonne Dawson, "This has made us more open to listening to kids. In the past, we've been used to getting out our teaching manuals and going through the textbook chapter by chapter. You don't know whether the kids got it or not, so you give them a test. And if some of them didn't get it, what do you do? Go on to the next chapter. For years kids have been telling us we've got to change, but nobody listened to them." At Broadmoor they are starting to listen. Teachers interviewed students, who told them: "School doesn't relate to my life," and "Teachers don't care about who I am or what is going on in my life," and "If they don't care about me, why should I be interested in their subjects?"
Although major curricular and pedagogical changes have yet to reach the classroom, students will find their school changed from top to bottom by next fall. For instance, each day will begin with an "advisory," a period when each teacher or other certified person will spend a half an hour with no more than 20 students to give the youngsters an adult who will help them solve problems, air gripes or just offer a sympathetic ear. Unlike this year — and unlike most secondary schools — Broadmoor's daily schedule next year will not be punctuated by bells ringing every 45 minutes or so signaling time to change classes. Bells will ring to begin school and end the day; in between, students will be in classes that will run as long as teachers think necessary to complete a lesson. These uninterrupted blocks of instructional time will enable teachers to team teach various related subjects — say, the history of the Civil War and Across Five Aprils, a Civil War novel, plus the history of surgery and medicine in science class. "When I teach World War I," O'Brien says, "students sometimes ask, 'Where's Hitler?' because in their English class they're reading Diary of Anne Frank. They get their world wars confused."
Students also will find that they will be graded in different ways. Pencil and paper tests will give way to "exhibitions" and "portfolios'' — a collection of a student's work that would include a variety of ways to assess mastery of a subject. Dorothy Magett says she read of an essential school in Arkansas where students divided into teams for their mathematics final exam:
They had to design a building on a limited budget imposed by the teacher. The team's grade was based on the quality of the design and the efficient use of resources. Using geometry, algebra and computational skills, one team progressed with their building until one member of the team, a special education student, reminded her colleagues that their structure had a major flaw — it was not wheelchair accessible. "Just think of what those kids learned from that experience," exalts Magett. Says O'Brien: "I want to help students learn to use their minds well. I want them to be responsible for their own learning."
Teachers also are experiencing new responsibility at Broadmoor. They are treated as partners in decision-making, a rarity in most public schools. "The teachers run this school," says Principal Chuck Bowen, himself Illinois Teacher of the Year in 1986. For instance, when it was decided that teachers needed more planning time together, the faculty devised the radically new schedule for the school to accommodate the planning period. And when it was then determined that the schedule would necessitate hiring a new teacher, the faculty had the responsibility to cut other positions to find the money for a new teacher in core academic subjects. "It used to be that we'd show up the first day of school and be handed our schedule," says Harris. "Now we own the schedule."
Universally, teachers praise Pekin Superintendent Jerry Parker for his openness to change and his supportive role in laying the groundwork for the Broadmoor experiment with the district's school board and public. "He gave us a free rein," says Linda Harris, who also notes that the antagonism that so often characterizes the relationship between teachers and administration has been replaced at Broadmoor with a spirit of mutual respect and cooperation. "Another thing this movement has done," she says, "is give teachers value. We're treated with respect.''
Still, few revolutions succeed without some resistance, Though students have yet to feel the full impact of the move, Bowen, citing the experience of other essential schools, predicts they will be skeptical. "Kids will resist it,"
12/June 199 I/Illinois Issues
---
he says, "because we're asking them to work harder. They're not foolish; they know when they are being asked to do more.'' But he believes their resistance will not linger. He notes that students in a coalition school in New Hampshire undertook studies of landfill problems that actually led to a change in state environmental policy. "When kids understand they can do important stuff,'' Bowen says, "the incentives and attitudes will I change."
More problems could lie ahead if and when teachers in fields such as home economics and industrial arts lose their jobs to make way for more teachers in academic disciplines
Acceptance by the faculty, though now apparently widespread, has been gradual as well. Linda Harris: "The people who have the most difficulty are those who like very structured situations, who are not very outgoing and who like being in a room teaching by themselves.'' More resistance came this year over such seemingly minor changes as reallocating teaching space to accommodate team teaching. More problems could lie ahead if and when teachers in fields such as home economics and industrial arts lose their jobs to make way for more teachers in academic disciplines. "Then," says Harris, "you won't be talking turf, you'll be talking people's jobs."
Some parents, too, remain unconvinced, although one of the coalition's principles is to treat parents as collaborators in their children's education, another new experience for most public schools. "Parents of gifted children are concerned," says Barbara O'Brien. "They want to see test results and structured situations. This is very scary for them."
Revolutions can be scary, and slow too. Next year will be Broadmoor's third in the Alliance of Essential Schools. It will be then that they begin implementation of the plans the teachers have made. "The first couple of years in the coalition we didn't see much change because the change was happening here," says Harris, placing her hand over her heart. "But in five years, we'll not be the same school."
And they will have made a revolution.
Donald Sevener is editor of the Illinois Times in Springfield. In the months preceding enactment of the 1985 education reforms for Illinois, he contributed to a series of articles for Illinois Issues on education in Illinois' public schools.
June 1991/Illinois Issues/13
---