By MICHAEL D. KLEMENS
State Comptroller Netsch's message:Lower spending to match revenue
A few days after becoming the first woman elected to statewide executive office in Illinois, Comptroller-elect Dawn Clark Netsch visited her new office to get the bad news. Deputy Comptroller Thomas Dodegge, Netsch recalls, told her, "It is not good." Since November it has gotten worse as Illinois' fiscal situation has deteriorated further.
At the beginning of May the comptroller's office had $50.3 million available for spending and $263 million in unpaid bills. And to make matters worse, another $400 million in bills were waiting to be processed at the Department of Public Aid.
The situation is ironic. Netsch came to the comptroller's office with a strong background in state finances, a first-hand knowledge of the legislative process and some clear ideas on sound fiscal practices. In her first months in office she had little opportunity to employ those strengths and instead spent her time trying to figure out which bills to pay and which to hold. "As much as I knew about fiscal policy and finances of the state of Illinois, as a legislator you didn't have to track the cash flow, the capacity to have enough money there," Netsch says.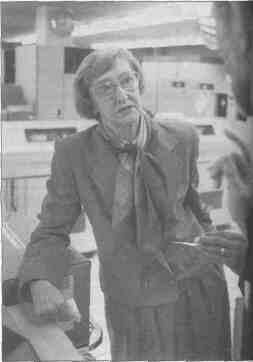 Photo by Terry Farmer/Showcase Photopaphy
Comptroller Dawn Clark Netsch reviews the operation of a new check writing machine with Gary Sedlock.
Netsch's fiscal background is considerable. As a delegate to the 1969-1970 Constitutional Convention, she served as vice chair of the Revenue and Finance Committee. In the Illinois Senate, representing a northside Chicago district that includes Lincoln Park, Netsch had chaired the Senate Revenue Committee and was cochair of the Illinois Economic and Fiscal Commission, the General Assembly's revenue forecasting and fiscal research arm.
As a legislator, Netsch was no wallflower. She pushed loud and long for high profile causes like the Equal Rights Amendment to the U.S. Constitution and nearly invisible issues like the need to improve pension funding by the state. In 1987 she mounted a campaign to be named an assistant Senate majority leader and delayed Philip J. Rock's election as Senate president to protest the need for a woman on the leadership team. Rock agreed to appoint a woman, but the post went to Sen. Earlean Collins, not Netsch.
Rep. Thomas W. Ewing (R-87, Pontiac) served with Netsch as cochair of the Economic and Fiscal Commission and regularly chided her about how much she talked at commission meetings. He says today that was in good fun and that he found Netsch easy to work with. "I always knew that she'd be fair and honorable.'' He also claims that although Netsch was liberal on social issues, he found her to be a fiscal conservative. "I think even north shore liberals like to spend money carefully," Ewing says.
Netsch has spent much of her early time as comptroller telling everyone who would listen just how bad things are. Netsch jokes that she is the "visiting grinch," spreading the news of how bad off state government is. Her message has been straightforward: The state's problem is fiscal, not economic. Illinois had avoided, at least until March and April, the kind of revenue downturns that crippled government in other states. Instead, overspending caused Illinois' problems.
Netsch said she spoke out early and often in part to convince Democrats, who are naturally suspicious of fiscal projections from Republican governors, that Illinois faced serious fiscal
14/June 1991/Illinois Issues
---
problems. She suggests that she has the standing to make that point with her former colleagues, who may not readily accept Gov. Jim Edgar's fiscal warnings given former Gov. James R. Thompson's lack of credibility.
The state's financial crunch has thrown together Netsch, the veteran legislator not afraid to call herself a liberal Democrat, and Jim Edgar, the rookie governor who paints himself a moderate Republican. Netsch has worked with the Edgar administration to be sure that there is cash on hand to pay bills. Joan Walters, Edgar's budget director, says that finding the money to meet payrolls and make critical payments requires cooperation. Walters says Netsch has been effective and knowledgeable in getting the state through months when there were more bills on hand than cash.
Dawn Clark Netsch
Sen. Dawn Clark Netsch was born in Cincinnati, Ohio, on September 16, 1926. She married Walter Netsch, a well-known architect, in 1963. The couple lives in Chicago's Old Town community.
Netsch graduated from Northwestern University in 1948 and received her Juris Doctor degree from Northwestern University's School of Law in 1952, graduating first in her class. Netsch has been on the faculty at Northwestern's School of Law since 1965 and teaches state and local government law. She is coauthor of the textbook. State & Local Government in a Federal System.
Netsch began her state service as an administrative and legal aide to Gov. Otto Kerner from 1961 to 1965. In 1967 she was a consultant to the National Advisory Commission on Civil Disorders. In 1969 she was elected as a delegate to the Illinois Constitutional Convention, where she served as vice chairman of the Revenue and Finance Committee.
She was elected state senator from Chicago's near north side in 1972 and was reelected in 1974, 1978, 1982, 1984 and 1988. In the Senate she chaired the Revenue Committee, served on the Appropriations II Committee and was cochair of the Economic and Fiscal Commission. As a legislator she pushed sales tax reform, pension funding improvements and creation of the income tax refund fund. She sponsored the Fair Campaign Practices Act and pushed for the Equal Rights Amendment to the U.S. Constitution, the Illinois Family and Medical Leave Act and merit selection of Illinois judges.
Netsch has been named best legislator seven times by the Independent Voters of Illinois; she garnered a similar award from the Illinois Environmental Council on six occasions. She has also been recognized by women's, legal and educational groups for her work.
Michael D. Klemens
At the same time Netsch has urged Edgar to undertake short-term borrowing to allow payment of the bills that are piling up in her office. She has taken the position that the state should borrow the money straightforwardly, rather than surrepitiously by withholding payments from vendors and service providers. However, her push has been quiet and nonconfrontational.
Edgar has also found an ally in Netsch for the level of budget cuts that he says are needed, though not for the specific cuts. Says Netsch, "I think you've probably got to respect at least the bottom line in Edgar's budget."
The new comptroller, however, has no respect for the way that Edgar proposed to get to the bottom line by slashing human service programs. "I find Edgar's cuts, which put almost the entire burden on welfare programs and poor people, unacceptable," she declares. While others talk about balancing the state budget to maintain the state's credit rating, Netsch sees other reasons for fiscal responsibility. She says that those most threatened by the state's financial problems are those that need help the most: "A lot of the people who are being hurt are people for whose causes I have worked for a long, long time."
The comptroller's responsibility is to maintain the state's books and to pay the bills. The office has historically been a place to go for solid information on the state's fiscal health and for the specifics of state spending. It has also been a traditional counter to the governor on fiscal issues, the two executive positions having always been held by members of opposing parties.
Netsch would like to leave her stamp on the office in three ways. First, she wants an office with high credibility about government finance. Second, she wants to pursue an oversight function, calling attention to wasteful spending and intimidating public officials into spending wisely. Netsch says that oversight must be done carefully so that citizens are not led to think that all spending is wasteful. It is important to be sure that citizens understand the true costs of the services that most want, she says.
Third, she would like to promote the sorting out of functions between state and local governments. Netsch says that she no longer has any illusion that sweeping changes can be made but says Illinois ought to decide who is doing what and how it is paid for. When she chaired a National Conference of State Legislature's task force, she promoted the theme that "local governments are not just another special interest group.'' The most prominent example of sorting that remains undone in Illinois is school funding, Netsch says.
There will be few dramatic changes in the comptroller's office. Most of the staff remains unchanged from that of her Democratic predecessor, Roland W. Burris, and Netsch has drawn praise for the new people she has brought aboard. "She's putting together a good staff," says Rep. Ewing.
Nor will the output of the office be radically altered. Netsch will continue Burris's monthly reports, which review state revenues and spending in some depth and feature a specific department each month. However, she would like to expand the regular in-depth examinations of agency and department spending to include issues that transcend departments. In the works are studies of travel costs and energy costs, she says.
The comptroller is also planning a new quarterly report in which spending and revenues would be tracked throughout the year. The report would be more analytical than the current information-based monthly report, looking at trends and seeking to explain why things are occurring. It will also give the office a way to keep the focus on the state's fiscal condition throughout the year.
Another change will be in style. Netsch says she plans to be more vocal and visible about what is happening on fiscal matters. She began by holding press conferences to release monthly
June 1991/Illinois Issues/15
---
reports and explaining to reporters her concerns about state finances. "I'm not sure they [the reporters] did as much with it as they ought to have done, but at least the message maybe was out there a little stronger," Netsch says.
Netsch offers no revelation as to how Illinois got into its present fiscal crisis. Instead she points to the usual cast of suspects, including:
• Erosion of the state's tax base through the exemption of food and drugs from state sales taxation and the change in public utility taxes from a rate based on cost to a rate based on the number of units used. Netsch suggests that changes to the tax base have led to overestimates on revenues.
• Passage of temporary income tax increases in 1983 (18 months) and 1989 (two years) which raised state spending based on revenues that were not guaranteed to continue.
• Use of fiscal gimmicks — smoke-and-mirrors type —including the postponement of bills so that they are paid from the following year's revenues. This so-called lapse-period spending hit a new record of $583 million last year and will hit another new record next year.
• Increased demands for medical assistance paid by the Department of Public Aid.
• Budgets under which state spending exceeded state revenues for two consecutive years (fiscal years 1990 and 1991).
Netsch says that the Thompson administration must bear much of the responsibility for the current fiscal problems: "The governor in this state is the chief fiscal manager in that sense, and he was never that interested.'' Netsch says that the former governor's handling of his post-reelection fiscal problems sowed seeds of distrust among voters. "His solution to everything always was these massive tax increases, and it was at a time when people never were going to realistically buy that [solution] . The result was that you never got a lot of these things realistically faced up to. And I think they [Thompson administration staff] started playing even more games towards the end."
Netsch says that the solution to the current budget crisis must include significant budget cuts. She disputes Edgar's human service cuts and would shift those cuts as much as possible to administration and operations lines. "There's no happy, easy way to do it," she says.
Beyond providing information on how revenues are coming in and where the state stands fiscally, Netsch sees no role for her office in constructing a budget. That is a legislative function, she says, and it would be inappropriate for her to intrude. "That is primarily a matter of figuring out in excruciating detail where the budget cuts are going to come," she says.
Netsch is, however, worried about the revenue estimates upon which the Edgar budget is premised. In its April quarterly report Edgar's Bureau of the Budget reduced its current year (fiscal year 1991) revenue estimate by $75 million, primarily in sales and corporate income taxes. The revision dropped the estimate of revenues to be collected for the year that will end June 30 from $13.453 billion to $13.378 billion.
The governor's budget bureau did not reduce its fiscal year 1992 revenue estimate or its June 30 balance. Instead the bureau said it would postpone payment of $75 million in current fiscal year bills until the next, meaning it would pay them after July 1. That postponement will push to $650 million the fiscal year 1991 bills to be paid with fiscal year 1992 revenues.
Netsch adds that the $75 million revenue reduction may prove too little. Total revenues for March and April of 1991 fell $144 million below revenues for the same two months of 1990. To meet Edgar's lowered revenue target, that drop must be reversed. It requires that state revenues for May and June top those two months' total last year by $185 million.
Other parts of Edgar's budget also worry Netsch. She says that fiscal year 1992 revenue estimates are premised on the economy rebounding. She is not comfortable with the $122 million in new federal reimbursement that Edgar proposes to attract by switching funding of children's and mental health programs to public aid: "I think even they acknowledge that's a little risky." Also uncertain, she says, are the new state revenues that would come from grabbing half of local governments' share of the state income tax surcharge.
In the longer term, Netsch says that she wants to expose and diminish the importance of budgetary gimmicks that have contributed to the current problems. Targets include lapse-period spending (postponement of bill payments from one fiscal year to the next); state debt (upward trend of state borrowing increases): and inadequate pension funding (paying less now which will force Illinois to pay more later).
Those who track state finances have given Netsch high marks to date. Paul G. Vallas, Chicago's revenue director, says Netsch is managing cash flow "like a real pro" and has done so without grandstanding. Vallas, who was executive director of the Economic and Fiscal Commission under Netsch, anticipates that when the fiscal crisis has passed, Netsch will be able to promote needed budgetary reforms. "Her preoccupation with the state cash crunch has put her own agenda on hold," Vallas says.
William Foster, who served as deputy comptroller under Burris from 1979 to 1983, knows the pain of telling vendors they can't be paid. "You're concerned with a lot of people out there who need the money.'' Foster says that Netsch has taken a "hands on" approach to the office and has handled well her baptism by fire.
Netsch can assemble a credible operation; making her office visible is another matter. In 1989, 33 days after passage of the income tax surcharge, Burris warned in his monthly report that "Historical patterns of general funds available balances indicate peak balances during the first six to nine months of fiscal 1990, followed by gradual declines in month-end balances over the next two to three fiscal years, eventually falling below the $200 million level." The warning was largely ignored and unreported.
Netsch recognizes that dilemma and says Burris' warnings were often overlooked: "You know fiscal stuff is not nearly as much fun as a sex scandal." Keeping citizens interested in fiscal matters when there is no crisis may present Netsch a bigger challenge than being the first woman elected to statewide executive office.
16/June 1991/Illinois Issues
---