By TOM ANDREOLI
Women as mayors and village presidents: from 1% to 15% in Chicago suburbs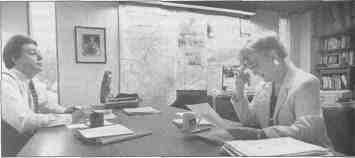 Photo by Dave Tonge
Downers Grove Mayor Betty Cheever meeting with City Manager Kurt Bresssner
Betty Cheever first won elective office 40 years ago as a library board member in tiny Shelby, Mich. At the time, the proverbial glass ceiling loomed low over an ambitious educated young woman like herself, particularly competing in the old-boy game of politics.
You've come a long way, Betty.
In April, Cheever won her third consecutive term as mayor of Downers Grove, a sprawling DuPage County suburb of 47,000 residents where she and her family have lived since 1958. Her easy victory, with 64 percent of the vote, reflects a degree of satisfaction among the electorate with Cheever's tight fiscal policies and hands-off approach to the daily business of government.
Betty Cheever also happens to be the first woman mayor of Downers Grove. As such, she embodies a seminal change now occurring in municipal politics in metropolitan Chicago. Cheever and her peers have become the first generation of women to make real inroads as municipal leaders in the region, political comers for whom nothing but the top spot on the local ballot has been good enough. "Most of us probably would not have been too happy going the garden club direction," Cheever says.
Women's gains at the state level of government mirror the local scene
If slowly, Chicago-area women politicians have ascended steadily. As recently as 1970, women represented less than 1 percent of mayors and village presidents in the six-county Chicago area, according to state documents. Since then, the share of women municipal leaders has risen step-by-step to 15 percent in 1990. Last year, women held the top elected office in 39 of 262 municipalities spread across all six counties.
Women's political progress in metropolitan Chicago jibes with what's happening elsewhere. "What you're seeing, that slow steady rise, definitely fits in the national picture," says Lucy Baruch, research associate at the Center for the American Woman and Politics (CAWP) at Rutgers University.
Nationwide, the share of women holding office at the municipal and township levels of government increased from 4 to 14 percent from 1975 to 1985, according to CAWP. Comprehensive national data have not been compiled for more recent years. However, as of January 1991, 19 of the 100 largest U.S. cities had women mayors, including four of the 10 most populous cities: Houston, San Diego, Dallas and San Antonio. Chicago, where Jane Byrne served as mayor from 1979 to 1983, remains the largest city to elect a woman mayor.
Women's gains at the state level of government mirror the local scene. Women today hold an 18 percent share of state legislative seats and elective offices nationwide, according to CAWP. Illinois has one woman statewide elected officer, Comptroller Dawn Clark Netsch, who served 18 years in the General Assembly. The General Assembly, with women holding 11 Senate and 21 House seats, ranks just percentage points below the national average for state legislatures. However, the share of seats held by women in the General Assembly falls well short of national leaders such as Arizona (34 percent), Maine (33 percent) and New Hampshire (32 percent).
Where women thus far have failed to make great strides in
26/June 1991/Ilinois Issues
---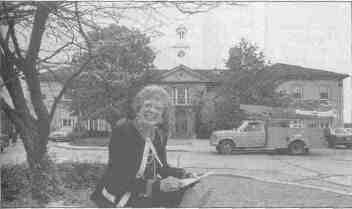 Photo by Dave Tonge
Winnetka Mayor Jeanne Bradner with City Hall in the background.
Photo by Dave Tonge
Plainfield Village President Mary Latta and main business district.
representation is in Congress. Women hold two of 100 seats in the Senate and 28 of 435 seats in the House, for a 5.6 percent share overall. With former Rockford Republican U.S. Rep. Lynn Martin out of the picture (she's now U.S. secretary of labor), Chicago's Democratic U.S. Rep. Cardiss Collins remains Illinois' only congresswoman.
Why have women at the national level lagged behind those at lower levels of government? Women have had to start somewhere, reasons Barbara Brown, lecturer in political science at Southern Illinois University in Carbondale and deputy chair of the Democratic Party in Illinois. "There have to be gains at the lower end of the political system first for women to be in a position to run for higher office," she says.
At the foothills of politics, whether that means municipalities in metropolitan Chicago or state government in Springfield, the impetus behind women's gains isn't difficult to identify. The women's movement and all it implies has propelled women to a greater degree into public life.
In the Chicago area, Lake County last year had the greatest proportion of women mayors or village presidents: Women there held 23 percent of such posts, or nearly one in four. DuPage and McHenry counties tied for the second greatest share of women municipal leaders at 17 percent each.
In Cook County, the share of women mayors or village presidents came in at 14 percent, below the metropolitan region's average of 15 percent. However, those figures belie the fact that Cook County, with 17 women serving as top municipal officers, nearly doubled Lake County's 10. Geographically, the greatest single concentration of women municipal leaders is in a swath cutting across northern Cook County from Winnetka to Hanover Park.
Kane and Will counties, Chicago's other two collar counties, also fell below the metropolitan average. With two women village presidents, Kane County had a 10 percent share; Will County had a 4 percent share with one.
What jumps out in the distribution of women municipal leaders in the metropolitan area is their relative abundance in Lake, DuPage and northern Cook counties.
A number of factors probably contributes to such a pattern, according to Brown. In general, she says, the further away voters get from rural or blue-collar, poor or lower-educated communities, the more likely they become to elect women candidates. Collectively, the suburbs in Lake, DuPage and northern Cook counties make up a golden triangle of Illinois' most affluent, best-educated communities.
Ironically, given the close identification of women's issues with the Democratic Party, most women mayors and village presidents in the Chicago area are affiliated with the Republican Party. Obviously, that has a lot do with the party's strength in Chicago's suburbs and suburban counties. Because most municipal elections are nonpartisan, however, for a woman or a man party affiliation is difficult to nail down. In any case, partisanship appears to play a less important role in municipal politics than at higher levels of government.
For example, candidates for village president in Winnetka on Cook County's North Shore don't participate in any form of partisan primary. (Albeit, most Winnetkans are Republican right down to the interests of their old money.) Instead, candidates nominated by fellow citizens are selected in a nonpartisan citizens' caucus and then slated at an old-fashioned town meeting. "The office seeks the person and not the person the office,'' says two-term village President Jeanne Bradner. In this
June 1991/Illinois Issues/27
---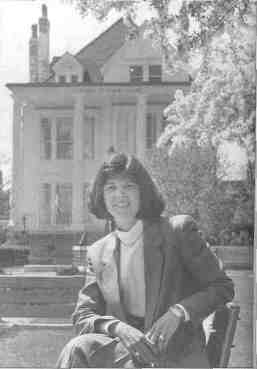 Photo by Dave Tony
Libertyville Village President JoAnn Eckmann in the village's Cook Park with the 1878 Cook home in the background.
year's general election in April, Bradner went uncontested, as have most of her predecessors.
Another case in point is Plainfield, a blue-collar, heavily Republican suburb in Will County, where two-term village President Mary Latta is a registered Democrat. Latta runs only in the nonpartisan general election, after filing petitions with the village clerk, and thus avoids the perils of partisanship. Latta, though, remains surprised by her success at the polls. "I think it's quite a piece of irony that I'm here," she says.
CAWP also has found that women candidates bring more community experience to elected office than their male counterparts
Both Bradner and Latta, though coming from worlds apart, are fairly typical of other women municipal leaders. Bradner is a volunteer campaign worker, a League of Women Voters alumna and currently regional director of ACTION, a federal social agency. Latta is a former village trustee and plan commission member, a teacher at St. Mary's Elementary School and, in the wake of the tornado that devastated Plainfield last year, a self-taught disaster relief coordinator.
But following the numbers is easy. It's grasping the significance of all this that gets tricky. What's gender got to do with governing, anyway? According to some political experts,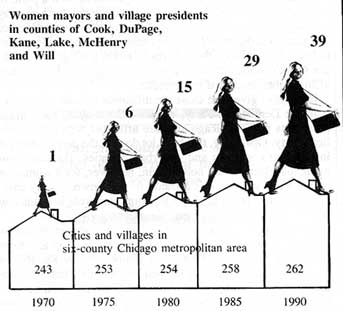 women's inroads at the local level parallel broader political trends and anticipate greater future success for women in national politics. Other experts, while acknowledging electoral trends, dismiss the significance of gender as it relates to policy and administration.
By and large, women holding municipal office are those one might expect to seek out the position. According to the Center for the American Woman and Politics they are usually: college educated; employed outside the home in professional-technical or clerical-secretarial jobs; married; with children, though fewer than half with children younger than 12 years old; and between the ages of 40 and 59. CAWP also has found that women candidates bring more community experience to elected office than their male counterparts.
In Lake County, Libertyville Village President JoAnn Eckmann fits the profile nicely. The village's first-ever woman president, Eckmann had spent more than a decade in politics — League of Women Voters, plan commission, village board — before winning election to her current position in 1989.
Eckmann devotes 60 hours each week to public duties. In addition, she is secretary and treasurer of the family business — manufacturers' representatives — and mother of two. "I'm
28/June 1991/Illnois Issues
---
Women mayors and village presidents in six-county Chicago metropolitan area, by county 1970-91

1970

1975

1980

1985

1990

Cook

1

1

8

12

17

DuPage

0

1

2

7

5

Kane

0

1

1

1

2

Lake

0

1

3

5

10

McHenry

0

1

1

3

4

Will

0

1

0

1

1

Sources: Illinois Secretary of State and Illinois Municipal League.
no different from any other women who has to juggle these things," she says.
Gender was not an issue during the 1989 campaign, when still burning in Lake County was the open-space v. pro-development debate indigenous to suburbia. In fact, Eckmann credits her victory to several negative public exchanges on the topic on the part of her fellow candidates that sent voters scurrying for a more level-headed alternative.
Coincidentally, the same campaign season saw women elected village presidents in Libertyville's neighboring communities of Mundelein and Vemon Hills. Marilyn Sindles and Barbara Williams, respectively, were elected. While Eckmann can't point to specifics, she says the three new village presidents because they are women who have been better able than their male predecessors to cooperate on divisive growth-related issues, such as the extension of Illinois Route 53 into the heart of Lake County. "I think it's easier for us to get together and talk things over," Eckmann says. "Egos don't get in the way."
In political science circles, however, a rather uncollegial debate rages over whether gender, race, ethnicity or similar distinctions can substantively influence public policy. In other words, whether such distinctions can affect the quality of elected representation. Boiled down, it's a question of whether democratic or demographic representation should be the ideal.
In the case of race or ethnicity, the question has received an official answer, of sorts. Federal law theoretically guarantees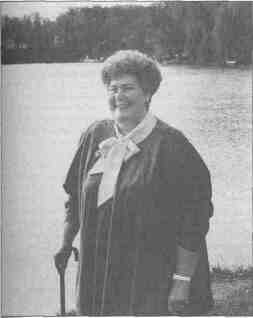 Photo by Dave Tonge
Barbara Key, three-term president of Lake in the Hills Village, strolls through her community in McHenry County.
proportionate representation by race and ethnicity at all levels of government. Hence, this year's redistricting proces has been accompanied by high hopes and hand-wringing across the strata of society. Women, who make up 51 percent of the population, receive no such guarantees.
According to SlU's Brown, placing more women in public office, if nothing else, would be a symbolic step toward truer democracy. "We're a system that places a high priority on equal representation," she says. "Certainly, you can find a progressive white male who will represent the interests of African Americans, Hispanics or women as well as anybody else would. But there also is something to be said for elevating significant numbers of minorities and women, to say in a visible way that there is room for everyone in this political process."
Or, maybe, placing more women in office because they are women is self-defeating. "It's totally irrelevant the notion that somehow there is a kinder and gentler government with women in office, that a male or a female because they're male or female is going to have a different outlook toward policy," says Paul M. Green, director of the Institute for Public Policy and Administration at Governors State University in University Park. "I think, in fact, it is sexist to suggest that is the case."
Formal academic research suggests gender plays a relatively insignificant role in policy decisions at the municipal level. The familiar "women's agenda" — ERA, pro-choice, comparable worth — can only be tenuously related to the day-to-day operations of municipal government — garbage collection, public safety and public works, notes Susan Abrams Beck, assistant professor of political science at Fordham University College at Lincoln Center in New York City.
In a study published last year, based on interviews with 27 council members (13 of them women) in the suburbs of a major U.S. city. Beck found little relating to major policy decisions to set her subjects apart. On the sensitive issues of taxation and development, the men and women council members proceeded in lock step. Both were obsessed with holding the line on taxes and development, or in essence trying to freeze their communities in time. Beck found.
However, she did find some divergence in the type of marginal legislation the male and female council members sponsored. The women suggested: instituting a child care
June 1991 /Illinois Issues/29
---
Current women mayors and village presidents in six-county Chicago metropolitan region with municipality 1990 population
(unofficial listing following April 1991 general election)
Cook County
Gloria Bryant, Ford Heights (4,260) Elizabeth Warren, Glencoe (8,500) Donna Thomas, Inverness (6,500) Judith Petrucci, Lyons (9,830) Madeleon Rogowski, Merrionette Park (2,070) Lorin Schab, Orland Hills (5,510) Rosemary Kaptur, Palos Park (4,200) January Belmont, Phoenix (2,200) Lorraine Popelka, Forest Park (14,920) Jeanne Bradner, Winnetka (12,170) Joan Barr, Evanston (72,230) Sonya Crawshaw, Hanover Park (32,900) Rita Mullins, Palatine (39,250) Jacqueline Gorell, Skokie (59,430) Billie Roth, Streamwood (30,990) Sheila Schultz, Wheeling (29,910)
DuPage County
Shirley Ketter, Itasca (6,950) Joyce Daly, Villa Park (22,250) Vivian Lund, Warrensville (11,330) Betty Cheever, Downers Grove (46,860) Karen Bushy, Oak Brook (9,180) Gwendolyn Henry, Wheaton (51,460)
Kane County
Theresa Peterson, Sleepy Hollow (3,240)
Lake County
Elaine Palmer, Green Oaks (2,100) Nancy Smith, Lake Barrington (3,860) Joyce Frayer, Lake Villa (2,860) Barbara LaPiana, Lincolnshire (4,930) Sandra Morris, Round Lake Heights (1,251) Karen McCluskey, Third Lake (1,250) JoAnn Eckmann, Libertyville (19,170) Marilyn Sindles, Mundelein (21,220) Barbara Williams, Vernon Hills (15,320)
McHenry County
Barbara Key, Lake in the Hills (5,870) Lois Parent, McCullom Lake (1,030)
Will County
Mary Latta, Plainfield (4,560) Bertha Hofer, Shorewood (6,260)
Sources: Cities and villages. Illinois Secretary of State. U.S. Census.
program; granting a permit to a women's shelter; and redefining "family" in the village code to include unrelated individuals. The men: building municipal tennis courts; erecting a veterans monument; and repairing sidewalks.
None of the proposals was central to the business of municipal government; most, in fact, failed to pass. But the proposals do reflect the different motives and experiences men and women bring to government and therein the potential for changes in public policy as a result of more women entering politics, according to Beck.
The split between genders could be seen more sharply in the council members responses' to a hypothetical case. Beck asked them if they would support a change in the local zoning ordinance to allow single-family homeowners to take in boarders. Implicitly, such a change would be directed at helping divorced or widowed single parents, probably women, meet the mortgage. Only one woman council member objected. However, a majority of men objected, citing the negative effect of boarders on property values and the unwanted "element" such a policy could introduce into the community.
Because the hypothetical case deals with zoning, its real world ramifications cannot be overlooked, according to Beck. "It makes a difference because zoning in suburbia traditionally has been used as a way to keep certain people out or protect the people inside," she says.
While Beck believes that none of the council members she interviewed took the hypothetical case to its logical conclusion in formulating a response, their answers nonetheless betray fundamental philosophical differences in the way men and women approach government. She concludes that women practice "a politics that stresses cooperation, empathy and openness over manipulation, efficiency and exclusion."
. . . women practice 'a politics that stresses cooperation, empathy and openness . . .
When Barbara Key, three-term village president of Lake in the Hills in McHenry County, first took office in 1983, she felt unprepared to handle the responsibilities of municipal leadership despite years of experience as a village trustee and school board member. "There are no books out there to teach you how to do it," she says. "You just have to use your good common sense."
Since then, Key has done what's possible with a limited budget to prepare Lake in the Hills for the growth sweeping towards the tiny community of 5,600 residents from closer-in suburbs. She has, for instance, secured state funding and overseen the construction of a new 460,000-gallon water storage tank. She's hoping to attack day care and other growing human services needs with property tax revenues drawn from new commercial developments.
At Key's first meeting as a village trustee during the 1970s, another then-trustee bluntly told her women didn't belong on the board. Key doesn't hear that kind of slur anymore. But neither does she believe that her decisions, for better or for worse, aren't affected by the fact she is a woman. "I've heard that," she says, "that it doesn't matter. But I don't think that it's true."
Tom Andreoli is suburban bureau chief for Grain's Chicago Business.
30/June 1991/Illinois Issues
---