Names
Balthis takes seat for 79th House District

Republican Bill W. Balthis took his seat in the Illinois House of Representatives on April 1, replacing Robert J. Piel in the 79th House District after Gov. Jim Edgar tapped Piel as his new commissioner of banks and trust companies.
Balthis, 51, mayor of the village of Lansing (population 28,086) since 1985, is making the transition from a municipal government executive to a state legislator. He says that he has found the pace much more hectic than he had anticipated. Balthis plans to step down as mayor when he begins his election campaign for a new House term.
Balthis says that his legislative interests include education, transportation and municipal issues. The first bill that he got out of the House, H.B. 2020, would require the Department of Central Management Services to purchase half its paper products from recycled products by the year 2000. Balthis says that the state should provide leadership in the purchase of recycled products to assure that there is a market for them.
In the House, he has been appointed to the committees on financial institutions, transportation, consumer protection, human service appropriations and aging.
A U.S. Air Force veteran and formerly owner of an insurance agency, Balthis was also president of the South Suburban Mayors and Managers Association, a vice president of the Illinois Municipal League and a commissioner on the Northeastern Illinois Planning Commission. Active in the Kiwanis Club, he is a past president of the Lan/Oak Park District and Lansing Youth Sports Program. He and his wife, JoAnn, have five children and eight grandchildren.
Special election to fill Madigan's congressional seat
When President George Bush tapped U.S. Rep. Edward Madigan as his new secretary of agriculture, he opened up a battle for Illinois' 15th Congressional District seat. Madigan's former seat will be filled at a special election in the district on July 2.
State Rep. Thomas W. Ewing (R-87, Pontiac) corralled the nomination in what has been a traditional Republican district that includes Bloomington, Normal and Kankakee. The district extends from Lincoln to the Indiana border and from just south of Joliet to just north of Decatur. Madigan never received less than 65 percent of the vote since his first election in 1972. Ewing, a lawyer, is an eight-term state representative, a House deputy minority leader and treasurer of the state Republican party. He unsuccessfully sought the Republican nomination for lieutenant governor in 1989.
Ewing will face Gerald Bradley, who bested Tim Lee Hall in the Democratic primary on May 21. Bradley, who owns a Bloomington tent and awning company, served 14 years in the Illinois House of Representatives from a district that included Bloomington. Hall, a retired school superintendent from Dwight, served one term (1975-1977) in the U.S. Congress from a district that also included Bloomington.
Whoever wins the seat may end up running in a vastly different district in 1992, as Illinois lawmakers prepare to redraw boundaries for 20 instead of 22 congressional districts.
Nowlan replaces Whitley as Taxpayers' Federation president

James Nowlan of Galesburg is the new president of the Taxpayers' Federation of Illinois. Appointed by the board of directors, effective May 1, he replaced Doug Whitley, who resigned to become director of the Department of Revenue.
Nowlan has both academic and political experience. Professor of public policy at Knox College in Galesburg since 1986, he is the author of many books on Illinois government and policy, including Inside State Government (a revised edition was published in May). His political experience includes two terms in the Illinois House (1969-1973), a run for lieutenant governor in 1972 with Republican Gov. Richard B. Ogilvie (they lost) and an independent candidacy for governor in 1986 (he withdrew after filing petitions).
What are his goals at the Taxpayers' Federation? Nowlan answers, "My primary objective is to keep state and local taxes as low as possible, consistent with the need for strong educational and work-force quality programs."
Baise new president of Illinois Manufacturers' Association

Greg Baise of Springfield was named president of the Illinois Manufacturers' Association (IMA) by the board of directors effective March 1. He replaced Arthur R. Gottschalk, who retired after serving as president since December 1983. The IMA, a powerful lobbying organization for business, represents some 4,800 manufacturing firms.
Baise, who lost his bid as Republican candidate for state treasurer in the 1990 election, was a key member of the Thompson administration, serving as secretary of the Department of Transportation (1984-89), deputy chief of staff (1982-84) and head of Thompson's patronage office (1978-82).
Gramley new warden at Pontiac, Washington at Dixon, Acevedo at East Moline
Department of Corrections Director Howard A. Peters III appointed Richard B. Gramley as warden of Pontiac Correctional Center (where Peters was warden before his appointment by Gov. Jim Edgar as department director), Odie Washington as warden of Dixon Correctional Center and Gerardo Acevedo as warden of East Moline Correctional Center. All appointments were effective in April.
Gramley was warden of the Dixon Correctional Center since 1986, and from 1980-86 he was warden of the East Moline Correctional Center. He began his career with the Department of Corrections in 1969 as a correctional sociologist at the Joliet Reception and Classification Center.
Washington had been warden at East Moline and previously had been assistant warden for programs at Pontiac.
Acevedo is the state's first Hispanic warden. He joined the department in 1978 as a corrections residence counselor at a Chicago work release center and most recently was unit superintendent at the Joliet Correctional Center.
Staff changes at State Universities Retirement System
James S. Beedie of Mahomet was named associate executive director of the $4.2 billion State Universities Retirement System (SURS) by executive director Dennis D. Spice. Beedie fills the vacancy created when Spice was promoted to executive director. Replacing Beedie as deputy director is Judy A. Rathgeeber of Champaign, who has been benefits counselor
(Continued on page 39)
June 1991/Illinois Issues/35
---
Names
(Continued from page 35)
at SURS. The appointments were effective February 1.
Institute director at DASA
Jane Elmore of Rochester was appointed executive director of the Addictions Research Institute, the research arm of the Department of Alcoholism and Substance Abuse (DASA), by department director Jim Long on March 1. She had been women's specialist for DASA.
Established in 1984, the Addictions Research Institute pursues research and demonstration projects to advance substance abuse prevention, intervention and treatment.
Before joining DASA, Elmore was deputy director at the Department of Rehabilitation Services (DORS) in its bureau of fiscal and operational support services, and before that she was legislative liaison for DORS and earlier for the Department on Aging.
State Geological Survey appointments: DuMontelle and Bauer
The Illinois State Geological Survey (ISGS) appointed Paul B. DuMontelle of Urbana as principal scientist and branch chief of environmental geology and geochemistry, on March 1, and Robert A. Bauer of Champaign as director of the Illinois Mine subsidence Research Program, on April 4. Both appointments were made by ISGS chief Morris Leighton.
DuMontelle joined ISGS in 1963. He has been geologist in charge of the earth materials technology section, director of the Illinois Mine Subsidence Research Program, geologist and head of the earth hazards and engineering geology section, and assistant branch chief of environmental geology and geochemistry. He helped the state develop the Mine Subsidence Insurance Act and spearheaded the Illinois Mine Subsidence Research Program.
Bauer was formerly technical manager of the Mine Subsidence Research Program and succeeds DuMontelle in the post of director. He joined ISGS as a research assistant in 1976 and is internationally recognized for his work on the applications of geology to tunneling and mine subsidence.
A division of the Department of Energy and Natural Resources, ISGS has been working on coal mine subsidence for 83 years. The Mine Subsidence Research Program, funded by the Illinois Coal Development Board and the U.S. Bureau of Mines, was founded in 1985 to respond to concerns of the Illinois Coal Association and the Illinois Farm Bureau about potential economic and environmental problems caused by subsidence due to underground coal mining. Collaborating on the research are Northern Illinois University, the University of Illinois at Urbana-Champaign, Southern Illinois University at Carbondale, the U.S. Bureau of Mines and ISGS.
Youth Service Project
The Youth Service Project Inc., a social service agency based in Chicago's Humboldt Park area, reelected its president, Coni Batlle of Chicago's north side, director of member services for the Donors Forum of Chicago. Other officers elected by the board on April 1 are: as vice president, Mary Scott Boria of Humboldt Park, director of women's services for the Young Women's Christian Association; as treasurer, John Greenman of Wilmette, vice president of corporate finance for Continental Bank; and, as secretary, Bradford P. Lyiera of Wilmette, an attorney with Jenner and Block.
Working in the greater Humboldt Park area with Hispanic and African-American youth and their families, the Youth Service Project seeks to confront neighborhood problems and find constructive alternatives. The project manages nine bicultural, bilingual programs including anti-gang activities, teenage pregnancy prevention, substance abuse prevention and job development. Founded in 1975 by its present executive director. Nancy Abbate, it has a staff of over 50 professionals and reaches more than 3,000 young people, 12- to 21-years-old, each year.
O'Hare Commission elects Geils and Zettek
The Suburban O'Hare Commission, an intergovernmental organization representing the interests of citizens affected by O'Hare International Airport, elected new officers March 6. Bensenville Village President John C. Geils was elected chairperson, replacing Martin Butler, who was appointed to the 28th District Senate seat vacated by Lt. Gov. Bob Kustra.
Elected vice chair was Elk Grove Village President Charles Zettek, who had previously served on the commission's executive committee. Geils had been vice chair.
The commission includes representation from 12 municipalities (five in unincoporated areas of DuPage County and seven in Cook County) as well as the DuPage County Board. The commission's focus is prevention of further noise pollution from O'Hare, including the blocking of runway expansion. On the proposed third airport for the Chicago metropolitan area, the O'Hare commission prefers one of the three "green grass" finalist sites: Kankakee County, Will County near Peotone or an Illinois-Indiana location partly in Will County. The commission does not favor the two urban site finalists:
Lake Calumet in Chicago and an expansion of the Gary, Ind., airport.
(Continued on page 42)
June1991/Illinois Issues/39
---
Names
(Continued from page 39)
Lake County stormwater committee names director
The Lake County Stormwater Planning Committee appointed Ward S. Miller of Tulsa, Okla., as its first executive director April 17. Miller was planning section chief for Tulsa's Department of Public Works where he helped develop and administer the city's stormwater management program.
The Lake County Stormwater Planning Committee consolidates municipal stormwater planning into a coordinated countywide effort. Composed of six mayors and six county board members, all serving three-year terms, the 1 committee was created in 1987 as a result of state legislation permitting any collar county around Cook County to establish such an agency.
Judicial appointments
The Illinois Supreme Court recently appointed Ellis E. Reid, Chicago, presiding judge of the 1st Municipal District of the Cook County Circuit Court, to the Supreme Court's Rules Committee. Other recent court appointments, assignments and retirements include:
3rd District Appellate Court
• Assigned to the Industrial Commission Division: Judge Allan L. Stouder, Kankakee, who had been an alternate member from the district assigned as principal member, replacing Judge Tobias Barry of Ladd, who had also been the presiding judge of the commission. Judge John A. German, Peoria, replaced Judge Stouder as alternate member.
Cook County Judicial Circuit
• Retired: effective May 1, Anne O'Laughlin Scott of Chicago, judicial officer since 1972 and active participant in the annual associate judge seminars; effective June 30, Dennis M. Horan of Chicago, judicial officer since 1983.
2nd Judicial Circuit
• Selected by his fellow circuit judges as chief judge of the circuit: James M. Wexstten of Mount Vernon to succeed Judge Terrence Hopkins, effective April 4.
• Appointed as an associate judge by circuit judges: Kathleen M. Ailing of Mount Vernon, formerly Jefferson County state's attorney.
11th Judicial Circuit
• Appointed circuit judge: Associate Judge Ronald C. Dozier of Bloomington to fill the vacancy created by the expiration of the term of Judge Keith Campbell, effective April 15.
16th Judicial Circuit
• Assigned to duty: Retired Circuit Judge Joseph M. McCarthy of Geneva, effective April 1 until July 1.
18th Judicial Circuit
• Assigned to duty: Retired Circuit Judge S.
42/June 1991/Illinois Issues
---
Brace Scidmore, Wheaton, effective April 1 until July 1.
Stamos ARDC special counsel
Former Illinois Supreme Court Justice John J. Stamos will act as special counsel to the Attorney Registration and Disciplinary Commission. According to a March announcement, he will review cases of alleged attorney misconduct and recommend sanctions. The appointment is for an indefinite term.
Two Chicago teachers win national awards
Lynn Cherkasky-Davis, a kindergarten teacher at Dumas Elementary School, and Mark Jordan, a middle-school teacher at Gompers Fine Arts Option School, were selected as two of 20 recipients of Learning magazine's 1991 Professional Best Teacher Excellence Award. Cosponsoring this national awards program were Oldsmobile and Michigan State University's College of Education. Cherkasky-Davis and Jordan were recognized for their innovative and effective teaching methods. Cherkasky-Davis uses a publishing/bookbinding center in her classroom to entice inner-city kindergarteners to write, illustrate and publish their own books. The children are now earning money by publishing the works of other students in the school. Jordan launched a music program at his school despite the absence of funds, equipment and curriculum guides. The school now has a band and chorus, and the students have financed a professional recording and perform throughout Chicago.
The awards of $1,000 were presented at a banquet held in Detroit on April 25. In addition, Cherkasky-Davis was one of five winners of a 1991 Oldsmobile of her choice.
Chicago Foundation for Women honors Netsch and Page
State Comptroller Dawn Clark Netsch and nationally syndicated journalist Clarence Page were honored by the Chicago Foundation for Women at its fifth anniversary spring benefit April 30 in Chicago. (The foundation passed the $l million mark in grants awarded since its founding in May 1986.)
Netsch was honored for her trailblazing career as the first woman elected to a state constitutional office. She served six terms in the Illinois Senate, cochaired the Illinois Economic and Fiscal Commission and helped write the state's 1970 Constitution. She is also a law professor at Northwestern University's School of Law and coauthor of a widely used law text on state and local government.
Page, winner of the 1989 Pulitzer Prize for commentary, was honored for the excellence of his reporting and commentary on the social struggle facing women and minorities. Page, a frequent guest on local and national news analysis programs, has been a member of the Chicago Tribune's editorial board since 1984. In March Northern Illinois University named him 1991 Illinois Journalist of the Year.
One of 60 women's funds nationwide, the Chicago Foundation for Women raises money from individuals, corporations and foundations to support projects that broaden women's opportunities and address women's needs. Since its creation, the foundation has funded 150 women's organizations and programs. Along with direct services such as shelters and job training, the foundation advocates for social change to improve conditions for women and girls.
lEPA's Lewis and Buscher receive awards
Frank A. Lewis of Chatham and William Buscher of Springfield were honored by the American Water Works Association at its 82nd Annual Conference in St. Louis on April 2-5.
Lewis, who is regional manager of the Illinois Environmental Protection Agency (IEPA) and a 31-year state employee, received the George Warren Fuller Award, one of the top national awards in the field of water supply. He was honored for his long-time work in the water industry and for his efforts to further water supply education.
Buscher, who works in the groundwater section of the IEPA's division of public water supplies, received the Thurston E. Larson Award. He was honored for his presentation, "Well Head Protection Zones," at last year's conference.
Intergovernmental 'practitioner' award to Van Dusen
George Van Dusen, legislative assistant to U.S. Rep. Sidney R. Yates (D-9, Chicago), received the Donald C. Stone Award for intergovernmental cooperation from the American Society for Public Administration. Presented annually by the society's intergovernmental and management section, the award has a winner in two categories: pracitioner and researcher. Van Dusen, who also serves as a trustee for the Village of Skokie, won the "practitioner" award. He was praised for his breadth of experience and for "working through the hodgepodge of government at all levels to make positive things happen for people at the local level." The award was presented at the society's national convention in Washington, D.C., on March 26. Previous winners include U.S. Sen. David Durenberger of Minnesota, Gov. Richard Snelling of Vermont and former Gov. Bruce Babbitt of Arizona.
Awards for rural health efforts
The Illinois Rural Health Association (IRHA) honored four public officials for their role in improving health care services in the rural parts of the state. Secy. of State George H. Ryan received the Presidential Award for Outstanding Achievement ". . . in recognition of his role as a dedicated advocate for health care in rural Illinois." As lieutenant governor (1983-1991), Ryan created the Rural Health Council.
Honored as legislators of the year or their contributions to rural health care were Sen. James F. Rea (D-59, Christopher) and Reps. Karen Hasara (R-100, Springfield) and David D. Phelps (D-118, Eldorado).
The awards were announced April 23-25 at the second annual conference of the association in Effingham.
Recognition of older workers
The Illinois Department on Aging and several social service and governmental agencies involved in assisting older citizens honored three individuals, one nursing home and one business at a luncheon March 15 in Springfield held in conjunction with National Employ the Older Worker Week (March 10-16).
Dale Cougill of Metropolis was named Public Sector Employee of the Year. He helped obtain funds for a local senior center and for home-delivered hot meals, He has also worked for quality health care and transportation programs to serve southern Illinois' older citizens.
Camelia "Dolly" Anderson of Kewanee was named Private Sector Employee of the Year. A legal secretary and bookkeeper for Brown & Clemons law offices in Kewanee, Anderson, at age 77, "exemplifies all the characteristics you would wish to see in any employee."
Betty Doehler of Belleville was named Senior Community Service Employment Program Employee of the Year. Doehler is assistant to the director for the Southwestern Illinois Area Agency on Aging's senior community service employment program. Involved in church and community service, she was also recognized by the St. Clair Housing Authority and the St. Clair YWCA's 1990 Salute to Women.
The Elms Nursing Home in Macomb was named Public Sector Employer of the Year. The Elms takes pride in the fact that 18 percent of current employees are 55 or older, and 2 percent of all new hires in 1990 were "older workers" (many retired employees return to work part time).
Hardee's Midwest Area IV Office was named Private Sector Employer of the Year.
(Concluded on back cover)
June 1991/llinois Issues/43
---
Names
(Continued from page 43)
Operating over 1,100 stores nationwide, Hardee's "New Horizons Program" recruits and trains older workers. During 1990, Hardee's restaurants in Area IV hired 89 employees age 55 or older, bringing their current work force in this age group to 203 or 2.8 percent of all employees.
JTPA presidential awards
Rosalyn D. Wesley of Barrington and the Central Illinois Private Industry Council in Peoria were Illinois winners in the 1991 Job Training Partnership Act (JTPA) Presidential Awards competition. Wesley, chairperson of the Private Industry Council for Northern Cook County, is one of three national winners of the award for outstanding private sector volunteers. The Central Illinois Private Industry Council was one of 10 national winners of the award for outstanding training programs.
Winners were selected by U.S. Secretary of Labor Lynn Martin and announced in Washington, D.C., on April 11. The awards are presented annually to outstanding programs and volunteers nominated by individual governors.
Wesley is manager of sector source and development for Motorola Inc.'s Communications Section in Schaumburg and chairperson of the Private Industry Council (PIC) of Northern Cook County. She increased private sector involvement in JTPA initiatives through her leadership of a model training project at Motorola. She also recruited minority and women candidates for the JTPA board.
The Central Illinois PIC sponsored a successful Summer Training and Employment Program (STEP). The program provides basic education and life skills to youths at risk of dropping out of school. Education in practical academics, computer-assisted instruction and decision-making skills is provided to participants on a year round basis. Out of 105 at-risk 14- and 15-year-olds enrolled in STEP in 1989, 94 successfully completed the two-year program. Participants gained an average of eight months in reading and 14 months in math.
Davis honored by National Center for Environmental Health Strategies
Earon S. Davis of Evanston received the "Recognition of Excellence" award from the National Center for Environmental Health Strategies at a March 28 meeting of the Chicago Environmental Illness Support Group in Chicago.
Davis, an environmental health consultant, pioneered the push for awareness of environmental illness and is a national expert on indoor pollution and chemical sensitivities. The award honored him for his 10 years of work as a leading national advocate for the concerns of environmentally ill people.
The National Center for Environmental Health Strategies is a nonprofit national organization, which serves as an information clearinghouse and advocacy center promoting environmental health and the right to be free from unecessary harmful exposures to toxic chemicals.
Lincoln Academy: class of 1991
Seven Illinoisans were inducted into the state's Lincoln Academy at ceremonies held in the chambers of the Illinois House of Representatives on April 20. The academy was founded nearly 26 years ago by former Gov. Otto Kerner to honor individuals who have brought honor to the state.
The 1991 Lincoln laureates are:
| | | | |
| --- | --- | --- | --- |
| Blackmun | Thompson | Beckman | Ross |
U.S. Supreme Court Justice Harry A. Blackmun, who was born in Nashville, Ill. He has served on the court for nearly 21 years and is a member of its liberal coalition.

Former Gov. James R. Thompson, who returned to private law practice (Winston and Strawn) in January after serving a record 14 years as governor of Illinois. Born in Chicago, he received his law degree from Northwestern University Law School in 1959. His pre-gubernatorial legal career included service as prosecutor for the Cook County State's Attorney's Office and as U.S. attorney for the Northern District of Illinois.

Arnold Beckman, who was bom in Cullom, Ill., and received his master's degree in physical chemistry from the University of Illinois in 1923. He is the inventor of several important scientific instruments, including the pH meter for testing acidity in water.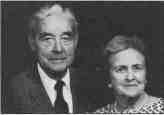 Gaylord and Dorothy Donnelly
Corporate leaders and environmental activists, Gaylord and Dorothy Donnelley, who played major roles in the creation of the Illinois and Michigan Canal Heritage Corridor and the Society for Scientific Surveys. Both are native Chicagoans and each has served numerous civic, environmental and not-for-profit organizations. He is now honorary chairman of the board of R.R. Donnelly & Sons, Chicago, and she is on the executive committee and women's board of the Rehabilitation Institute, Chicago.
Television commentator and social service visionary Norman Ross of Chicago. He served for 16 years as chairman of Chicago's Neediest Families Christmas Fund and has received many human service awards.

Wavering


Automotive electronics pioneer Elmer H. Wavering is a native of Quincy, Ill. An early executive of Motorola Inc., he helped develop the first car radio and was inducted into the Automotive Hall of Fame in 1989.
The academy is supervised by 60 general trustees who in cooperation with the executive director are responsible for selecting the annual inductees.
---