Names
New state Rep. Conkling, new U.S. Rep Ewing

Ford County GOP Chairman Les Conkling got a quick immersion into the ways of the Illinois General Assembly. He was sworn in on July 15 as state representative from the 87th House District, replacing Thomas Ewing who was elected to Congress. Conkling, 59, of Kempton, caught the final five days of Illinois' longest spring session and got to vote on the budget, the surtax and other major issues. He says he had been following those issues for several months and had formed an opinion on how to vote. Conkling described the final hours of the General Assembly as "exciting" but "a little bit chaotic." He says he experienced "democracy in action."
A former school teacher and principal, Conkling has been a member of the Kempton Village Board for 30 years and from 1986 to 1990 served as secretary of the Illinois Republican County Chairmen's Association. He plans to open two district offices, one in Pontiac (his district's population center) and the other in Gibson City (its geographic center). He says he is preparing for his 1992 reelection campaign.
The 87th District seat became open when Republican state Rep. Thomas Ewing of Pontiac grabbed 66 percent of the vote in the special July 2 election for the 15th Congressional District seat vacated when Edward Madigan became U.S. secretary of agriculture. Ewing was sworn in on July 10 and has been named to the House committees on Agriculture and Public Works and Transportation. Ewing says that he intends to run for Congress again in 1992 despite the fact that Illinois must reduce its congressional districts from 22 to 20 due to population changes.
A state representative for 17 years, Ewing had served as assistant minority leader since 1982 and as deputy minority leader since 1990. During his tenure in the Illinois House, he chaired the Revenue Committee and co-chaired the Economic and Fiscal Commission.
Mogerman heads Historic Preservation Agency
The Illinois Historic Preservation Agency (IHPA) Board of Trustees appointed Susan Mogerman director of the agency on June 20. Mogerman, 46, served as IHPA acting director since October 1990 and as deputy director and legislative liaison since February 1989. She helped the state acquire Chicago's historic Pullman Palace Railroad Car Company and Hotel Florence. She also worked for passage of the Illinois Human Grave Protection, the Archaeological and the Paleontological Resources Protection acts. A Chicago native, she worked for Gov. James R. Thompson as assistant press secretary from January 1983 to February 1989.
The IHPA Board of Trustees also named E. Duane Elbert of Lema as state historian, effective August 1. A professor of history and historical administration at Eastern Illinois University since 1978, Elbert has a long list of history-related publications and professional presentations. He is a former president of the Illinois State Historical Society and works as a historical museum consultant. Elbert received his master's degree in 1959 and his doctorate in 1967, both from Indiana University.
The IHPA Board of Trustees is a bipartisan group of Illinois citizens appointed by the governor to set policy for the agency. Trustees include Chairman Julie Cellini, Frank Mason and Sally Schanbacher, all of Springfield; Richard Roddewig of Riverside; Marc Schulman of Chicago; and Pam Daniels of Elmhurst.
Bensinger chairs Illinois Criminal Justice Information Authority
Peter B. Bensinger of Lake Forest was named chairman of the Illinois Criminal Justice Information Authority by Gov. Jim Edgar, effective June 6. A Gerald Ford appointee, Bensinger headed the U.S. Drug Enforcement Administration from 1976-81. He was director of the Illinois Department of Corrections from 1970-73. Currently president of Bensinger, Dupont and Associates, he does consulting work on drug and alcohol abuse. He replaced William Gould of Glencoe as authority chairman.
Also named to the authority by Edgar were: Barbara Engel of Chicago, past president of the Illinois Coalition Against Sexual Assault, replacing James Sprowl of Winnetka; Police Chief Roger Richards of Fairview Heights, reappointed; Arthur S. Smith Sr. of Glencoe, president of Art's Transportation Inc., replacing Donald Hubert of Chicago; and Lake County State's Atty. Michael Waller of Waukegan, replacing Fred Foreman of Gumee. Members serve for four years; the appointments are nonsalaried and do not require Senate confirmation.
The authority coordinates law enforcement programs and criminal justice information in Illinois and administers over $30 million in federal funds. Among them is Illinois' $17.9 million fiscal 1992 allocation under the U.S. Anti-Drug Abuse Act of 1988 (requiring a match of one state dollar for every three from the feds. As of mid-August the authority had designated most of those funds for various agencies. One chunk is a federal grant of $l.5 million matched by $520,000 in state funds for a Department of Corrections program for drug offenders and prisoners who have drug problems. It is part of the Department of Correction's $7 million Prestart Program that went into effect July 1. A new approach to parole, Prestart concentrates on preparing prisoners for release and helping them with jobs, housing and drug counseling during the crucial first year of parole.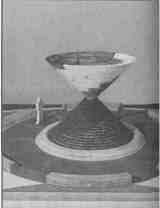 Shown above is a model of "The Balance of Equality," a 17-foot tall concrete sculpture honoring Dr. Martin Luther King Jr. It is to be installed this fall on Northern Illinois University's Martin Luther King Jr. Memorial Commons. Dann Nardi of Bloomington is the artist.
New Sangamon State University president Lynn

Sangamon State University's new president is Naomi Lynn, former dean of the College of Public and Urban Affairs at Georgia State University, Atlanta. Her appointment by the Board of Regents (BOR) after a nationwide search became effective July 15, She says that "SSU's commitment to academic excellence is clear, convincing and demonstrable" and that she is excited about the future of the university. Her first priority, given the state's fiscal difficulties, is to "assure all students that current budget constraints will not affect the quality of their instruction." She also wants to gain approval of the university's proposed doctoral program (its first) in public administration and to broaden SSU's community support — financial and other.
Lynn is the second woman to head a state university in Illinois (the first is Delores Jackson, president of Chicago State University).
(Continued on page56)
54/August & September 1991/Illinois Issues
---
Names
(Continued from page 54)
Lynn's annual salary is $104,000.
Lynn succeeded Durward Long, who left the presidency January 31 on a paid leave of absence scheduled to end January 1, 1992. His $84,000 annual salary and $6,000 car budget will continue to be paid by the university through January 1. At that time Long, who is a tenured member of the faculty, will return to SSU as a regency professor of economic history and president emeritus at a salary yet to be determined. Until July 25 Long worked for the BOR as vice chancellor for strategic planning and development.
Wayne Penn, who had served as SSU's acting president since February 1, returned to his duties as vice president for academic affairs on July 15.
The Judiciary's committee appointments
This year judicial commissions and committees are dealing with everything from misconduct to courtroom architecture and fax machines. The Illinois Supreme Court announced the following appointments in June.
• Illinois Courts Commission, which hears complaints of alleged judicial wrongdoing: New chairman is Supreme Court Justice Joseph F. Cunningham of Fairview Heights, succeeding the late Justice Horace L. Calvo.
• Supreme Court Rules Committee, which recommends changes and additions to Supreme Court Rules: New member is 17th Circuit Judge Daniel D. Doyle of Rockford, succeeding retired Circuit Judge John Sipe.
• The new Supreme Court Committee on Judicial Conduct, which will administer a statewide program to evaluate courtroom performance of judges via forms completed by trial participants, including attorneys, bailiffs, court reporters, defendants, etc.: Members are 1st District Appellate Court Justice Calvin C. Campbell, Chicago; Cook County Circuit Judge Frank W. Barbaro, Orland Park; 19th Circuit Judge Bernard E. Drew Jr., Waukegan; 9th Circuit Judge Stephen C. Mathers, Galesburg; 7th Circuit Judge Jeanne E. Scott, Springfield; and Cook County Circuit Judge Morton Zwick, Chicago.
• The new Special Supreme Court Committee on Electronic Transmission, which will make recommendations on the use of fax machines for filing documents, disseminating information, etc.: Chairman is Cook County Circuit Judge Stephen A Schiller, Chicago; vice chairman is 20th Circuit Judge James K. Donovan, Belleville; and members are James Ayres of the Administrative Office of the Illinois Courts, Chicago; Benjamin H. Cohen of Schwartzberg, Barnett and Cohen, Chicago; Supreme Court Clerk Juleann Hornyak, Springfield; Terrence E. Kiely of the DePaul University College of Law, Chicago; 4th District Appellate Court Clerk Darryl Pratscher, Springfield; Cook County Circuit Court Clerk Aurclia Pucinski, Chicago; James A. Sprowl of Fitch, Even, Tabin and Flannery, Chicago; and LaSalle County Circuit Court Clerk Dale Stockley, Ottawa.
• The new Special Supreme Court Committee to Study and Recommend Changes to Minimum Courtroom Standards, which will study new designs for courtrooms and other court facilities: Chairman is Chief Judge of the 20th Circuit Stephen M. Kernan, Belleville; members are retired 15th Circuit Associate Judge Alan W. Cargerman, Oregon; 9th Circuit Judge William E. Holdridge, Farmington; 6th Circuit Judge John P. Shonkwiler, Monticello; Cook County Circuit Judge Harold W. Sullivan, Skokie; Chief Judge of the 4th Circuit Michael R. Weber, Hillsboro; and architect C. Eugene Asbury, Bloomington.
• Federal-State Judicial Council, which discusses problems of mutual concern to federal and state judiciaries: Members are 1st District Appellate Justice Edward J. Egan, Chicago; 4th District Appellate Justice Frederick S. Green, Urbana; Cook County Circuit Judges Sidney A. Jones III, Chicago, and Philip L. Bronstein, Glencoe; and 9th Circuit Judge William E. Holdridge, Farmington.
• Planning and Oversight Committee, which supervises experimental programs in the Cook County Circuit under which the courtroom performance of volunteer judges is evaluated: Members are Edward F. Masters, Joliet, chief judge of the 12th Circuit, and Associate Judge Robert J. Hillebrand, Belleville, of the 20th Circuit.
Other judicial appointments, resignations, etc.
The Illinois Supreme Court announced the following appointments, retirements and resignations.
Administrative Office of the Illinois Courts
• Named acting director, effective June 17: William M. Madden of Itasca, who previously had served as deputy director and acting director. He is now filling the vacancy created by the appointment of director (and former Supreme Court justice) Joseph F. Cunningham as Supreme Court justice.
First Appellate District
• Assigned to the district from August 1 to December 7, 1992: Cook County Circuit Judge Carl McCormick, Olympia Fields.
• Assigned to the district from December 3, 1990, to July 31,1991: Judge William S. White, Chicago, a judicial officer since 1964. Because White had reached the mandatory retirement age of 75, his term automatically expired on the earlier date under the Compulsory Retirement of Judges Act. White, however, did not retire and filed for another term in a challenge to the mandatory retirement age. He was retained in the election and had remained on the bench (while the court sorted out his case and the election of another to the same judgeship). The Illinois Supreme Court ultimately ruled against White, however, which terminated his service (see Illinois Issues July l991, p.32 and this issue p.53) The present assignment validates his judicial decisions during the interim.
On July 19, White, game to the end, filed petition asking the Illinois Supreme Court to stay its mandate and rehear his case. On July 23 the court denied the petition without explaination. That day White's attorneys told the Chicago Daily Law Bulletin that they were considering further action in federal district court on the U.S. Supreme Court.
Cook County Circuit
• Assigned to duty from July 1 to November 30,1991: Angelo D. Mistretta of Burr Ridge. A former circuit court judge, he was not retained the November 1990 election. The validity of the appointment was questioned by the Chicago Council of Lawyers on the ground that under the Illinois Constitution only retired judges, rather than those removed by voters or other judges, can receive temporary appointments.
• Appointed circuit judge: Associate Judge Joan M. Corboy of Evanston, effective August 1, to fill the vacancy created by the resignation of Judge Anthony J. Scotillo.
• Extended the terms of the following retirded judges assigned to the circuit: Robert J. Collins, Chicago; Morton C. Elden, Glencoe; Hyman Feldman, Chicago; Philip A. Fleischman, Chicago; Ian H. Levin, Morton Grove; John A. McElligott, Chicago; John McGury, Chicago; Benjamin J. Nelson, Chicago; Sheila M. O'Brien, Glenview; Margaret G. O'Malley, Chicago; Edward E. Plusdrak, Palatine; Richard L. Samuels, Flossmoor; Arthur A. Sullivan, Kenilworth; Alfred B. Teton, Glencoe; Dean M. Trafelet, LaGrange Park; Raymond E. Trafelet, Westchester; and Eugene I. Wachowski and Louis A. Wexler, both of Chicago.
• Associate judges who retired at the expiration of their terms June 30 and were assigned to duty from July 1 to November 30,1991: Paul P. Preston, Marjan P. Staniec and Jack A. Welfeld, all of Chicago. The court made a similar appointment of former Associate Judge Joseph T. Lavorci of Chicago but rescinded it. Bar groups pointed out that he had left the bench in 1983 when the full circuit judges failed to reappoint him. (The objection to Mistretta would also apply to Lavorci.)
• Resigned, retired or announced their intention to retire: Circuit Judges Irving R. Norman of Chicago (effective September 30) and Anthony J. Scotillo of Barrington and James E. Sullivan of Wilmette (both effective July 31); and Associate Judges Peter Bianco Jr. of Lemont and Bernard R. Spak of Chicago (both effective June 30).
Downstate circuits, where the following associate judges were appointed by the circuit judges:
• 3rd Circuit, David R. Herndon of East Alton, formerly in private practice.
• llth Circuit, George M. Prall of
56/ August & September 1991/Illinois Issues
---
Bloomington, formerly in private practice. •
16th Circuit, Floyd K. Brown of Elgin, (formerly in private practice; and John L. Petersen, Aurora, an associate judge (who failed to be reappointed by the required 60 percent vote of the circuit judges when his term expired, but applied to fill a vacancy and won the simple majority vote required for a new appointment).
• 18th Circuit, Cary B. Pierce of Wheaton and Hollis L. Webster of Glen Ellyn, both formerly in private practice.
Downstate judges who have resigned, retired or announced their intention to retire:
• 5th Circuit, Circuit Judge Joseph R. Spitz of Charleston, effective October 1, and Associate Judge Joseph C. Moore of Danville, effective September 3.
• 8th Circuit, Circuit Judge Lyie E. Lipe of Petersburg, effective August 12.
• 12th Circuit, Associate Judges Edward D. Smith of Mokena and Bruce Falk of Joliet, both effective June 30.
• 15th Circuit, Circuit Judge Francis X. Mahoney of Freeport, effective August 3.
• 19th Circuit, Circuit Judge Roland A. Hermann of Woodstock, effective December 2.
Cook County public defender joins UC law faculty
Cook County Public Defender Randolph N.Stone became a professor at the University of Chicago law school July 1. As of August 20, he was postponing his resignation as public defender until a successor could be chosen by Cook County Board Chairman Richard Phelan. On August 9, Gov. Jim Edgar signed into law S.B. 673 (P.A. 87-111), removing the Cook County public defender's office from the judiciary and making it a county agency.
Stone was named clinical professor of law and director of the Edwin F. Mandel Legal Aid Clinic by the dean of the UC law school. The clinic provides legal services for the poor. At present those services are limited to civil cases. Stone would like to see legal representation extended to include clients accused of crimes. He said, "There is a tremendous need for lawyers and other professional people to become involved with those less fortunate in terms of economics and racism. I also think the legal profession needs to focus more of its attention on the problems in the criminal justice system."
Barton heads community college trustees association
The Illinois Community College Trustees Association (ICCTA) elected its 1991-92 officers at its 20th anniversary convention in June. Their one-year terms started July 1. The new president is Barbara Barton of Palatine, ICCTA vice president last year. Barton is a trustee at William Rainey Harper College, Palatine. Elected
August & September 1991/Illinois Issues /57
---
Names
vice president was Jeanne Blackman of Springfield, a trustee at Lincoln Land Community College, Springfield. She automatically becomes president next year.
Other officers are secretary Kay Bennett of Belleville and treasurer Ralph Goren of Wilmette. Bennett is a trustee at Belleville Community College and Goren at Oakton Community College, DesPlaines.
CBA launches new officers and agenda

Laurel C. Bellows of Chicago became president of the Chicago Bar Association (CBA) at its annual meeting June 14. A partner with her husband in the commercial law firm. Bellows and Bellows, she is the second woman to serve in that post in CBA's 117- year history. High on her agenda is the Justice for Youth Campaign, a countywide effort with the Chicago Bar Foundation and civic, governmental and social organizations to reform the juvenile justice system. The campaign's goal is to create an administrative model in Cook County for an effective system and to work proactively with programs that protect young people from abuse, neglect and delinquency. Hearings began August 1.
Other CBA goals are to reflect the increasing diversity of the legal profession with programs that attract more minorities, women, sole practitioners, lawyers employed by government agencies and young associate lawyers. The CBA plans to continue work begun in 1988 with the Illinois State Bar Association on legal needs of the poor (see Illinois Issues, January 1990, page 5).
As CBA president. Bellows succeeded Gordon B. Nash Jr. Replacing Bellows as first vice president is Thomas A. Demetrio of Corboy and Demetrio. John B. Simon of Jenner and Block was elected second vice president at the June 14 meeting. Also elected were Jesse G. Reyes of the city of Chicago Corporation Counsel's Office, as secretary, and Donald Hubert of Hubert and Associates, as treasurer.
Rogers heads Cook County Bar Association
Larry R. Rogers of Chicago became president of the Cook County Bar Association (CCBA) June 14 at its annual meeting in Chicago. Rogers, who will serve a one-year term, is a partner in the law firm of Power, Rogers & Lavin, specializing in personal injury and medical malpractice. The CCBA was founded 77 years ago as a bar group for black lawyers because other bar associations excluded them. This is no longer the case, but Rogers sees a continuing need for an active minority bar association.
As president he will seek to increase CCBA membership. He will also work to get more minority judges and larger enrollments of minority law school students. Another goal is to improve relationships between the CCBA and other bar associations. Earlier this year the CCBA and the Chicago Bar Association teamed up on a minority jobs fair. Both organizations hope to find more areas where they can work together.
Rogers succeeded Freddrenna M. Lyie of Smith & Lyie. Moving into the first vice presidency vacated by Rogers was Kevin T. Lee of Wilson & Lee. Elected second vice president was Raymond Funderburk of Jones, Ware & Grenard.
ISBA president sets agenda
Thomas A. Clancy of Evanston became Illinois State Bar Association (ISBA) president June 30 (see July Illinois Issues, page 37). He says that the ISBA will try to address the needs of children. This includes juvenile justice, child support, preschool preparation and labor law issues. A specific goal is to propose legislation creating special court-appointed advocates for children caught in the juvenile justice system. Cook County has a public guardian who serves in this capacity, but in downstate counties the appointment of a guardian for a juvenile is left to the discretion of the judge.
Thomas says he is also seeking to improve the ISBA's "interprofessional relationships" with other organizations, such as the Illinois State Medical Society and the Illinois Nurses Association.
Illinois acquires Zimmerman site
Located across the Illinois River from Starved Rock State Park near Utica, the Zimmerman Site contains remains of Native American settlements dating back to 800 A.D. This summer the Illinois Historic Preservation Agency (IHPA) acquired the site as part of an out-of-court settlement between IHPA and Landings Inc., a private company that owned the site and planned to develop housing units there (see Illinois Issues, January 1991, pp. 24-25). Tentative agreement was reached July 19, three days before condemnation hearings were to begin. Under the agreement, the state will pay $1.03 million for the 134-acre site. The money comes from fiscal year 1990 appropriations.
Located on the site was the large village where Father Jacques Marquette and Louis Jolliet first made contact with the Kaskaskia Indians in August 1673. The Kaskaskia belonged to the Illiniwek Indian Confederacy from which came the name "Illinois." The encounter opened the region to European trade and exploration.
IHPA director Susan Mogerman said that there has been broad support from Native American groups to acquire the site and that IHPA looking forward to working with them at Zimmerman.
Vienna Correctional Center wins environmental award
The Vienna Correctional Center is a fenceless minimum security prison in southern Illinois with 893 residents as of July. It is also the recipient of a National Environmental Achievement Award for its work in making ethanol production economically viable for small scale agribusiness. The award was one of 20 presented June 4 in Washington, B.C., by Renew America, a foundation representing 28 environment groups.
The 10-year-old Vienna Agricultural Research Project produces a clean, renewable alcohol fuel that may be blended with gasoline. It is then sold on the ethanol market to large purchasers who mix it with gasoline to produce gasohol. Archer Daniels Midland has bought most of the ethanol produced at Vienna. What makes Vienna's ethanol production economically viable is the use of by-products from the process to supplement feed for 1,200 cattle and for 10,000-20,000 pounds of catfish raised on prison grounds.
Currently, 75 inmates under the supervision of outside workers hired by the Department of Corrections perform the milling, fermentation and distillation operations. They also blend feed rations, feed cattle and catfish, and tend a greenhouse inflated and enriched by carbon dioxide gas generated by the fermentation process. A diverse group of agencies including the Department of Corrections, Southern Illinois University and the U.S. Department of Agriculture cooperate on the project.
Leary gets Fulbright to study coal-age fossils
What secrets does coal-age Illinois share with South America? Richard L. Leary of Springfield, curator of geology and a specialist in paleobotany at the Illinois State Museum, won a Fulbright award in July to help answer that question. Leary will spend three months in Brazil and Argentina examining collections of fossil plants, doing field work and discussing paleobotanical research with colleagues at the International Carboniferous Conference in BuenosAires.
Based on his research of plant fossils from the coal-age uplands of western Illinois, Leary theorizes that these plants moved southward during the continental collisions and climate changes that took place in North and South America during the coal age, 350 million to 250 million years ago.
At the beginning of the coal age. South America was covered with glaciers and Illinois was a low-lying tropical area just south of the equator.
58/ August & September 1991/Illinois Issues
---
Central Illinois was mostly swamps and shallow seas, but uplands about l00-feet high near present day Rock Island supported a variety of plants. As the coal age neared its midpoint, the earth's two giant continents began the process of colliding to form a single super continent, Pangaea. While this was happening, a warming trend melted the glaciers in South America. Leary believes that the plants growing in coal-age Illinois followed the warmer weather, ultimately reaching South America. Among these plants were the extinct glossopterids, one of the early higher plant ancestors, and the still extant cycads, tropical plants resembling palms but reproducing with cones.
Party's over
The Illinois Solidarity Party is dead — at least until another emergency brings it back to life. The party was founded in 1986 by gubernatorial candidate Adiai E. Stevenson III and Democratic leaders after disciples of right-wing extremist Lyndon H. LaRouche Jr. captured the Democratic party's nominations for lieutenant governor and secretary of state.
To continue to qualify as an "established political party" in Illinois, Solidarity had to get more than 5 percent of the statewide vote in races where it fielded candidates. But, in the 1990 elections the Solidarity party only fielded one candidate: Martin C. Ortega for the University of Illinois Board of Trustees. Voters cast 8,404,967 votes for the three UI trustee positions; Ortega got only 226,103 votes, less than 5 percent. That was the gist of an opinion issued May 22 to Ronald D. Michaelson, executive director of the State Board of Elections, by Atty. Gen. Roland W.Burris.
Louis Ancel dies
Illinois' leading expert on local government, Louis Ancel, 84, died June 25 in Evanston. Nationally prominent as an attorney on municipal and school law, he was very active in the Illinois Municipal League, for which he co-authored the Illinois Municipal Handbook.
During his career he was attorney for several burgeoning municipalities around Chicago. He was active in the calling of the convention that wrote the present Illinois Constitution and the campaign for passage of that constitution, which includes home-rule powers for municipalities and counties. According to Ancel, "The Illinois home-rule system was one of the major innovations of the 1970 Constitution, and indeed was perhaps the most significant development in Illinois local government in the last century."
A long-time member of the Illinois Issues' board, Ancel, through the Louis Ancel Charitable Trust, supported research at Northern Illinois University to produce the monograph, Home Rule in Illinois: Image and Reality, published by Illinois Issues in l987.
August & September 1991/lllinois Issues /59
---