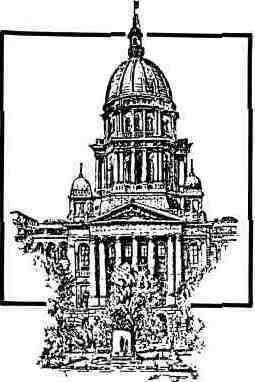 Legal/Legislative Scene
Legislature Starts 1995 on Fast Track
by Peter M. Murphy

IAPD General Counsel


STATE OF THE STATE
The week of January 9,1995 ushered in a new era in state government with the inauguration of Jim Edgar as Governor, the swearing in of fellow Republicans Jim Ryan as Attorney General George Ryan as Secretary of State, Loleta Didrickson as Comptroller and Judy Baar Topinka as Treasurer. This is the first time since 1956 that Republicans swept into control of all constitutional offices. In addition. Republicans have held the office of Governor since 1941 for all but sixteen years, and at the end of his new term, Edgar and his predecessor. Governor Jim Thompson, will have combined for twenty-two years of uninterrupted GOP Control of the Governor's office.

This week also saw the election of a new Speaker of the Illinois House of Representatives. Republican Lee A. Daniels was elected on January 11, 1995 to usher in a new era of control for Republicans for the first time in twelve years. Representative Bob Churchill was named as Majority Leader.

With the addition of one Republican seat in the Senate, the Republican control of the Senate is 33 to 26, and Republican control of the House is 64-54.

On January 12,1995 Governor Jim Edgar delivered his State of the State Address and emphasized the need for approval of property tax caps, tort reform, school reform and legislative steps for welfare reform.

The Governor's emphasis on tax caps will reinforce legislative efforts to approve tax caps for Cook County within the first sixty days of the legislative session, and it is expected that the action specifically on this issue will be swift.

NATURAL RESOURCE CONSOLIDATION
In addition, the Governor proposed further streamlining of state government by reorganizing the state's agencies dealing with natural resources.

Under his reorganization plan, the Department of Conservation, IDOT's Division of Water Resources, the Department of Mines and Minerals, the Abandoned Mined Lands Reclamation Council, and many functions currently within the Department of Energy and Natural Resources (ENR) into a new agency to be known as the Illinois Department of Natural Resources. The Governor will submit this reorganization plan by Executive Order in time to take effect at the beginning of the next fiscal year.

This consolidation will bring together all state divisions and programs related to natural resource protection and preservation. ENR's Office of Re-

10 • Illinois Parks & Recreation • January/February 1995
---
Legal/Legislative Scene
search and Planning, the three state scientific surveys, and the Hazardous Waste Research and Information Center will all be housed in the streamlined new Department.
Other current ENR divisions, including Energy Conservation, Coal Development and marketing, and Recycling and Waste Reduction will be merged into other existing state agencies.
This new department will be headed by Brent Manning, current Director of the Department of Conservation, and Deputy Directors John Comerio and Bruce Clay.
ILLINOIS TRANSPORTATION ENHANCEMENT PROGRAM
The third cycle of the Illinois Transportation Enhancement Program (TTEP) totals $31 million and includes 72 projects. The total submittal for this cycle was 299 projects with an estimated cost of more than $210 million. This program utilizes $25 million of federal Surface Transportation Program (STP) funds from the ten percent set aside by the Intermodel Surface Transportation Efficiency Act (ISTEA) of 1991 for projects that enhance the transportation system and $7 million of sponsor match.
Total funding for the FY 1992-97 Illinois Transportation Enhancement Program is approximately $150 million. With the announcement of this program, over $139 million worth of projects have been identified for funding throughout the six-year period. The remaining $11 million (7.3% of the $150 million) is being held in reserve for cost changes and contingencies.
The ITEP allows the scope of transportation projects to expand beyond the traditional accommodations for cars, trucks, buses, and transit and provides opportunities for a broader range of users. The enhancement projects chosen have a direct linkage or relationship to the transportation system and are "above and beyond" what is considered normal maintenance or construction. This program is administered by the Illinois Department of Transportation (IDOT) in cooperation with the Illinois Department of Conservation (IDOC) and the Illinois Historic Preservation Agency (IHPA).
A wide range of projects has been selected from the eligible transportation activities defined in the following categories:
Non-Motorized Vehicle and Pedestrian Projects. There are 35 projects funded at a cost of $ 17 million. Projects include bike paths, pedestrianways, and hiking trails.
Historic Projects. There are 23 projects funded at a cost of $12 million. Projects include rehabilitating buildings with transportation linkage, restoring brick streets, and renovating facades in historic districts.
Landscaping and Scenic Beautification Projects. There are 14 projects funded at a cost of $2 million. Projects include planting of perennials, wild-flowers, and beautification within local communities.
Nine of these projects are state- sponsored at a cost of $4 million, and 63 are locally sponsored at a cost of $27 million. The sponsor is responsible for providing the 20 percent non-federal matching funds, necessary right of way, project management, and maintenance of the project after completion. The sponsor must also obtain any necessary environmental approvals.
IAPD members receiving grants include:
Batavia Park District — $350,000 to construct a bicycle/pedestrian bridge across the Fox River.
Chicago Park District — $1,900,000 to restore the 1886 Humboldt Park receptory and stables for the use of the Institute of Hispanic Cultures and to construct and repair pathways.
Chicago Park District — $800,000 to repair and extend the Navy Pier/Olive Park Path.
Cook County Forest Preserve District — $775,000 for a 2.8 mile extension of the Centennial Trail along the I&M Canal Heritage Corridor from Hodgkins to Lyons.
Cook County Forest Preserve District — $1,200,000 to evaluate and restore CCC structures in the Palos/Sag Valley Forest Preserves.
Evanston Lighthouse Park District — $113,000 for building rehabilitation landing in Lighthouse Park.
Lake County Forest Preserve District — $501,000 for a 1.5 mile segment of the Des Plaines River Trail, which will include a 70-foot bridge and traffic signal modifications.
Rolling Meadows/Rolling Meadows Park District— $175,000 to construct a 1.2 mile bikeway along Rohlwing Road with a connection under I-290/ IL53.
DeKalb County Forest Preserve District — $343,000 for landscaping the bikeway trail from the great western trail link in Sycamore to the DeKalb Park District.
Pekin Park District — $455,000 for bridge deck repairs and bikeway from Allentown Road to Pekin Waterfront.
Peoria Park District —• $150,000 for path from Pioneer Parkway through Peoria Heights and Peoria to Peoria Riverfront.
Illinois Parks & Recreation • January/February 1995 • 11
---
Legal/Legislative Scene
Champaign County Forest Preserve District — $574,000 for parking, pedestrian overpass, and bikeway from Lake of the Woods Road to Crowley Road.

Springfield Park District — $66,000 for path along abandoned GM&O Railroad from Springfield to Chatham.

SBA TREE PLANTING GRANTS
Forty-one Illinois communities are set to share $796,197 in U.S. Small Business Administration grants to plant more than 8,000 trees on public lands throughout the state. In Illinois, the grant program is administered by the Department of Conservation's Urban Forestry program.

IAPD member grant recipients include: Arlington Heights Park District, $43,605.
Channahon Park District, $5,000.
Downers Grove Park District, $7.478.
Elmhurst Park District, $29,880.
Granite City Park District, $7,524.
Hickory Hills Park District. $2,640.
Marion Park District, $1,733.
Northfield Park District, $20,000.
Waukegan Park District, $30,000.
Woodridge Park District, $50,000.


The SBA grants are awarded to stimulate local economies by providing communities with dollars to hire local small businesses, such as nurseries, garden centers and landscaping services, to purchase and plant trees in public areas. An estimated 195 small businesses will benefit from the 1994 grant program.

Grant recipients must provide matching funds of at least 40 percent of the grant award for approved projects. The maximum grant is $50.000.

In 1994, 125 Illinois communities requested $1.9 million in grant assistance.

SNOWMOBILE TRAIL
IMPROVEMENT GRANTS
Nearly $300,000 in state grants will be used by not-for-profit snowmobile clubs and local governments in Northern Illinois to improve snowmobile trails and to purchase trail grooming and patrolling equipment.

Snowmobile trail grants, funded by a portion of snowmobile registration fees, can provide up to 100 percent funding for materials and equipment to construct and maintain public snowmobile trails on private lands maintained by not-for-profit snowmobile clubs.

A separate program, also funded with snowmobile registration fees, is available to local governmental units that provide public recreation areas. That program provides up to 100 percent funding for approved projects solely benefiting snowmobiling and up to 50 percent funding for projects with multi-season recreational benefits.

Included in this year's grant recipients are:
Lake County Forest Preserve District
— $80,000 to purchase four snowmobiles to patrol district trails and to provide 50 percent funding for constructing 2.75 miles of new trail at Grant Preserve.

Rockford Park District — $32,800 to replace a trail groomer.

Application forms for grants for the next fiscal year are available by contacting the Department of Conservation, Division of Grant Administration, Room 320,524 S. Second St., Springfield, IL (217) 782-7481. Grant applications will be accepted January 1- March 1,1995, with recipients usually announced in the fall.

ILLINOIS RURAL BOND BANK

On December 20, 1994, Lieutenant Governor Bob Kustra announced that the Illinois Rural Bond Bank completed its ninth pooled bond issue, providing almost $2.5 million to four units of local government.

The proceeds of the recent issue funded loans to the communities in amounts ranging from $280,000 to $800,000. Interest rates ranged from 5 to 7 percent with terms ranging from 12 to 20 years.

The Rural Bond Bank, which provides low-cost capital to rural Illinois communities, has completed nine pooled bond issues providing over $45 million of financing for more than 60 different local governments.

The Rural Bond Bank plans to bring its next pooled bond issue to market in May 1995.

February 17, 1995 is the last day for filing applications by local governments when a 30-day publication is required (for alternate bonds and revenue bonds).

For more information, contact the Rural Bond Bank office at 217-524- 2663.

12 • Illinois Parks & Recreation • January/February 1995
---