Illinois Parks & Recreation
May/June 1995 • Volume 26, Number 3

The Lost Treasures of Highland Park
by Sherly De Vore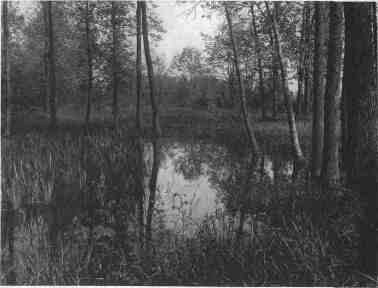 Pool in the woods May 21, 1913 Highland Park
Jesse Lowe Smith on April 3, 1911, stood behind his cumbersome wooden view camera poised above skunk cabbage bursting through the snow at Sweeny's Woods in Highland Park. Smith carefully slid a 5x7 inch glass plate into the camera, then snapped the picture that he would use to teach children about this earliest of spring flowers.
Perhaps Smith even trekked to the woods with the youngsters so they could smell the unusual odor of the skunk cabbage.
Sweeney's Woods is gone now. Houses are there instead. Skunk cabbage doesn't grow there anymore, not since Smith passed away in 1943 after serving 32 years as Superintendent of School District 107 at Elm Place School.
But the photos Smith took—and his legacy—live on.
The photo of skunk cabbage in snow along with 51 more Smith took during his tenure at Elm Place School is part of the Park District of Highland Park's exhibit, "The Lost Treasures of Highland Park." The exhibit finished a run at the Heller Nature Center this spring and is headed to the Chicago Botanic Gardens July 28-September 10. Other groups, including Lake County Forest Preserve District at Ryerson Conservation Area, are set to host the show through next year.
"Smith's work now lives in a way that it probably never lived before," said Arthur Lazar. The Lake Forest College professor painstakingly transformed Smith's glass slides into black and white prints, then mounted them for the exhibit.
Park district naturalist Steve Barg, at the encouragement of former Elm Place School principal Peter Roknich, combed through cardboard box after cardboard box of glass slides encased in paper sleeves with torn edges to search for the landscape and native flora photographs along with countless others Smith took of school events.
Barg, director of the Heller Nature Center, found "beautiful landscape shots of woodland ponds and wetlands" and native flora such as a "close-up of a leaf curling around the blossom of bloodroot." There were glass slides of Indian trail trees and rare plant species such as the hoary pea now extinct in Lake County.
Smith took photographs "for the sole purpose of educating children," said Barg. He had the glass slides transferred to smaller lantern slides, which were hand-painted by artists. Smith provided artists with live samples of the plants so the colors would be as accurate as possible. Then he'd get out his lantern slide projector and "march all these kids into the auditorium and they'd have nature awareness assemblies," said Lazar.
"It was an introduction to field study," said Barg. "They all went out with their notebooks." Smith took 80 percent of the slides in Highland Park. The rest were taken either in the Glencoe area or in Lake County as far north as Illinois Beach State Park, where he photographed the state-endangered pitcher plant.
32* Illinois Parks & Recreation* May/June 1995
---
While working on the exhibit, Barg and Lazar say they have come to know Smith on as personal a level as one can with someone who has been gone for more than half a century. Both identify with him, Lazar as a photographer who takes photos of fauna and calls Smith "a kindred spirit," and Barg as a naturalist who works with children and considers Smith a mentor.

"He was very much in love with his work," said Lazar. "He recognized the significance and great power of photography to serve as a teaching tool. And he was no doubt a very sensitive man. These photos convey Jesse Smith's personality. The man was a poet."

Smith was the kind of man who would have a pow wow of Blackfoot Indians at the school, encourage the formation of a local historical society, help the unemployed, serve as president of the Chicago Geographic Society and director for the Audobon Society of Chicago. And he rode his bicycle to school, maneuvering his huge black umbrella on rainy days.

During the 1920s and 1930s, Smith hung around with the likes of Jens Jensen, a noted native landscape architect. They formed an organization. Friends of Our Native Landscape, to save areas such as Illinois Beach State Park. They also recognized the need to educate school children about nature.

Smith teamed with Jensen and Everett Millard, a former Highland Park luminary, to write articles about how schools could incorporate nature in the curriculum. They wrote: "We believe that the teachers that come from our training schools should all have had generous courses in natural science based very largely upon field trips and they should gather inspiration for themselves and for their pupils from field and forest and from the nightly panorama of the stars."

"My whole purpose is to lead children to enjoy simple things simply,"
-Jesse Lowe Smith

What Smith taught his students about nature has been remembered. While researching Smith's life, Barg discovered a written tribute to Smith that some students wrote in the 50th anniversary of their graduation from Elm Place School. Robert L. Childs remembered "the beehive in the window so we could watch what went on inside." Mae Bliss Hinchliff recalled spring and fall field trips with Smith "finding such wildflowers as the blue fringed gentians," and "learning the trees from their leaf-shapes and bark." Cecilia Peterson Freeman said Smith taught "us to recognize all the trees, bushes and flowers. This has always amazed my grandchildren as they have not received this knowledge in school today."

While some may lament the loss of this kind of teaching and of Lake County's native landscapes, Barg said the photographic exhibit will restore hope. "People will see the changes that have been made on our native landscape in the past 80 years," said Barg. "They will ask: What do we have today and what will we have 80 years from now? And what can we do to save it?"

Sheryl De Vore is a free-lance writer with Pioneer Press. Story and photos were provided courtesy of the Park District of Highland Park.*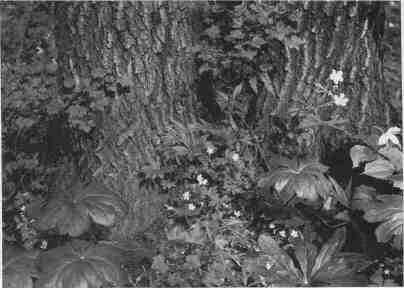 Woodland Wild flowers" May 16,1914 Northmoor Country Club in Highland Park
"The Lost Treasures of Highland Park"" exhibit 'will be featured at the Chicago 'Botanic (gardens July 28-September 10.
Illinois Parks & Recreation* May/June 1995* 33
---