Illinois Parks & Recreation
May/June 1995 • Volume 26, Number 3



Natural Areas Inventory Update
Nearly 20 years after completion of the Illinois Natural Areas Inventory, an update is planned using Wildlife Preservation Funds
by Fred Tetreault
Illinois' trailblazing Natural Areas Inventory will be up-dated this year, and an important part of the project will be accomplished with the help of a $6, 000 grant from the Wildlife Preservation Fund.
The fund derives its revenues primarily from donations made by Illinois taxpayers through the state income tax system when they pay their taxes. Direct contributions to the fund also are accepted at other times of the year.
Since the fund was established in 1984, more than $2.2 million has been set aside from this source to make possible nearly 400 conservation projects benefiting endangered species and other plant and animal species which cannot be hunted or harvested in Illinois. This year. Wildlife Preservation Fund grants have been allocated to 10 large rojects—of which the inventory update is one—and 22 others costing $1, 000 or less.
The inventory is the Conservation Department's listing of all known lands and water in the state that have significant natural values, support endangered and threatened or relict species, or still are sufficiently undisturbed to demonstrate what Illinois was like in pre-settlement times.
These sites, which range from a tenth of an acre to thousands of acres, represent the wide diversity of natural features found in the state. They include wetlands, glades, prairies, forests, bogs, caves, streams, barrens, beaches, dunes, geological formations, savannas and many other kinds of environments.
Completed in 1978, the inventory has been called "the first line of defense for Illinois' finest natural areas and most critical endangered species habitat." It was created to make certain there would be a record of what exists here and that we would be forewarned if something was about to be lost. It also was intended as a tool to help the state and other preservation interests salvage as much as possible of our natural heritage.
The inventory was not given a full-scale update until 10 years after it was unveiled. During that decade, listings were added, subtracted and replaced. Since its 1988 overhaul, the database has undergone less comprehensive reassessments annually by the staff of Conservation's Division of Natural Heritage.
(continued)
Illinois Parks & Recreation • May/June 1995* 53
---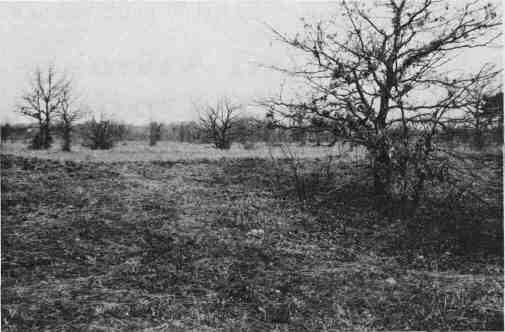 Included in the Natural Areas Inventory update will be a $6,000 study of savannas—such as this one at Illinois Beach State Park. Marlin Bowles of Morton Arboretum will conduct the savanna studies.
This year's project is regarded as the inventory's second major review. It also marks only the second time Illinois Wildlife Preservation Fund grants have been utilized for such up-dating work. Except for a 1993 re-examination of listed wetlands of northern Illinois and the current project, the Department of Conservation has utilized its own personnel and financial resources in polishing the Natural Areas catalog.
Triggering the revamp was the recent addition of 354 sites, 90 percent of which contain habitat for endangered species. The project seeks to establish final boundaries for the new sites and, for some of them, more accurate documentation of their significance.
Don McFall, manager of the Conservation Department's Natural Areas Program, explains the large influx of new entries:
"In this group are a lot of streams. The original inventory teams didn't know how to handle waterways—what was significant, what was not, what was good or bad—so they didn't do a thorough cataloging job in that area. Now we have so much more information about our Illinois streams that we can make the evaluations that they couldn't.
"Secondly, many of the 354 new sites are endangered and threatened species habitats that were missed over the years and have been discovered in the past year or two. Forests and prairies and wetlands can be spotted in aerial surveys, but locating the habitat of an endangered amphibian or mollusk or mouse takes a lot of close-up searching. Even with that, they can be overlooked."
Most of the studies will be conducted with Department of Conservation staff and resources, but 25 to 30 savanna areas will be examined by someone outside the agency. Savannas are grassy areas containing or bordered by clumps of trees, usually oaks and other native species.
"We just didn't feel comfortable about the savannas; we don't have anyone on our staff with expertise in that field," McFall says.
The $6, 000 contract was awarded to Morton Arboretum in DuPage County. Marlin Bowles will be the chief investigator.
Steps in both segments of the updating process include:

I Consulting existing information on the sites—such as literature, reports and personal interviews with people knowledgeable about the sites.
I Locating the properties and identifying owners.
I Obtaining permission from owners to visit sites.
I Developing soils, topographic and aerial photo maps.
54* Illinois Parks & Recreation* May/June 1995
---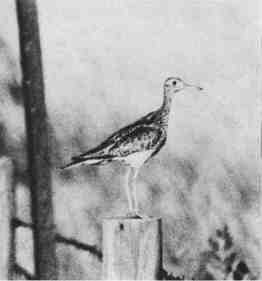 Some of the grasslands and savannas identified in the Natural Areas Inventory provide critical habitat for endangered and threatened species such as the upland sandpiper (left) and the massasagua rattle- snake (below).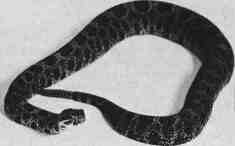 * Determining acreage of each site.
* Visiting each site several times throughout the spring, summer and autumn to examine and inventory plant and animal life.
* Preparing natural feature inventory for each site.
* Comparing each site to other similar areas so their relative significance and value can be determined and prioritized.
* Preparing a final report on each site to document what was found and why it is important.
McFall said he anticipates completion of the two-part project by next winter. The information will then be entered into the inventory's permanent database.
McFall said the inventory currently contains about 1, 200 site entries, only slightly up from the 1, 089 originally documented, but the figures are misleading. The catalog's expansion, when significant new properties have been discovered and listed, has been offset by withdrawals for a variety of reasons, including their destruction by owners fearful that listing would affect property rights. Properties also have been dropped when they no longer met the criteria for listing, or when entry duplications were found. Replacements occurred occasionally when a newly-found site was determined to have higher quality natural values than earlier entries of the same kind.
The Illinois Natural Areas Inventory was the result of almost three years of work—1975-78—by 25 to 30 biologists, botanists, ornithologists and other scientists assisted by summer interns, volunteers and a small clerical force.
The scientists and their helpers combed through the state locating, describing, evaluating and cataloging endangered or threatened plant or animal species, relatively undisturbed natural communities, habitats for relict species, outstanding geological areas, nature preserves or sites used for research and study, areas having habitats for native aquatic species, and areas considered unique though they did not fit into the inventory's established categories.
Most of another year was spent translating the scientists' findings and explorations into a computerized bank of stored, analyzed and retrievable data.
Many of the sites that were found were previously unknown. At the time of the inventory's completion, it was believed the roster contained all that remained of Illinois' natural areas. The entries, it was said, represented seven one-hundredths of one percent of the state's original landscape, all that had escaped destruction or serious alteration. However, several hundred new sites have been discovered in the past 17 years.
Also said about the product was that it was the most comprehensive and thorough cataloging of its natural areas by any state. That probably remains true today.
The inventory was important and unique—marking the first time any state had documented the alteration of its natural scene on such a comprehensive scale. It still is unrivaled by any other state.
Fred Tetreault is a staff writer for the Department of Conservation's magazine, Oufdoor lllinois. This article originally appeared in the April 1995 issue of the publication.*
Illinois Parks & Recreation* May/June 1995* 55
---