Illinois Parks & Recreation
May/June 1995 • Volume 26, Number 3




1995 Gold Medal & Special Recreation Awards Finalists Announced
Finalists for the 1995 National Gold Medal & Special Recreation-Awards program were announced by the National Sporting Goods Association's Sports Foundation, in cooperation with the National Recreation and Park Association. These awards are presented annually to agencies throughput the U.S. for excellence in park and recreation administration and for outstanding services to the challenged. Finalists from Illinois include:

Class in (50, 000-100, 000) Skokie Park District Schaumburg Park District

Class IV (20, 000-50, 000) Bolingbrook Park District St. Charles Park District

ClassV
Rolling Meadows Park District Itasca Park District

Special Recreation Class I (over 200, 000) Rockford Park District Extended Services Department

Special Recreation Class II (under 200.000) Waukegan-Foss Special Recreation Association

The Grand Award Winner in each class will be selected based upon improvement, service, continuing development, extent of future planning, and degree of participation involvement and acceptance by the community. Winners will be announced and honored at the NRPA Congress to be held in San Antonio, Texas, in October.

Rockford Earns National Aquatics Excellence Award
The Rockford Park District earned the National Excellence in Aquatics Award for excellence in planning and managing diversified aquatic services for its three swimming pools, Levings Park lake beach, and Magic Waters theme park. The district also ranked in terms of responsiveness to community needs, quality of services, ability to overcome challenges, accessibility of services to all, and the professionalism of staff.

Rockford Park District was one of 207, 000 eligible groups throughout the country to win the award.

West Chicago Prairie Wins National Award
The restoration efforts at the West Chicago Prairie Forest Preserve in West Chicago was recently recognized by the National Association of County Park and Recreation Officials (NACPRO) as a national model for urban natural areas management and public participation. The prairie, a 302-acre site owned jointly by the Forest Preserve District of DuPage County and the City of West Chicago, was awarded in the category of Areas and Facilities for NACPRO.

The West Chicago Prairie began as a vision and an example of intergovernmental cooperation between the City of West Chicago and the Forest Preserve District of DuPage County in 1979. It has been nurtured by dedicated volunteers from the West Chicago Prairie Stewardship Group since 1983. The prairie now flourishes as a priceless piece of pre-settlement DuPage County and serves as an excellent research and educational resource.

The preserve has been converted from a trash-laden and partially overgrown prairie to one of the best examples of wet-music prairie in the Midwest. In addition, it contains sedge meadows, wetlands and a rare wooded savanna. It is intensively managed and monitored by the Forest Preserve District and its volunteers through year-round clearing and herbiciding of non-native species, seeding with locally collected native species, and prescribed bums.

Through these efforts, the Forest Preserve District of DuPage County and the West Chicago Prairie Stewardship Group have been able to preserve the natural area untouched by development, restore the fragile prairie and savanna, and create a place for people to enjoy and learn about their prairie heritage in the Prairie State.

Sportscore Wins National Honor
Rockford Park District's Veterans Memorial Sportscore was honored as the Sports Turf Managers Association's 1994 Soccer Fields of the Year. The Sportscore has eight soccer fields, as well as another five on neighboring industrial land. The soccer fields see almost continuous play April through October by local high schools and adult and youth teams.

Accepting the award was Steve Roser, maintenance supervisor of the Sportscore and 24-year veteran of the park district. Roser put together a comprehensive report on turf management at the facility, including recovering from the 1993 floods which covered the soccer fields with more than four feet of water during three different times that year.

62 • Illinois Parka & Recreation ¦ May/June 1995
---
The Illinois Association of Park Districts is pleased to announce that Amy Madigan has been named Administrative Assistant. Her primary responsibilities will be in the areas of research and grant writing, awards and recognition programs, and special events for IAPD.

Madigan has a diverse background in the field of recreation. She has a B.S. in Recreation Administration from East- ern Illinois University and is currently pursuing a M.S. in Environmental Studies at University of Illinois at Springfield. Madigan was most recently employed with the Illinois Department of Conservation as an Administrative Assistant in the Resource Marketing Division.

The Downers Grove Park District announced the promotion of Elsa M. Fischer to Director of Recreation. Since joining the district in 1988, Fischer has served as a Center Director and a Recreation Supervisor. Her duties now include supervision of the recreation department's overall operations.

Prior to her employment with Downers Grove, Fischer held the positions of Superintendent of Recreation and Recreation Supervisor at the Park District of Forest Park. She earned her Master of Science degree in Recreation Administration from Aurora University and Bachelor of Science in Leisure Studies from the University of Illinois.

The Glen Ellyn Park District has hired Laurie Woods as Superintendent of Finance and Personnel. Woods will be responsible for the district's finance department. She has a Master's degree in Business Administration from Keller Graduate School of Management and was previously employed by the Park District of Oak Park where she headed the finance department for five years.

The district also named Cory Atwell as Superintendent of Parks. Atwell previously served as Director of Parks and Recreation for the Olympia Fields Park District, Assistant Director of Parks and Recreation for the Park Forest Department of Parks and Recreation, the Superintendent of Recreation for the Crystal Lake Park District, and most recently the Construction Manager for Naughton Development Company.

Dennis Paloucek was named Athletic Supervisor for the district. Paloucek has four years of athletic management experience and worked as Athletic Supervisor for both the Lombard Park District and Pleasant Dale Park District. He holds a Bachelor's degree in Recreation Administration from University of Missouri. During his college years he was a member of the Mizzou Tigers football team, where he played defensive back.

Urbana Park District Superintendent of Recreation Dan Gibble was chosen by Indiana University as the 1995 recipient of the Garret Eppley Scholarship Award for the Great Lakes Park Training Institute. This award is given to a professional each year for attendance at the five-day conference. The institute provides an opportunity for recreation and park staff representing municipal, county, state, regional and national agencies to meet and exchange ideas, concerns, problems and solutions.

Clark Engineers MW, Inc., announced that James R. Ash, R.L.A., has joined their professional staff as Landscape Architecture Manager. Ash received his Bachelor of Landscape Architecture degree from the University of Illinois. He began his career with a local firm as a Landscape Architect, working his way to a Senior Associate during his 22-year tenure. With his experience in landscape architecture-site planning and design, Ash will contribute to dark Engineers' ability to provide a variety of engineering and design disciplines to Central Illinois.

Seven Rockford Park District employees received Quarterly Employee Excellence Awards. Nominated by their fellow employees, the seven include Gayle Dixon of recreation services; Wayne Fyffe of computer services; Curt F. Johnson and Linda Wise of horticulture services; Walter Skaar of Lockwood Park; Mike Nelson of Atwood Outdoor Education Center; and Johanna Thompson, the district's safety officer.

The employees were all cited for going beyond normal expectations in their job performance. Also honored were Sheila Johnson Mackiewicz, named full-time Ranger of the Year, and Greg Kindred, named seasonal Ranger of the Year.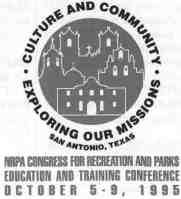 Illinois Parks & Recreation • May/June 1995 • 63
---