Volunteering in DuPage Forest Preserves
Which World Would You Choose?
by Chris Linnell and Brook McDonald
There is something purely unique in the Forest Preserve District of DuPage County. By volunteering, people can experience any one of a number of locations which can literally sweep them away to another world.
The Forest Preserve District of DuPage County relies heavily on volunteers for its educational services and general operations. Contributing nearly 45,000 hours annually, these dedicated individuals make new programs possible and provide additional services that would otherwise not be offered.
The district attracts volunteers with interests in such varying experiences as stepping back in time to an 1890s farm, rehabilitating wild animals to be returned to their habitat, giving children a challenging perspective on their future environmental role, or caring for and riding horses in a Kentucky-style stable. Volunteers may work with a program designed to accomplish activities ranging from de-littering to making wood duck boxes. The district is able to accomplish so much more because of these individuals who really make a difference in our world. What uncommon people they are and how fortunate that the Forest Preserve District of DuPage County can appeal to them with a medley of opportunities.
Curiosity about the volunteer program usually begins with a specific focus of interest. Volunteers may choose from any of the following programs.
Young volunteers at Kline Creek Rarm in Winfield interpret for visitors the process of making apple cider the 1890s way. Teen-agers can make a valuable contribution to the efforts of park and forest preserve districts.
KLINE CREEK FARM (Winfield) is the forest preserve district's authentic 1890s living history farm which offers a wide range of volunteer opportunities. Domestic Demonstrators interpret the kitchen garden, summer kitchen and chicken coop as well as the 1890s farmhouse. Agricultural Volunteers provide assistance interpreting the barn and outbuildings. Reconstruction Carpenters aid in building new structures designed to look as they would have before the turn-of-that-other century. Dressed authentically in the clothing of the period, all volunteers have the opportunity to step back in time and experience farm living in DuPage County. Special events at the farm include Maple Sugaring, Games Day, Ice Cream Social, Harvest Days, and Christmas on the Farm.
WILLOWBROOK WILDLIFE CENTER(Glen Ellyn) provides opportunities for volunteers to discover the wild in wild animals. These critical insights by volunteers are shared with the public and enable them to be better neighbors to wild animals. Volunteer Animal Keepers prepare the many specialized diets for the animals and keep their cages clean. Willowbrook offers volunteers a great opportunity to observe
Illinois Parks & Recreation • July/August 1995 • 27
---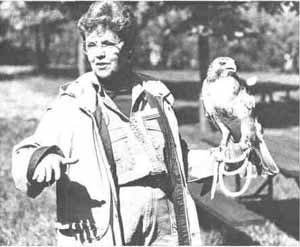 With appropriate training and experience, volunteers can take on similar responsibilities as staff members. Here, a volunteer at Willowbrook Wildlife Center displays a red-tailed hawk and discusses its life history with a group of visitors.
the rehabilitation process and learn about the more than 140 species that come to the facility for care. Volunteer Educators interact and provide information to Willowbrook's 127,000 annual visitors to help them learn about living in closer harmony with native wildlife. Programs include education classes and may expand to outreach activities such as the Raptor Program. Thanks in part to the help of their volunteers' contributions, Willowbrook Wildlife Center remains open seven days a week.
FULLERSBURG WOODS ENVIRONMENTAL EDUCATION CENTER (Oak Brook) cultivates the wonderment of nature which links us all together. Volunteers help visitors experience nature and help them realize the responsibility we all share for the environment. The Weekday Nature Discovery programs offer plenty of opportunity for volunteers to interact with small groups of children while leading hands-on learning activities. Volunteer Nature Interpreters entertain children with puppets lovingly brought to life with a thoughtful environmental message. Weekend Volunteer Station Interpreters guide families through the Nature Discovery Room, a hands-on learning center and exhibit room. Events include Earth Day celebrations, maple sugar programs, in-the-field classes where planting a tree reflects the web of life, and, of course, the famous Halloween walks.
DANADA EQUESTRIAN CENTER (Wheaton) Volunteers care for a stable of horses giving those who love horses an opportunity to be near these beautiful animals and share their enthusiasm with others. Volunteers tend to the horse's grooming and feeding needs as well as saddling, bridling, and basic health care. Volunteers also assist with horse-drawn hayrides and sleigh rides. Training is provided at the center and many other learning opportunities are available to volunteers throughout the year. Educational classes about horses are available for children to understand the basic needs of this noble animal and some of its history. Volunteers, who must be at least 14 years old, are asked to donate the same four-hour shift each week for a minimum of one year. In return, they receive one hour of free riding time for every eight hours contributed.
RESOURCE MANAGEMENT programs, in cooperation with The Nature Conservancy's stewardship program, provide volunteers with an opportunity to make an impact to their natural community. They are now restoring this land and establishing its ecological character to functioning, native ecosystems. Volunteers play a key role in restoring these areas as part of the district's new Natural Areas Management Program. Through this ten-year effort, the district hopes to restore 9,000 acres to native, functioning ecosystems. Volunteers participate in workdays led by district staff or site stewards. Volunteers assist in reestablishing native prairie and woodland vegetation by removing non-native plants, and collecting and redistributing native seeds. Other projects include growing native plants, conducting plant and bird surveys, monitoring insect and wildlife populations, and taking photographs to show the before and after of work efforts.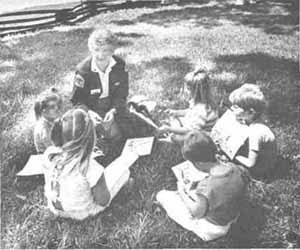 Retired individuals make great education volunteers as they share their experiences with children. This volunteer at Fullersburg Woods Environmental Education Center teaches a small group of kids about the natural environment.
28 • Illinois Parks & Recreation • July/August 1995
---
Application Process
Each of these volunteer opportunities has been designed to use an application process. The commitments to the programs and information about the candidate help the volunteer better understand the time and job requirements of each volunteer opportunity. Waivers and references are requested to ensure that a safe volunteer experience is available. Once the application is complete, the potential volunteer will have a unique view of the facility in a specialized information session. More specific details about volunteer job descriptions are given at this meeting, as well as a vital overview of the facility and the district's volunteer program. Interviews are scheduled, and the candidate and staff discuss the needs of the volunteer and the position for which he or she is applying.
Training
Training for each program differs. It may be training to build a barn, serve an injured animal, operate a puppet, groom a horse, or handle a pair of loppers, but each volunteer is trained in the safest and most effective way to do the task at hand. To make sure the volunteer and staff are both successful, an exam is offered to ensure all information has been disseminated.
Recognition
Not only is it a commitment, but it's fun too! Volunteers are recognized for their efforts in a variety of ways. Picnics and holiday parties are scheduled to celebrate each facility's excellent efforts. Photographs, small tokens and cookies are offered to each volunteer to show our appreciation.
National Volunteer Recognition Week is a special time of gratitude. The staff makes it clear that the tremendous success of the programs and their facilities is due to the dedicated contribution of each volunteer. An elaborate banquet for all forest preserve district volunteers highlights the previous year's achievements and gives the staff as well as the district's commissioners an opportunity to express appreciation. Awards are given to those volunteers who have contributed the most hours to each program and those who have made an invaluable contribution to their program. Special awards from the programs acknowledge personal contributions with a unique twist. This is just one small thank you for the efforts of the Forest Preserve District Volunteers who donated approximately 45,000 hours in 1994 alone.
Support Groups
Another indirect volunteer program is in the form of support groups. A support group is any organized group that is self-directed, maintains its own members or board of directors, and operates in any capacity to support the Forest Preserve District of DuPage County's goals of conservation, education and recreation. The support group is not supervised by district employees, but works closely with them so the efforts of both the group and the district work together in harmony to further district goals. Anyone donating time in any capacity to the support group is considered a volunteer for the support group. Any supervision, record keeping or recognition is done by the support group members. Currently, there are over twenty such district support groups with a membership totalling more than 1,000 people. These support groups include those interested in historic preservation, trails, and environmental education.
These unique individuals have chosen an equally unique setting in which to contribute their efforts. The variety is endless and opportunities are unusual. The world to which these dedicated individuals contribute will remain forever changed. Thanks to them, OUR world and that of our community is vastly enriched.
Chris Linnell is the Volunteer Program Coordinator and Brook McDonald is the Public Affairs Manager for the Forest Preserve District of DuPage County. For more information, contact the Volunteer Office, Forest Preserve District of DuPage County, P.O. Box 2339, Glen Ellyn, IL 60138.
Illinois Parks & Recreation • July/August 1995 • 29
---