R S V P
A Great Natural Resource
by Carla J. Gosney
In this era of governmental down-sizing and shrinking public dollars, there is one growing resource in the community that should not be overlooked—senior citizens. The elderly are the fastest growing segment of our society and have worthwhile skills, an abundance of time and energy and a willingness to share all of these with those wise enough to recognize them as a valuable resource.
The Retired and Senior Volunteer Program or RSVP is one program that recognizes the value of senior citizens as a resource. RSVP provides meaningful volunteer opportunities for persons age 55 and over so that they may participate more fully in the life of their community. RSVP volunteers come from all economic, educational, and social backgrounds and have developed a lifetime of skills, talents, and a work ethic that makes them a real asset to their community. RSVP recognizes the strength and wisdom of these seniors and places them in volunteer assignments that maximize and utilize their time and abilities and enable them to help address local problems or needs.
George and Annabel Whitney have been volunteers with the Adams County RSVP for more than five years. Volunteering as a couple an average of six hours a week, the Whitneys staff the senior citizens craft store, help with bulk mailings at the community college, and assist with other projects when asked.
"After we both retired, we had extra time on our hands and we didn't know what to do with it, so we started volunteering through RSVP," Annabel explained. "It gets us out of the house, helps us to meet new people, and keeps us up on world activities. We really enjoy it."
The Whitneys are among the 550 active volunteers who contribute their time and talent to their local community through Adams County RSVP. RSVP is a part of the National Senior Service Crops, which is funded and administered by the Corporation for National Service. Money for RSVP is distributed by the Corporation through grants to public agencies or private not-for-profit organizations, which are responsible for the operation of the local projects.
There are twenty-three RSVP projects in Illinois, which cover about fifty counties throughout the state. Since each project is operated by a different sponsor, RSVP can be tailored to meet the challenges and needs unique of its community. The RSVP staff works with a variety of agencies designated as volunteer stations to determine their volunteer needs and then recruits senior citizens to fill the volunteer assignments.
More than 17,000 RSVP volunteers in Illinois annually contribute three million hours of service to 2,000 social service, not-
Illinois Parks & Recreation • July/August 1995 • 35
---
for-profit and governmental agencies. RSVP volunteers tutor youngsters in the classroom, deliver meals to shut-ins, assist in drug prevention programs, shelter the homeless, fill sandbags to save levees in flooded areas, distribute commodities, counsel victims, carry groceries to homebound persons, transport the sick, teach adults how to read, provide clerical support to agencies and visit residents in nursing homes. Senior volunteers serve all segments of the population, from the youngest infant to the frailest elderly.
These services would cost Illinoisans over $25,000,000 if the seniors demanded payment. So, why do these volunteers contribute their time and talents without pay?
First of all, a recent study by AARP identified the increased amount of leisure time as being the third most significant concern of the elderly, following health and finances. "Isolation and lack of purpose have been shown to increase seniors' risk of illness and deterioration," says Mark Freeman, author of "Seniors in National and Community Service," a report prepared for the Commonwealth Fund, a philanthropic foundation which seeks to improve Americans' health and well-being.
Another study found that seniors who volunteered fifteen hours a week are more satisfied with life, have a stronger will to live and have fewer anxious and depressive symptoms than those who do not volunteer.
"Service provides opportunities for engagement, activity, acquaintanceship and growth," Mr. Freeman says. "Service can meet a deeper need as well—the instinctual drive to pass on what an individual has learned from life. The final challenges of life... involves coming to terms with the notion, 'I am what survives me.'"
But perhaps the most important reason seniors volunteer is to increase their own self-esteem and self-worth. For far too long older persons in our society have been perceived as useless; there were no significant roles for them to fill upon retirement, in a culture where productivity is closely linked to self-worth and value.
A recent study by AARP identified the increased amount of leisure time as being the third most significant concern of the elderly, following health and finances.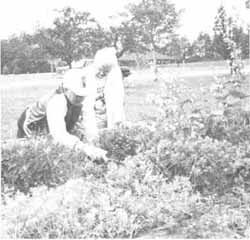 George and Annabel Whitney are among the thousands of RSVP volunteers in Illinois who willingly help park districts and other agencies by lending a hand.
Volunteering enables many seniors to increase their personal development and satisfaction. Recent studies support this. A long-term study by the National Institute of Mental Health found that strong social networks and planned activities are among the strongest factors of longevity and vitality.
The Retired and Senior Volunteer Program also offers some tangible benefits to senior volunteers as well. Upon joining RSVP, volunteers are eligible to receive reimbursement for out-of-pocket expenses such as meals and transportation. The program also covers them with an insurance policy while they voluneer. And RSVP recognizes their efforts in many formal and informal ways, such as banquets, pins denoting years of service, and media coverage of their activities.
So, what does all of this volunteer business have to do with park districts and recreation areas? While volunteers can never replace or displace paid employees, they can greatly enhance the quality of an already existing program or service.
RSVP volunteers assist park districts, forest preserves, and recreation areas throughout Illinois with the myriad tasks and services they perform. Seniors tend to flower beds and special gardens, help coordinate events, and provide behind the scenes support for various park district functions.
The Quincy Park District calls on Adams County RSVP to provide volunteers to sell concessions at its annual July Boat Regatta. The volunteers enjoy being at the event and meeting people, and the park district is able to provide refreshments to the spectators. At Christmas, the park district asks RSVP volunteers to portray Santa and place calls to young children about their wish lists.
"RSVP has been a huge asset to the Quincy Park District as well as the entire Quincy area," says Kirk Danforth, Superintendent of Program Services for the Quincy Park District. "What they have accomplished with their volunteers shows a great deal of pride and dedication to everyone involved with their program."
The Decatur Park District coordinates the Special Olympics and RSVP volunteers work in tandem to provide clerical
36 • Illinois Parks & Recreation • July/August 1995
---
support, staff the refreshment booths, and be "huggers" to all participants of the event. With this kind of cooperation, everyone is a winner.
Decatur also works with the Grangers, a group of retirees who keep score for golf tournaments in exchange for free green time.
How do RSVP volunteers feel about donating time to their local park districts? Annabel and George Whitney, Adams County volunteers, experience a great sense of pride. Annabel beams when she says, "We really enjoy Quincy's beautiful parks, and every time we take our grandkids to our favorite park, we feel proud to know we helped the community in some small way."
The Whitneys are only two of the 17,000 RSVP volunteers in Illinois. These volunteers are just a phone call away.
Carla J. Gosney is the Director of the Adams County RSVP.
RSVP's Tips for Volunteer Programs
If your community already has an existing volunteer program, you may contact it to find out how to access their volunteers. But, if there is no such program in your area, you can start your own. Keep in mind before you begin, that while volunteers do not request payment, they are not free.
• Plan carefully before you begin recruiting. Make sure that you have the full support of your board and staff.
• Good job descriptions are the cornerstone of a good program. Be certain that you know exactly what you want the volunteers to do, before asking for help.
• Know who you want to recruit and target your efforts.
• Orientation is necessary so that volunteers understand your mission and what your expectations are for them.
• Training is essential if you want the job done properly.
• Supervision of volunteers is just as critical as it is for paid staff.
• Evaluation is not only necessary for discussion of problems, it is also a form of recognition.
• Recognition, whether formal or simply a thank you, is one of the key elements in a successful volunteer program.
• Remember, volunteers are a wonderful way to expand your resources and can be your best ambassadors.
For more information about RSVP or to find out if you have a program in your area, contact: Timothy Kreiger, Director, Illinois Corporation State Office, 77 West Jackson Boulevard, Suite 442, Chicago, Illinois 60604-3511, 312-353-3622.
Senior Involvement in the United States
450,000
volunteers in the RSVP
23,000
volunteers in the Foster Grandparent Program
12,000
volunteers in the Senior Companion Program
10,000
members of Senior Net
260,000
participants in Elderhostel
200,000
members of Older Adult Services and Information Systems
250,000
participants (55+) in U.S. National Senior Sports Organizations
150,000
senior athletes playing recreational softball
3,969,000
seniors (65-74) working for pay
Compiled by the University of New Mexico Center on Aging and the American Association for International Aging. All figures are for 1993.
Illinois Parks & Recreation • July/August 1995 • 37
---