Our Natural Resources


Edgar signs Landmark Legislation for Our Natural Resources
On June 29 Governor Jim Edgar approved landmark legislation that provides the framework for comprehensive protection of Illinois' natural resources and reduces the bureaucracy of state government.
"[These bills] better focus our efforts to protect and enhance our abundant natural resources in a more coordinated and more efficient manner," the Governor said.
Edgar signed legislation that he proposed to provide a stable funding mechanism for natural resource protection and outdoor recreation programs and to reorganize the state's natural resource-related functions into a single agency.
"Conservation 2000 commits $100 million over the next six years to natural resources. It is the largest resource stewardship effort ever undertaken by this state," the Governor said. "It is critical that we work in partnership with landowners to protect Illinois' landscape for future generations. This initiative will help to achieve that goal by providing stable funding for natural resources planning and management into the 21st century."
The Conservation 2000 legislation, Senate Bill 300, will: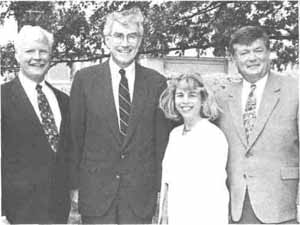 The IAPD leadership stand with Governor Edgar at the bill signing of Conservation 2000 and legislation merging state agencies to form the new Department of Natural Resources. (L-R: IAPD General Counsel Peter Murphy, Governor Edgar, IAPD Past President Judy Beck and IAPD Executive Director Ted Flickinger)
•Foster sustainable agriculture practices and control soil erosion and sedimentation, including grants to Soil and Water Conservation Districts;
•Establish and protect large tracts of land, called macrosites, through conservation easements, incentives to private landowners and public acquisition from willing private owners;
•Measure and monitor environmental conditions with advanced computer technology;
•Expand lake management programs that will help control sources of pollution and to restore and protect inland lakes;
•Review and simplify the state's water laws.
"This is an important new tool that will help state government preserve Illinois' precious natural resources and develop new quality outdoor recreation opportunities," the Governor said.
The programs contained in Conservation 2000 were recommended by the Governor's Water Resources and Land Use Priorities Task Force and Conservation Congress, an advisory group of elected delegates representing more than 400 constituency groups dedicated to natural resource conservation and outdoor recreation.
Speaking at the bill signing, IAPD Past President Judy Beck (Commissioner, Glenview Park District) said that Conservation 2000 is an effort in volving many diverse groups which, in the beginning, wondered if they could talk to one another, but in the end they found a lot of common ground. Beck thanked the Governor
Illinois Parks & Recreation • July/August 1995 • 41
---
the opportunity for Conservation 2000 and said that DNR Director Brent Manning provided the leadership to see the effort through.
Leading sponsors of Senate Bill 300 were Senators Harry "Babe" Woodyard (R-Chrisman), John Maitland (R-Bloomington), Steven Rauschenberger (R-Elgin), Karen Hasara (R-Springfield), and William O'Daniel (D-Mt. Vernon), and Representatives Tom Ryder (R-Jerseyville), Raymond Poe (R-Springfield), Vincent Persico (R-Glen Ellyn), Jay Ackerman (R-Morton) and Dan Rutherford (R-Pontiac).
The Governor also signed Senate Bill 336, which implements his Executive Order to combine the functions of several natural resource agencies to make their operations more efficient and better focused.
"This move will provide for clear direction in natural resources policies of this state, and it will further my efforts to make state government both more responsible and responsive to Illinois citizens," the Governor said.
The legislation creates the Department of Natural Resources, combining the Department of Conservation, the Department of Mines and Minerals, the Abandoned Mined Lands Reclamation Council, the Division of Water Resources of the Department of Transportation and portions of the Department of Energy and Natural Resources (ENR).
It also transfers ENR's recycling, energy and oil overcharge functions to the Department of Commerce and Community Affairs.
Sponsors of Senate Bill 336 were Senators Todd Sieben (R-Geneseo) and Representatives Tom Ryder (R-Jerseyville), Vincent Persico (R-Glen Ellyn) and Andrea Moore (R-Libertyville).
Proposed DNR Reorganization
The Department of Natural Resources will have eleven boards and/or commissions, eight interdisciplinary offices and ten operational offices. Following is an overview of the various segments.
DNR Boards and Commissions
Conservation Advisory Board; Illinois Nature Preserves Commission; Illinois council on Forestry Development; Endangered Species Protection Board; State Mining Board; Miners' Examining Board; Oil and Gas Advisory Board; Board of The Illinois State Museum; Board of Natural Resources and Conservation; Hazardous Waste Research Information Center Program Advisory Board.
DNR Interdisciplinary Offices
Office of Budget and Finance; Office of Internal Audit; Office of Legal Affairs; Office of Legislation; Office of Public Affairs; EEO Program Office; Conservation Foundation Northern Illinois Office.
DNR Operational Offices
DNR Operational Offices Office of Law Enforcement — Transfers safety education programs to Division of Education in Land Management and Education. Office includes: Field Operations, Support Services.
Office of General Administration — Office includes: Employee Services, Systems and Licensing, Support Services.
Office of Natural Resource Management —Transfers Division of Environmental Impact Analysis to new Office of Realty and Environmental Planning. Office includes: Forestry, Fisheries, Wildlife, Natural Heritage.
Office of Public Services —Renamed from Resource Marketing & Education. Transfers Division of Education to Land Management New Division of Constituent Services created, Office includes: Marketing, Publications, Constituency Services, Photographic Services.
Office of Capital Development— Renamed from Office of Planning and Development. Transfers Divisions of Planning and Land Acquisition to new Office of Realty and Environmental Planning. Office includes: Engineering, Grant Administration.
Office of Land Management and Education — Receives new Division of Education (educational services, safety education programs, public events and park interpreters). Office includes: Education, Land Management.
Office of Water Resources — Office includes: Adininistrative Services, Program Development, Water Resource Planning, Water Resource Management, Project Implementation.
Office of Mines & Minerals — Office includes: Gas/Oil Research, Abandoned Mined Lands Reclamation, Mine Safety and Training, Land Reclamation.
Office of Scientific Research & Analysis — Office includes: Geological Survey, Water Survey, Natural History Survey, Hazardous Waste Center, State Museum.
Office of Realty and Environmental Planning — Office includes: Planning, Energy and Environmental Research, Impact Review Coordination, Land Acquisition.
42 • Illinois Parks & Recreation • July/August 1995
---