ICPRF Benefit Salutes DNR for Its Service to Illinois Residents
by Linda Naatz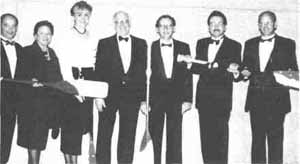 DNR staff receive thanks and gifts of appreciation: (L-R) Ron Hallberg, Meg Bushnell, Kathleen Andrews, Thomas P. Hester, John Comerio, James L. Fulgenzi and Bruce Clark.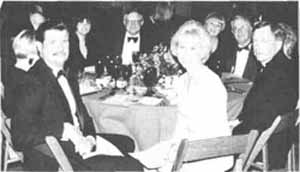 Representatives from Illinois park districts and forest preserves enjoy the fete.
The Illinois Conservation, Park and Recreation Foundation's (ICPRF) gala black-tie event was a success in raising funds for the Kids For Conservation program and honoring the Illinois Department of Conservation (now the Department of Natural Resources or DNR) for its support over the years of the park and recreation movement in Illinois. Both private corporations and park districts throughout the state joined together to show appreciation and recognition to the Department for its role in providing educational conservation programs and managing the state grants program.
Sponsored by ICPRF, the benefit dance was held on Friday, April 28, at the Field Museum of Natural History in Chicago. Those who attended enjoyed an elegant evening of socializing, fine dining and dancing to the contemporary sounds of the Bill Pollack Orchestra.
To honor the Department, ICPRF presented Thomas P. Hester, chairman of the Illinois Conservation Advisory Board, and John Comerio, deputy director of the DNR, with gifts of appreciation—an artist's rendition of a mallard and a Canadian goose hand-carved and painted on canoe paddles. The gifts were presented by Dan Newport, president of the Illinois Conservation, Park and Recreation Foundation.
Kids For Conservation is an educational program designed for children ages five through thirteen to develop an understanding and interest in conservation, protection and wise use of Illinois' natural resources. All proceeds from the benefit will go towards the continuation and expansion of the Kids For Conservation program.
Linda Naatz of Naatz & Associates, a public relations consulting firm headquartered in Schaumburg, coordinated the event.
Illinois Parks & Recreation • July/August 1995 • 49
---