PEOPLE & PLACES IN THE NEWS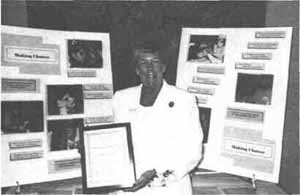 IAPD President Phyllis Cossarek recognized for her exemplary community service.
Cossrek Named 1995 Woman of Achievement
IAPD President Phyllis Cossarek was presented the 1995 Woman of Achievement Award for Community Service by the Girl Scouts-Illinois Crossroads Council at its annual Silver Trefoil Breakfast on June 9. The award is presented to women whose activities and accomplishments in a selected area of endeavor distinguish her as an excellent role model for girls. In addition to her leadership role at IAPD and service as commissioner for the Wilmette Park District, Cossarek is president-elect of the General Federation of Women's Clubs where she worked with the FBI to develop a Victim Assistance program. She lectures statewide to women about sexual assault awareness and victim assistance.
Peoria Botanical Garden Honored in Print
The Peoria Park District's George L. Luthy Memorial Botanical Garden has received an "Honorable Mention" in the Dorothy E. Hansell Publication Award program. Twenty institutions submitted garden guide maps, which were divided into categories by agency budget. The Luthy Botanical Garden brochure, designed by Molly Kitching, Coordinator of Marketing/Recreation, received an honorable mention in the under $250,000 budget category. The Hansell Publication Awards are given annually for excellence in botanical institution publications. The awards were established in 1979, in honor of Dorothy E. Hansell who served from 1955 to 1972 as Volunteer Editor of Publications of the American Association of Botanical Gardens and Arboreta (AABGA).
Rockford's Roses Called a Cut Above
Rockford Park District's Sinnissippi Rose Garden has been presented the All-America Rose Selections (AARS) Award for Outstanding Maintenance. The honor is bestowed annually to gardens which surpass AARS's high standards for rose care and presentation. "Sinnissippi is a splendid tribute to the Queen of Flowers," said Larry Burks, president of AARS. "Nowhere will you find a more stunning display of beauty and tranquility. It is a real asset to the community and a showcase for the world's most loved flower." The Sinnissippi Rose Garden contains more than 3,000 rose bushes. AARS is a nonprofit organization dedicated to rose research and promotion. AARS's 139 members represent more than 90 percent of the nation's total rose production.
Eaves Named SIU Alumni of the Year
Susan Eaves, District Superintendent for the Fort Worth Texas Parks and Community Services Department, received the 1995 Outstanding Alumni of the Year Award from Southern Illinois University.
Michelle DeMaine received the Outstanding Undergraduate Award, Kim Martin the Outstanding Graduate Student Award, and Dan Throgmorton received the William Freeberg Scholarship Award. All the awards were presented at the annual Alumni and Friends Awards Banquet on April 22.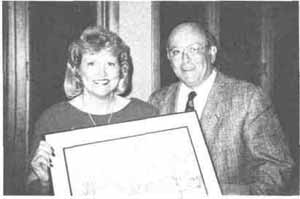 Susan Eaves accepts SIU Alumnus award from Dean of College Education Donald Beggs.
50 • Illinois Parks & Recreation • July/August 1995
---
PEOPLE & PLACES IN THE NEWS
FPD of DuPage County Recognized for Publication Excellence
The Forest Preserve District of DuPage County was recently recognized by the National Association of County Information Officers for excellent public information publications. The DuPage Conservationist newsletter was given the Award of Excellence, and the districts landfill information booklet was given the Award of Merit in NACIO's annual Public Information Awards program.
The DuPage Conservationist is distributed quarterly to nearly 30,000 subscribers and contains information on District developments, upcoming events, educational and recreational opportunities and natural resources management programs. The landfill information booklet contains factual information about the county's two operating landfills: Greene Valley Landfill in Woodridge and Mallard Lake Landfill in Hanover Park.
•••
The Park District of Hanover Park has hired Erika Smith as its new Public Information Coordinator. Smith received her master's degree in Physical Education/Recreation and bachelor's degree in Journalism from Eastern Illinois University. During her undergraduate years she worked as a writer, editor and photographer for the school newspaper. She was Editor-in-Chief of Heartland Magazine, a newspaper produced by Eastern.
Smith previously worked for the Cook County Forest Preserve District in Aquatics and Special Events. Smith has established a fine record of community service as an instructor for the American Red Cross. She has taught Lifeguarding, Community First Aid and Safety, and CPR for the Professional Rescuer in addition to many aerobics and water fitness classes at various park districts and YMCAs.
•••
Judy Ruemmele was named to the newly created position of Development Coordinator of Northern Suburban Special Recreation Association (NSSRA). Her responsibilities include identifying corporate friends willing to assist NSSRA in providing services to participants, overseeing various fundraising efforts, and coordinating special events. She brings to NSSRA four years of experience as Foundation Coordinator at the Northwest Special Recreation Association (NWSRA). Prior to that, Ruemmele a 1975 University of Iowa graduate with a bachelor's degree in Administrative Recreation, served eight years as Manager of Marketing for Manpower Temporary Help Services. Although already doing a lot of volunteer work with special populations, Ruemmele decided to enter the field as a career when her niece was born with severe Cerebral Palsy.
NSSRA also welcomes Jennifer Reynolds as a Recreation Specialist. She will be responsible for the planning and implementation of a number of programs designed for persons of all ages with disabilities. Reynolds is a 1994 Illinois State graduate, with a degree in Recreation and Park Administration with an emphasis in Therapeutic Recreation. She did her internship with Western DuPage Special Recreation Association and then was briefly employed with Western Suburban Special Recreation Association.
Karol Kunz, a 1994 University of Illinois graduate, has joined NSSRA's full-time staff as a Recreation Specialist. Since 1992, Kunz has gained much practical experience working with persons with disabilities as a part-time specialist for both Northwest Special Recreation and the Bensenville Park District. At NSSRA, Kunz's athletic background continues to be utilized as Special Olympics swimming coach as well as a number of other adult and youth programs specifically designed to meet the needs of people with disabilities.
•••
Michael S. "Mick" Pope, CLP, has joined Management Learning Laboratories (MLL), a leader in consulting in the recreation and park field, as a consultant. Mick is a lifelong practitioner, having served as a supervisor for the Topeka Recreation Commission, Director of the Homewood-Flossmoor Park District, and for over 22 years as Director of the Elmhurst Park District. Pope has served as President of the National Recreation and Park Association, President of the Illinois Park and recreation Association, and Secretary of the American Academy of Parks and Recreation Administration. He has been recognized on numerous occasions as an outstanding professional at the state, regional, and national levels and has been awarded the prestigious National Distinguished Professional Award by NRPA. Working with the MLL staff, Pope will perform everything from fiscal studies to feasibility studies, from personnel evaluation to park planning.
•••
The Glen Ellyn Park District announced the hiring of Kathleen Gartland as Superintendent of Recreation. Gartland was most recently employed by the Chicago Park District as an Area Manager/Host Park Manager. She is a 1979 graduate of University of Illinois and received her master's degree in Public Administration from Roosevelt University, Chicago, in 1985. She will be responsible for the overall management of the recreation department and directly supervise five program supervisors.
•••
Illinois Parks & Recreation • July/August 1995 • 51
---
The Peoria Park District is pleased to announce that Kelly Cipri has been added to the marketing staff as Coordinator of Marketing/Recreation. Her responsibilities will include the marketing and promotions for the Environmental Facilities, Arts and Leisure programs, and Cultural programs. Kelly is a lifelong resident of Peoria and is a 1994 graduate of Bradley University. Her previous employment was with the Peoria Civic Center as the Marketing Assistant.
•••
The Vernon Hills Park District announced the addition of Michelle Petitgout, to the park district staff as the full-time Athletics Supervisor. Petitgout, a 1991 college graduate, received a bachelor's degree in Therapeutic Recreation and a minor in Psychology from the University of Northern Iowa. She brings with her three-and-a-half years of experience in the recreation field and most recently she was the Recreation Specialist with the Special Recreation Association of Central Lake County. Petitgout's responsibilities include coordinating, supervising and evaluating all of the athletic programs for the Vernon Hills Park District.
•••
Sagamore Publishing, Inc. has hired Dr. Bradley E. Wesner as Marketing Manager. Dr. Wesner recently completed his Ph.D. at the University of Illinois, majoring in leisure studies. He has over fifteen years experience as a recreation leader in camp, student union, and church settings. He has written over 200 publications in cutting-edge practitioner-oriented journals, including Park and Recreation and Church Recreation. He has also worked with Management Learning Laboratories, a consulting firm specializing in recreation administration. He will be meeting with academics and professionals to discuss their information needs and how best to disseminate cutting-edge information to them.
•••
Alan Fink, Director of Parks and Recreation for the Country Club Hills Park District, has retired after eleven years of service to the park district. "We greatly appreciate the many years of service Mr. Fink has given to Country Club Hills. His dedication and hard work have helped improve our park system and the services we provide to community residents. We wish him the very best for the future," said Board President Sherman Williams.
Vice President Leonard J. Hines has agreed to step in as acting director during the agency's search for a new director. Hines will oversee the day-to-day operations of the district's wide-ranging recreational programs and twelve park sites. A longtime Country Club Hills resident and park district volunteer, Hines was appointed to fill a vacant seat on the board in 1994. Residents officially elected him to the board earlier this year. In addition to other volunteer service work, he also serves as a member of the Country Club Hills Planning and Zoning Board and the Country Club Hills Youth Commission. Hines' background includes extensive work as an administrator and management executive in Chicago with Magna Surgical Center, Northwestern Memorial Hospital, and Grant Hospital.
•••
Seven Rockford Park District employees received Quarterly Employee Excellence Awards for going beyond the normal expectations of their job. Nominated by their fellow employees, the seven include Ron Butler Supervisor of Support Maintenance and Jan Davis, Community Services Liaison; Kerry Glavin, Administrative Assistant for the Marketing Department; Mick Johnston, of the Atwood Outdoor Education Center; Pat Juffernbruch, Senior Administrative Aide in the Purchasing Department; Dave Provance, Assistant Manager of Riverview Park, and Charles Spivey of the Washington Park Community Rec Center.
•••
At its annual Reach For The Stars recognition and awards night, the Northeast DuPage Special Recreation Association (NEDSRA) recognized participants, volunteers and staff for their outstanding achievements and efforts in 1994 and 1995. Greg Polivka, a NEDSRA participant in bowling, volleyball, softball and basketball teams was named Superstar Athlete of the Year. Esther MacDuff was named Superstar Volunteer of the Year.
The following individuals received Outstanding Service Awards: Melissa Capenigro, Donna Cavallaro, Patty Colella, Amy Jasurda,and Nancy Klemm. The 1995 Director's Award was presented to Shelley Sandner, Coordinator of Office Support Services. Also honored were Karen Lesniak, Superintendent of Leisure Services, for ten years of service to NEDSRA; Lori Gorden for five years of service, and Administrative Secretary Lisbeth Grillos for five years of service.
52 • Illinois Parks & Recreation • July/August 1995
---