ON TARGET
STATE SENATE DEMOCRATS
COUNT ON SHIFTS IN THE SOUTH SUBURBS
by Jennifer Halperin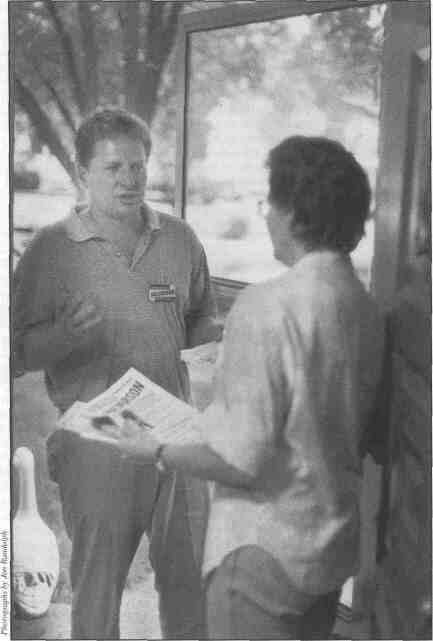 Illinois Issues |October| 22
---
If any one stretch of road shows the dramatic changes confronting Chicago's south suburbs, it's the four miles of Vollmer between Interstate 57 and Halsted Street in Chicago Heights.
Just off the highway is evidence of big city migration: weather-beaten farmhouses surrounded by the treeless subdivisions that branch from nearly every urban center in America. Next come the leafy, upscale neighborhoods of Olympia Fields — home to those who have lived here for decades and still control the political power base.. Finally, there are the mini-urban areas, including Chicago Heights, with their boarded-up storefronts and vacant apartment buildings.
This demographic tour through rural scenery, suburban sprawl and urban decay reveals the social shift that's taking place in the south suburbs. But Vollmer Road, which runs through the state's 40th Senate District, reflects a political shift as well.
Republican state Sen. Aldo DeAngelis, an assistant majority leader, has represented this district for 17 years. In fact, he has had such a solid lock on voters here that the Democrats didn't put up an opponent during his 1992 run for re-election.
This year, though, Senate Democratic leaders anticipate a change. They believe their candidate, Debbie DeFrancesco Halvorson, can beat DeAngelis.
For one thing, Democratic candidates for local office have run strong races in this district of late. For another, middle-class black families — traditionally Democratic voters —have been migrating into the district to escape plummeting property values and high crime in their old south Chicago neighborhoods.
In fact, such shifts have made the south suburbs the chief battleground for control of the next General Assembly. Democrats, who need four additional seats in the Senate and six in the
A door knocker (in photo at left) for Democratic state Senate candidate Debbie DeFrancesco Halvorson spends an evening trying to sway voters.
House to regain majorities, hope the population movement in the region will tip the balance in their favor this November.
Republicans now have the upper hand in both chambers, holding 33 of the 59 Senate seats, and 64 of the 118 seats in the House of Representatives.
Democrats lost control of the Senate in the fall of 1992, then lost the House in the November 1994 national Republican sweep. But many political observers say they have a good chance to regain the House this fall. They lost some seats two years ago by narrow margins. Low voter turnout in the 1994 off-presidential year also played a role, observers say.
In such "target" districts as the 40th, the incumbent is considered vulnerable. Although those running Halvorson's campaign say they don't want to use negative campaign tactics.
DeAngelis says he will run largely on his record, which he notes includes support of abortion rights and equal rights for women.
Yet he acknowledges this race will be a tough one. DeAngelis says the latest redistricting map was not kind to him. "I inherited some areas like Harvey and Hazelcrest that are clearly Democratic. I am sitting in a Democratic district," he says. But DeAngelis believes Bob Dole's coattails won't reach into Illinois. "It's also a question of the national scene. We're not going to be getting a lot of help from the top of the ticket."
Further, Halvorson's campaign has become one of the Senate Democrats' top priorities, worthy of some of their most reliable staff and hundreds of thousands of dollars.
"We believe this is a Democratic district," says Dan Shomon, the Senate staffer who is on leave from the state payroll to run Halvorson's campaign. It is home, he points out, to Ford Heights, which has one of the lowest per capita income levels of any city in the country. "In a lot of ways it's a disadvantaged district. Parts of it have no jobs and no development. We saw it as somewhere the Republicans were very vulnerable."
Returns from the 1992 election have fueled this optimism.
• Former Democratic state Rep. John Ostenburg of the 80th House District won 54 percent of the vote in his race against incumbent Republican Rep. Robert Regan. That district encompasses half of the 40th Senate District.
• President Bill Clinton outpaced George Bush 44.4 percent to 38.5 percent in the 40th District.
• The University of Illinois trustee index was 51 percent Democratic in the November 3, 1992, election. (Returns from U of I trustee races often are used to determine a district's party preference because voters are likely in these races to be unfamiliar with candidates' names.)
Moreover, the 1990 Census showed the district is gaining in minority population, which has traditionally voted Democratic. Between 1980 and 1990, more than 20, 000 blacks moved to Thornton Township, while more than 40, 000 whites died or moved out. During the same period, Bloom Township, once solidly Republican, gained 5, 000 African Americans, while more than 15, 000 whites left.
With these numbers in hand, Senate Democrats went looking for a candidate who could counter the image they want to portray of DeAngelis: a political insider who is out of touch with the district's needs. They needed someone, Shomon says, who also could appeal to the district's "swing voters," voters not identified as solidly Republican or Democrat who could make the difference in a close race.
Last year, local Democratic activists started promoting Halvorson as a potential winner. Sen. Emil Jones, minority leader in the legislature's upper chamber, says he felt hopeful after meeting her.
"What made her so attractive to me was the fact that she had held elected office in an area that has been traditionally Republican," he says. In April of 1993, Halvorson beat a Republican incumbent to become the first Democrat ever elected clerk of Crete Township. And she did it in a year that Republican straight-ticket votes far outpaced Democratic ones.
Illinois Issues October 1996 ¦ 23
---
Halvorson, 37, is an energetic mother of two who clearly is at home on the campaign trail. It would take someone with her enthusiasm and willingness to work practically around-the-clock to beat a 17-year incumbent, Jones' strategists say.
Halvorson is resting much of her challenge on DeAngelis' support for a school funding plan last spring that she believes benefits rich suburban school districts instead of some of the poorer ones in her area.
"You have to let local interests drive the race, and she clearly is someone who appeals to local interests," says one campaign staffer. "You would not run a Debbie in Highland Park [a North Shore suburb of Chicago]. But if you're talking about someone who appeals to a largely blue-collar community, someone like her with long ties to the area who stayed home raising her kids and has been very active in the community is a good choice."
In mid-August, Shomon was dispatched from Springfield to live in the 40th District and run Halvorson's campaign. That has meant training volunteers, working with the media, setting up community appearances and photo opportunities and walking precinct after precinct throughout the district.
Jones says he will send at least four people to staff the Halvorson race by November, and will pay for campaign literature, send out mass mailings, run phone banks, solicit volunteers and conduct polling for her. As Election Day draws closer, Jones will reassess Democrats' chances in the six Senate races he has targeted, then divvy up the cash he has available.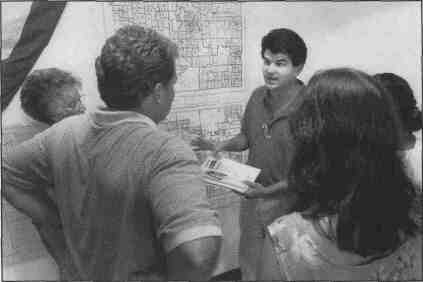 State Senate Democratic staffer Dan Shomon has moved into the 40th Senate District to run the campaign for challenger Debbie DeFrancesco Halvorson. The 40th is one of the districts the Democrats have targeted in their hid to retake control of the Illinois General Assembly.
"We will be spending a considerable sum," he says. Staffers estimate spending $250, 000 in the 40th District if Halvorson's numbers look good.
Other Senate target races include District 7 in northwest Chicago, where Jones believes incumbent Walter Dudycz is vulnerable to challenger Robert Martwick of Norridge. District 24 in southwest Chicago, where Republican incumbent Robert Raica lost in the primary to Christine Radogno, holds promise for Democrat Nancy Kenney of LaGrange. District 34 in Rockford, represented by Sen. Dave Syverson, is looking increasingly Democratic, staffers say, as Clinton and challenger Carol Jambor-Smith of Rockford do well in the polls.
District 58 in southern Illinois is considered by some to be the Democrats' best shot. Democratic partisans believe they could have won the seat if longtime Republican Sen. Ralph Dunn had retired before the 1994 election. Instead, he ran for re-election and then resigned. Championship basketball coach Dave Luechtefeld was appointed to replace him. He faces Democrat Barbara Brown, a political science professor at Southern Illinois University in Carbondale and a member of her party's central committee.
Perhaps the race holding the least promise for the Democrats is in District 50 in Springfield, where challenger Tom Londrigan faces Larry Bomke, who was appointed to replace former Sen. Karen Hasara. Pundits say the district's high number of state employees working for the six Republican constitutional officers probably will give Bomke the edge.
House Democrats, meanwhile, are aiming their campaign guns primarily at seven GOP incumbents throughout the state.
They hope to unseat former Homewood Mayor John Doody Jr. in the 37th House District, which includes Tinley Park, Orland Park and Homewood. Doody was appointed to his post last year following Republican Ed Zabrocki's resignation. The Democratic opponent is Kevin
McCarthy of Orland Park. In the 38th District in the southwest suburbs, incumbent Larry Wennlund of New Lenox decided not to run for re-election, leaving an open race between Republican Renee Kosel of New Lenox and Democrat Lois Mayer of Mokena.
In the 79th and 80th districts, which make up parts of DeAngelis' Senate district, both parties have put together strong precinct organizations. Republican Bill Balthis is not seeking re-election to his 79th District seat, making the race even more competitive between Democrat Mike Giglio, the son of Thornton Township Democratic Committeeman and former state
24 ¦ October 1996 Illinois Issues
---
Rep. Frank Giglio of Calumet City, and longtime Lansing Trustee Marvin Lyzenga. In the 80th, Republican freshman Rep. Flora Ciarlo of Steger will defend her seat against Democrat George Scully Jr., a Flossmoor attorney. Two years ago, she ousted Democratic incumbent John Ostenburg of Park Forest.
Another Republican freshman, Rep. Rick Winkel of District 103 in Champaign, will defend his seat against Naomi Jakobsson, the former Champaign County recorder of deeds. Two years ago he ousted freshman Democrat Laurel Prussing by a thin margin. In the 47th in the western suburbs, Eileen Lyons faces Democrat Mark Pera. Both are from Western Springs. And in the far southern Illinois 115th District, freshman Republican Mike Bost of Murphysboro faces John Rendleman of Carbondale in this traditionally Democratic district.
All of these races are expected to be expensive, campaign staffers say, with those that look most competitive closest to Election Day collecting the most money. Two years ago, campaign spending records were set in both the House and Senate. In a North Shore suburban Senate race between incumbent Democrat Grace Mary Stern and Republican Kathleen Parker, a combined $1.35 million was spent. In Winkel's House race, the two parties spent a combined $700, 000.
Democrats are getting some help — financial and otherwise — in these targeted races from labor groups that want to unseat the legislature's Republican majority. Since taking control of the Illinois General Assembly, GOP members have pushed several business-friendly measures into law, including limits on the amount of workers compensation injured employees can receive.
Similar to the national Labor '96 effort, which is targeting vulnerable GOP members of Congress for defeat, Illinois unions are helping out in such districts as the Senate 40th.
"We have labor coordinators in the districts we feel are highly competitive, and Debbie Halvorson's is one of them," says Bill Looby of the state AFL-CIO. "We're educating our members on the candidates' voting records ... and trying to motivate them to vote. We generate our own literature that covers issues our members would be interested in."
By Labor Day, the group had contributed about $1, 000 to Halvorson's campaign. But — given that 22, 834 AFL-CIO members live in the district she wants to represent, and that her opponent had just a 6 percent approval rating from the group's political education committee — additional contributions may be forthcoming. "We will evaluate that down the line," Looby says. "That will be decided closer to election time."
Dan Burkhalter of the Illinois Education Association expects the teachers' union will be the largest contributor to Halvorson's campaign besides the Senate Democrats. The group endorsed her this summer.
"The first thing we do with targeted races is sit down with the candidate and legislative leader and define and identify what the campaigns need," he says. "We don't want to be redundant, so we go over what has been done.
"Direct contributions are the simplest way to participate, but we will do in-kind contributions as well. On occasion we'll hire polling companies or a consultant to do television commercials. Sometimes we'll hire a driver or a campaign manager or a phone bank coordinator. We usually try to work out a partnership with the people running the campaign [because] we have to justify spending upwards of $20, 000 or $30, 000 to our members."
In a targeted Senate race like Halvorson's, Burkhalter says, the IEA could end up spending about $40, 000.
Meanwhile, DeAngelis says Senate Republicans could spend up to $250, 000 defending his seat. "It will not be a cheap race."
In the long run, though, money or manpower alone might not clinch the race for the Democratic candidate in the 40th District. Instead, it could be a matter of getting potential voters registered and then motivated to go to the polls. Shomon says he and other campaign staffers and volunteers have been working with civic organizations to register as many people as possible.
Demographic changes have brought potential Democratic voters to the south suburbs. It will take lots of door-to-door visits and reminders at every function Halvorson attends to get many of them to the polls, he says.
In this district, it's not just the incumbent who has been targeted. Democrats say if they hope to capitalize on the district's shift from rural and upscale residents to relocating urbanites, they'll need to take aim at the citizens themselves. 
FOR MORE INFORMATION



There are three new sources of information on the Illinois legislature.
ILLINOIS FOR SALE: DO CAMPAIGN CONTRIBUTIONS BUY INFLUENCE? was edited by Dana Heupel of The State Journal-Register and published by the Institute for Public Affairs at the University of Illinois at Springfield.
This recent release updates the newspaper's examination of the impact of campaign contributions on public policy. The investigation was conducted by reporters Doug Finke, Jay Fitzgerald, Kevin McDermott and Bernard Schoenburg.
The book includes contributions by James D. Nowlan, a senior fellow with the Institute of Government and Public Affairs at the University of Illinois at Urbana-Champaign, Kent D. Redfield, who teaches political science at UIS, and Charles N. Wheeler III, who heads the Public Affairs Reporting program at UIS.
THE ALMANAC OF ILLINOIS
POLITICS — 1996, by Craig A. Roberts and Paul Kleppner, and edited by Jack R. Van Dei- Slik, a political science professor at UIS, includes demographic information on legislative districts and biographies of lawmakers in the 89th General Assembly.
CASH CLOUT: POLITICAL MONEY IN ILLINOIS LEGISLATIVE ELECTIONS, by Kent Redfield, outlines the impact of campaign contributions on specific legislative races.
Illinois Issues October 1996 ¦ 25
---