Essay on Lincoln's
Lyceum Speech
---
by Paul Simon
---
Visitors to the Illinois exhibit at the New York World's Fair in 1964-1965 saw a Disney-created President Abraham Lincoln mannequin stand before them, with mechanically created movements of his arms and lips that made him look almost life-like. When the audience quieted, the Lincoln-like figure spoke to us. Part of what President Lincoln said at the New York World's Fair were phrases of his familiar to most Americans, but part of what "President" Lincoln said there was not from his years as President, but words from his first Lincolnesque speech, given to the Young Men's Lyceum of Springfield at the age of 28. What caused Lincoln, a young state legislator, to carefully prepare such a speech?
Seven weeks earlier, a mob in Alton, Illinois, killed Elijah Lovejoy, a Presbyterian minister who edited a newspaper there with strong anti-slavery views. The slaying of Lovejoy stunned Illinois and the nation and around the country-even in the slave-holding states of the South-public officials and newspaper editorials denounced the mob action. But in Illinois, where the abolitionist cause did not generate popularity, most newspapers and almost all public officials were audibly silent, or hinted that Lovejoy brought his death on by his extreme views. How could that be in Illinois where the Constitution and laws banned slavery?
Illinois technically was a free state, but slavery existed when we became a state and continued for some time afterwards. When Ninian Edwards, father of Lincoln's future brother-in-law, served as territorial governor of Illinois, which did not legally permit slavery, he ran this classified advertisement:
"Notice: I have for sale twenty-two slaves, among them are several of both sexes between the years of ten and seventeen. . . .I have also for sale a full-blooded horse, a very large English bull and several young ones."
Shadrach Bond, the first Governor of the "free" State of Illinois, had this in his will:
"I give to my loving wife, Achsah Bond, all of my personal property. . .my Negro Frank Thomas. . . .I give to my daughter Julia Rachel five hundred dollars and my Negro girl Eliza. And to my daughter Achsah Mary five hundred dollars and my Negro girl Harriet and to my wife Achsah I gave all the rest of my Negroes."
In 1853-twelve years after Lincoln left the Illinois House of Representatives-Illinois passed a law that a free African American entering the state could be sold into slavery.
The mood of Illinois when an angry mob killed Lovejoy was pro-slavery, but not only in Illinois. The state legislatures of Connecticut and New York in the mid-1830s passed resolutions stating that slavery was accepted in the U. S. Constitution and that no state had a right to interfere.
But Lincoln had a different attitude. He spent his first years in Hardin County, Kentucky, where the tax lists of 1811-when Lincoln was two years old-listed 1,007 slaves for purposes of taxation. But earlier, the South Fork Baptist Church split on the basis of slavery, and before Lincoln's birth his parents had joined the Little Mount Anti-Slavery Baptist Church. When they moved to Indiana, they joined a Baptist Church whose pastor had strong anti-slavery views.
Ten months before Lovejoy's slaying, the Illinois House of Representatives adopted a resolution "that the right of property in slaves is sacred. . .(that) we highly disapprove of the formation of abolition societies. . . .that the General Government cannot abolish slavery in the District of Columbia." It passed 77-6, Lincoln being one of the six to vote against it. Six weeks later, he and Representative Dan Stone filed a protest to the passage of the resolution-a rarely used device to register strong disagreement.
Lovejoy's death brought the slavery issue to the fore, particularly in Illinois, because Illinois public officials had been part of an attempt to muzzle Lovejoy.
24¦ ILLINOIS HERITAGE
---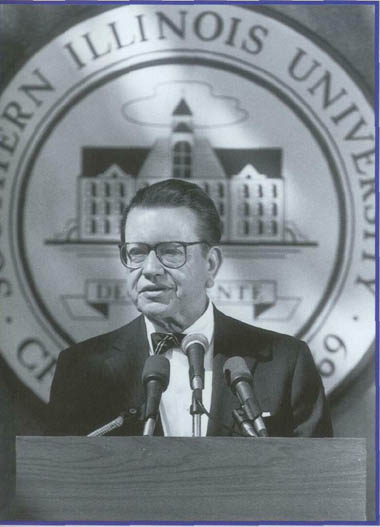 Public Policy Institute, Southern Illinois University at Carbondale
Threatened with violence regularly, twice the Alton editor's printing equipment had been thrown in the Mississippi River. Community leaders called a general meeting to work out "a compromise" in the volatile atmosphere of Alton. Defending Lovejoy at the large meeting was Edward Beecher, President of Illinois College of Jacksonville, but arrayed against Lovejoy were several public officials including Cyrus Edwards, soon to be the Whig candidate for Governor. Leading the charge was the politically ambitious Attorney General of Illinois, Usher Linder. Linder suggested the compromise: Lovejoy and his family could leave Alton without injury if he would stop publishing his newspaper. Lovejoy declined to accept the compromise in a ringing defense of free speech. He concluded, "If I fall, my grave shall be made in Alton." He lived four more days.
His death shocked the nation. John Quincy Adams called it an earthquake. Protest meetings were held all over the North. At one, in a Congregational church in Ohio, a young man stood up and said he would devote his life to fighting slavery. His name: John Brown. Another leader of the anti-slavery movement, Wendell Phillips, emerged from a Lovejoy protest meeting. Years later, he wrote: "I can never forget the quick, sharp agony of that hour which brought us the news of Lovejoy's death. . . .The gun fired at Lovejoy was like that of Sumter-it shattered a world of dreams. How prudently most men creep into nameless graves while now and then one or two forget themselves into immortality." However, Illinois had a muted reaction. And Lincoln, who might have been expected to denounce the mob action immediately, did not, nor did any elected Illinois public official. But seven weeks later, he became the only state office-holder to comment with his speech to the Young Men's Lyceum. Politically cautious, he did not mention Lovejoy but denounced mob action, and everyone present knew why. And here the future Abraham Lincoln can be heard: "Let every man remember that to violate the law, is to trample on the blood of his father, and to tear the charter of his own, and his children's liberty. Let reverence for the laws, be breathed by every American mother, to the lisping babe, that prattles on her lap.
Let it be taught in schools, in seminaries, and in colleges. . . .In short, let it become the political religion of the nation; and let the old and the young, the rich and the poor, the grave and the gay, of all sexes and tongues, and colors and conditions, sacrifice unceasingly upon its altars."
ILLINOIS HERITAGE ¦25
---