PEOPLE AND PLACES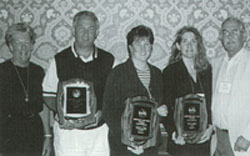 Illinoisans Receive NRPA Great Lakes Region Awards Phyllis Cossarek (far left), NRPA Great Lakes Region Awards chairman presented awards to three Illinois recipients at the NRPA Great Lakes Region Summer Meeting in Waukesha, Wis. (Left to right) Dan Newport of Winnetka Park District received "Outstanding Professional of the Year"; Colleen Callahan of Elmhurst Park District received the "60 Second P.S.A. Award"; and Sally Berlin of Chicago Park District received the "30 Second P.S.A. Award." Walter Johnson (far right), NRPA Great Lakes Region director congratulates the winners.

Dodd Receives I&M Canal Commission Appointment On the recommendation of the governor of Illinois, Ronald H. Dodd, executive director of the Joliet Park District was appointed to the Illinois and Michigan (I&M) Canal National Heritage Corridor Commission. Dodd will represent the interest of recreation. The appointment is for a three-year term, or until the commission terminates, whichever occurs first. The purpose of the commission is to assist in the enhancement and interpretation of the resources of the Corridor consistent with industrial and economic growth.

Whitmore Named Director for Alexandria, Va. Sandra Whitmore, superintendent of leisure services for the Northbrook Park District, has resigned to accept a position as director of parks and recreation for the city of Alexandria, Va., a community of 110,000 residents located 10 miles east of Washington, D.C. There she will oversee an annual budget of $17 million. Whitmore has been with the Northbrook Park District since 1989. As superintendent of leisure services, her responsibilities included direct supervision of 27 full-time employees, numerous part-time and seasonal staff, and coordinating hundreds of volunteers. Her division (which indudes Athletics, Ice Rinks, Theatre, Cultural Arts, Summer Camps, Communications and Marketing, registration. Special Events, Senior Center, and Swimming Pools) plans and directs more than 2,500 recreation programs annually with an operating budget in excess of $5 million and capital budget responsibilities from $500,000 to several million. Prior to Northbrook, her career included superintendent positions at Highland Park and Winnetka park districts, plus teaching at New Trier High School. An advocate of parks and recreation for 20 years, Whitmore has been involved in various committees on both state and national levels. She has presented at national forums on recreation, at-risk youth issues, and has worked closely with lawmakers in Washington, D.C., to redefine the child labor laws. She has a B.S. in Physical Education from the University of Nebraska and an M.S. in Recreation and Parks Administration from Western Illinois University.

Jim Quinn was hired as recreation supervisor responsible for aquatics, teens and special events at the Hanover Park Park District. Quinn is a graduate of Western Illinois University with a bachelor of science degree in Recreation, Park, and Tourism Administration. He completed his internship with LaGrange Park District in May 1998.


Amy Madigan was named the Greenways and Trails Outreach Coordinator for the Illinois Department of Natural Resources. Previously, she was the administrative assistant for the Illinois Association of Park Districts. She earned a bachelor's degree in Leisure Studies Administration from Eastern Illinois University with a concentration in Outdoor Recreation. Currently she is working on a master's degree on Environmental Studies at the University of Illinois at Springfield.



Sheavoun Lambillotte was hired as the corporate services manager of the Schaumburg Park District. Lambillotte is responsible for coordinating employee recreation activities within area businesses, promoting the districts golf, banquet, indoor aquatic, tennis, fitness, parks, and room rental facilities, attracting tournaments and national competitions and securing sponsorships. Lambillotte has been with the district seven years and is a graduate of the University of St. Francis.

Carrie Haupert is now the manager of the Community Recreation Center Manager for the Schaumburg Park District. Haupert, a five year district veteran, will oversee use and staff of the 110,000-square-foot facility. She has a masters degree from the University of Illinois.
September / October 1998 | 49
---
Kevin Romejko, the former accountant for the Schaumburg Park District, is now the manager of Schaumburg Tennis Plus, the district's newly acquired revenue facility. Tennis Plus features 8 tennis courts, racquetball courts, fitness, basketball, nursery and a restaurant managed by Village Tavern. Romejko, a University of Iowa graduate, has been with the district four years.

Michael Selep filled the accountant position at the Schaumburg Park District. Selep has worked for one year as the district's special projects assistant. He is a graduate of Gustavus Adolphus College in Minnesota.

Scott R. Himmelman was hired as the facility manager for the Geneseo Community Park District. His duties entail the planning, promotion, development and supervision of the Geneseo Community Center and Outdoor Swimming Pool. Previously, Himmelman was the director of the Prophetstown Park District and has a B.S. degree in Business Management from Western Illinois University. He has served in a number of capacities in the parks and recreation field, including youth director for the Sterling Park District and recreation supervisor for the Moline YMCA.

Mel Phillips Jr. was named tennis director for the Schaumburg Park District's Tennis Plus. Phillips has been a tennis instructor since 1978 and is a Level 1 Certified Professional with the U.S. Professional Tennis Association and the U.S. Professional Tennis Registry. Phillips is founder of the West Suburban Tennis Patrons, Inc., a nonprofit organization for underprivileged youth. He was recognized by USA Weekend Magazine as one of the nations "Top 10 Most Caring Coaches" in 1997 and was the only tennis coach included in that listing. Kelly Ann Norris recently joined the Morion Grove Park District staff. She will oversee the Day Camps, Preschool, Teen and general recreation programs for the district. Previously, Kelly was employed with the Niles, Mundelein and Bloomington recreation departments. She holds a master's and bachelor's degree in Parks and Recreation from Illinois State University.

Laurie Strzelecki is the new program supervisor for the Niles Park District. Known by many as "Miss Laurie," the name she acquired as a Bright Beginnings' preschool teacher at the district, Strzelecki has taught and enhanced the lives of many children for over ten years. In addition, she has implemented many new programs such as "Pops &Tots," "Moms &Tots," "Toddler Time," and "Little All Stars." For the Chicago Conference National Assn. ofYoung Children and the University ofWhitewater Wisconsin Early Childhood Conference, Strzelecki taught other adults how to teach children through play. She is a graduate of Triton College, with a degree in Early Education.



Thom Lange was named public information supervisor for the Bensenville Park District. His responsibilities include brochure and flyer design, press releases, advertising and liaison to the Bensenville Arts Council. Lane has a bachelor's degree in Communications from North Central College in Naperville. For the past two years he served as the public information assistant for the Palatine Park District. Previously, he was a facility manager at Palatine Park District, operating the 440-seat Cutting Hall Theatre and the outdoor amphitheater.



Lorraine Molyneaux has joined the Illinois Park and Recreation Association as the business coordinator. Some other responsibilities include financial management, budgets, and the Great America/Six Flags and Noah's Ark Ticket Programs. She spent the last 20 years as accounting manager in the private sector. Molyneaux obtained a B.S. in Accounting with a Financial Management concentration from Chadwick University in Alabama.