CONTRIBUTORS' BIOGRAPHIES
James E. Davis is professor of history and geography at Illinois College in Jacksonville, Illinois. Born in Detroit, he received B.A. and M.A. degrees from Wayne State University and then taught junior and senior high school in Dearborn for eight years before receiving his Ph.D. in history from the University of Michigan. His civic activities include serving on the Jacksonville City Council. In 1981 and 1993, Illinois College awarded him the Harry J. Dunbaugh Distinguished Teaching Award. Davis is the author of Frontier Illinois(1998).
Perry Duis holds a B.A. from Northwestern University and M.A. and Ph.D. degrees from the University of Chicago. He has taught urban and Chicago history at the University of Illinois at Chicago since 1971. His fourth book about the city is Challenging Chicago: Coping with Everyday Life, 1837-1920 (1998).
James A. Edstrom is an Instructor at William Rainey Harper College in Palatine, Illinois, where he is Technical Services Coordinator of the Learning Resources Center. He earned M.S. and M.A. degrees in library science and U.S. history from the University of Illinois at Urbana-Champaign. Specializing in the history of Illinois during the territorial and early statehood period, he has written on the admission movement of 1818 and on the members of the first state constitutional convention. In addition to his work as Senior Cataloger of the Illinois Newspaper Project in Springfield from 1989 to 1995, Edstrom has been a librarian at public, academic, and special libraries in LaSalle, Urbana, and Springfield.
Vicki Harrison is the gifted program coordinator/teacher for Schuyler County Community Unit District #1 in Rushville, Illinois, a position she has held for twelve years. She holds a bachelor's degree from Western Illinois University. She has been involved with the Illinois History Fair program for twenty years, introducing it to three different school districts.
Joseph B. Herring is a senior program officer at the National Endowment for the Humanities in Washington, D.C. He received an M.A. in American history from the University of Maryland and the Ph.D. from Texas Christian University. In addition to several scholarly articles on American Indians, he has written two books — Kenekuk, the Kickapoo Prophet and The Enduring Indians of Kansas: A Century and a Half of Acculturation — both published by the University Press in Kansas.
Matthew K. McClure is an American Studies teacher at Maine Township High School West in Des Plaines, Illinois. A graduate of the University of Chicago with M.A. degrees in U.S. Diplomatic History and North American historical geography, he also holds a master's degree in education from Northwestern University. A teacher for eleven years, McClure co-authored the secondary educator's response in The History Teacher in 1995 to the much-debated New Standards in World History. He is also responsible for staff-development in technology for his school.
Stan Mendenhall has been teaching history for twenty-three years and is currently a social studies teacher at Broadmoor Junior High in Pekin, Illinois. He earned a bachelor's degree in history from Western Illinois University and a master's degree in history from Illinois State University. He also teaches world, U.S., and European history at Illinois Central College.
Elizabeth H. Miller taught twentieth-century world history and post-Civil War American history to eighth graders at the University of Chicago Laboratory School, where she chaired the history department for two years. Recently retired, she continues to co-teach a modern economics elective there. She received a bachelor's degree in history at the University of Wisconsin and a master's degree in Chinese history at Northwestern University Living in Chicago, Elizabeth enjoys exploring the city's neighborhoods and history and taking advantage of its cultural richness.
Delores F. Rauscher teaches American history and social studies methods and also supervises social studies student teachers as Eastern Illinois University in Charleston, Illinois. She holds master's degrees in English and history and is currently pursuing a Ph.D. in history at the University of Illinois, Urbana.
J. Eric Robinson is a graduate of Howard University (B.A. Classical Civilizations, 1987) and University of Missouri-Columbia (M.A. Ancient History, 1989). While at Howard, he was awarded a National Endowment for the Humanities Younger Scholars Research grant. He is the proprietor of J. E. Robinson Tours, which specializes in the Underground Railroad. The article in this issue of ILLINOIS HISTORY TEACHER is part of his ongoing research; free blacks in early Illinois are of particular interest. His family settled at Pin Oak Colony.
Helen S. Slaton received a bachelor's degree in English from Illinois College. She has been a language arts teacher in Rushville for eighteen years. With a special interest in local and state history, she has enjoyed being a judge at the Illinois History Fair.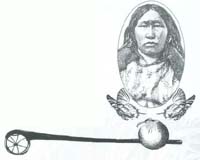 ---