C U R R I C U L U M M A T E R I A L S
Bruce David Janu
Overview
Main Ideas
Demographers predict that early in the twenty-first century the Hispanic population will be the largest minority group in America and by the year 2020 will account for 16 percent of the population. Chicago will be no different. Currently, Chicago's Hispanic population makes up more than 20 percent of the population. The history of the Spanish-speaking population is rich and diverse.
Connection with the Curriculum
These activities are designed for U.S. history classes and work well with units on the Depression, civil rights, and current events. In addition, these activities can be incorporated into existing curricula in Illinois history or general social science.
66
---

Yaquis Baseball Team, c. 1937
Mexican American team
(Cordero Collection)
Courtesy: Southeast Historical Society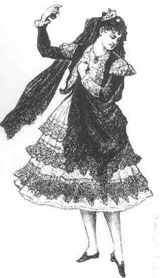 Teaching Level
• Grades 9-11
Materials for Each Student

• A copy of the narrative portion of the article

• Reference material on Hispanic culture, including historical and biographical information
Objectives for Each Student

• Examine the history of Latinos in Chicago and analyze statistical data on the current population

• Identify elements of Hispanic culture in America

• Recognize how racism and discrimination have played a role in the development of that community
SUGGESTIONS FOR
TEACHING THE LESSON
Opening the Lesson
Hispanic culture is hard to define, simply because we in this country lump many different ethnic groups under the umbrella Hispanic. The term comes from a derivative of the Spanish word for Spain. In fact, Columbus named the island on which he landed "Hispaniola." But for Americans, the term can be misleading because it classifies an entire group of people simply on language, not homeland. Every other ethnic group is defined by the homeland of their ancestry, such as German-Americans, and Irish-Americans. We, as a country, fail to recognize the difference between Mexican Americans, Puerto Ricans, Cuban Americans, and others of Latin American origin.
Open the lesson with a brief discussion of Hispanic culture that illustrates this problem. Write Hispanic on the board and ask students to identify various items that come to mind when looking at the term. Write their answers on the board. Help the discussion by asking students to think of food, culture, religion, and language of Hispanic culture. Then, go around the room and ask about specific student ancestry. Students undoubtedly will list countries of ancestral origin. This will be a good segue into a discussion of the word Hispanic. Explain that Hispanic is an umbrella term and includes people of many backgrounds, ethnicity, and cultures. The only definitive thing they all have in common is language. Alert the students to the different terms that can be interchangeable with Hispanic such as Latino or Latina, Mexican American, etc.
Developing the Lesson
The lesson is divided into four activities.
• Activity 1 is an "anticipation guide" for reading the article on Chicago's Mexican community. Before distributing the article, give each student a copy of the anticipation guide. As a class, go over the thirteen questions aloud, having the students agree or disagree with each statement and marking their responses in the before column. When they are finished, distribute the article for them to read. When the reading is complete, they need to individually go over each statement again and mark the responses in the after column. Some information cannot be gained from the article alone; in that case, students need to right "NMI" (pronounced Nee Mee), for "need more information." The answers for the NMI questions can be discussed in class or can be assigned as homework or individual research. Time: one class period or for homework.
• Activity 2 is designed for the students to examine statistical data on the Hispanic population in Chicago, both past and present. Following directions on the sheet, students will create a pie chart and a line graph to visually represent the various statistics. Then, they will color a map of Chicago to show the various neighborhoods where these populations exist. Time: one class period.
Note: This activity can be extended. A supplemental map of Chicago's neighborhoods has been included. This can be used for students to also label the neighborhoods of other ethnic groups in Chicago in order to make comparisons. The neighborhoods and 1990 census data for the various ethnic groups are as follows:
African Americans (1,076,099): Austin, West Garfield, East Garfield, North Lawndale, West Englewood, Englewood, Greater Grand, Auburn Gresham, Washington Hts, Roseland, Chatham, Greater Grand, Grand Blvd., South Shore, Douglas, Kenwood

Chinese Americans (23,233): Armour
66
---
Square

Filipino Americans (29,309): Albany Park, parts of North Park, West Ridge, and Lincoln Square

Greek American (40,000): Lincoln Square

Indian American (16,386): Albany Park, West Ridge, Rogers Park

Irish American (161,180 1st ancestry): Mount Greenwood, Clearing, Ashburn, Beverly

Italian American (93,840 1st ancestry): Montclare, Dunning, Portage Park

Korean American (13,863): West Ridge, Albany Park, northeast corner of Lincoln Square

Lithuanian American (18,592): Chicago Lawn

Polish American (218,559 1st ancestry): Garfield Ridge, West Elsdon, West Lawn, Belmont Cragin, Avondale

Ukrainian (65,000): West Town
• Activity 3 is a research-based activity. Students will need access to reference books, books on Hispanic-Americans, and/or the internet. Using the resources, student will fill in the blanks with the appropriate word or phrase. For younger classes, you may want to provide them with a word-list to help facilitate the activity. Time: one class period.
• Activity 4 is designed to address the issue of racism and discrimination that has existed in America towards Latinos and should be used for the higher grades. Start this lesson with the following poem, written on the board or use an overhead:
Border Towns
by Roberto Duran

Border towns and brown frowns
and the signs say
get back wet back
souls are searched at night by silver flashlights
gringos and greasers play cat and mouse
and I still wonder why
do apple pies lie?
The signs say live the american way
visit but don't stay
be a friendly neighbor hire good cheap labor
as rows and rows of illegal star war aliens
are aligned and maligned
as the morning shouts fill the morning chill
and still
they will not
no way Jose go away.
(Taken from: Maureen Devine Sotoohi, ed., Perspectives: Authentic Voices of Latinos © (1996, Curriculum Associates, Inc., Reproduced by permission of the publisher, (North Billerica, Mass.: 1996), p.24.)
As with all ethnic groups, Latinos in America have experienced intense discrimination and racism. The recent debates on immigration reflect a deep fear of immigrants. Discuss the poem with the students and its meaning. Discuss the words "wetback," "gringo," and "greaser." Most Americans know that segregation existed in the South, but few realize that this segregation included not only African Americans but also Latinos. It was common to see signs that read "Whites only — No Spanish or Mexicans. " During the Depression, many Mexicans were deported, and Chicago was a major hub for the trains carrying the deportees.
Distribute Activity 4 to students. They will read the excerpts and answer the questions. Have students examine their U.S. texts for any information pertaining to the deportations and repatriations of the 1930s. Why are these not discussed in your textbook? Time: one class period or for homework.
Concluding the Lesson
Discuss the key ideas found within the activities.
Extending the Lesson
Have students compare the treatment of Mexican-Americans during the Depression with Japanese-Americans during World War II. How were the experiences similar? How were they different?
• Have students create biographies of various Latino-American leaders.

• Have students examine newspaper editorials from the 1920s and 1930s that discuss Mexican immigration. Then, examine recent editorials on the same subject, noting similarities and differences.

• Have students create cultural displays of various Latino ethnic groups, including Mexican, Cuban, Puerto Rican, Guatemalan, etc.

• Have students plan and prepare a Mexican fiesta for the class. Have groups of students provide music, costumes, food, and a pinata.
Assessing the Lesson
See answers to the various activities at the end of this section.
67
---

Before reading the article, read the following statements. In the column to the left, write an "A" if you agree with the statement or a "D" if you disagree with the statement. Then, complete the vocabulary section, looking up words when necessary. Read the article and re-evaluate each statement in the "after" column. At this point, if you did not find enough information in the reading, write "NMI" (Need More Information) on the line.
Before

___ The earliest Mexican immigrants came to Chicago during World War I and replaced soldiers and workers.

___ The first immigrants from Mexico were usually male.

___ By the end of the 1920s, Chicago had the largest Hispanic population outside of the southwestern states.

___ The meatpacking industry in Chicago refused to hire Mexican immigrants.

___ The largest Mexican population in Chicago can be found in the Austin neighborhood.

___ Chicago's first Latino Congressional Medal of Honor winner was Manuel Perez, killed during World War I while fighting in France.

___ "Operation Wetback" was a government program aimed at deporting Mexican immigrants during the 1940s and 1950s.

___ In 1990, more than 1 million Latinos were living in Chicago.

___ The second largest business district in Chicago is located in the Latino community of Pilsen.

___ Many Mexican residents were forced to move when the University of Illinois moved its campus into a Latino neighborhood.

___ Today, Hispanics make up about 9 percent of the nation's population and approximately 20 percent of Chicago's population.

___ Cuban immigrants began coming to Chicago during World War II.

___ Over 300,000 people of Mexican ancestry were deported from the United States during the 1930s.

After

_______

_______

_______

_______

_______

_______

_______

_______

_______

_______

_______

_______

_______
Vocabulary Words:
itinerants
indigent
repatriation
eclectic
homogenous

braceros
gentility
68
---
Ethnic Populations in Chicago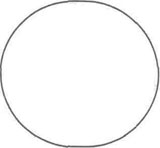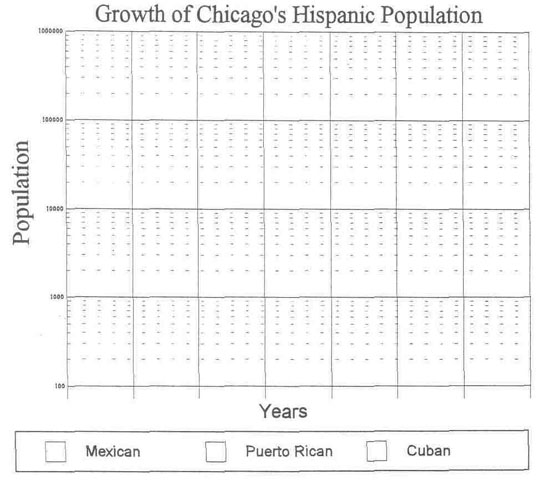 69
---

Below, you will find various statistics from census data showing the diversity of Chicago's population. Follow the directions for each section.
Part 1: 1990 Census Data Taking the information from the 1990 census, complete the pie chart showing the percentages for the ethnic diversity in modern Chicago.
1990 Census: Chicago, Illinois
White.................................................................................................................1,056,048
Black..................................................................................................................1,074,471
American Indian, Eskimo, or Aleut...........................................................................4,997
Asian or Pacific Islander.........................................................................................98,777
Mexican................................................................................................................352,560
Puerto Rican........................................................................................................119,866
Cuban.....................................................................................................................10,044
Other Hispanic........................................................................................................63,382
Other ethnic groups..................................................................................................3,581
Total...................................................................................................................2,783,726
Part 2: The Growth of Chicago's Hispanic Population Using the census data from the various years, create a line graph showing the growth of Chicago's Hispanic population. Be sure to provide a color key for the three groups.

1900

1910

1930

1950

1960

1970

1980

1990

Mexican

102

252

19,362

24,335

44,686

82,097

254,656

352,560

Puerto Rican

N/A

N/A

N/A

255

32,371

78,963

113,888

119,866

Cuban

N/A

N/A

N/A

N/A

2,500

14,177

11,948

10,044


Part 3: Hispanic Neighborhoods in Chicago Based on the information below, color the map of Chicago's neighborhood communities. Note the percentages and color accordingly.
Mexican: South Lawndale (80%), Lower West Side (83%), Brighton Park (34%), East Side (35%), New City (35%), West Town (32%), Logan Square (26%), Gage Park (33%), Chicago Lawn (23%), Hermosa (24%)
Puerto Rican: Hermosa (37%), Humbolt Park (24%), West Town (25%), Logan Square (31%)
Cuban: Between 1% and 3% in the following areas: Rogers Park, Edgewater, Albany Park, Lincoln Square, Logan Square
70
---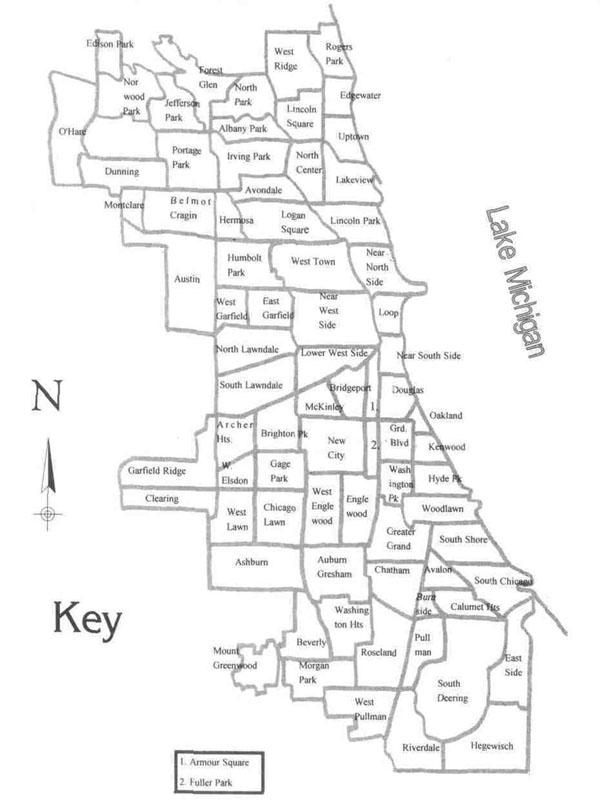 Note: Armour Square is also known as Chinatown.
The Lower West Side is also known as Pilsen,
and South Lawndale is also called Little Village.
71
---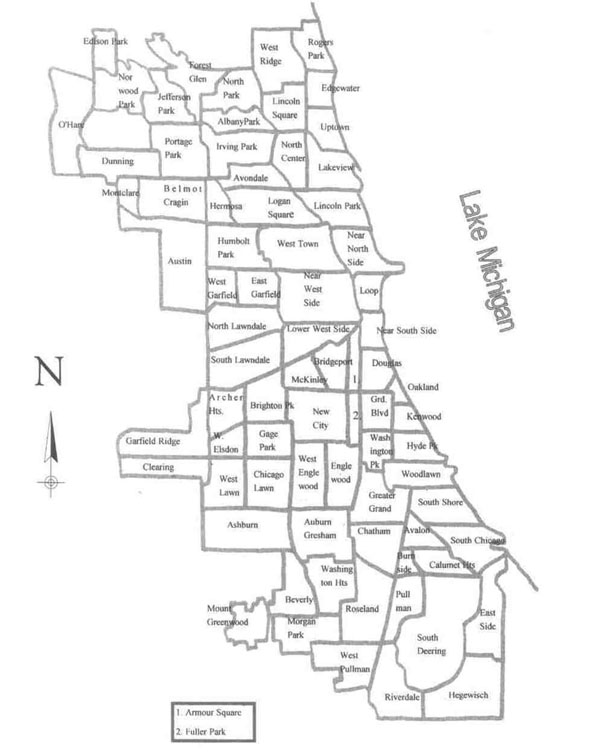 Note: Armour Square is also known as Chinatown.
The Lower West Side is also known as Pilsen,
and South Lawndale is also called Little Village.
72
---

Your mission: Find the appropriate words to fill the blanks in each of the statements below.
_________ is not only a popular sauce, but also an important type of Hispanic music. In fact, there have been many popular artists of this music including Tito _________, who was known as the "King of Latin Music."

Based on a mixture of African religions and Christianity,______________ can be found in Caribbean nations such as Cuba. It is known as the "religion of Saints."

During the _____________, people play the role of Mary and Joseph and go from door to door in the neighborhood asking for shelter.

_______________, or neighborhoods, can be found in all major American cities.

For a girl's 15th birthday, a _________________________ celebration is an important initiation into adulthood.

Appearing first in 1531, ______________________________ has become Mexico's patron saint.

A popular type of music Mexican Americans in Texas helped create, __________________ has a distinct sound with guitar, drums, and accordion.

____________________ is the Mexican celebration noting the defeat of a French invading army in 1862.

At birthday parties, children enjoy swinging a stick at a _____________________ hoping it will break open, spilling candy and treats to the ground.

In 1959, ______________________ took control of Cuba, prompting many people to leave the country for the United States.

An important labor leader, _________________ organized a boycott of grapes and worked for Mexican-American farm workers.

__________________, a Cuban American singer, has had many numerous hits with her band, The Miami Sound Machine and then as a solo artist, with such songs as "Anything for You."

The first Latin star to have his own television show, ____________________, starred as Ricky Richardo in I Love Lucy.

A time to remember deceased family members, theMexican American community celebrates _____________________ on November 1 and 2.

___________________ make up the largest Latino group in the United States.

First in the popular TV show Miami Vice, ___________________________ has since made numerous appearances on television and film, including Stand and Deliver and American Me.

__________________ was appointed to the position of U.S. Secretary of Transportation in 1993.

Not only has she won an Oscar, but _____________________________ has also won a Tony, a Grammy and an Emmy. Among other things, she is known for starring in the movie version of West Side Story.

Cuban-born _________________________ has starred in many films, including The Godfather Part III, The Untouchables, When a Man Loves a Woman, and Desperate Measures.

One of the first mainstream Latino golfers, ___________ has since made millions on the pro-golf circuit in the United States.

One of the greatest players of baseball, ___________________ earned 12 Golden Gloves while playing for the Pittsburgh Pirates from 1955 to 1972.

Puerto Rico is not yet a state, but it is a _________________. Therefore, all Puerto Ricans are American citizens.

73
---

Below you will find 5 pieces of evidence. Examine the evidence and answer the questions on a separate sheet of paper.
Exhibit #1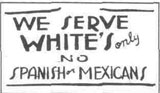 Sign outside of a restaurant in San Antonio during the 1940s


Exhibit #2
"Their [Mexican] minds run to nothing higher than animal functions — eat, sleep, and sexual debauchery. In every huddle of Mexican shacks one meets the same idleness, hordes of hungry dogs, and fifthly (sic) children with faces plastered with flies, disease, lice, human filth, stench, promiscuous fornication, bastardy, lounging, apathetic peons and lazy squaws, beans and dried chili, liquor, general squalor, and envy and hatred of the gringo. These people sleep by day and prowl by night like coyotes, stealing anything they can get their hands on, no matter how useless to them it may be. Nothing left outside is safe unless padlocked or chained down. Yet there are Americans clamoring for more of this human swine to be brought over from Mexico."

(Taken from: Aruna, Rodolfo. Occupied America. (Harper Collins: New York,1988). 201. This statement was given as a report to Congress on immigrationin 1930.)


Exhibit #3
250,000 MEXICANS REPATRIATED
Special Cable to the New York Times
MEXICO CITY, July 8-More than 250,000 Mexicans have been repatriated from the United States, where they were almost starving, according to General Juan Jose Rios, Minister of the Interior. He appealed to all employers in Mexico to do their utmost to find work for those returned....
(New York Times, July 9, 1932, p. 7)


Exhibit #4
The Mexican Invasion
....Mexican immigration is now a national problem rather than a problem of the Southwest....We cannot postpone the erection of an adequate barrier any longer, for it is an invasion, even more serious than if it were military. Indeed, the Mexicans have come in such large numbers during the past few years as almost to reverse the essential consequences of the Mexican War......It would seem that only by thus closing the back door can we secure the full benefits of our present restrictive program that can and will mean so much to our national welfare.
Garis, Roy L, "The Mexican Invasion" in The Saturday EveningPost (January 18, 1930) p. 43-44.


Exhibit #5
JOBLESS FORCE MEXICANS OFF INDIANA JOBS
Terre Haute. Ind., Jan. 9 — (AP) Between 50 and 60 Mexicans employed on a railroad construction job west of here agreed to quit work and leave the country tomorrow after more than 100 men and women who said they represented "starving workers of Vigo County" marched to two camps occupied by workers late today and demanded that they go.
The Mexicans accepted the dictum without argument, but some of the marchers said the workers jeered at them and brandished shovels as they left. One of the delegation fired two shots in the air with a rifle and the Mexicans dived for cover.
(Chicago Tribune. Jan. 10. 1931. p. 9)


Questions:
What attitudes towards Mexican Americans are present in each piece of evidence?

In Exhibit #4, the author mentions the "consequences of the Mexican War." What consequences is he talking about?

How are these attitudes similar to attitudes today? How are they different? Explain

Define the term xenophobia.
74
---

Key: Activity 1
Agree

Agree

Agree

Disagree: Many Mexican workers filled the packing houses and lived in an area known as "Back of the Yards."

NMI: The largest community in Chicago can be found in the Lower West Side and South Lawndale, known respectively as Pilsen and Little Village.

Disagree; Manuel Perez was killed during World War II fighting in the Philippines. He did, however, win the Congressional Medal of Honor.

Agree

Disagree: Almost 600,000 lived in the city, but over 1 million in the metropolitan area, including the suburbs.

Agree

Agree

NMI: The information is not in the article, but subsequent research will reveal that it is a true statement.

Disagree: Cubans began arriving in large numbers in the late 1950s.

NMI: Although the article discusses "Operation Wetback," the figures for the 1930s are around 300,000 — although some sources place that number as high as 600,000.
Itinerants: a person who travels from place to place
Indigent: a poor or needy person
Repatriation: to return someone to their country or birth or origin
Eclectic: diverse, coming from different sources
Homogenous: composed of similar parts; being alike
Braceros: a laborer; originally a Mexican farm and railroad worker brought to the United States to work
Gentility: being well-bred, polite or refined

Key: Activity 3
1. Salsa; Puente
2. Santeria
3. Posada
4. Barrios
5. Quinceanera
6. Our Lady of Guadelupe
7. Conjunto
8. Cinco de Mayo
9. Pinata
10. Fidel Castro
11. Cesar Chavez
12. Gloria Estefan
13. Desi Arnez
14. El Diade los Muertos (Day of the Dead)
15. Mexicans
16. Edwards James Almos
17. Fredrico F. Pena
18. Rita Moreno
19. Andy Garcia
20. Chi Chi Rodriguez
21. Roberto Clemente
22. Commonwealth

Key Activity 4
There is a general attitude that Mexicans are not welcome, that they take away jobs, and represent an undesirable quality for America.

In the Treaty of Guadalupe Hidalgo, the United States acquired the territories of California, Arizona, New Mexico, and the remainder of Texas.

Answers will vary, but the general idea is that Mexican immigration is bad for the economy and takes away American jobs. Various stereotypes present in the exhibits can also be found today.

Xenophobia means a fear of immigrants.
Click Here to return to the Article
75
---