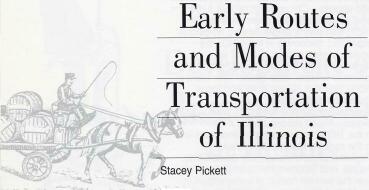 Focus
This lesson introduces students to the modes of travel by which people came into Illinois during the territorial and early statehood period. The two primary routes were overland along the National Road and by water on the Ohio River, and after 1825 via the Erie Canal and Great Lakes. In effect, there was a southern route and a northern route to Illinois, each bringing people with loyalties and lifestyles familiar to different regions of the east—north and south—as well as a new rush of immigrants. This lesson focuses on the logistics and technology of early travel, particularly wagons and a variety of boats. The lessons includes maps and a series of short readings that will help students understand the relationship between modes of transportation and the early settlement patterns in Illinois.
Objectives
1. Demonstrate knowledge of basic modes of transportation: wagons, flatboats, steamboats, and canal-boats.
2. Identify overland routes on a map of Illinois today that coincide with historical routes described in class.
3. Analyze maps and source documents
Illinois Learning Standards
16.E. Analyze how technological and scientific developments have affected human productivity, human comfort, and the environment.
17.A. Use mental maps of physical features to answer complex geographical questions.
17.C. Analyze how human processes influence settlement patterns, including immigration and population growth.
17.D. Explain how interaction of geographic factors have shaped present conditions.
Procedures
I. Introduction: "Early Routes and Modes of Transportation in Illinois" Explain that the lesson will focus on the primary routes taken by Americans and immigrants into Illinois in the early decades of the nineteenth century. Have the students quickly brainstorm on how they might travel to New York or the Carolinas; mention routes, modes of transportation, costs, luggage, or cargo. These same factors were considered when people decided how to travel to the Northwest Territory in the early 1800s and, after 1818, into the new state of Illinois.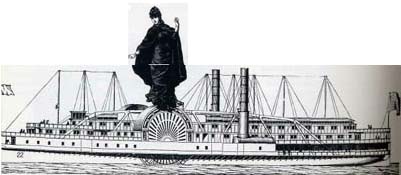 22
---
II. Understanding the Need for Overland Routes to the "West"
A. 1784 letter from George Washington to Richard Henry Lee: "The spirit of emigration is great, and people have got impatient, and tho you cannot stop the road, it is yet in your power to mark the way; a little while and you will not be able to do either." What does Washington worry about when he warns "you cannot stop the road"?

B. Thomas Jefferson and Albert Gallatin, Secretary of Treasury: "make the crooked ways straight, and the rough ways smooth. [That] will, in effect, remove the intervening mountains [and] cement of the union." Discuss why Jefferson considered modes of transportation an important way to unify the people of the new nation.

C. The National Road

1. Legislation for a "national road" to the west was passed in 1805 with the stipulation that it would go through the capital of each state along the route. Also known as Cumberland Road, Wilderness Road, National Pike, and Braddock's Road. Routed through Cumberland Gap and quickly recognized as easiest land route through Appalachians. Through Cumberland, Maryland, to its endpoint at Vandalia, Illinois, the second capital of Illinois.

2. First "interstate highway." Before this time, all were state roads or no official "roads."

3. Construction began in 1811, finished in 1830.

4. Later, the road was extended across the country, eventually as U.S. 40, then as Interstates 68 and 70.

5. Obtain a copy of Karl Raitz, ed., A Guide to the National Road, Vol. 1 (Baltimore: Johns Hopkins University Press, 1996). Have students look at the painting on page 17 and answer the questions on the Image Sleuth guide (Handout 1). Students can make notes on a separate sheet of paper or in their class notes.
III. Early Illinois Trails and Roads. Obtain a copy of Stephen Leonard and Melinda F. Kwedar, The Great Migration: Transportation and Settlement in Illinois, 1800-1850 (Springfield: Illinois State Historical Society/Illinois Historic Preservation Agency, 1989) and provide students with copies of the maps. Have students examine a current Illinois map and point out today's roadways that coincide with roads described on the map.

1. Kickapoo Trail—Edwardsville to Springfield

a. 1822 - Fortnightly wagon service from St. Louis to Springfield

b. 1834-Twice-weekly stagecoaches

c. 1847 - Alton and Sangamon Railroad Company

d. Route 66, Interstate 55

2. Great Sauk Trail—Detroit to Chicago. Overland route, shortcut.

a. One of the routes designated of primary importance by President Monroe in 1824

b. Continues on to Peru, LaSalle, St. Joseph River, on to Mississippi.

c. Interstate 80 today

3. Hubbard's Trace—Vincennes, Indiana to Chicago.

a. Salt Springs from Vermilion

b. Continues on through Danville, Myersville, Hoopeston, Iroquois, Momence, Grante, Crete, and Blue Island into Chicago

c. Illinois 1, Route 45 today

4. A Closer Look at Hubbard's Trace

a. Have students trace line of trail on current Illinois map during lecture

b. One end at Vincennes.
i. Salt Springs from Vermilion: importance of salt as a preservative — no refrigeration; evaporate water to obtain (100 gal. water = 1 bu. salt); previously had to obtain salt from East Coast ocean areas; also available in Shawneetown.
ii. Wabash River primary navigation immigration route for French and Americans (point out on map).

c. Continues north passing through Danville, Myersville, Hoopeston, Iroquois, Beaverville, Momence, Grante, Crete, and Blue Island into Chicago. Also includes Watseka, named for Hubbard's Indian wife.

d. Gurdon S. Hubbard
i. Fur trader with the American Fur Company.
ii. Used pack ponies to bring furs to and from Chicago, avoiding the need for the portage from the Chicago to Illinois River.
23
---
iii. Primarily traded along Iroquois River, and established trading posts.
iv. Aided Chicago citizens during Winnebago War of 1827. But by the time he got there (weather and bad road conditions) the Winnebagos had decided not to attack.
v. When the fur trade fell off, Hubbard became a businessman. He built the first frame building in Danville, a storehouse.
IV. Improvements in Road Technology. Students read the roadway handout (Handout 2) that describes problems with travel on the existing roads: water, flies, isolation, mud, heat, no place for repairs to equipment. See Raitz, ed., The National Road, p. 151. People demand better roads, and innovators respond to the demand.
1. Macadam Roads. See Raitz, ed., The National Road, p. 153.

a. John MacAdam, 1816

b. Stone road, three layers

c. Very specific sizes of stone

d. Compacted with a roller, raked

e. Not used in many areas early on due to expense

2. Wooden plank roads

a. Introduced in Illinois in 1848

b. W. M. Gillespie's Manual of Roadbuilding (1848): "For a single track, the planks should be eight feet long, and 3 or 4 inches thick and be laid across the road, at right angles to its length. . . These planks rest on two longitudinal "sills" or "sleepers" four inches square, bedded in the earth to their thickness."

c. Expensive to maintain, and dangerous if not repaired

d. Mainly used in large cities, including Chicago

3. Methods of Travel

a. Read the "Road rage" section of the handout.

b. Conestoga Wagons (picture available from: www.conner-prairie.org)
i. White top, red wheels, blue wagon box
ii. Family immigration travel-had to carry all their belongings

c. Prairie Schooners
i. "Large covered wagons, curved at each end like a Roman galley"
ii. Much larger than Conestogas, used for hauling goods
iii. Flatter beds, lower sides
iv. Hoosier-wagons—camps on State Street and Wabash to lake
v. Have students locate prairie schooner camp on current map of Chicago. What is in that area today? (Downtown business area)

d. Stagecoaches
i. Began primarily as mail service
ii. Then took on passengers
iii. Free-swinging seats, except for bench in the middle. Made some travellers "sea-sick"
iv. Chicago to Peru—16 hours, if no mishaps
v. Set high up—good for getting over roads, but also easy to tip over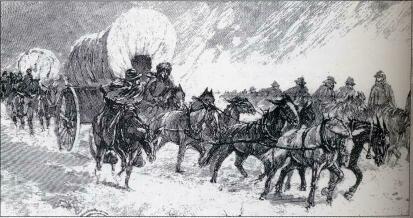 24
---
V. Water Routes to the "West." Have students view map of Illinois settlements handout. Where are most of the settlements located (along the water)?
A. Ohio River. Southern route: Pittsburgh to Mississippi River

1. Flatboats: most common mode of transport

a. 20-100 feet long, 12 feet wide

b. Long poles for navigation

c. Primary use was for floating downriver

2. Keelboats

a. 40-80 feet long, 10 feet wide

b. Sometimes used sails, poles

c. Keel — steering mechanism at the back of the boat

d. Downriver and upriver

3. Barge—larger version of keelboat

4. Ark—"enlongated box with v-shaped ends"

5. Description recorded by James Hall in 1828: "Today we passed two large rafts lashed together, by which simple conveyance several families from New England were transporting themselves and their property to the land of promise in the western woods. Each raft was eighty or ninety feet long, with a small house erected on it; and on each was a stack of hay, round which several horses and cows were feeding, while the paraphenalia of a farmyard, the ploughs, waggons, pigs, children, and poultry, carelessly distributed, gave to the whole more the appearance of a permanent residence, than a caravan or adventurers seeking a home."
B. Erie Canal and Great Lakes. Northern Route from New York to Chicago, completed in 1825. Use map of Erie Canal and photograph of the Erie Canal. For a map and photographs, see: www.canals.state.ny.us and www. bbw.buffnet.net/erie-canal. Complete image sleuth questions again, making notes for future reference.

1. Discuss quote about the canal and its effect on communication: "Suddenly the roar of 1812 canons was heard reverberating across the land. The canons were placed along the banks of the canal from Buffalo to New York City and within earshot of each other. When the Seneca Chief got underway, a signal was sent to the first canon that, when fired, was heard by the second canon and so on. This form of telegraphy relayed the word that Erie Canal was officially opened to New York City in just 81 minutes and was the fastest communication of news the world had ever known."

2. The Erie Canal was 425 miles long, 40 feet wide, 4 feet deep (average).

3. The canal linked the East to the Great Lakes ports, including eventually Chicago.
C. Technical Innovation on the Waterways: Rivers, the Great Lakes and the Steamboats
1. 1817—steamboats travel from Louisville to New Orleans in 41 days, a record time

2. Walk in the Water, first steamboat in the Upper Great Lakes

3. 1820—70 steamboats travel along the Mississippi River on the south-west boarder of Illinois, eventually heading northward

4. James Hall, 1831: "During the last year, there have been five or six boats regularly employed in the trade of that river (Illinois), and they now depart from St. Louis for the towns in that region almost every day, loaded with freight, and literally crowded with immigrants."

5. Have students read Waterway readings handout (Handout 3). Brainstorm a list of words or phrases describing water travel (crowded, scenic,).
VI. Map Activity
Have the students look at the maps showing population settlement patterns and density in Illinois: www.museum.state.il.us/exhibits/athome/1800/map. Write one or two paragraphs explaining how the technology used to travel to Illinois caused the changes in state's population.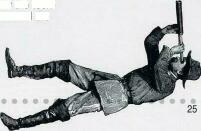 25
---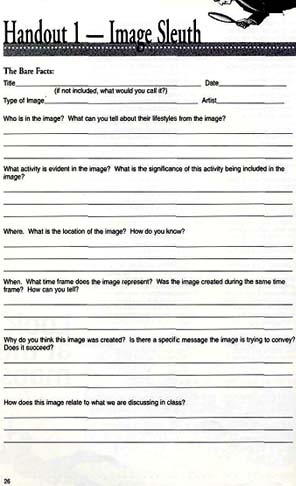 26
---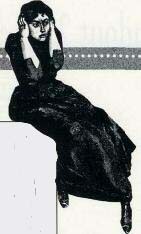 Remarks of William Cullen Bryant on his stagecoach travel:
"The stage had left Chicago in the morning, and toward sunset was about to cross for the second or third time the channel of the canal below Mount Joliet. 'There had once been a bridge at the crossing place, but the water had risen in the canal, and the timbers and planks had floated away, leaving only the stones which formed its foundation. In attempting to ford the channel the blundering driver came too near the bridge, the coach wheels on one side rose upon the stones, and on the other sank deep into the mud, and we were overturned in an instant. The outside passengers were pitched head-foremost into the canal, and four of those within were lying under water. We extricated ourselves as well as we could, the men waded out, the women were carried, and when we got on the shore it was found that, although drenched with water and plastered with mud, nobody was either drowned or hurt.
A farm wagon passing at the moment forded the canal without the least difficulty, and taking the female passengers, conveyed them to the next farmhouse, about a mile distant. We got out the baggage, which was completely soaked with water, set up the carriage on its wheels, in doing which we had to stand waist high in mud and water, and reached the hospitable farmhouse about half past nine o'clock. Its owner was an emigrant from Kinderhook on the Hudson, who claimed to be a Dutchman and a Christian, and I have no reason to doubt that he was either. His kind family made us free of their house, and we passed the night in drying ourselves and getting our baggage ready to proceed the next day.
The second day of travel 'over a specially rough road', brought the stage coach to Peru late in the night, the remainder of which the travelers spent at an inn on the bank of the river 'listening to the mosquitoes.' In the light of the writer's experience it is perhaps little to be wondered at that he declined for the future to venture within an Illinois stage coach or that he took pains solemnly to warn all future travelers between Chicago and Peru against crediting the 'glozing tongue' of the agent, promising that the journey would be made in sixteen hours, since 'double the number' would be nearer the truth."
From Milo M. Quaife, Chicago's Highways Old and New (Chicago: D.F. Keller and Company, 1923) pp. 80-81. Mr. Bryant hired a private carriage for his trip back to Chicago.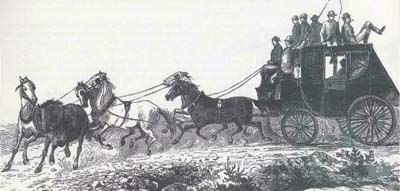 27
---

In 1819 Ferdinand Ernst, a cultivated, wealthy German philanthropist from Hanover, visited Illinois for the purpose of acquiring land for twenty-five or thirty families immigrating to the United States. His observations were published at Hildesheim in 1820 under the title Bemerkungen auf einer Reise durch das Innere der Vereinigten Staaten von Nord-Amerika im Jahre 1819. The parts relating to Illinois were translated by E.P. Baker and published by the Illinois State Historical Society. Ernst took up land in the vicinity of Vandalia, but most of his colonists died within a year of their arrival.
"The road leads through prairies where one all day long sees no house, no, not even a tree, so that protected from the burning heat of the sun, one could rest in its shade. In the middle of the prairie, 24 miles wide, an axle of my wagon broke, whereby I got into no small difficulty. My mounted traveling companions could not help me and had to leave me; but two pedestrians, who had made the journey afoot from Baltimore in this manner, proved friends in need. They went back three miles to get a tree trunk which we had seen lying there by the road. With great difficulty we then took the wagon to the next house. These honest Americans repaid me evil with good. They had been in our company for some time, and at the crossing of the river I did not wish to permit them to take a place in my wagon.
When we arrived at the next tavern the remaining traveling companions had already sent for a wheelwright, and thus through the kind aid of my comrades it was possible for me to continue the journey with them on the next morning. Toward noon the heat became oppressive and the flies so intolerable that we resolved to make a halt. Not until towards 6:00 o'clock did we continue our journey. Traveling at night time in these prairies is very much to be preferred. One can, without the aid of the moon, find the beautiful level road, and the horses, are not tormented by either heat or flies."
Paul Angle, ed., Prairie State: Impressions of Illinois, 1673-1967, by Travelers and Other Observers. (Chicago: University of Chicago Press, 1968), pp. 68-71.
---
Abner Jones, 1830s - "road it ought not be called, track is a fitter name. Not a tree had been fallen, and every one went hither and thither among the trees, in search of a better path, as his judgment dictated or his horse inclined. Large and deep holes, still filled with water, whose surface was thickly coated with green slime, continually obstructed our way. Into these were we occasionally obliged to plunge, much to our own annoyance, and that of our poor animals, who were ready to sink under the intense heat."
John Mack Faragher, Sugar Creek: Life on the Illinois Prairie (New Haven: Yale University Press, 1986), p. 72.
---
Road Rage
Traffic/Right of Way:
"The expression 'I'll be there with bells on' is derived from those wagoneers' custom of collecting bells for suspension in a cluster from an iron ring on the collar of one of the lead-horses. Those bells were not mere warnings; they were proud symbols of self-reliance and competence; for it was the rule of the road that the driver who had to accept help from another along the way relinquished his bells to the one who had helped him. Those tough wagoneers, who were not above maiming one another with whips in contending for the right-of-way in tight places, were scrupulously correct about that custom of relinquishing their bells for road service."
Road Conditions:
The expression "I am stumped" comes from "the frequency with which travelers found themselves suddenly stopped by a stump that proved to be too high for the passenger of carriage or coach."
Christy Borth, Mankind on the Move: The Story of Highways (Washington: Automotive Safety Foundation, 1969), pp. 145,162.
28
---
In 1835 Chandler R. Oilman, a New York physician with literary aspirations, toured the Great Lakes. After stopping at Chicago he traveled by stage to Ottawa and Peoria, and then on to Alton by an Illinois River packet. The letters he wrote on the trip were collected and published in book form in 1836, a year after his first book, Legends of a Log Cabin, had appeared.
"All day yesterday on the Illinois river, having left Peoria about nine o'clock at night. On going board the steam boat I was surprised to find, that forward she looked exactly like a mudscow; scarcely any deck, an open hold exposed to the weather; aft, there was a comfortable cabin with good berths. The captain gave his boat the soubriquet of Cat Fish, from the resemblance her bow bears to the mouth of that fish. She draws very little water, and makes about six miles the hour down stream. The Illinois is a calm placid river, with little or no current, and full of sand bars....The landing is very good, the boat runs close alongside a rock, which forms a natural wharf; so that a short plank is only wanted to put any thing ashore. To this landing our boat approached. There were two large steamers fast, one from New-Orleans, the other from up the Missouri; a third was just casting off, she was bound to Galena. What an idea does the destinations of these three boats and our own give of the extent of navigation! Galena, Peoria, the upper Missouri, St. Louis, and New-Orleans; not to name Pittsburgh, Cincinnati, and Louisville, with which places the intercourse is free and constant. We landed at the wharf of which I have spoken.
---
Arthur Cunyghame, a British army officer stationed in Canada, toured the United States while on leave. This is an excerpt from his book, A Glimpse of the Western Republic:
On Saturday evening, the 12th October [1850], about five, P.M., I embarked on board the canal boat, the "Queen of the Prairies," bound for La Salle, a town situated south-west of Chicago, about 100 miles distant, and at the head of the navigable portion of the Illinois river. The cabin of this canal boat was about 50 feet in length, 9 feet wide, and 7 feet high. We numbered about ninety passengers within this confined space, in which we were to sleep, eat and live; the nominal duration of our passage was twenty hours, but it eventually proved to be twenty-five; our baggage was secured on the roof of the boat, and covered with canvass, to screen it from the effects of the weather. A sort of divan surrounded the cabin, the portion appropriated to the ladies being screened off during the night with a curtain.
For the first few miles we, in company with three more canal boats, were towed by a small steamer, but having passed the locks, not very distant from Chicago, three horses were attached, which were towed us smoothly along at the rate of five miles an hour.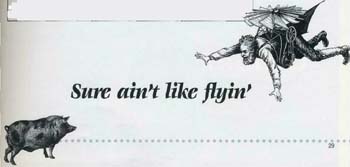 29
---

Soon after we had started, tea with its accompaniments made its appearance, the never-failing beef-steak being as tough as usual. As soon as this was disposed of, all the male passengers were ordered on deck, while the parlour should be transformed into a bed-room; in less than half-an-hour we received permission to return, in which short time no less than fifty sleeping places in this small space had been rigged up, and twenty more spread upon the floor; the remainder of the passengers, about twenty in number, for the most part children, being detailed off to share their tenements with their pa's and ma's. These sleeping-places consisted of shelves placed three deep, the entire length of the cabin, on either side, with a height of two feet between each. In consequence of my being a stranger, I was politely offered the first choice; the selection was difficult indeed, where all appeared equally uncomfortable, but I am happy to have the opportunity of acknowledging this attention. Into these berths we were ordered to get; and after some difficulty, especially amongst those to whom this mode of travelling was new, we obeyed; the remainder of the passengers, selecting their locations in succession, according to the number on their tickets.
I soon became insensible to the uncomfortable position which I occupied, although, only six inches above my face a tremendous man threatened every moment to burst through the sacking which supported him; and had the cords given way, I felt I must have been squeezed as flat as a pancake.
With so many passengers in so confined a space, no wonder that on the following morning I should awake with a severe headache, the effect of the heated nauseous vapors which surrounded us. Not a window was permitted to be opened; I made various endeavors to break through this rule during the night, but every window within my reach was fastened down. This, however, may be considered but a wise precaution; for the malaria from the surrounding marshy land, and especially from Mud Lake, distant about fifteen miles from Chicago, which we passed within a very short distance, is very dangerous.
Paul Angle, ed., Prairie State: Impressions of Illinois, 1673-1967, by Travelers and Other Observers. (Chicago; University of Chicago Press, 1968) pp. 157-158; 255-256.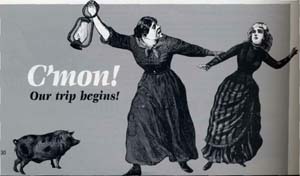 30
---