Mark Faherty
Focus
The earliest roads in Illinois were unpaved and alternately dusty or muddy. Paved roads were needed for the safe and timely delivery of goods and people as well as to ease travel. After 1918 an increasing number of people purchased cars. The creation of a national highway system showed the government's intention that the automobile would be an integral part of American commerce and transportation. Under the National Highway Act (1926), the government channeled vast amounts of money into the maintenance and improvement of a highway linking the East to the West. Route 66 became a key highway. Route 66 was significant because it was built according to the latest standards. However, the road also took a mythical meaning.
Objectives
1. Understand the need for road improvements in the early twentieth century and that Route 66 was a product of these improvements.
2. Analyze pictures, statistics, and map.
3. Understand how improvements in road technology ultimately led to the replacement of Route 66 by the national interstate system.
Illinois Learning Standards
14.B. Understand what government does at the local, state, and national levels.
16.E. Analyze how technological and scientific developments have affected human productivity, human comfort, and the environment.
17.C. Understand relationships between geographic factors and society.
Procedures
I. Introduction: Route 66
A. As students enter the room, distribute copies of the lyrics to "Get Your Kicks on Route 66" as the song plays. Have students consider the following question: What is significant about a song about a road?

B. Explain that since its inception Route 66 has enjoyed a cult following. Through the years, "road" has meant many different things to different people. To some, the road was a means to explore the western regions of the United States. For others, the road led to the "promised land" of California. For all, the road was a pivotal technological advance.
II. The Birth of Route 66. Distribute timeline, Route 66: From Inception to Decommissioning.
A. Road Conditions in the Early-Twentieth Century (Handout 1).

1. Scarcity of gravel for road construction in Illinois created problems. Without raised Macadam ite gravel road beds, muddy roads became impassable.

2. At times men with teams of horses were hired to pull automobiles out of the mud. At other times corduroy bridges (wooden planks or railroad ties laid over an impassable section of road) were used to get over impassable sections of road.

3. By the early 1900s it was obvious that more paved roads were needed.

a. Safe and timely delivery of goods depended upon better roads.

b. Farmers depended on passable roads to get goods to market.

c. Poor roads made goods expensive.

d. The automobile industry was growing. In 1900, 200,000 autos were built, but only 8% of the roads in Illinois were paved or graveled.

e. In 1908 Ford released the Model T. This inexpensive model resulted in an increase in vehicles from 187,000 in 1910 to over 4 million in 1925.

f. World War I demonstrated the need for roads for the rapid movement of troops and materials.
35
---
B. The Government Responds to the Demand for Paved Roads

1. Before 1900 businesses and individuals constructed, marked, and maintained the roads and issued maps. Private enterprise promoted the roads, and highway enthusiasts formed automobile clubs.

2. In 1910 Illinois government required the licensing of all autos, with the proceeds going towards highway construction and improvement.

3. The Pontiac Trail, which ran from Chicago to St. Louis, was one of the prime beneficiaries of state government funds.

4. In 1916 the federal government began its long history of involvement in building and improving highways when it passed the Federal Aid Road Act.

a. The act appropriated $75 million to the states.

b. By 1920 only 36,000 miles out of 13 million had all-weather surfaces, despite funding increases following WWI.

C. The Creation of Route 66

1. In 1921 the Federal Highway Act was passed, creating a system of interconnected interstate highways.

2. The core of the national highway system included new state highways and improvements to more than 250 marked trails that had been built by private clubs.

3. Many Americans had long desired a road connecting Los Angeles to Chicago. The road that had the best chance to become a national highway in Illinois was State Route 4. This road was to form part of the new transcontinental Route 66.

4. In 1926 the plan for the new national highway system was approved, and Route 66 became official. Only 800 miles of the more than 2,400 miles of Route 66 were paved.

D. Individual activity: Analyze the map, The Main Street of America (Handout 2).
III. Improving Route 66: The Technology of the 1920s and 1930s
A. In 1922, when State Route 4 was constructed, teams of horses and men performed backbreaking labor.

B. Route 66 construction crews used a combination of old and new technology.

1. Horses and mules were still used, but trucks and other vehicles replaced them.

2. Much of the material used to improve the road required wheelbarrows and horse-drawn scrapers.

C. Road alignment was based on the availability of materials.

D. When material could not be obtained on government property, pits were dug on private land along the highway and the owners were reimbursed.
IV. New Communication Technology Improves the Local Economies
A. As Route 66 improved and the number of cars increased, more people began to venture down Route 66. Roadside businesses such as gas stations, motels, stores, and tourist shops flourished. The influx of dollars rejuvenated many communities.
36
---
B. During the Depression, President Roosevelt saw road improvement as way to get the unemployed working again, and he greatly increased government spending on highways. Most improvements were done by hand.

C. The main focus for improvements were safety, efficiency, and substituting brick with concrete.

D. People took advantage of the improvements to Route 66, and traffic increased.

1. Dust Bowl farmers made a mass migration to the fertile fields of California.

2. Middle-class tourism increased.

3. The trucking industry grew.

Group Activity: In groups of two or three, analyze the statistics of Federal Highway Expenditures during the Depression, 1929-1940 (Millions of Dollars) (Handout 3).
V. The Death of Route 66, 1940s-1980s
A. Renewed Post-war Popularity

1. After a period of neglect caused by a shortage of funds and rationing of gasoline and auto parts during World War II, Route 66 enjoyed a period of renewed popularity.

2. In the late 1940s and early 1950s, Route 66 became a cultural symbol.

a. Americans who had sacrificed for their country wanted to travel and enjoy life.

b. Many ex-GIs, among others, cruised the highway to the West, where they resettled in California.

c. In 1946, Bobby Troupe's hit record "Get Your Kicks on Route 66" made Route 66 more than just a road.

B. The Slow Decline Sets In

1. The more people traveled the road, the more congested it became; safety was a major concern. Much of the road was either two lanes or four lanes with no dividers. Head-on collisions between speeding cars were frequent and horrible.

2. President Dwight Eisenhower promoted the Interstate Highway Act of 1956.

a. The Act allotted for the construction of a system of 40,000 miles of limited access four-lane roads.

b. The Interstate System bypassed towns and cities. Many businesses closed. Some had no access to on and off ramps, while others could not remain open without the steady traffic coming through town. Throughout the 1960s and 1970s, Route 66 steadily declined.

c. In 1984 the last stretch of the Mother Road was bypassed, and shortly thereafter, Route 66 was decommissioned.
VI. History and Route 66. New Interest in the Mother Road
A. Local and national history societies recover the history of the highway.

B. Visitors from around the world come to Illinois and other states to travel the remaining stretches of Route 66.

Group Activity: Ask students to talk to family members and others to recover the stories of their experiences on "66": its speed, unique restaurants, visits to Illinois towns, contacts with the state police, and more.
37
---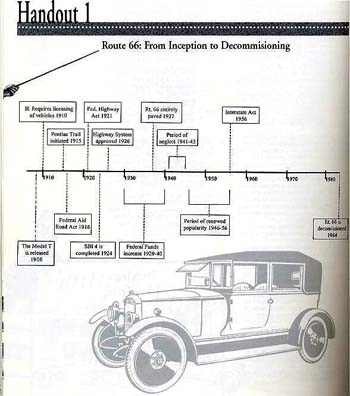 38
---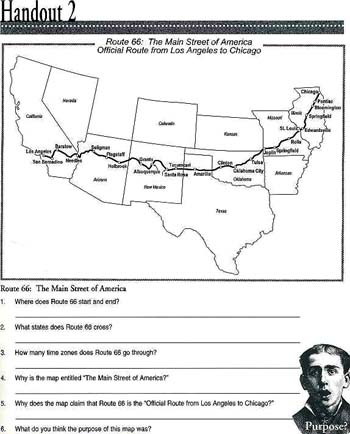 39
---
Federal Highway Expenditures during the Depression, 1929-1940 (Millions of Dollars)
Federal-Aid Appropriations

Federal-Aid Funds Awarded

State Funds for Matching Federal-Aid Funds

Federal Funds for County and Rural Roads

Federal Funds for Urban Highways

Year

1929

75

76

117

—

—

1930

75

94

137

—

—

1931

125+80

218

97

1

—

1932

125+120

95

110

>0.5

—

1933

200+50

223

41

25

29

1934

200+24

311

47

154

172

1935

200+200

218

24

95

103

1936

125

225

13

341

264

1937

125

348

173

240

203 i

1938

125

183

125

401

367

1939

125

176

130

373

233

1940

125

150

119

309

168
Source: Bruce E. Seely, Building the American Highway System: Engineers as Policy Makers (Philadelphia: Temple University Press, 1987), p. 92.
Federal Highway Expenditures during the Depression, 1929-40 (Millions of Dollars)
1. What does this table measure?
2. What trends are obvious in the Federal-Aid Appropriations for 1929-1940?
3. What historical events help to explain the reasons for the trend in federal spending between 1929-1940?
4. How did federal funds for county and rural roads change after 1936?
5. What was the general trend in state funds for matching federal-aid funds between 1931 and 1936?
6. What historical events help to explain the above trend?
40
---