Early Illinois Medicine
Stacey Pickett
Focus
This lesson describes health conditions in early Illinois, specifically diseases, medical training, and medical treatments. Diseases claimed many lives in the period before the Civil War. Malaria, typhoid fever, and cholera were particularly deadly. Many diseases that were common in the early 1800s, however, are no longer the threats they once were due to scientific research, related developments in medical technology, and improvements in the delivery of health care. Other diseases have remained a concern. Some individuals are not inoculated against contagious diseases, while new more-resistant strains of diseases have appeared. Some public health issues that affected early Illinois also remain a concern, including providing doctors for people in rural areas and affordable medical care for all people throughout the state. This lesson will allow students to see the results of the early changes in medical science and technology and the value of regular health practices in preventing and treating illness. The lesson may take two or three days to complete because it includes a research assignment for students.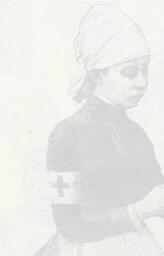 Objectives
1. Define medical terms
2. Develop research skills
3. Apply concepts that describe the interaction of science, technology and society
Illinois State Learning Goals
16.A. Analyze historical and contemporary developments using methods of historical inquiry.
16.E. Analyze how technological and scientific developments have affected human productivity, human comfort and the environment.
17.C. Understand relationships between geographic factors and society.
22.A. Explain how the environment can affect health.
Procedures
I. Introduction: Sickness in Sugar Creek, Illinois
A. Announce the topic of early Illinois medicine. Each student will complete background research on a specific disease that once plagued the state.

B. Ask students to list and discuss some of the environmental and human factors that would threaten the public health in the period of Illinois history that began with migration of people from the Southeast and East about 1820.

C. Ask students to list and discuss their ideas about health care during the same period.

D. Ask students to discuss "folk medicine" treatments that are used in their homes.

E. Students select, or are assigned a disease, an herb, or a treatment to look up in the encyclopedia. (All can be found in the Microsoft Encarta 96 Encyclopedia, with the exception of calomel). For each term, the student should write a one-sentence description of the term, and:
If the term is a disease, what is its cause and treatment?
If the term is a plant, is it still used for medicinal purposes?
If the term is a treatment, is it still in use?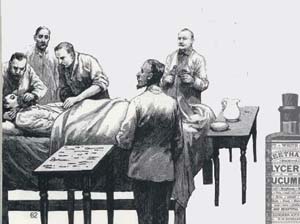 62
---
| | | |
| --- | --- | --- |
| Diseases | Plants | Treatments |
| malaria | snakeroot | bleeding |
| typhoid | lobelia | calomel |
| scarlet fever | figwort | opium |
| diphtheria | peppermint | ipecac |
| tuberculosis | catnip | quinine |
| cholera | | |
| dropsy | | |
F. Assignment for Section V, below:

Have two students research the requirements for a medical degree before the Civil War. Other students can research more recent requirements, or the changes in the training of nurses. Teachers may include additional items: for example, early and modern treatments for diseases that have occurred in Illinois, or folk remedies commonly used to treat diseases in early Illinois. Other students may wish to learn about the development of early hospitals or clinics in their area.
II. A Case Study: In Sickness and in Health
A. Students read and discuss the Sugar Creek handout.

1. Accidents in Sugar Creek
a. Freezing in blizzards
b. Drowning
c. Lightning strikes while working in open fields
d. Crushed by falling timber
e. Animal accidents—gored by bulls, dragged by horses

2. Living conditions that contributed to typhoid
a. Open sewage, both human and animal wastes
b. Stagnant pools
c. Flies

3. Malaria
a. Believed to be caused by bad air and water, and new land
b. Dark, warm, and humid cabins
c. No window or door screens
d. Mosquitoes
e. Physical effects of chills, fever in cycles; jaundice (yellow skin and eyes, decreased liver function); listlessness; anemia; overall weakness leads to lowered productivity at harvest

4. Epidemics
a. Early 1800s - Malaria
b. 1832-34-Cholera from federal troops fighting Black Hawk War
c. 1849-50-Cholera, typhoid, pneumonia ("lung fever"),
d. Tuberculosis ("consumption")
III. Medicine in Early Illinois
A. Few licensed physicians or hospitals

B. Theories of disease: Illness due to imbalance of body fluids

C. Medical treatments

1. Bleeding until faint

2. Induce vomiting

3. Calomel laxative

4. Opium

D. Folk medicine

1. Common people practice medicine, especially women

2. Superstition (spells, witches) and tradition (passed down)

3. Herbal treatments: some effective, some neutral, some harmful
IV. Complete the chart (Overhead 1).
Students recognize changes in medicine and lifestyles from the early 1800s to today.
A. Discuss treatments that involve use of plants using students' research.
B. Include modern treatments students may have researched.
C. How might changes in the environment affect the outbreak of diseases?
V. Changes in Medical Training
A. Students read and discuss passages from John Mack Faragher, Sugar Creek: Life on the Illinois Prairie (New Haven: Yale University Press, 1986), pp. 88-92 and Handouts 1-3.
B. Record modern medical training requirements for doctors and nurses on the overhead graphic organizer (Overhead 2). This information should be supplied by the students who were given that research assignment
C. Complete the chart (Overhead 2) using information from the readings.
D. Relate changes in medical training and technology to population growth around the state.
63
---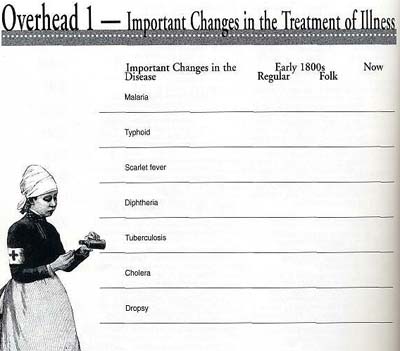 64
---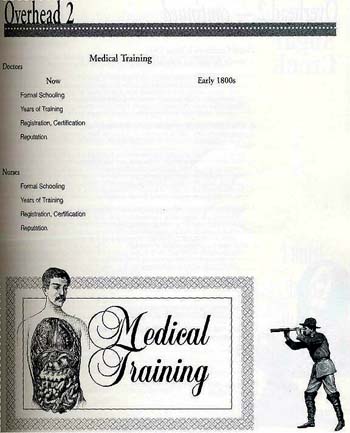 65
---
Overhead 2 - continued
Health Conditions in Sugar Creek
1. What is the main idea of the document?
2. What are some of the accidents mentioned in the reading?
3. What living conditions contributed to the diseases in Sugar Creek?
Typhoid?
Malaria?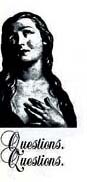 4. What epidemics were brought to the area, and when did they occur?
5. What were the "assumed" causes of malaria? What actually caused the diesease?
6. What were the physical effects of malaria?
7. Who were the "regulars"? What were the primary modes of treatment?
8. What is "folk medicine"? Who were the practioners of this medicine? What were its primary methods of treatment?
9. Can you relate this discussion of medicine and methods of medical treatment to today's society? Explain.
10. If you could ask the author a question, what would it be?
66
---
Handout 1
Paper Sent to Applicants
The committee of the Training School for Nurses has made arrangements with the authorities of Cook County Hospital for giving two years' training to women desirous of becoming professional nurses.
Those wishing to obtain this course of instruction must apply to the superintendent of the Training School, upon whose approval they will be received into the School on probation. The most acceptable age for candidates is from twenty-one to thirty-five years. The applicants should end, with answers to the paper of question, a letter from a clergyman, testifying to their good moral character, and from a physician, stating that they are in sound physical health. Applicants are received at any time during the year when there is a vacancy.
The superintendent has full power to decide as to their fitness for the work, and the propriety of retaining or dismissing them at the end of the month of trial. She can also, with the approval of the Committee, discharge them at any time, in case of misconduct or inefficiency.
During the month of probation the pupils are boarded and lodged at the expense of the School, but receive no other compensation.
Those who prove satisfactory will be accepted as pupil-nurses, after signing an agreement to remain two years and to obey the rules of the School and Hospital. They will reside in the Home and serve for the first year in the wards of the Cook County Hospital; the second year they will be expected to perform any duty assigned to them by the superintendent — either to act as nurses in the Hospital or to be sent as private nurses among the rich or poor.
The pay for the first year is $8 a month; for the second year, $12 a month. This sum is allowed for the dress, textbooks and other personal expenses of the nurse, and is in no way 'ntended as wages, it being considered that the education given is a full equivalent for their services. They are required, after the month of probation, when on duty, to wear the dress prescribed by the institution, which is of blue and white seer-sucker, simply made, white apron and cap, and linen collar and cuffs.
The day nurses are on duty from 8 a.m. to 8 p.m., with an hour off for dinner and additional time for exercise and rest. They are also given an afternoon during the week. A vacation of two weeks is allowed each year. It is not proposed to place nurses on night duty until they have been in the School three months.
As the institution is unisectarian, there are not religious services connected with it, except evening prayers, and all nurses are expected to attend the place of worship they prefer once on Sunday.
In sickness, all pupils are cared for gratuitously.
N.B.— This blank is to be filled out in candidate's own handwriting and sent to the Superintendent of Illinois Training School, Cook County Hospital, Wood Street, Chicago.
Questions to be Answered by Candidate
1. Name in full and present address of candidate?
2. Are you single, married or widow?
3. Your present occupation or employment?
4. Age last birthday, and date and place of birth?
5. Height? Weight?
6. Where educated?
7. Are you strong and healthy? and have you always been so?
8. Are your sight and hearing perfect?
9. Have you any physical defects?
10. Have you any tendency to pulmonary complaint?
From A History of the Illinois Training School for Nurses, 1880-1929, p. 20-21
67
---
Handout 2
A Physician with a Varied Career
Dr. John Taylor Temple was born near Yorktown, Va., in 1803, and came to Chicago in 1833 through a contract given him by Martin Van Buren to carry mail from Chicago to Fort Howard on Green Bay. He was a graduate of Middlebury College, Vt., in 1830, and Union College, Schenectady, N.Y., where he received his A.M. degree. After graduation he studied medicine in the office of Dr. George McClellan, of Philadelphia. A man of varied talents was he, for when occasion demanded he should change his occupation from physician to stage-driver or postman, and back again to the practice, without apparently losing any prestige. For one year he practiced medicine — from 1833-34. Then from 1834 until 1837 he operated a stage line from Chicago to Ottawa. Judge John Caton, who took the first trip with him in his new occupation, informs us that Dr. Temple received the appointmentof mail-carrier through the influence of Postmaster-General Amos Kendal. After three years of this service, he again resumed his practice. Aside from this he was interested in contracts for the construction of the Illinois-Michigan canal.
It is manifest that these seemingly incompatible activities did not detract from the esteem in which he was held by his colleagues and fellow-citizens, as he was appointed one of the trustees of the reorganized Rush Medical College in 1856. We find him acting in still another capacity as founder of the St. Louis School of Homeopathy. But the most interesting story concerning this man of varied talents is the one regarding what Dr. James Nevins Hyde points out was the first autopsy performed and the first medico-legal testimony given in Chicago.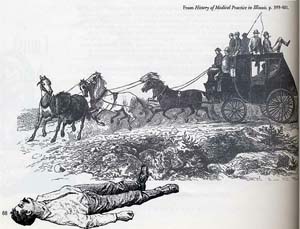 68
---
Hand Out 3
Illinois College of Medical Department
"At the meeting of the Board of Trustees in June, 1842, 'reports were made by the Faculty on the subjects of Medical and Law Departments in the college, which were read and referred to the Prudential Committee with full power to act in the premises as the interests of the college shall require.' In June, 1843, on report of Dr. Adams, of the Faculty, it was:
"Resolved, That it is expedient to establish a medical school in connection with this institution, to be under the control of the trustees, and that immediate measures be taken to carry into effect a plan for the above object, provided the same shall be without expense to the college treasury.
'"Resolved, That we now proceed to elect professors to fill the following departments of instruction in said school:
1. Anatomy and Surgery.
2. Chemistry and Materia Medica.
3. Theory and Practice of Medicine.
4. Obstetrics and Diseases of Women and Children.
'"Resolved, that the Faculty be authorized to make such regulations for the management of the Medical Department as they shall deem necessary.
"'Resolved, that the agent be authorized to lease the Medical Department such public rooms in the Chapel - including the north attic - as the Academical Faculty shall think can be spared from the purposes of the Academical Department.'
It would seem from the terms of the above resolution that the business affairs of the medical school were kept entirely separate, and that this department was not only required to pay its own way, but to pay rent to the Literary College for the use of part of its rooms. The reference to the attic is suggestive of the study of anatomy and dissecting — a subject which played a very important part in the future relations of the medical school to the community. On account of its dissecting room and the necessity of securing anatomical material from the neighboring graveyards, this school was literally a terror to the community, which stood ready to hang to the nearest tree the doctor who was guilty of malpractice, and to lynch him if he took steps necessary to acquire sufficient knowledge of anatomy to make himself proficient."

Making the medical school a part of the college gave it degree-granting powers. The only instruction accorded to many of our pioneer doctors was to 'ride with Prince or Jones' or some other philanthropic and conscientious physician. In the olden times it was considered a part of the duty of the doctor to 'take a student.' Much of their teaching was done systematically and thoroughly and contained an element of human worth often missed by the machine-made doctor of a later day...
"'The following qualifications, and compliance with the following requisitions, entitle a young gentleman to the degree of Doctor of Medicine from the institution:
1. He must possess a competent acquaintance with the Latin Language, and a sufficient knowledge of all the usual branches of an English education.
2. He must have pursued a thorough course with some regular practitioner.
3. He must have attended two full courses of medical lectures, the last of which must be at this institution; Provided, however, that experience in the practice of medicine may be accepted in the place of one course of lectures.
4. He must pass a satisfactory examination in all the branches of medical study, before the Medical Faculty, assisted by a board of censors, annually appointed for that purpose by the Trustees.
5. He must publicly read and defend a dissertation on some medical subject.
N.B. This institution does not require any definite term of study as a condition of graduation. A thorough knowledge of all the branches of medical science, whether acquired in a longer or shorter time, must, however, be exhibited at the examination..
'"Candidates for the degree of Doctor of Medicine are examined at the close of each course of lectures.
'"Degrees will be conferred at the close of the lectures, and at the annual commencement of the College on the last Wednesday of June.'
From History of Medical Practice in Illinois, p. 399-401.
69
---