OBIT
William Maxwell
Celebrated native Illinois writer William Maxwell died July 31 at the age of 91.

"We tend to talk about him as an Illinois writer. He is one of the finest writers Illinois has ever produced, but his body of work is important on a national and international level," says Barbara Burkhardt, who turned her critical biography of Maxwell over to an agent just two weeks before the writer's death.

Illinois, primarily downstate Lincoln, often served as the backdrop for Maxwell's books, including the American Book Award-winning So Long, See You Tomorrow, a 1980 novel set in 1920 that explores a scandalous murder and its effects on the friendship of two boys.

"He has called Illinois 'his imagination's home,'" Burkhardt says. "Maxwell captured both the provincial nature of the small town in Illinois as well as the beauty of his life there."

Lincoln also played a role when Maxwell chronicled his mother's death during the 1918 influenza epidemic in his 1937 novel They Came Like Swallows. Maxwell's family moved to Chicago after his mother's death, which is mirrored in the action of his 1945 tale of youthful friendship, The Folded Leaf.

Though Illinois figured prominently in Maxwell's fiction, work drew him to the East Coast, where he served as a fiction editor for The New Yorker magazine for 40 years and worked with writers John Cheever, John Updike and Vladimir Nabokov.

"I think with his death, his fiction will come to be known as his greatest contribution to American letters," says Burkhardt, who hopes her biography will advance Maxwell's stature as a fiction writer. "His fiction has been unrecognized in his lifetime, I believe." Maxwell's death came eight days after the death of Emily, his wife of 55 years.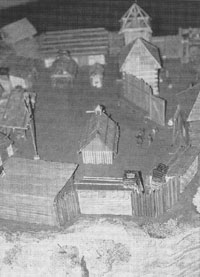 Photograph courtesy of IMSA
School projects
Claiborne Skinner, social science teacher at the Illinois Mathematics and Science Academy in Aurora, supervised the construction of this diorama of Fort St. Louis des Illinois, Franceís westernmost outpost from 1682 to 1691. For more than three years, his students researched and built the fort, the site of a 10-day battle between the Iroquois, French officers and Illiniwek that ended in the defeat of the Iroquois, a prelude to the French and Indian War. It marked a turning point in the history of colonial America. The fort is on permanent display at Starved Rock State Park in Utica.
---
Arlington track on the block
A $100 million offer to buy the stateís premier horse racing venue has a legislator calling for a second look at the controversial 1999 gambling law.
Richard Duchossois agreed to sell Arlington International Racecourse this summer to Louisville, Ky.-based Churchill Downs Inc., owner of the home turf of the prestigious Kentucky Derby race. After the announcement, Rep. Jeff Schoenberg questioned whether Duchossois had planned the deal as he lobbied for passage of the gambling measure. The measure, since signed into law, will cut the owners of horse racing tracks in on tax revenue expected from a new riverboat gambling venue law-makers designated for Cook County. ďThis taxpayer subsidy significantly boosted the value of Arlington and gives [Duchossois] a considerable windfall,Ē says Schoenberg. ďNo legislators were aware that the bill would boost profits from a subsequent sale.Ē The Evanston Democrat is chair of the House Appropriations Committee. He says he may hold hearings to investigate the timing of the takeover. Duchossois had closed the track in 1997, saying competition from the burgeoning casino business made it unprof-itable. News of its sale came after Arlington reopened on Mothers Day, when about 32,000 well-wishers, including Gov. George Ryan, showed up to try their luck at the ponies. An Arlington spokesman says the sale is part of an ongoing consolidation in the racing industry. Still, if approved by the Illinois Racing Board, this could be a gam-ble that goes sour for Duchossois. Some of his take depends on the opening of a casi-no in Cook County, and that remains in limbo due to two continuing lawsuits.
Edgar-era scandal still has legs
Two judicial rulings revived the ghost of Management Services of Illinois Inc.
ē The five unindicted co-conspirators in the MSI Inc. contract scandal were named after a ruling by the U.S. Court of Appeals for the Seventh Circuit. They are Michael Belletire, former Gov. Jim Edgarís deputy chief of staff; Janis Cellini, who was Edgarís personnel director; Jim Owen, former assistant to Senate President James ďPateĒ Philip; and Terry Bedgood and Terry Logsdon, aides to former Gov. James Thompson. The Illinois Press Association, The Associated Press, the Chicago Tribune and Copley Press Inc. sued to make the names public because statements from some of them became evidence in the trial of James Berger, a Department of Public Aid admin-istrator charged with helping to defraud the state. Berger was acquitted. The U.S. attorneyís office had argued releasing the names could unfairly burden the five because they hadnít been charged with a crime and had no chance to clear their names legally.
ē U.S. District Judge Richard Mills reduced the restitution Michael Martin and Ronald Lowder owe the state from $12.3 million to $172,000. Mills held prosecutors didnít prove Martin and Lowderís actions cost the state any more than that. The two were convicted in the 1997 investigation of a contract between the public aid department and MSI Inc., a Springfield-based data management company.