SPECIAL FOCUS
SPECIAL FOCUS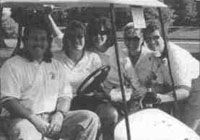 Photo:This lucky foursome was showered with chocolates, margaritas and roses by caddy Craig Ameel. When he's not auctioning himself as a caddy for NWSRA's Women's Only Golf Outing, Ameel is a special education teacher al Wheeling High School and a Special Olympics gymnastics coach.
The Best Golf Outing Ideas
If you think that that golf outings have to be the same old scramble-shot-gun-hot-dog-lunch-dinner-raffle, think again.
BY SUSAN DENNISON
Golf outings are a fixture at every golf course. A legitimate reason to slip out of the office on a warm summer day and support the community. A way to garner funds for programs and facilities in the age of tax caps.
If you think that golf outings have to be the same old scramble-shotgun-hot-dog-lunch-dinner-raffle, think again. Here are six creative golf outings that will make your community sit up and take notice and, best of all, bring support and visibility to your programs.

Women's Only Golf Outing
Northwest Special Recreation Association
Each September at the Chevy Chase Golf Club in Wheeling, the Northwest Special Recreation Association (NWSRA) kicks off its Women's Only Golf Outing with a caddy auction. And we aren't talking cars here.
The caddies are local businessmen who good-naturedly put themselves up for bid to help raise money for the Special Leisure Services Foundation, which provides funding for Special Olympics and inclusion, transportation, and scholarships for special recreation participants. The only requirement for these caddies is their willingness to let themselves go to the highest bidding foursome at the luncheon auction that brings as much laughter as it does support for special recreation programs. Bidding for a caddy starts at $60 with about 25 men volunteering to serve as caddies for the event. The 100 women golfers pay $55 each to tee off in the 9-hole shotgun/scramble that concludes with cocktails, hors d'oeuvres, and a raffle.
While some might raise an eyebrow at the "sexist" nature of the event, NWSRA director Kevin Kendrigan is quick to point out that the golfers enjoy the fun, relaxed atmosphere of the event and no one takes the golf too seriously.
"As for the caddies, they really get into the auction," says Kendrigan. "They show up with flowers, chocolate, and mimosas to increase their value."
A variety of hole contests like closest to the pin and longest drive, keep the competition light and entertaining. And while the caddies don't golf, "caddy Mulligan insurance" can be purchased for $5 (in addition to regular Mulligan insurance) which allows the caddy to play a shot with his foursome.
Illinois Parks and Recreation * March/April 2000 * 23
---
Sponsorship opportunities are available to local and corporate businesses for everything from event sponsor ($1,000) to hole sponsor ($100). Last year the outing raised $11,500 from the auction and sponsorships.

The Women's Only Golf Outing was the brainchild eight years ago of Gerry Oakes, director of the Arlington Heights Park District (he's also been sold as a caddy), and Debbie Carlson, director of River Trails Park District. At the time, Carlson was the only woman on the NWSRA board and she suggested that a women's only outing would be a good draw. From there, the idea of the caddy auction was born.

This outing is one of seven that NWSRA does each year, its largest being the A La Carte Budweiser Classic which is held simultaneously at two golf courses. Kendrigan stresses that local community support is imperative for the success of any golf outing, but especially at the Women's Only where you rely on local businessmen to put themselves "on the block."

"Golf is a great way to involve a lot of people in the community and create good will," Kendrigan says with a smile. "Besides, I think the Women's Only Golf Outing gets a kick out of being a little politically incorrect."


Golf For Kids
Fox Valley Park District
While raising money to provide more recreation programs or enhance existing services is the goal of most golf outings, few do it as well as the Fox Valley Park Foundation. In 1999 the foundation raised $35,000 at its Golf For Kids outing to provide recreation opportunities for youths who were unable to participate in park district programs because of financial or transportation difficulties. Last year the foundation provided bus service to 120 children to give them the chance to play tennis and more than 400 children participated in the district's "Hook a Kid on Golf" program.
"The key to the success of any golf outing," says Robert Vaughan, executive director of the Fox Valley Park District, "is to get the community involved. Business leaders have to join in to make it a success."
This involvement and commitment has led to 240 golfers signing up to play in the Golf For Kids Outing at the Orchard Valley Golf Club. In fact, the event has gotten so popular that if you haven't paid your $125 entry fee by late-April, chances are you'll be on a wait-list for the June event.
Now in its sixth year, the Golf For Kids outing provides breakfast to golfers before the double shotgun start. Lunch is served on the course and dinner follows at the end of the event where golfers receive thank-you gifts.
Sponsorships are available for $1,000, which allow a corporate or local business representative to play for free.
"Most of the sponsors use the event as a business outing, inviting clients or local politicians to play in their foursomes," Vaughan says.
24 * Illinois Parks and Recreation * March/April 2000
---
THE BEST GOLF OUTING IDEAS
When the event began it was to raise the public's awareness of the Fox Valley Park Foundation. The plus-side of this increased visibility is that the foundation has received independent bequests apart from the golf outing. A perfect example of success begetting success.

September Scramble
Winnetka Park District
Any district with a golf course can tell you that if they were to fill all the requests received by not-for-profits for gratis use of their course, they could book an outing every week of the season. The trick is to balance the needs of your local not-for-profits and your community golfers. If you're the Winnetka Park District, you make that happen with a little creativity and cleverness.
In 1988 the park district hosted its first September Scramble to pay off revenue bonds. The outing was such a huge success that staff decided they wanted to continue sponsoring what had become a great community event. They also realized they were being inundated with requests from not-for-profits to hold golf outings at the Winnetka Golf Club.
"We had more requests than we could possibly fill, so we came up with a way to screen applicants and still ensure the overall success of the outing," says Dan Newport, executive director of the Winnetka Park District.
The key was to establish a set of criteria that could be used to screen organizations requesting use of the course and develop an understanding that the Winnetka Park District would run the event for the group. It was, Newport felt, a way to make sure that the same high quality event was held each year. The district is responsible for setting the $125 participant fee and outing date (the first Wednesday after Labor Day) and providing food, drink and carts. They also help the selected organization solicit sponsorships and advertise the event.
But how does one go about being selected for what has turned out to be a guaranteed money-maker? After interested organizations (not-for-profits only) have applied to the district for use of its course, a review committee looks at the applications and then makes its selection based on which organization or organizations will provide the broadest community service to Winnetka. The committee also considers the financial condition and needs of the group. All money that is raised at the outing must be earmarked for scholarships or capital projects, not operating costs. Once selected, the organization is ineligible to participate in the event for three years.
Says Newport: "The groups actually liked knowing that selection procedures existed, because everyone was on a level playing field."
One of the reasons the Winnetka Park District is adamant about maintaining the supervision of the outing is that the September Scramble had become an extremely successful, high-quality community event.
"We didn't want to lose that," Newport says. "About 70 percent of our golfers participate no matter who is sponsoring the outing. They just want to be part of it. We have people who only golf once a year and it's at this event. It's a fun, low-key day where it doesn't make any difference what you score."
The event, which draws 136 people, has between 35 and 45 hole sponsors. Other sponsorship opportunities are available from $250 to $750. The park district provides a lunch before the scramble/shotgun start and then caps the evening off with dinner and cocktails and thank-you gifts for golfers.
Over the years participating groups have raised between $30,000 and $40,000 for their programs. It is an event in which "everyone wins," Newport remarks, noting that one year an organization received an anonymous check for $10,000 at the outing.
"People leave this event looking forward to next year's," says Newport. "What better testimonial to a successful outing could there be?"

So, who wants to be a millionaire?


Daily Herald $2 Million Dollar Hole-In-One Shootout
Schaumburg Park District
So, who wants to be a millionaire? At least 700 golfers in Schaumburg want that and more, but only a lucky 60 will have the chance to tee off for a grand prize of $2 million dollars at the Daily Herald $2 Million Dollar Hole-In-One Shootout.
Qualifying for the chance to sink a hole-in-one is what keeps attracting golfers to this four-day event each year. Golfers start out by trying to get their golf balls to land in the target circle (or as close as possible to the circle), which is 140 yards out from the tee mats at the driving range. If they make it to the semifinals they get three balls for every previous qualifying shot. From
Illinois Parks and Recreation * March/April 2000 * 25
---
SPECIAL FOCUS
there, the 60 most accurate golfers play a par 3,185-yard hole where they get two balls: the first shot is for the chance to win $2 million dollars, the second to win a car. Lesser prizes are also awarded to the golfer who gets closest to the pin or sinks the first putt.
Golfers pay $20 for a bucket of 20 balls and are free to hit as many drives as they want during the qualifying rounds.
And although no one has sunk the big one yet, Jean Schlinkmann, director of communications and special projects, thinks the day is coming.
"We've had golfers hit the flag pin and land six inches from the cup," says Schlinkman. "It will be terrific when it finally happens."
The Shootout, now in its seventh year, raises between $20,000 and $25,000 each year for the Schaumburg Park Foundation's capital projects. This year the foundation hopes to purchase a luxury coach bus for senior and community trips. The foundation also holds the $100,000 Woodfield Mall Putt Off during the same four days as the Shootout and offers a prize of $100,000 to the person who can consecutively sink a 10-, 20- and 50-foot putt.
Because of the amount of prize money, the greatest expense of the Shootout is the insurance premium on the policy that will be paid out to the winner who hits the jackpot. Sponsorships are imperative, Schlinkmann stated, noting that the Daily Herald's support has made it possible for the foundation to be able to offer such a large grand prize.
"We also have local and corporate businesses who donate cash or in-kind services," says Schlinkmann. "Most sponsorships start at $1,000."
Schlinkmann noted that the insurance policy only permits a certain number of golfers to play in the finals (60 for the Shootout and 20 for the Putt off). All golfers who participate in the finals receive gifts, such as umbrellas, golf balls, and beer tumblers that have been donated by sponsors.
"We wanted to do something different from an ordinary golf outing," Schlinkmann says. "We've found that our golfers really like it because they are playing against themselves. The money draws them in because they want that chance to make that coveted hole-in-one."
As for her advice to other park districts thinking about launching into something of this magnitude, the key to its success is being well organized. Schlinkmann also recommends finding a title sponsor like the Daily
26 * Illinois Parks and Recreation * March/April 2000
---
THE BEST GOLF OUTING IDEAS
Herald newspapers who is eager to become more visible in the community. Now, it's just the case of sitting back and waiting for the day when some lucky golfer goes home a couple million richer.

Cosley Classic
Wheaton Park District
Do you remember trying to see how many people you could cram into a Volkswagen Beetle or phone booth? If you aren't old enough to quite remember that, suffice to say "the more the merrier." And although it's not trying to stuff people into a phone booth, the Wheaton Park District believes that the more golfers it has at the Cosley Classic, the greater the financial support for the Cosley Zoo. With this year's participants expected to number 360, it will be one of the largest golf outings around.
Last year, renovations at the district's Arrowhead Golf Club led to modifying its normal format of 324 golfers in 54 six-somes playing a shotgun/scramble on 27 holes. With part of the golf course under construction, the district switched to splitting the event into two flights with the morning group teeing off around 7: 00 a.m. The district hopes to have renovations completed by 2001 and return to using all 27 holes.
"We started with foursomes, like everyone else, but we had so much interest in the tournament we decided to go to six-somes," says Bob Dunsmuir, director of the Wheaton Park District. "It does, however, take at least five hours to finish a round of golf."
Golfers pay $125 to participate in the Cosley Classic, now in its 17th year and hosted by the Cosley Foundation for the purpose of funding capital improvements at what was once called Cosley Children's Farm. Last year the children's farm was renamed Cosley Zoo to better reflect the diversity of the facility.
More than $30,000 was raised last year at the outing. Jerry Douglas, Cosley Zoo manager, notes that through the efforts of the foundation—which raises $150,000 a year—the zoo has been able to renovate its train station, duck pond, and is currently working on its wildlife displays.
The foundation seeks sponsorships to offset the costs of running the event. Corporate and local businesses can sponsor everything from holes to meals (ranging from $100 to $5,000). Golfers receive a variety of gifts that have been donated by businesses and a raffle is held during the dinner. Breakfast, lunch, and dinner are provided as part of the participation fee.
Says Dunsmuir: "Our businesses use (the Cosley Classic) to entertain their clients and we generate revenue that goes directly back into the community through the Cosley Zoo."

Moonlight Golf Outing
Joliet Park District
It's 9:30 at night—do you know where your golf ball is? You would if you were playing at the Joliet Park Foundation's Moonlight Golf Outing. It would be that florescent sphere sailing into the sand trap or disappearing into the rough or, if you were really lucky, flying straight down the middle of the fairway.
Moonlight golf may seem like an oxymoron but for the past 12 years the Joliet Park District has sponsored its nighttime event as a 9-hole shotgun/scramble. The evening kicks off with a buffet dinner and ends with pizza and prizes for 60 golfers who pay $75 to participate. And, considering that golf is a sport meant to be played on lush greens with a brilliant white ball, adaptations to the game are not only required, but necessary.
"We use florescent golf balls and the pin flags have florescent on them also," explains Ann Patti, communications manager for the Joliet Park District. "Golfers wear glow necklaces so they can be seen by other groups."
The event starts at 8:30 p.m., with certain holes cordoned off because of potential hazards. Patti cautions that districts interested in hosting this type of event should take a good look at their courses and choose holes that don't offer obvious hazards like narrow or rough pathways or water. She also recommends providing a good map to the golfers because it will be very dark by the time the event ends.
The Moonlight Golf Outing raises about $15,000 each year for the Joliet Park Foundation, which funds one main project each year. This year the foundation is helping to rehab the district's greenhouse and conservatory.
Foundation board members also sell tickets for the four or five more expensive raffle prizes. They also help with soliciting hole sponsors for the event.
"It's a great event for business people because it's so relaxed," Patti says. "Our golfers love this event. By 8:30 p.m. they're raring to get on the course."
This is truly an event to put stars in your eyes and a glow to your cheeks.
To be successful your outing must be fun and have local community support. Take what you need from these districts that thought "outside the box" and make it your own to match the needs and wants of your community and you can be sure you will have an event to remember long after the last golf club is put away. 
SUSAN DENNISON is the public relations supervisor for the Des Plaines Park District. And, while she doesn't golf, she happily supports her husband's enthusiastic attempts to lower his handicap. Her article "Say It with Photos" appeared in the May/June 1999 issue of the magazine.
Illinois Parks and Recreation * March/April 2000 * 27
---