Illinois
Currents • News • Legislation • Trends • Research •
---
Leaders address rural problems with new solutions

Lieutenant Governor Coninne wood outlined an action plan for improving the economy and quality of life in rural Illinois at a conference held in February. Wood said while the rest of the economy has seen significant growth, rural Illinois has lost ground in terms of Jobs and quality of life.
Several electric cooperative leaders, including Delbert Mundt, director for Norris Electric Cooperative, Newton, and Lynn Frasco, manager of Menard Electric Cooperative, Petersburg, recently participated in the 12th Annual Rural Community Development Conference. The conference was sponsored by the Illinois Institute for Rural Affairs (IIRA), in conjunction with Rural Partners and the Governor's Rural Affairs Council.
Lieutenant Governor Corinne Wood spoke about the work of the Governor's Rural Affairs Council (GRAC), the recent Rural Leadership Forums, the annual GRAC/IIRA report and plans for the next legislative session. Wood said, "In rural Illinois we have lost ground in terms of jobs and quality of life. All the trends are disturbing." Wood outlined plans that the rural development leaders hope will reverse those trends.
For example, Wood described a rural innovations program that will encourage the best new ideas, with funding for communities that try new strategies and ideas. The ideas will be shared through a web site.
Wood briefly outlined the Governor's Rural Affairs Council's action plan titled Rural Illinois: Charting a Course for the New Millennium. Five major areas are addressed in the plan and include technology, transportation, affordable housing, jobs and health care.
During the conference, sessions were held on implementing technology in rural communities, balancing growth with quality of life, value-added agriculture and successful rural housing strategies. Those attending the conference also participated in sessions on telecommunications planning and financing economic development efforts.
Additional information is available from www.iira.org or by calling IIRA at 800-526-9943.
6 ILLINOIS COUNTRY LIVING • APRIL 2001
---
First fuel cell test completed by Illinois electric co-op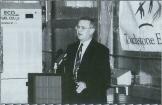 "We are very excited about this new technology," said Tom Hentz, president/ CEO of EnerStar Power, during a press conference to announce the completion a fuel cell test. "EnerStar Power Corp is constantly investigating new and emerging technology that will help our members. We realise that alternative sources energy will be important to supplying our members' energy needs in the future.
EnerStar Power Corp, a Paris-based energy cooperative, has completed the first field test of a fuel cell that in the future will allow co-ops to provide electricity without power lines and poles. A fuel cell is an electrochemical device that converts propane or natural gas directly into electricity. There is no pollution or combustion, and water and heat are the only by-products of a fuel cell.
The alpha test unit was one of eight installed at the offices of electric cooperative members of Energy Co-Opportunity (ECO), an energy diversification cooperative helping co-ops find innovative ways to serve the energy needs of co-op members. The test started last April and the EnerStar Power test unit was partially funded with a grant from the Illinois Department of Commerce and Community Affairs (DCCA) Bureau of Energy and Recycling, Division of Energy.
Eventually fuel cells will be about the size of the central air conditioner sitting outside your home and will supply clean electricity with no blinks, voltage sags or outages.
The test was designed by H-Power, the manufacturer, to find and correct any unexpected problems. Next, ECO will install H-Power's second-generation beta test units at EnerStar Power and 39 other electric co-op sites across the country. The beta test fuel cells will produce 4.5 kw, 50 percent more than the energy output of the first alpha units, plus the units will be significantly smaller.
Eventually the H-Power fuel cells will produce 10 kw, enough to power a normal home and will use about 40 gallons of propane a month. The first commercial fuel cells could cost as much as $8,000 for a 10 kw unit, but the price is expected to eventually drop to $4,000 or less. The fuel cell can use propane or natural gas and, depending on the price of fuel, will produce electricity at 7.5 to 9.5 cents per kwh.
Co-ops will use fuel cells first in hard-to-serve remote areas, where the cost of building new line is more expensive than providing electric service with a fuel cell.
ECO and its member cooperatives are also investigating other energy alternatives including microturbines a solar photovoltaics. All these new technologies will allow co-ops to diversify their power supply sources and provide what is being called distributed generation to co-op members.
The EnerStar Power test unit was partially funded with a grant from the Illinois Department of Commerce and Community Affairs (DCCA) Bureau of Energy and Recycling, Division of Energy.
---
Meth labs invade rural Illinois
Illinois Country Living magazine's June, 2000 cover story warned that a methamphetamine drug problem was on the rise in rural Illinois. It appears that the drug has tightened Its grip even more since last year.
Methamphetamine "cooks" often find isolated rural areas to make their drug and also dump the leftovers from the process, creating a new hazardous waste problem for rural residents. It's like a plague that's moving across the state.
Sharp-eyed rural residents are the best allies police have in this fight. Watch for suspicious vehicles around your property. Keep an eye out for tracks around anhydrous tanks. Also look for loose valves, duct tape, garden hoses, bicycle inner tubes, buckets and coolers sometimes left behind. Other signs include trash dumped in ditches, including items like gas cans, plastic bottles with hoses, cold medicine boxes, battery wrappers or starter containers. These are all the everyday ingredients that are used to produce the drug. But don't touch or handle any of these items.
If you suspect a meth lab in your area, or see signs of drug making, do not expose yourself to harm or disturb the crime scene. Leave the area at once and call your local police or the hotline at (800) 742-9333.
8 ILLINOIS COUNTRY LIVING • APRIL 2001
---