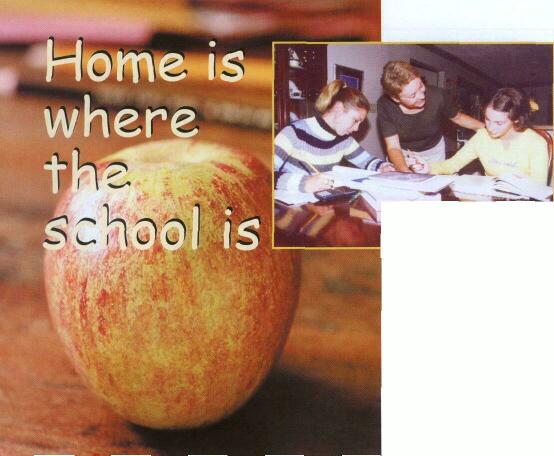 By Catrina McCuley Young
Vicki Burris (center) says she's really enjoyed teaching Lauren and Lane through the years.
A bell rings, children rustle through their desks gathering papers and books and shoving them into backpacks. They congregate at the door ready to go home from a long day of reading, writing and arithmetic. Anxiously waiting for the teacher to dismiss them, they wave to their parents from the threshold and hold up colorful pictures of butterflies they made from their handprints.
This is the image that most people see when they envision school, but it's a very different picture for the more than 1.5 million families in the United States who choose home schooling over public education for their children.
"It involves a lot more patience than I could have ever imagined."
There are vast differences between the public school system and home schools. Public schools begin each morning at the same time, and children face very structured schedules from one day to the next. And each public school is set up just about the same way. Home schools, however, differ not only from public schools, but also from household to household. Some parents choose a more organized day for their children with lesson plans and projects, and other parents allow their children to learn at their own pace, without setting schedules at all.
Public schools are required to teach 176 days or 880 hours per calendar year. Yet the state of Illinois has no requirements for minimum days or hours a home school must spend on academics. And just as the public and home schools differ in organization, they also differ in strengths and weaknesses.
Tracy Ridpath and her husband Robert of rural Sullivan weren't sure that the public school system was the right choice for their daughter Jessica, 13. So when she was four, the couple decided to try home schooling. "I thought that no one could give her (Jessica) a better education than I could," says Tracy. But she says she didn't know exactly how much would be involved when she decided to do it.
Home schooling is much more than just staying home with your kids and giving them books to read. "It involves a lot more patience than I could have ever imagined," says Tracy, who gave up her job as a computer systems analyst to stay home. Tracy says she had two problems with home schooling. She felt that she had no time for herself, and she says it was hard to get Jessica to respect her as both parent and teacher. "It was as if we were spending too much time together, and she would deliberately disobey me because I was home with her all day. But when her dad was home, she'd listen to him. I
10 ILLINOIS COUNTRY LIVING NOVEMBER 2001
---
got so frustrated."
Tracy ultimately decided to enroll Jessica in public school when she was eight, and she says things are working out much better for them. "I appreciate Jessica more now, and I think she feels the same about me because she is actually excited to tell me about her day when she comes home from school," says Tracy. Both Tracy and Robert agree that Jessica needed a lot of structure in her life, and she gets that in the public school system. "Plus," says Robert, "Jessica has a lot of great friends now ... they are all in separable. It seems like every weekend she has someone over for a sleepover. I think it is very good for kids to interact with their peers. They need that release." And Tracy says that even though home schooling wasn't right for them, "I still think it's a great idea, but it's definitely not for everyone," she says. Tracy is just glad that they had the option of public school available when home schooling didn't work out.
But there are still quite a few home schooling success stories to tell. "Home schooling is growing at a rate of about 7 to 15 percent per year," says Vicki Burris, a member of Shelby Electric Cooperative in Shelbyville and member of the Greenhouse Home Educators, a Decatur-based support group for Christian parents educating their children at home. "My husband Don and I are on the board because we feel that support is very important on an issue such as this. When we made the decision to home school our children, it was nice to know there were people around who had gone through the same steps and were there to help," she says.
"We realized that home schooling our children was building character in them."
The Burris' made the decision to home school their two daughters, Lauren, 16 and Lane, 13 when they were born. "The reasons people choose to home school their children are all very unique," she says. Some people do it for religious reasons, some people don't care for the school system in their town, and some do it because their child or children have special needs or because of school violence or behavior problems. "But for me," says Vicki, "the decision was initially because I just wanted to spend as much time with my kids as I possibly could." Vicki confesses that she had mixed emotions about home schooling at first, and had originally only planned on home schooling for one year, but after that year had passed, she realized there were many more reason she wanted to keep doing it. "We realized that home schooling our children was building character in them, and would keep them holding strong family ties. We also thought it would reduce peer pressure, give them a strong Christian value system, and teach them how to think and learn from life, as well as from books," she says.
But this was not a decision that the Burris' took lightly. There are a wide variety of misconceptions that are often made about home-educated families. It's been said that home schooled kids never learn the socialization skills needed to function in society. And some people aren't even sure if home schooling is legal. "A lot of people say that home schooled kids will be socially challenged because they don't interact with people," says Lauren, "but my sister and I have gotten many opportunities to interact with both adults and kids."
"That's always been the big 'Boogieman' of home schooling," says Vicki. "We see socialization as what parents teach their kids about how to behave in their culture, not what they learn from their peers," she says. Lauren and Lane have been involved in 4-H for eight years, and Vicki says they get plenty of socialization at that level. "Plus, our home schooling group has music bands come in for the kids, and they offer dance lessons, gymnastics, ice skating and other activities," she says.
Lauren admits that there are some social activities that she and her sister miss out on, "but they are not things that are really going to affect our lives," she says. And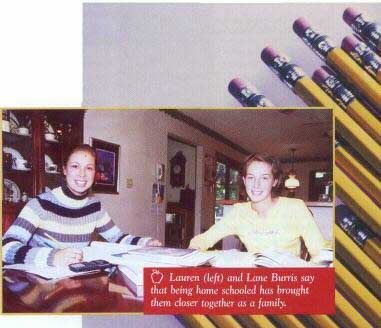 NOVEMBER 2001 ILLINOIS COUNTRY LIVING 11
---
Vicki and Don Burris like to incorporate life lessons on their girls' school day. Here, Lane (right) and Lauren take care of one of their family horses.
Lane adds, "I've really enjoyed being home with my mom and sister. I feel I know them a lot better than most kids get to know their mom and sister."
According to Illinois law, the only requirements of a student is that between the ages of seven and 16 they attend a public school, unless they are attending a private or parochial school where the branches of education are being taught in English. According to the Illinois Supreme Court, a private school is considered "a place where instruction is imparted to the young ... the number of persons being taught does not determine whether a place is a school." Therefore, a home school in Illinois is treated as a private school.
"We're really not under the public school's authority," says Vicki. But she says she follows the Illinois statutes, chapter 122 section 26-1, for public schools, which affirms that children will be taught language arts, biological and physical science, math, social sciences, fine arts, health and physical development, plus honesty, justice, kindness and moral courage. "Even though we're not technically under public schooling, and it's not mandatory for private or home schools, we do recommend that people teach their children by this statute," says Vicki.
"It takes both parents to make it work"
Tony and Martha Vendetti, members of Corn Belt Energy Corporation in Bloomington, have been home schooling their two sons Michael, 17 and Christopher, 16 from the very beginning. "Michael was five, and Christopher was four when we decided to home educate them," says Martha. "I had never even heard of it when Martha brought the idea up to me," admits Tony. But after a lot of research and faith, the couple decided home schooling would be best for their sons.
And even though home schools are considered private schools, the Vendettis said at the beginning they were given everything but privacy. "Twelve years ago, when we started home schooling, we got some ridicule for our choice," says Martha. And Tony says that most of it came from the school district. "They'd come out and check on us, even though they really didn't have the right to," he says. The Vendettis became a part of the Home School Legal Defense Association, a nationwide organization that provides defense to home schoolers in legal situations. And because of their involvement, they knew their rights in situations like these. "When school officials came by the house, we were always polite. And if they asked for something we didn't feel comfortable giving them, we replied with 'We're not required by law to give you that,'" says Tony. And after about two or three years, the Vendettis said they stopped coming around.
More and more families are choosing to home educate their children, and each family has one thing in common ... they all use very different techniques. The Vendettis say the key to home schooling in their situation was to find out what interests their kids had and then use those interests to help them learn. "Everyone learns in different ways, and everyone has different interests," says Tony. "So what's nice about home schooling is that there are no rules. The kids have the freedom to keep going when they are interested in something, rather than moving on to a new chapter because the class has to move on. If you're studying something and you want to take it to another level, no one says you can't do that."
The Burris' method involved not only teaching the girls to learn from books, but they also wanted them to learn all about life and in-
12 ILLINOIS COUNTRY LIVING NOVEMBER 2001
---
corporate that into their lessons. "I wanted to try to teach my children to look at every situation and ask themselves 'What can I learn from this?,'" says Vicki.
And even though their learning techniques were very different, both families agreed about one thing. "It's a family effort," says Vicki. "At the end of the day when I am burned out, it always makes it worth while when Don comes home and says he's proud of me, or that I did a good job."
"It takes both parents to make it work," says Tony. "I think that's what brings the robustness and the rounding of life to kids. Kids won't figure life out by hanging out with other kids, they'll figure life out by learning from those who already have life figured out," he says.
So you want to home school your kids?
Making the decision to home school can bring about a freeing, euphoric feeling, which might be immediately followed by panic. "When we first made the decision," says Vicki, "one moment I was telling myself I could never do this, and then the next moment I was convinced that I was making the right decision." Martha adds, "I felt like I was the only one out there doing this."
Vicki suggests starting out by doing a lot of research at the library and on the Internet, but also by going to a lot of conventions and talking to other parents who home school. "Before I did research, I thought I had to have a lot of standard curricula, a lot of text books, and a little red school desk," Vicki says. "But I soon realized that home school really gives you freedom to teach, not only from text books, but also from life."
Although most of America's children attend public school and attain success in doing so, studies done by Patricia Lines of the U.S. Department of Education and Dr. Brian Ray, president of the National Home Education Research Institute, conclude that parents all over the country are educating their children at home with outstanding results. "Any parent can do this. You don't have to possess a college degree, or a degree in education. You just have to have faith in yourself and your children," says Vicki. "And if you have that, the rest will just come naturally."
For more information...
Web sites
The Home School Legal Defense Association. Find out more about your rights in Illinois, http://www.hslda.org/hs/state/IL/default.asp
Join other home schoolers online. Find resources, get help with a difficult project, or just share the great rewards of home schooling. http://www.startuppage.com/homeschl.htm
Find everything you need from how to get started to resources for the more experienced, http://homeschooling.about.com/?once=true&
Find out the answers to the most frequently asked questions on home schooling. http://www.americanhomeschoolassociadon.org/
Illinois legal information- everything you wanted to know about home schooling in Illinois, http://homeschooling.about.com
For information on obtaining new learning materials go to www.elijahcompany.com or www.timberdoodle.com
For information on how to find used materials go to www.vegsource.com
Magazines
Home School Digest
PO Box 575
Winona Lake, IN 46590
Homeschooling Today
PO Box 956, Lutz, FL 33549
Practical Homeschooling, Home Life
PO Box 1250, Fenton, MO 63026
The Teaching Home
Box 20219, Portland, OR 97220
Phone: (503) 253-9633, Fax: (503) 253-7345
Videos and audios
Christian Life Workshops
PO Box 2250, Gresham, OR 97030
Phone: (503) 667-3942
Home schooling: A foundation for excellence
HSLDA (Home School Legal Defense Association)
Purcellville, VA 22129
Phone: (540) 338-5600
Organizations
Christian Home Educators Coalition
PO Box 47322
Chicago, IL 60647-0322
CHEC Update/ Information and
Fax: (773) 278-0673
Email address: CHEC@chec.cc
Illinois Christian Home Educators
PO Box 775
Harvard, IL 60033
Phone: (847) 662-1909 or (815) 993-7882
Fax:(815)943-7883
Email address: ICHE83@juno.com

NOVEMBER 2001 ILLINOIS COUNTRY LIVING 13
---