Midnight Rainbows
Some of the best fishing takes place in the still of the night
STORY AND PHOTOS BY GARY THOMAS
Although he doesn't take many clients on this kind of trip, night fishing for rainbows is one of fishing guide Al Nutty's favorite outings.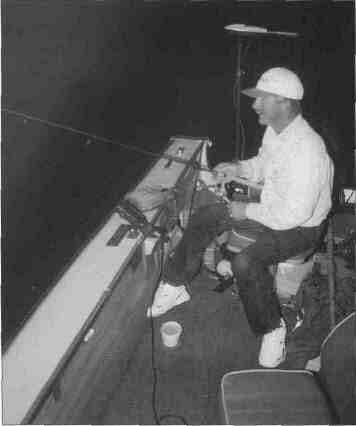 There was a little bit of confusion at Devils Kitchen Lake one early June evening. The sun was setting, and anglers were lined up to get their boats off the lake—except for us. We were lined up to put our boat on the water.
While most anglers were concluding a day on the water, fishing guide Al Nutty and I were just getting started. Ours would be the only boat on the lake this evening. We had the water to ourselves, and as we reached our fishing spot, stars began peeking out through the scattered clouds and a pair of inquisitive Canada geese swam by with a half-dozen goslings. Shortly thereafter, a nearly full moon lifted above the eastern shoreline, reflecting itself on the mirror-still water. If a picture painted with words can define tranquility, this was it.
Devils Kitchen is an 810-acre U.S. Fish and Wildlife Service lake located between Carbondale and Marion. It is high-quality water— fertile, deep, cold and clear. In other words, it's perfect habitat for year-round rainbow trout.
"I don't take a lot of clients out at night fishing for rainbows, but this is one of my favorite trips," Nutty said. "It's everything I look for when I'm fishing. You generally catch fish; it's relaxing and peaceful; the lake scenery can be beautiful at night; you don't have to work hard at it, and it's a good time for pleasant conversation."
Nutty is usually associated with taking clients for muskie or crappie trips at Kinkaid Lake. In fact, it was during a previous fishing trip to that lake that he had mentioned his night-fishing excursions for rainbow trout, and after two or three of my subtle hints, he invited me along for an evening of fishing.
And Nutty was correct: It was relaxing and peaceful; the stars and full moon provided us with spectacular scenery; and the conversation was pleasant. During the course of the evening, we discussed UFOs, fishing, govern-
---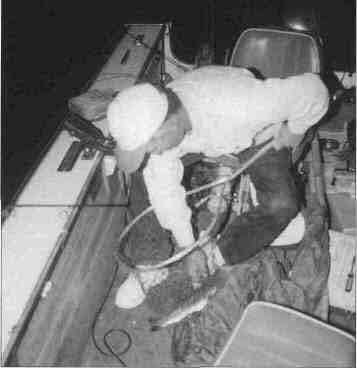 One of the best aspects of night fishing at Devils Kitchen is that you almost never get shut out. The rainbow trout there are aggressive night feeders.
ment, baseball and astronomy, and solved dozens of national, state and local problems. We also caught some fish. "
To catch rainbow trout in this lake, you have to scale down your equipment," Nutty said. "You have to be stealthy. This water is very clear and trout are wary fish. Use a small hook, light line and not too much bait. I use 2- to 6-pound test line and a light No. 6 or No. 8 Aberdeen hook. The tougher the fishing becomes, the more I scale down my equipment."
Nutty about fishing
While primarily a muskie guide on Kinkaid Lake, Al Nutty fishes numerous southern Illinois lakes and ponds. He takes clients fishing for bass, crappie, sunfish and, of course, trout. He can be reached by writing: Al Nutty, 305 Nightingale, Carterville, IL 62918; calling (618) 985-4105; or emailing anuttyl@onemain.com. You can also visit his website: www. kinkaidlakeguides.com.
Nutty bends the point of the hook outward slightly to ensure a little better hook-up when the fish takes the bait.
"I prefer tightlining," he said. "I seldom use a bobber. I don't know if the fish sense the bobber and spit out the bait or whether the extra slack in the line doesn't enable me to make a good hook set, but I just seem to catch more fish without a bobber. If you do use one, make sure it's small and sensitive."
Nutty puts a small split shot about 18 to 20 inches above the hook to help get the bait down to the fish. If you go weightless, he said bluegill oftentimes will grab your bait as it descends through the water. This, of course, isn't necessarily bad. You can catch some nice fish this way.
His bait of choice?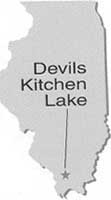 "Worms," he said. "It's probably the best all-around bait for any kind of fishing, and I think it's definitely best for this kind of trout fishing. I use about two inches of nightcrawler on my hook. I've used corn and some of the prepared baits succcessfully, but I keep coming back to worms. I feel more confident using this bait."
One more item needed for a successful night fishing trip -- a light. Fish feed throughout the night, projecting light down into the water just makes it that much easier for
| | |
| --- | --- |
| | The average rainbow will be about 12 inches at Devils Kitchen, but they live there year-round, so 16-inch fish aren't uncommon. Nutty said the largest catch he knows about was a 29-inch trout taken four years ago. |
---
them to find food. While some anglers hang a light on the side of their boat and others use fluorescent light sticks that hang deep into the water, Nutty prefers a simple car headlight.
Things you need to know
The first thing you need to think about while night fishing is safety. Make sure someone knows where you're going and when you should be back. While water tends to be calm during the evening hours, it's a good idea to wear a personal flotation device, especially while the boat is moving or if you experience bad weather.
Make sure your boat's running lights are working. State law requires both the green/red combination bow and white stern lights to be working on powered boats while underway or drifting from sunset to sunrise. Only the stern light is required if you're anchored. Non-powered boats are only required to carry a light or lantern visible for up to 2 miles and to show the light to avoid collisions any time another boat is near.
You'll also want to take along a good flashlight and extra batteries, plus insect repellent. Don't wear cologne or other scented products that might attract insects. A cell phone is handy to have along as well.
Finally, unless exempt by law, you'll need a fishing license. If you're fishing for rainbow trout, you'll also be required to purchase an inland trout stamp.
"I used to have a fancy light system," he said. "But when it stopped working, I just headed over to an auto parts place and bought a sealed beam headlight. I wired it to my trolling motor battery and put it in the water. It floats, of course, and shines right down toward the bottom of the lake. The light attracts bait fish, and bait fish attract the trout."
Shortly after the light went into the water, we could see layer after layer of emerald shiners suspended in the glow. Nutty said bluegill will be the first predators to move close to the light. They feed near the surface. Crappie show up next at about 8 to 12 feet, and the trout then arrive a little farther down.
"I usually begin fishing about 15 feet down and then lower my bait a foot or so at a time until I find the fish," Nutty said. "I generally stay at a depth for 20 minutes before moving. The closer to the surface you find them, the more active they will be. But I seldom catch them any shallower than 15 feet."
We spent the entire evening fishing near the lake's dam, in about 60 feet of water. But Nutty said trout are found throughout the lake.
The Night Club
I belong to a social club that meets a few times a month at Lake Springfield. It's a fishing club, of sorts, and I'm currently on probationary status for poor attendance at past meetings. I'm hoping this story might get me back in the organization's good graces.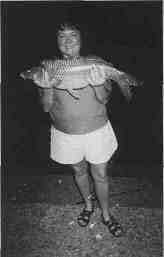 Susan Dubre, a member of the Dam Fishing Club, holds a large carp she caught during a night fishing trip last year.
"You can get a lot of night fisherman on this lake on weekends, and even during the mid-week when fishing is really good," he said. "On a busy night, there might be 8 to 10 boats out here. A lot of those anglers will be along the dam area, because that's where we seem to have our best all-around success. But as long as you have 40 feet of water below you, you'll probably find trout. The bigger trout seem to be taken in the timbered areas."
Nutty said the average catch will be a 12- to 14-inch fish, with a few 16 to 18 inchers.
"The largest trout I know about was a 29 incher that was caught four years ago," Nutty said.
The best time of the year for night fishing is July and August, but you can catch trout at night as early as May and still be catching them this way well into October. The best time of the evening varies, however.
"In the early part of the year, before the water gets warm, you can start catching fish just as soon as it gets dark," Nutty said. "The warmer the water becomes, the later you'll
---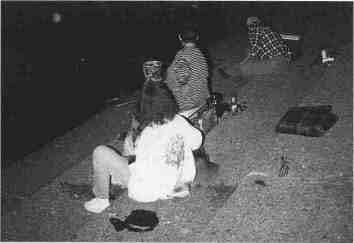 The social aspects of the evening tend to outweigh the fishing. Dam Fishing Club members get their lines in the water, then settle back and enjoy the evening.
Until I decided to write this, I had no idea the organization had a name. It does. It's the Dam Fishing Club. That's an appropriate name, because all the fishing takes place at the dam on Lake Springfield. This club specializes in catching fish after the sun goes down. Fishing starts shortly after dark and continues until everyone grows tired and goes home, which can be as early as 10 p.m. or as late as 3 a.m.
A photo is taken of each catch, and an annual report is published at the end of the year. It lists statistical data (34 trips produce 107 fish in 2000), the number of fish caught by each angler, the different species and numbers caught, baits used, plus informational data—like the coldest night, which was Nov. 27 when it was 32 degrees. There's also human interest information in that breakdown, like when a crawdad escaped a bait bucket and latched onto a participant's leg, or when Susan hooked Lisa and argued that it should count as a "catch."
There probably aren't more than 14 or 15 members in this club, and on an average meeting night, only about five to seven anglers will show up. We don't fish alone though. There usually will be three or four other groups of anglers fishing along the dam. On weekends that number can easily double.
Because night fishing tends to be somewhat slower than day fishing, the social part of the evening takes precedence over the fishing part. Our group stakes out its spot on the dam, baits the hooks, then sits back and relaxes, telling stories and jokes while waiting for bites.
But that's just the fun stuff. What's more interesting to me is the fact that more than half the people in the Dam Fishing Club weren't anglers before being introduced to the sport in this manner. Plus some of these new anglers, in turn, are now bringing their friends out for an evening of fishing fun. I hope the other groups that line the dam, and those at other fishing spots around the state, are doing the same thing. Because that, after all, is what fishing is all about.
-Gary Thomas
have to wait for the fish to get active—as late as 10:30 or 11 p.m. in the middle of summer."
Once you catch a fish or two, Nutty says you'll probably be on fish the rest of the evening.
"Rainbows generally travel in loose schools," he said. "They won't be right together, but they will be close. The catching might be a little sporadic at times, but there tends to be some consistency.
If you catch a fish about every 30 minutes, it usually will stay on that rhythm."
There is a limit of five fish per day, and you can limit out fairly easily if you're willing to put in the time. Nutty said you probably will average a fish every 30 to 45 minutes, though you can catch them a lot quicker sometimes. We were on the lake for only about two hours and caught three fish—one rainbow about 14 inches long and another closer to 12 inches. We also caught a big 9-inch bluegill.
"This probably is not a catch-and-release sport," Nutty said. "Rainbow trout stress and die easily, especially when pulled from deep water, so it's best to plan to take them home for dinner."
Night tends to have a calming effect, so avoid the heat this summer. Plan to take your next fishing trip at night.
---