Retreat to Western Illinois
---
The use of this site has changed
drastically over the years, but the beauty hasn't.
STORY BY LIZ PENSONEAU
PHOTOS BY CHAS. J. DEES
Years ago, when Galena was one of the state's largest cities and a commercial center, horse-drawn, high-wheeled stagecoaches would rumble through Argyle Hollow north of Colchester on the popular stagecoach route from Beardstown to Galena.
Today, the opportunity for such a trip through Argyle Hollow is nonexistent, as it is the site of picturesque Argyle Lake. Constructed in 1949, the 93-acre lake was built following the state's 1948 acquisition of 1,050 acres north of Colchester for Argyle Lake State Park.
In addition to being a stagecoach route, Argyle Hollow had another claim to fameŚcoal mining. By some accounts, more than 600 coal miners resided in the Colchester area. Some would farm in the summertime and mine coal from "drift mines" in the area's hills to supplement their incomes.
A replica of one such mine entrance was constructed as Argyle Lake State Park's contribution to America's Bicentennial celebration. It is easily accessible as it is adjacent to the road that wraps around the lake in the park.
---
The concession facility at Argyle Lake State Park near Colchester is a one-stop shop for food and bait and is conveniently located near the boat dock and parking lot. Boat and canoe rentals are available.
---
---
---

A replica of a drift mine was constructed for the nation's bicentennial observation to commemorate the 25 or 30 such mining operations that once existed in Argyle Hollow.

---
Information at the mine entrance explains that the first coal was taken as early as 1850. The mines went far into the hills, with branch-like rooms on both sides of the main track. Most mines were approximately 3-feet high, with a 26-inch vein of coal over a 10-inch layer of clay. In Argyle Hollow alone, there were 25 or 30 drift mines, and coal was extracted until the 1940s.
Reflections
Excerpts from local landowner and auctioneer Hughey Martin's 1975 speech about the history of the Argyle Lake area that was given to the McDonough County Historical Society and transcribed by the Archives and Special Collections Department at Western Illinois University:
When I was a kid, there was talk about the Argyle Park. I used to hear it and hear it, and I thought, 'ugh,'... and most everybody else did. But we had a Pole and Line Club that Dan Hulson organized, and we got the railroad to give us some of the land down by the Pleasant Valley Mill. When they quit grinding down there, the mill part was torn down, but at that time, the railroad had already built a dam on the LaMoine River and had a pump house there to pump the water uptown to water the train....
Tills Pole and Line Club didn't amount to much, but we still owned the land that the Burlington Railroad gave us down around this old Pleasant Valley Mill. They (the club) conceived the idea of getting the state to buy this land for a park.... Dan (Hulson) was quite a politician. He had worked for years on some kind of recreation.... So we went over to Springfield. There were 20 or 30 of us.... Dan had it all ready, had the ground laid, and it was just easy....We all didn't think it would go, wouldn't amount to anything, but it did go; and, of course, they (the state) bought the land.... I believe, 1,100 acres or something like that....
The park has changed the community.... Every year more people want to go on vacation, they want to go somewhere, camp out and all this stuff, and it'll be just getting bigger and bigger, I think.
Martin, convinced that the park would grow and be good for the community, said he had considered building a motel.
I've thought at different times about building a motel and then you ask yourself, would anybody sleep in it? You know, if they come down there and just sleep on the ground and stuff like that, your motel might just sit there, might it not?
Camping, Picnicking and Trails
While Martin was contemplating his motel, which he apparently didn't build, people were continuing to discover Argyle Lake, and today it is a popular escape to the solitude of nature. With 86 Class A campsites, 24 Class B sites, 18 Class C sites featuring vehicle access and restrooms, and 31 primitive camping sites, there is seldom a need for campsite reservations at the park, according to Site Superintendent Tom Levy.
"About the only time we fill up is over Memorial Day and Labor
---

Fall is a beautiful time of year to visit the heavily timbered Argyle Lake State Park. Its wooded areas are believed to be, at least in part, virgin timber.

---
---
---

A road encircles Argyle Lake, making it a great site for a scenic drive. In the winter, the lake is ideally suited for ice skating and ice fishing.

---
Day weekends," Levy said. "For those times, reservations come in early, oftentimes being made the first part of January."
Those interested in equestrian camping will find an 8-mile equestrian trail and a campground complete with 25 hitching racks and a 20-stall barn for stabling horses. The campground is accessible from Coal Road, north of the main park entrance. The Class C campground commands an overnight fee of $7.
The park has 10 shaded picnic areas with tables, grills and water. Three shelters are available for rent, each for a fee of $20. A playground is nearby and can be enjoyed by the children.
For the exercise enthusiasts and nature lovers, there are 12 trails ranging from moderate to very difficult that can provide 5 miles of scenic enjoyment. The wooded areas are believed to be, at least in part, virgin timber, and visitors can watch for the more than 200 species of birds that call Argyle Lake home. Uncommon bird species that breed at the site include broad-winged hawks, cerulean warblers and bobolinks.
Argyle also has a 16-acre nature preserve, according to the site's Natural Resources Coordinator Bridget Napolitano.
"The preserve represents an oak barrens community due to its drier soil conditions and open tree canopy, she said. As a result of these conditions, there are a few less commonly seen wildflowers there, including snow trillium, Indian paintbrush and birdsfoot violet. Shooting stars also have been found blooming along the roadside at the park in past years."
The Main Attraction
Argyle Lake, in the midst of a beautiful wooded area, encompasses 93 acres known for great fishing. It is stocked with bluegill, redear, channel catfish, largemouth bass, crappie, tiger muskie and rainbow trout. Docks are available for boats and pontoons.
Looking at a map of the lake, one might notice its antler-like appearance. Its many "fingers" provide quiet coves, which are ideal for canoeing and observing birds, such as great blue herons and egrets. These same fingers prevent the lake from being conducive to water sports and necessitate a 10 h.p. limit for boats. Swimming is not allowed at the site.

The scenic 93-acre lake at Argyle Lake State Park is the site's main attraction and has the reputation of being an excellent fishing spot.

8
OutdoorIllinois
---
(Photo courtesy of Bridget Napolitano)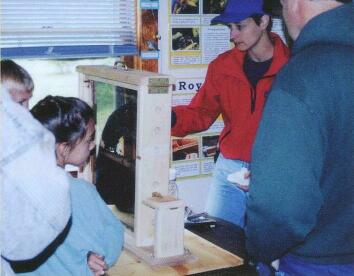 ---
A group of park visitors observe the bees in the observation hive at the visitor center.
---
A bait shop is located near the boat dock and is open from 7 a.m. to 7 p.m. seven days a week during the summer months. Canoe and boat rentals are available there.
A concession stand also provides a quick bite to eat, and a restaurant is open on weekends from Memorial Day through Labor Day.
Hunting
Of the parks 1,700-plus acres, 850 can be hunted for turkey, squirrel, dove, quail, rabbit, deer, raccoon, opossum and coyote. Specific information is available at the park office or on the website.
Busy as a Bee
Interpretive programs and a visitor center add new dimensions to a state park visit, and Argyle Lake State Park offers both. Its visitor center features several informative, hands-on displays focusing on the park's flora and fauna. This year represents the second season for its observation beehive, which is the creation of Napolitano and bee-keeper Dan Yoder, a former college professor of Napolitano who volunteers at the site.
Information: you can use
Address: Argyle Lake State Park, 640 Argyle Park Road, Colchester, IL 62326
Telephone: (309) 776-3422
Website: http://dnr.state.il.us/lands/landmgt/PARKS/argyle.htm
Hours: The park is open year-round. The visitor center is open Wednesday through Saturday from 1 to 4 p.m.
Winter sports: Ice fishing, ice skating, snowmobiling, crosscountry skiing and sledding.
Special Events: Each Labor Day weekend, Argyle Lake State Park is the site of the Antique Gas Engine Show. This year marked its 25th anniversary.
Directions:

Colchester is located 7 miles west of Macomb on Route 136. Turn north on Coal Road at the Shell Station in Colchester, an low the road 2 miles until you come to the park entrance.
Visitors can observe three types of bees in the hive: Male drones, identified by their rounded abdomen and very large eyes (there are very few in comparison to the number of female worker bees); the queen, the only bee in the hive with a green dot for easy identification (she is much larger than the workers and longer and slimmer than the drones); and the workers, who constitute the majority of the bees. These bees do the work that is critical to ensure a healthy hive.
It is also interesting to watch the bees bring nectar and pollen into the hive through the entrance tube.
Napolitano conducts Junior Naturalist Summer Programs for kids 8 to 11 during the summer months, as well as a wide array of interpretive programs for older children and adults. More information about the classes can be obtained by calling the park office.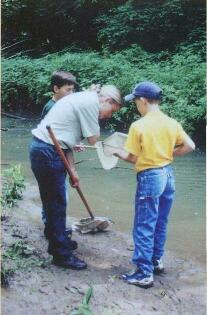 ---
Natural Resources Coordinator Bridget Napolitano and junior naturalists Kyle Kirby (I) and Jessie Holtsclaw identify macro invertebrates found during a stream study program.
---
---