Winter Cats
Cold weather means hot trophy catfish.
STORY AND PHOTOS
BY P.J. PEREA
Aahhh Winter! A time for hot chocolate, snowball fights, sledding, skiing and, for some people, trophy catfishing. No, that's not a misprint. Some of the largest catfish, including the current state record blue catfish of 85 pounds, were caught during cold, blustery winter days in the Ohio, Illinois and Mississippi rivers. Hard-core catfishing enthusiasts spend bone-chilling mornings fishing frigid waters in the hope of hooking into one of these massive whiskered leviathans. Three hardy souls that pursue these big-water predators year-round in Illinois along the Mississippi and Ohio rivers are Lindsay Sample of Cape Girardeau, Mo., Harold Dodd of Jackson, Mo. and Rob Overbey of Jonesboro.
Sample is a veteran catfish angler with more than 30 years of experience fishing the Mississippi River. He is the current Illinois blue catfish record holder and has been a strong supporter for trophy catfish conservation. After decades of fishing the river, Sample noted that he could pattern the movements and timing of the big blue and flathead catfish.
"Strangely enough, the big ones seem to like hanging out on the Illinois side of the river," Sample said.
Overbey, another veteran catfish angler, has numerous 50-pound fish to his credit. He also learned the pattern and movement of big fish on the river and joined Sample on the big fish hunt.
Dodd is a relative newcomer to big catfish, but he's apparently learned quickly as he holds the United States Catfish Anglers Tournament Series (USCATS) one-day record with a 228.3 pound weigh-in for 10 fish!
Unless they are fishing a catfish tournament, the three of them spend most Saturdays on one of Illinois' major river systems trying to outdo
Harold Dodd rigs up his gear for another day of catfishing on the Mississippi River.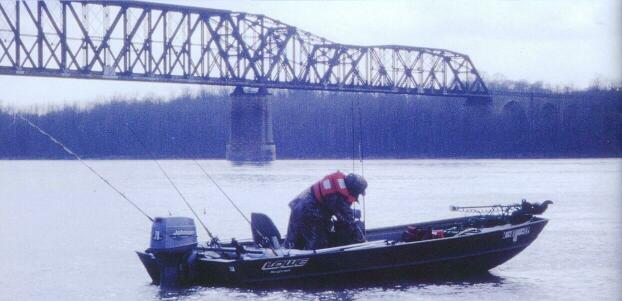 ---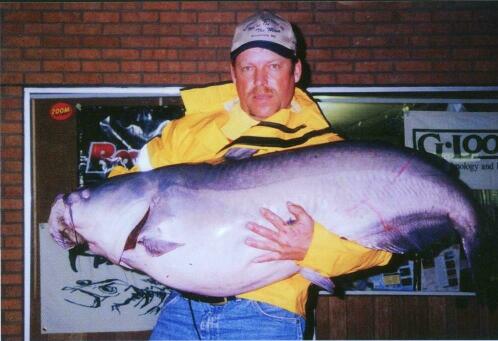 Lindsay Sample has spent years studying the habits of trophy catfish,
like this 85-pound state-record blue catfish.
each other and learn more about the strategies of catching big catfish.
This late-winter morning was no exception. The weather forecast said that early morning temps would hover in the teens, but late morning temperatures should reach the thirties. I stumbled out of a warm bed and pulled on my winter weather gear. I met the trio and asked, "Do the fish really bite in this weather?"
"We are out here rain, snow or shine," remarked Sample, "But we really enjoy catching the big boys during the winter. The water level is lower, and river flow drops off. This makes it easier to access big fish that normally aren't available during higher water and flow."
He added, "The big blue catfish also tend to congregate in wintering holes. The trick is finding the wintering holes and getting lucky enough to put the right bait in front of a big hungry catfish."
The biological reason behind the wintertime gathering of big catfish seems to be energy conservation.
"I have seen pictures of a flathead with its nose tucked in behind a rock and three or four more flatheads drafting behind the first fish's eddy" explained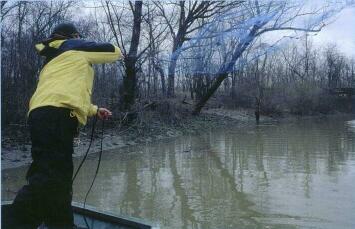 Dan Sallee from the Division of Fisheries Boundary Rivers Program. Just as NASCAR drivers save fuel by drafting behind other vehicles, big catfish save their precious energy by grouping together.
Another theory for the congregations is that the wintering holes are also places where sick, dying, injured or dead bait fish wash in for easy snacking. Why expend precious energy chasing your food when the current brings it to you?
Speaking of bait, the number one priority after we launched the boat in the Mississippi River was catching fresh bait—gizzard shad to be exact.
Rob Overbey throws a cast net for gizzard shad. Fresh bait is essential for attracting big catfish.
---

Cold weather doesn't deter die-hard catfishermen such as Lindsay Sample.

Illinois Catfish Association events

Illinois catfish enthusiasts can test their skills against some of the best anglers in the country by fishing the catfish tournament trail.

Here's the 2002 schedule:

April 13-Jefferson City, MO, at Osage Campground
May 11-Lake Springfield
June 22-Illinois River at Chillicothe
July 13- Illinois River at Pekin
August 10-Illinois River at Meredosia
September 7-lllinois River at East Peoria
October 5-Illinois River at Lacon

For more information, contact Paul and Karen Wolf, phone (302) 674-0048, fax (309) 674-0213 or e-mail: bluecatill@msm.com or Larry or Linda Dozard at www.larrysfishing-hole.com.
Large catfish are far different from the farm-raised youngsters that most people are used to seeing at the local seafood store. Unfortunately, catfish seem to have an image problem, for many people assume they are bottom-feeding scavengers. The reality is that big catfish are top predators in any water they inhabit, and a 75- to 100-pound catfish could easily make a snack out of a 10- to 12-pound fish or whatever it can fit inside of its cavernous maw.
High on a catfish's menu of things to eat is the oily protein-laced gizzard shad. It's kind of the peanut butter of the fish's world, a highly nutritious and energy-filled snack that will satisfy a cold and hungry catfish.
Sample steered for the nearest backwater area in search of this must-have bait, while Overbey slipped into some rain gear and prepared the cast-net. He showed fine form as he deftly tossed the cast-net next to brush piles, current breaks and downed trees. After more than 50 tosses, we had enough gizzard shad for bait. And Overbey looked like his arm would pop out of his shoulder if he threw it one more time.
Sample headed for his spot and set up the rods. His favorite method of presentation is very simple. Sample uses what is known as the Paternoster rig. A fixed weight of one to eight ounces (depending on the speed of the current) is at the terminal end of the line (30- to 40-pound test), while the hook is attached about 18 inches above the weight using a loop knot to create a two-lined dropper loop. The dropper loop is then attached to an 8/0 forged hook using a Palomar knot (see sidebar).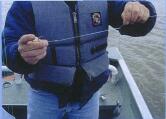 The Paternoster Rig
A fishing rig familiar to many saltwater and big-fish anglers, the Paternoster rig allows the angler to present the bait just off the bottom. And in snag-infested areas, the rig can be set to break off the weight in case the fish or current manages to tangle the weight. Give it a try!
1. Tie the weight to the terminal end of the line using an improved clinch knot. In snag-infested areas, use a wire snap that will break at a lighter weight than the main line.
2. About 18 inches above the weight, create an 8- to 12-inch dropper loop using either a double-overhand loop knot or dropper loop knot.
3. Using the end of your loop, tie on a forged baitholder, Kahle or circle hook using a Palomar knot.
4. Thread on whole or cut pieces of gizzard shad. Or, if you can find it, a chunk of skipjack herring.
We anchored the boat upstream at one of Sample's spots.
"This is near where I caught my Illinois record," he remarked. A whole gizzard shad was threaded on the hook, or a piece was cut to fit if the bait was too large. The rig was then cast into the fishing hole, and the rod was securely placed into a rod rest. The waiting game had begun.
After about 30 minutes, one of the rods tickled lightly as if something had found one of the offerings. Sample moved toward the rod just as the tip slammed down, signaling a strong bite.
"This is an okay fish!" grunted Sample as the fish swam into the main current, causing the line to lightly resonate a high-pitched squeal as the fish entered the faster water.
After a five-minute struggle, a dark form breached behind the boat, and a 20- to 25-pound blue catfish soon found itself in the landing net. Sample quickly un-
---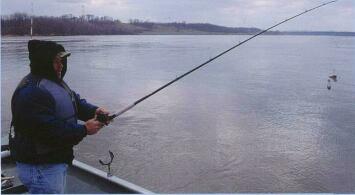 Using cut-up skipjack herring, Lindsay Sample tries to coax a bite.
hooked the fish for pictures, then slid the fat catfish back into the dark water. A few minutes later, Overbey and Dodd signaled from their boat that Dodd had caught a nice fish. This blue catfish was in the 20-pound-plus range. They also released the fish.
Soon after the two blue catfish were caught, the bite seemed to shut down, and a cold front sent the temperatures plummeting. Sample, Overbey and Dodd were disappointed that only two fish weighing more than 20 pounds were caught.
"Usually we have at least a 30-or 40-pound fish on a day like today," Overbey said.
We headed for the ramp as the sun disappeared behind a bank of ominous clouds. Along the way, Sample talked about catfish conservation and their new fishing goal.
"Anglers really need to protect these big fish," said Sample, "I never take any of these big blue and flatheads home. It takes so long for these fish to reach this size. I want to make sure that there are big ones around for others to catch."
The only exception was when Sample knew he had broken the Illinois record and needed to have the weight and identification certified by a state biologist. Sample confided that he has since broken the record several more times, but he doesn't have the heart to put these larger fish through the stress his record fish went through. "I just let them go, so they can grow larger," Sample said. "Besides, we are shooting for a bigger record!"
Sample explained that he, Overbey and Dodd were hoping to break the 111-pound world record for blue catfish, caught from a lake in Alabama. They are convinced that there is a record catfish swimming in the Mississippi or Ohio River. Overbey showed off a photo album where, among the numerous photos of 50-to 80-pound trophies, were pictures of two dead blue catfish that were apparently killed by the swirling propellers of a passing barge.
"These two catfish were certainly more than 120 pounds," said Overbey.
So if you are traveling along the Great River Road on Saturdays this winter and notice what appears to be people fishing the 'Ole Miss,' wish them luck! They're not suffering from cabin fever, they're just out hoping to catch the next world record catfish.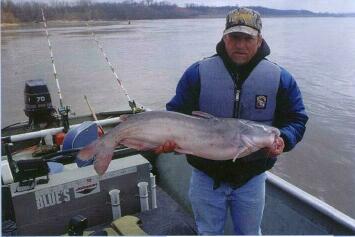 Lindsay Sample with a "small" 25-pound blue catfish. Which he quickly released.
---