FCC rejects satellite TV merger
Rural advocates and consumers throughout the nation are cheering as the Federal Communications Commission (FCC) declined to approve the merger of two major satellite television companies, a merger that would greatly harm rural Americans.
"We have opposed the deal because it would create a monopoly in satellite TV and Internet service for many areas of America, especially for millions of families, schools and businesses in rural areas beyond the reach of cable and DSL services," said Bob Phillips, president and CEO of the National Rural Telecommunications Cooperative (NRTC).
This is the first time in 36 years that the Federal Communications Commission has blocked a large corporate deal for being against the public interest.
In October of last year, EchoStar Communications Corp. and Hughes Electronics Corporation announced their plans to merge and join DIRECTV and the DISH network, the nation's two largest satellite television broadcasters. Rural Americans voiced concern to their congressional representatives and their federal regulators that such a merger would lead to an unregulated monopoly of pay TV service since many rural areas are not served by cable TV and that there would no longer be competition between the two satellite TV companies.
FCC Chairman Michael K. Powell said of the merger, "At best, this merger would create a duopoly in areas served by cable; at worst it would create a merger to monopoly in unserved areas."
"Either result would decrease incentives to reduce prices, increase the risk of collusion, and inevitably result in less innovation and fewer benefits to consumers," added Powell.
The Department of Justice still has to approve or reject the merger. Source: NRTC; FCC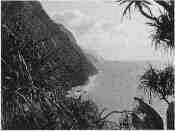 Hawaii consumers buy out utility and form co-op
Residents of Kauai, the northernmost island of Hawaii, will soon be the proud member-owners of the first electric cooperative in the state.
In mid-September, the Public Utilities Commission of Hawaii approved the purchase of the investor-owned utility (IOU) Kauai Electric by Kauai Island Utility Co-op (KIUC). The purchase approval came after 3 years of meetings and intense negotiations.
"This is a historic step that will give the people of Kauai more control over our island's energy future in addition to reducing the island's high cost of electricity. It is a big win for the people of Kauai," said KIUC Chairman Gregg Gardiner.
The people of Kauai currently pay about 25 cents per kwh of electricity. According to 2001 Energy Department data, the national average is 8.5 cents per kwh and the average for Hawaii is 16.6 cents per kwh.
Board members expect that member-owners will see more than $26 million returned to their pocketbooks in the form of capital credits during the first 10 years.
KIUC joins a family of the nation's more than 900 private, consumer-owned electric cooperatives, which provide electric service to 35 million people in 46 states. Hawaii will make the 47th state to have an electric cooperative.
Source: KIUC; Garden Island News.
Broadband Internet usage changes Americans' online habits
Americans using broadband Internet services, such as cable modem and digital subscriber line services, use the Web very differently from dial-up Internet subscribers, according to a June 2002 report issued by the Pew Internet & American Life Project. "Analysis of the broadband elite -those users doing 10 or more activities on a typical day online - suggests there is an emerging broadband lifestyle," according to The Broadband Difference: How Online Americans' Behavior Changes With High-Speed Internet Connections at Home. The report finds that 24 million Americans now have faster-than-dial-up Web services Internet services in their homes. Broadband users are much more likely to create content for the Web. About 16 percent of broadband subscribers add Internet content on a daily basis. Sixty-one percent of broadband users increased their time online, increasing their daily usage an average of 95 minutes a day after switching from dial-up service. They tend to use the Web to look up information on topics such as healthcare, hobbies, online shopping and job-related issues. Broadband users tend to believe that enhanced online capability has a positive effect on their lives. Seventy-six percent of broadband users say that high-speed access has improved communications with their friends and 71 percent say it has improved family communication. You can download a free copy of the 31-page report at www.pewinternet.org. (Contributed by the National Rural Telecommunications Cooperative, www.nrtc.org ).
6 ILLINOIS COUNTRY LIVING www.aiec.coop
---
Is the answer blowing in the wind?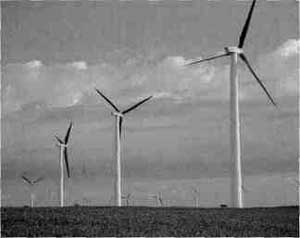 Wind turbines rise up among a young corn crop at the Buffalo Ridge wind farm in southwest Minnesota. Photo by National Renewable Energy Laboratory and Warren Gretz.
Wind generators have some appealing advantages, and the federal and state government are supporting the effort to build new wind generators with tax incentives and grants.
Some landowners will benefit from leasing their land to wind generator farm owners. However, other local landowners are bitterly opposed. They say the large wind generators will create noise (around 80 decibels), a strobe effect disorienting to humans and animals, endanger migratory birds and create electrical problems in the area.
Wind generators are non-polluting and the wind is free. But as a power source one obvious disadvantage is the wind doesn't always blow when the power is needed. Often, other generating plants may be required to back up wind generators during summer or winter peak demand periods.
To catch the most wind and increase their cost effectiveness, new wind generator designs are very tall and can cost about $750,000 for a 750 kilowatt turbine. Modern, large scale wind generators reach heights of up to 380 feet, the height of a 38 story building and taller than water towers that normally reach 150 feet. These modern-day "windmills" would definitely stand out on the Illinois prairie.
Illinois Wind Energy and Tomen Power Corporation have announced plans to install 34 wind turbines across 2,200 acres of farmland in Bureau County. The wind turbines will have a capacity totaling 51 megawatts (MW). The electricity would be sold to Commonwealth Edison. Illinois' Department of Commerce and Community Affairs announced a $2,750,000 grant to Navitas Energy, Inc. to develop a second "wind farm" of similar size in Lee County. A third wind power project by enXco Inc. is proposed in Boone County. FPL Energy, a sister company to Florida Power and Light, is involved in a project to build 135 wind turbines in DeKalb County. And Zilkha Renewable Energy is planning a wind power project east of Bloomington.
In recent years wind energy, buoyed by renewed support from federal and local governments, has enjoyed a minor resurgence following a scattershot effort in the early 1980s that largely failed. Nationwide, there is more than 1,700 megawatts (MW) of installed wind capacity. The National Resources Energy Laboratory estimates that winds in the Great Plains states alone have the potential to produce as much as four times the U.S.'s current wind energy supply.
In May of 2002, the Senate passed a bill establishing a Renewable Portfolio Standard (RPS) that ostensibly would guarantee the growth of renewable power sources over the next five years. It would also provide for a five-year extension of the current wind energy production tax. A House version of the bill passed earlier.
For more information, both pro and con, go to: www.ilwindenergy.com, www.awea.org, www.windustry.org and www.windpowercons.com.
You can help with telemarketing crackdown
What's the one thing that almost always seems to happen before you sit down to a family meal, switch to your favorite TV program, or try to sleep in a couple hours on the weekend? The phone rings and the voice at the other end wants to a) switch your long-distance service, b) send you a new low-interest credit card, or c) sell you a magazine subscription.
Ten years ago, the Federal Communications Commission (FCC) adopted rules to protect consumers from unwanted interruptions, but the rules did not slow many telemarketers. So the FCC is considering more rules. Specifically, it is asking for public comment on whether there should be limits on recently developed techniques, such as autodialers and prerecorded messages. The commission is also seeking comment on whether the "do-not-call" lists required by the current rules have been effective. Would you like to air your opinion about telemarketers? Go to http://wireless.fcc.gov/csinfo/comments.html to learn how you can share your opinion with the FCC. File your comments under "CG Docket 02-278."
Source: National Rural Telecommuncations Cooperalive, www.nrtc.org
DECEMBER 2002 ILLINOIS COUNTRY LIVING 7
---
A piece of Rock 'n' Roll history found in Benton
by Angie Bates, AIEC intern
On Sept. 28, 1963, the people of Eldorado could hear songs such as "Your Cheatin Heart," "Everybody's Trying to Be My Baby" and "Johnny B. Goode" blaring from the VFW. No, it wasn't Hank Williams, Carl Perkins or Chuck Berry. The best band in Southern Illinois, The Four Vests cranked out tunes throughout the night with guest guitarist, the one and only, George Harrison.
George Harrison's sister, Louise (Harrison) Caldwell and her husband, Gordon, moved to Benton from Quebec, Canada in March of 1963. She was an enthusiast for her brother's band as she was a supportive sister and very much enjoyed his music. "Beatlemania" had taken England by storm, but had not yet swept the United States. Louise would give her brother's records to radio stations to play on the air. The first one to play the record was WFRX in West Frankfort in the mid-summer of 1963.
George visited the United States, flying from England and accompanied by his brother, Peter. They arrived at the Lambert airport in St. Louis on Sept. 17, 1963, and Louise picked them up and took them to stay with her. Louise's friend Gabe McCarty was a member of The Four Vests, and he had overheard Louise listening to George's record one day on a visit. McCarty was very eager to meet George.
George and Gabe clicked immediately, both able to speak "musician talk." The new friends would go on camping trips with Louise and her husband. George asked Gabe to take him somewhere to buy records, and Gabe took him to an old furniture store in Benton. George asked the clerk there if he had ever heard of The Beatles, and the clerk replied no. George told Gabe that he figured since England was about the size of Illinois; the spread of their music might take a while in the United States.
On the night that The Four Vests played in Eldorado, George went to watch the band perform. He had no idea that they were going to insist he play with them. When George began to play "it was like someone threw a switch in that room; the difference was dramatic. The people were banging their fists on the tables and stomping their feet.. .the whole place was electrified," his sister said.
The day after the show, George attended a birthday party at the Boccie Ball Club in Benton and filled in for The Four Vests guitarist who couldn't make it. It is unknown who the birthday party was held in honor of, but having George Harrison at your party singing to you would be a great present.
The next day, George and his brother Peter left St. Louis for New York City and vacationed there for a short time. Upon returning to England, George re-united with the other Beatles and continued to work on what would become their next album. The group then landed an appearance in America on The Ed Sullivan Show in 1964. A record 73 million viewers tuned in and overnight the Beatles were the most popular rock band in history.
Due to the phenomenal rise in the Beatles popularity, young people from all over the country sought out the home of Louise. They wanted to visit the place George had been; they wanted to meet the famous man's sister. However, in early 1968, Louise and Gordon moved from Benton to Galesburg because Gordon found a new job there. The house was then sold to James B. Moore, who was a local business agent. The couple did not stay in Galesburg long. Gordon returned to his previous job and they bought a house north of Johnston City on Route 37.
A self-proclaimed Beatles historian went to visit the home in December of 1994, only to find that the house was scheduled to be demolished and turned into a parking lot. The historian, Bob Bartel, met with the Capital Development Board in Springfield. He also contacted Louise to tell her of the predicament. She returned with her family to go before the Illinois Historic Preservation Society and fight not to have the house torn down. Then, suprisingly, in February of 1995, Louise stepped out of the deal. "The relentless questioning about every aspect of her brother's involvement when he visited Benton prompted her to halt her involvement," says Jim Kirkpatrick, author of the book Before He Was Fab.
Private investors picked up the project, and they had enough money to save the house. The house became officially saved in March of 1995, and Louise helped to make the house look the way it did 30 years before. The home is now known as A Hard Day's Night Bed and Breakfast. The four rooms are decorated with Beatles memorabilia and a vast assortment of Beatles videos are attainable to guests.
Although George Harrison spent a brief amount of time in Illinois, his impact will remain historic. A brilliant guitarist with a soft melodic voice, he gave people the gift of music and left many with treasured memories.
Information taken from the book Before He Was Fab written by Jim Kirkpatrick. For information call (888) 862-2243.
8 ILLINOIS COUNTRY LIVING www.aiec.coop
---