R.E.S.P.O.N.S.E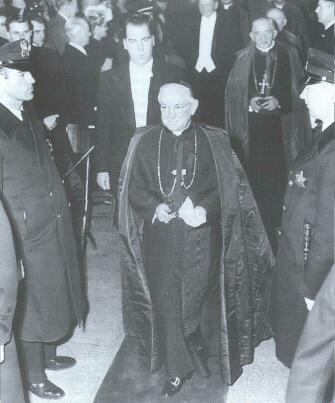 Cardinal Stritch at a civic reception at Chicago Stadium,
Chicago, Illinois 1946 Courtesy: Chicago Historical Society
ICHi-34693
The Chicago Catholic Archdiocese's Response to the Cold War
1946-1958
Steve Rosswurm
Historical Research and Narrative
Most Chicago Catholics, from the Cardinal to the humblest Sodality or Holy Name Society member, understood that the Cold War with the Union of Soviet Socialist Republics (USSR) was their war. They knew that the USSR aggressively opposed, in word and deed, everything in which they believed and for which they lived:
Catholicism in particular and Christianity in general; democracy; the United States; freedom; liberty. Most Chicago Catholics, moreover, saw communism—if not consciously or even rationally—as another part of an encroaching modernism that promised to substantially alter the way they lived their lives. During the height of the Cold War, in the decade that began in 1947, the Archdiocese of Chicago often engaged the USSR in skirmishes and battles. Sometimes the weapons were spiritual, other times political; sometimes the conflict was in the open, other times in secret.
In 1950 the Archdiocese of Chicago comprised Catholics living in Cook and Lake counties in Illinois. There were 1,411 square miles and 4,200,000 people in these two counties. Of them, 1,691,681 were Catholic, making Chicago the largest diocese in the country. Catholics worshipped in 390 parishes and sent their children to 341 parochical elementary schools and 75 Catholic high schools.
Chicago's anti-communism took its lead from Samuel Cardinal Stritch, who headed the Chicago Archdiocese. The son of Irish immigrants, he became the youngest member of the United States hierarchy when named bishop of Toledo in 1921. In 1930 he became Milwaukee's archbishop, and in 1939, Chicago's. Named a cardinal in 1946, Stritch led Chicago Catholics until his appointment to a Vatican post in 1958. He died that same year. At least two things about Stritch influenced the way in which he and Chicago Catholics acted during the Cold War. First, there was his legendary cautiousness, which intensified with age. Second, Stritch's considered communism primarily as an offshoot of secularism, and he therefore focused on attacking the latter rather than the former.
23
---


There

was one

influential

outlet for

Stritch's

implacable

hatred of

communism:

the

New World
The Cardinal personally devoted little energy to publicly attacking either domestic or foreign communism. He often gave sermons and addresses that indirectly took it on but seldom made it his primary target. Moreover, he twice reprimanded priests for heated anti-communist rhetoric. The Cardinal, then, never became the symbolic focus of anti-communism in Chicago. Neither did Chicago Catholic anti-communism assume the public face and proportions it did in New York City or Brooklyn. Stritch nevertheless, did play a significant role in Chicago Catholicism's battles with domestic and foreign communism.
Stritch worked mightily to support Eastern and Southern European Catholicism. In close collaboration with the Apostolic Delegate, the National Catholic Welfare Conference's General Secretary, and several colleagues, he provided funds to support the Church there, used his Washington connections to obtain information necessary for effective lobbying, and supported numerous anti-communist initiatives. Chicago, for example, gave money to the Inter-Catholic Press Agency that was founded in 1946 to provide information on religious issues in Poland. In at least two years, and maybe more, the subsidy came from funds generated by Polish cemeteries in the Archdiocese. Stritch, moreover, deeply involved himself and his archdiocese in postwar Italian affairs: he helped marshall Italian-American support for anti-communist candidates in several key elections, provided money for the Christian Democrats, lobbied in behalf of Italy's efforts to keep its colonies, and lent support for Italy's admission to the North Atlantic Treaty Organization.
There was one influential outlet for Stritch's implacable hatred of communism: the New World, Chicago's archdiocesan newspaper. Week after week, year after year, the New World attacked foreign and domestic communism from a variety of angles, positions, and perspectives. As early as 1946, not only had its editorial position been firmly established, but it also was using an "I told you so" tone and quoting anti-Kremlin editorials written during the war. The fate of Josef Cardinal Mindszenty, the Primate of Hungary accused of wartime collaboration with the Nazis, became an issue too. At least once, leading up to Mindszenty's trial in 1948, Stritch gave direct instructions to the newspaper's editor, Father Thomas Meehan, to print an article a week on the Catholic martyr. A month later, Meehan reported that he been doing everything he could to keep Mindszenty before the paper's readers and, moreover, had been in "almost constant contact" with other Chicago newspaper editors about their coverage.
Chicago's Catholics surely did not need to read the New World to discover what was going on in Eastern Europe. After all, they had plenty of other ways to find that out. It is, though, hard to imagine that the paper's coverage did not have an enormous impact on its readers. It provided a people with a firm itdentity as Catholic with a Catholic analysis of events there, provided them with news about their fellow Catholics, and provided them with a way of understanding all this within the long sweep of Catholic history. In its numerous organizations, the Chicago laity took up the challenge of fighting for its Church and country against communism.
The Holy Name Society (HNS) joined the battle against communism early on. Composed of Catholic men and active in Chicago from 1916, the HNS involved itself in work with juvenile delinquents and campaigned against "salacious" movies. Until Stritch cancelled them, its rallies brought 100,000 members to Soldiers Field in impressive displays of Catholic manhood. Organized into 400 parish branches in 1946, nearly 1,000 delegates to the annual meeting heard Stritch call them to war against communism. '"Never in the history of the world,' he told them, 'was there such an organized effort against God as there is today.'" The delegates then adopted an educational program to combat communism. For the next year, parish units sponsored speakers on communism and highlighted it at their communion breakfasts. The HNS's anti-communist activities continued after 1946. In 1949, for example, the topic of its Tenth Annual Holy Name Lecture Bureau was "The Catholic Church in the Balkans."
The Archdiocesan Council of Catholic Women (ACCW) was another lay organization that participated in the battle against communism. An umbrella organization for numerous Catholic women's groups, it provided them with coordination as well as leadership in its transmission of directives from the hierarchy. One of its activities was to oversee women's discussion groups. In 1947, there were 117 study groups in the city: 38 examining the Mass and 30 communism. The next year, in response to Pope Pius Xll's Easter message, the ACCW began what came to be called the "Adoration Crusade," in which Catholic women participated in vigils before the Blessed Sacrament and prayed the rosary to Our Lady of Fatima for world peace and the conversion of the USSR. By September, 104 parishes were participating in the crusade; by the end of the year, another 46 had joined. Although, as we will see, the Council moved on to other activities, the Adoration Crusade continued at least into 1950, when more than 115 parishes participated.
The Adoration Crusade was just one aspect of what became Chicago Catholicism's spiritual anti-communism. Marian piety - devotion to the Blessed Virgin Mary - increased dramatically in the U. S. during the Cold War, as Thomas Kselman and Steven Avella have demonstrated. Chicago was no
24
---
exception. The city's first statue of Our Lady of Fatima was installed in 1948; later that same year, thousands viewed the "Pilgrim Virgin" - a replica, blessed on the very spot where she had appeared as "Our Lady as the Children of Fatima saw her"—at 19 parishes. The devotion seems to have declined after this, but there is evidence of its popularity well into the 1950s. Praying the Rosary, which took on new urgency as the Cold War heated up, often permutated into the Family Rosary, the Block Rosary, and the Living Rosary. October, the Month of the Holy Rosary, always saw much activity, and the devotion picked up steam again during the Korean War.
Novenas of all kinds thrived, but those to Mary were particularly popular: Our Lady of the Miraculous Medal; Our Lady of Perpetual Help; Sorrowful Mother; Mother of Perpetual Help; Mother of Sorrows; Mother of Good Counsel; Immaculate Heart of Mary; Our Lady of Lourdes; and Her Miraculous Medal. The most popular was the Sorrowful Mother Novena, held at Our Lady of Sorrows on the city's West Side, where thousands attended services every day.
Chicago, because of Stritah, never witnessed the kind of huge outdoor anti-communist spiritual rallies that other cities saw during the Cold War. In 1948, though, a visit of the "Pilgrim Virgin" to the Our Lady of Sorrows on September 10,1948, brought huge crowds: between 150,000 and 200,000 showed up that day.
Anti-communism was, of course, central to these devotions. While those men and women present nominally prayed only for peace and the conversion of the USSR, their participation surely heightened their awareness of the evils of communism abroad and sensitized them to its dangers at home. Even so, there was more going on here than just anti-communism.
Both the practitioners and promoters of these Marian devotions brought to them escalating fears about a disintegrating family, confused gender roles, and a besieged masculinity. The devotions, then, were connected with a Catholic effort, as the New World put it, to "achieve order in our internal affairs."
First, and probably most important, Marian devotions reinforced, in Elizabeth Johnson's words, "heavenly interaction modeled on a patriarchal household, in which a distant and judgmental God the Father is inclined to be approachable and more lenient through the intercession of Mary the Mother on behalf of wayward children." At the very moment that social change threatened the patriarchal form of the family, it was of significance to have it reaffirmed in spiritual terms. The sociologist-priest John Kane had something similar in mind when he called for the "restoration of the clergy to their true place as spiritual fathers."
Second, in other cases, Marian devotions were more directly connected to anti-modernist efforts to reinforce traditional gender roles. It was the "Family Rosary" that took Chicago "by storm" in 1951. For the New World's editor, Father Meehan, it was the patriarchal family of his childhood that the words brought to mind: when leisure time was spent together and "father held forth on every subject." More than 2,000 viewing the "Pilgrim Virgin" at St. Clara's on the South Side heard a cleric, travelling with the statue, urge that "reparation" be made to the Immaculate Heart of Mary for the birth control and divorce "causing the disintegration of family life."
Novena Notes, the weekly publication of the devotion to Our Lady of Sorrows, brought its readers all these themes. In just the five issues for January, 1948, it included refrains that would become a litany. One article asserted that the "Government was getting nowhere fast toward promoting world peace" because of the "stumbling block," USSR, Readers, therefore, should turn to Our Lady of Fatima: "Our effort, our displayed faith in Our Lady's intercession—will mean so much to the individual, the nation, the world." Next came several lengthy warnings against "venereal pleasure." In the second of these, the editor urged the "boy" to see "his girl as a precious chalice God may fill with flesh and blood. He remembers chalices are holy things." Finally, in another article, the editor asserted that "woman's true role" was to create a "real home." If a "woman scorns her greatest job home-making, if she neglects her task in the family, nothing takes her place. The family breaks down and with it the whole society."
Many Catholics and most Catholic social theorists assumed this very point: if women neglected the home, the family (and society) was done. It was sometimes necessary, however, for Catholic women to "go outside their homes to save their homes," so in November, 1948, Striteh delivered to the ACCW a '"Call to Arms'" to drive "printed filth" out of Chicago. It is not immediately evident what secular



Cardinal Striteh on his way to the altar as 300 nuns attend mass at Holy Name Cathedral, Chicago, Illinois 1946
Courtesy: Chicago Historical Society ICHi-34692
25
---
impetus led Stritch to issue the call, but his ideological premises were clear. As he put it in 1946: '"Where womanhood is noble and pure there is always hope for genuine social well-being.'" Or as the Council's chaplain cogently stated it in 1948: "'Women must lead the way out of the impending chaos.'"
In the immediate post-war period, the ACCW worked to restore order-that is ward off secularism and modernism-in a variety of ways: It held discussions about communism to educate its membership; sponsored the "Adoration Crusade" in which women, sometimes joined by men and children, prayed the Rosary to Our Lady of Fatima; and took up Stritch's call to arms against "salacious literature."
Chicago Catholics, then, responded to the communist menace in a wide variety of ways. From the Cardinal on down to the humblest parishoner, they participated in what they saw as a righteous defense of everything they held dear. Convinced that there was a connection between this threat and traditional values, Catholics, moreover, fought to stave off modernism. Nothing perhaps better connects these two threats than the story "St. George and Our Lady" that appeared in Novena Notes:



The
"true Christian...
like St. George
must be a militant
and fight to attain
eternal happiness."
The "true Christian ... like St. George must be militant and fight to attain eternal happiness." Sin "is real and hideous and is represented best by the dragon of Communism, which breathes poisoned lies, destroys souls and breeds and lives on misfortune." The rallying cry for the struggle against the "dragon of communism" is "St. George and Our Lady;" the weapons are sacrifice and prayers offered up to Our Lady of Fatima.
How had St. George come to kill the dragon? This monster, which had "ravaged all the country around the city," lived in a "muddy swamp" and its "poisoned breath caused pestilence wherever it went." Feeding first sheep and then human beings to the dragon kept "it within bounds." It happened, though, since the victims were chosen by lot, that the king's daughter met her turn to be sacrificed. She, "dressed as a bride[,] was led to the edge of the marsh," but was saved by St. George. The dragon-slaying hero, though, declined to marry her because "there were greater climaxes than 'winning the fair maiden.'"

26
---