Lifegaurds May Look But They Don't Always See
By Jeff Ellis

A study points to causes contributing to more than 400 deaths annually in U.S. public swimming facilities
Is your pool ready for the crowded swim season? If the results of recent tests are any indication, many pool owners and operators may be sweating as much as their lifeguards this summer. Jeff Ellis and Associates recently conducted the first on-site study on lifeguard vigilance. Commissioned by Poseidon Technologies, the study was designed to measure actual lifeguard performance in detecting drowning incidents. It complemented an international review performed at the same time that identified the factors that influence lifeguard vigilance.
The results, frankly, were frightening. They point to the causes that may be contributing to the more than 400 deaths occurring annually in public, life-guarded swimming facilities in the United States.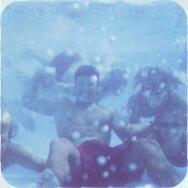 The study calculated how quickly lifeguards could spot a swimmer in trouble underwater. Approximately 500 tests were performed on-site during the months of June, July and August 2001 at more than 90 U.S. pools that had no prior knowledge of the study, and that differed in size and type. In each case, a manikin was placed underwater in the pool, and a tester started the clock when the manikin was fully submerged.
Results showed that, on average, it took one minute and 14 seconds for lifeguards to spot the manikin. Lifeguards noted the presence of the manikin on only 46 occasions—or in 9 percent of the tests—within 10 seconds, and in 30 seconds or less in 43 percent of the tests. In 41 percent of the tests it took over one minute; it took more than three minutes in 14 percent of the tests.
We all know that every second counts in a drowning incident. The longer a victim is submerged, the greater the chance of permanent brain damage or death. Ellis & Associates developed the "10:20" rule almost 20 years ago. The rule calculates that if a lifeguard can spot a swimmer in distress within the first ten seconds of a drowning incident, and can reach him to initiate aid within an additional twenty seconds, that it remains highly unlikely a drowning accident
---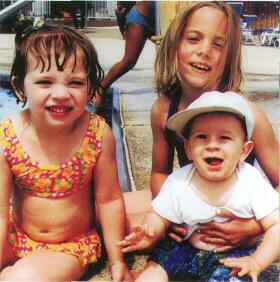 will occur. Yet these dramatic results show that drowning, or near-drowning accidents with potentially serious, negative lifelong consequences would have occurred in the majority of the test cases. Videotapes of the tests show the lifeguards were using standard scanning techniques to guard the pool. They clearly look, but do not always see.
I doubt any aquatic facility operators believe their pools are immune from potential drowning or near drowning accidents. Clearly, these study statistics show that anything can happen, even if guards are more vigilant than ever. Why? Because there are just too many factors working against them, all contributing to the fact that lifeguards often look but do not see.
Environmental and job-related factors working against lifeguards include noise and heat, as well as long hours on the job and the monotonous nature of the task. Some of these factors have been summarized in a survey of studies on vigilance entitled Bibliographic Study on 'Lifeguard Vigilance, which was completed by vigilance experts at the Applied Anthropology Institute in Paris, France, during the summer of 2001. The institute is renowned worldwide for its work with major airline and car manufacturers, including Airbus.
This latest review supplements existing vigilance studies on lifeguards at sea. It details results of tests on highway drivers, airline pilots and industrial operators, and uses them to draw implications and recommendations for pool lifeguard vigilance, such as the following from the French study.
• Vigilance capacity cannot be maintained at an optimum level for more than 30 minutes. The detection of critical signals (signs of a swimmer in trouble) in this type of task is never 100 percent.
• Laboratory studies show that the vigilance level will be higher as the number of relevant signals increases and the amount of non-relevant signals (signals other than a swimmer in trouble) decreases. However, drowning incidents with their associated signals are rare, and they occur only randomly. The signal-noise ratio is, thus, very unfavorable to maintaining vigilance.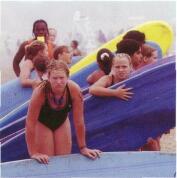 • Noise, one of the major environmental factors at a pool, generally has an unfavorable effect on lifeguard vigilance. Moreover, noise hinders the ability to share one's attention and tends to focus one's attention on the signals present in the central vision, to the detriment of those signals present in the peripheral vision.
• The performance of lifeguards can be affected by monotony, stress and fatigue. The particular environment in which the job is performed heightens the fragile nature of the performance.
• Heat is one of the factors that has a major effect on vigilance. Given the seasonal aspect of life-guarding activities, lifeguards are often exposed to heat and to conditions that are not conducive to their performance. When the temperature is over 30°C / 86°F, vigilance is significantly reduced — by 45 percent.
In short, lifeguards can't possibly see everything, all of the time. They need advanced training and automated tools to help them quickly detect, and rescue a victim underwater in the first few seconds of an incident.
There are four key areas of change to consider if you want to reduce the risk of drowning accidents in your pool.
1. Verify the performance of lifeguards with an independent source, using unannounced audits and other means to track performance at any given moment.
2. Conduct in-service training, especially training that simulates an accident and involves the entire on-site rescue team, from the lifeguard to the receptionist.
3. Consider using new techniques, such as computer-aided drowning detection
40 Illinois Parks and Recreation
---

What can you do?
Look at the following questionnaire to find the answers. Its six basic questions will help you understand where you may be at risk, and see the actions that top aquatics facilities take to reduce their risks.
1. Do you verify, independently, lifeguard attentiveness?
• If so, how do you do this?
• Is your staff aware of any audits before they take place?
Why this is important: Unannounced audits at irregular intervals provide you with important validation and documentation of the professional standard of care you provide your guests and lifeguards.
2. Do you conduct periodic, emergency simulations that test the entire process of a detection and rescue, from the initial detection of a potential drowning victim to after the ambulance leaves? Do you know precisely who, for example, calls 911 ? Who gets the supplemental oxygen system?
Why this is important: In the moments after detecting a victim, confusion can reign. To make sure your response actions cover the entire process required to rescue and save a victim, you need to document the precise procedures staff will follow in the event of an accident. With such a plan, you ensure the victim is safe as quickly as possible.
3. What actions are in place to periodically evaluate lifeguards and conduct in-service training to ensure their skills are up-to-date and sharp? If you have this system in place, who does it and what are the results?
Why this is important: Regular, high quality in-service training helps ensure that lifeguards remain knowledgeable and technically competent to deliver proactive aquatic safety and risk management services on a consistent basis. It should be mandatory that all working lifeguards participate in routinely scheduled in-service training.
4. How frequently does management visit the site, unannounced? Have you positioned someone next to the lifeguards to see if he can actually see below the surface from the lifeguards' positions?
Why this is important: The highest standard of care programs indicate that lifeguard zones of protection can be established as long as they can scan their entire zone within a 10 second period of time, identify a guest in distress, and render assistance within the next 20 seconds.
5. How is the water quality in the pool? Do you conduct independent visits to verify its chlorine and clarity levels are up to standards?
Why this is important: Regular testing to establish and document the clarity of a facility's water is vital, and often required by state or local laws. The clarity standards indicate how well your lifeguards can see potential victims in the water. Tests can be conducted in a variety of ways, but should document that a body may be seen in the deepest area of the facility.
6. What are the pool's opening and closing procedures? Is there a checklist for those procedures that is established, and followed? Why this is important: Many pools experience drowning or near-drowning incidents after classes or late in the evening, when a door is left open and a swimmer is able to enter without supervision. Procedures help determine the steps required to safely open and close a facility, without incident.
systems, to supplement the human operations in your facilities.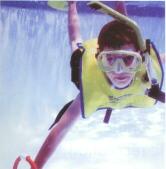 4. Get periodic advice from an outside resource about safety. These individuals or firms can provide unbiased counsel about how to incorporate new standards and tools into your safety programs.
Perhaps these studies only profoundly demonstrate what most of us have suspected all along: it is considerably more difficult to detect swimmers in distress once the victim becomes submerged beneath the water's surface. But the challenge remains for us all to prevent drowning in life-guarded swimming environments. Clearly the methods and techniques used to surmount this challenge must continue to evolve. •
Jeff Ellis
is president of Jeff Ellis and Associates, an international aquatic safety and risk management consulting firm that has revolutionized lifeguard training in the United States since 1983. The firm represents approximately 93 percent of the United State's major waterparks, 800 public swimming pools and other high profile aquatic facilities throughout the world. Contact Ellis & Assodotes ot28J.360.0606 orwww.je//is.com.
PHOTO CREDITS:
page 39: Jenelle Dieterman, Belvidere Park District page 40: top - Tina Valentine, Veterans Park District center - Brook Collins, Chicago Park District bottom - Lori Magee, Itasca Pork District page 41: Bensenville Park District
May/June 2002
---