Reclaimed Treasure
---
A northern Illinois surface-mined site has become a sportsmen's paradise.
STORY BY JOHN ALLEN
PHOTOS BY CHAS. J. DEES
The demand for coal led to considerable surface mining at an earlier time in Illinois. In this type of mining, layers of earth are removed to allow for the extraction of coal not far beneath the earth's surface.
Prior to the enactment of stringent state and federal reclamation laws, some acreage disturbed by surface mining was not reclaimed— or at least, not reclaimed in accordance with present-day reclamation standards. One such area was the state's recently acquired acreage at Mazonia/Braidwood State Fish and Wildlife Area, which was mined in the early 1960s.
This 1,662-acre south unit became the site of something extraordinary. There, cuts in the land were converted into 14 crystal-clear lakes, ranging in size from three-quarters of an acre to nearly 150 acres. The still-evident flat lands became covered by vegetation as did the old spoil piles, which provide wonderful hiking opportunities and a magnificent view of the surrounding area.
Purchased from Exelon Corporation (formerly Commonwealth Edison) in 1999 with funding from Gov. George H. Ryan's Open Land Trust initiative, the south unit is less than a half mile from the existing 1,017-acre north unit and the 2,640-acre Braidwood Lake. The area, about 20 miles south of Joliet, straddles the borders of Will, Grundy and Kankakee counties.
As the name implies, Mazonia/Braidwood is managed primarily as a fish and wildlife area. Site Superintendent Mark Meents said the vast majority of the site's 696,000 visitors last year were hunters or anglers.
"I'd say 500,000 of them were fishermen," Meents said. "The rest were hunters or sightseers."
In addition to Braidwood's 2,308 acres of water, the site's largest lakes are 320-acre Monster Lake and 149-acre Ponderosa Lake in the south unit, and 35-acre Gar Lake in the north unit. There are 214 lakes altogether, with launch ramps available at Ponderosa, Monster and Eagle lakes in the south unit and Big Dog, Goose, Bullhead and Gar lakes in the north. North unit ramps are paved, while south unit ramps are gravel, but scheduled for paving in 2003.
Though some ramps are available, Mazonia is better suited to belly boats, Meents said. That's because north unit lakes are restricted to boats with electric motors only, and south unit lakes are no wake. Also, most of the smaller lakes are accessible only on foot.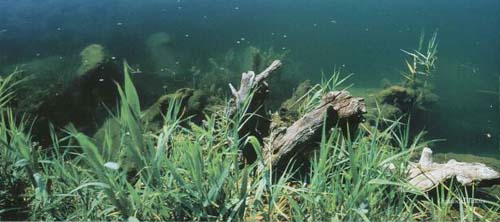 14 OutdoorsIllinois
---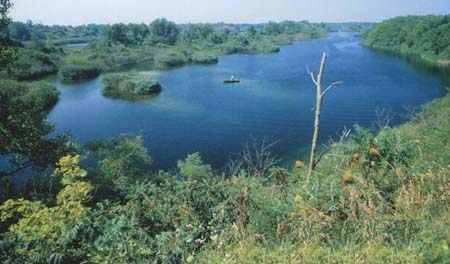 Hiking trails in the Mazonia south unit afford scenic views of the area from atop the reclaimed spoil piles.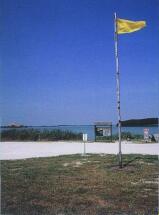 A flag warning system at both boat launches notifies boaters of wind conditions that can make Braidwood Lake hazardous.
Conversely, no horsepower restrictions exist on Braidwood Lake, and 14 feet is the minimum recommended length for boats. Gasoline-powered engines also are required.
Because it's a partially perched power plant cooling lake. Braidwood can become dangerous on windy days. A wind warning system on flagpoles at both the Cemetery Road and Kankakee Road launch ramps tells boaters that the lake is open (green flag, winds less than 15 mph), that caution is advised (yellow flag, winds 15-25 mph) or that the lake is closed to boats (red flag, winds over 25 mph).
Meents adds that Braidwood Lake does have a 40-mph speed limit.
"The lake ranges from 5 to 60 feet deep with lots of underwater obstructions, such as islands and submerged spoil tops," he said. "Hitting one of these at high speeds could be fatal."
Braidwood normally is open for fishing from sunrise to sunset starting March 1 until 10 days before the start of the central zone waterfowl hunting season. Mazonia operates on the same schedule for open water fishing, but it's also open for ice fishing after the close of the upland game season if the ice reaches four or more inches thickness. Monster Lake is open for fishing year-round. Due to the Sept. 11 terrorist attacks. Braidwood Lake was closed to the public and may open later this spring. In the meantime, anglers can enjoy fishing at Ponderosa Lake, Mazonia South and Mazonia, which remain open.
Selected lakes at Mazonia are stocked annually with smallmouth bass, channel catfish and northern pike. They also hold good populations of bluegill, sunfish, crappie, yellow perch, largemouth bass, flathead catfish, bullhead, carp and gar. The state record northern pike (26 lbs., 15 oz.) was taken from Monster Lake on Nov. 9, 1989, while the state record longnose gar (11 lbs., 5 oz.) was taken from Gar Lake on June 3, 2000.
Braidwood Lake also has produced a state record fish: a 2 lb., 8 oz. yellow perch was taken on Jan. 5, 1974, at a private lake called Arrowhead that was submerged when the larger cooling lake was impounded in 1981. Braidwood has healthy populations of largemouth bass, sunfish, channel catfish and carp.
April 2002 15
---
Braidwood and Mazonia have two pole and line limits. Largemouth and smallmouth must be 15 inches minimum, with a three-fish daily limit. Crappie are limited to 10 per day. A daily limit of 10 bluegill and/or redear sunfish recently went into effect and applies to all waters within this area.
At Mazonia only, there's a six-fish daily limit on channel catfish, while at Braidwood there is no daily creel limit due to the population density of these fish.
In addition to fishing, Mazonia/Braidwood provides hunting opportunities in an area that's just 55 miles southwest of Chicago.
From Sept. 1-30, Mazonia offers dove hunting. No special permits are required, though hunters must sign in and sign out at the site office.
On the last Saturday in July, drawings are held at the site office for 27 waterfowl blinds at Mazonia. Blinds are awarded for one year, but if blind holders are absent, their blinds are allocated in daily drawings held one hour before legal shooting time. Also, one blind is reserved for disabled hunters, though Meents said it is awarded to the able-bodied if no disabled hunters are present.
A daily drawing also is held at the site office one hour before legal shooting time for the 26 boat blinds offered at Braidwood Lake. Boats must be a minimum of 16 feet and camouflaged. Half the lake is used as a waterfowl refuge, and thus is off-limits to hunters. Both Braidwood and Mazonia are refuged and closed to waterfowl hunting on Monday and Tuesday.
Fourteen crystal clear lakes attract anglers to reclaimed surface mine acreage in the Mazonia south unit.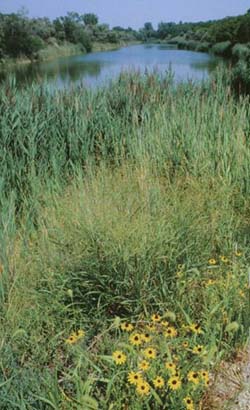 Meents said Braidwood's wind warning system applies to hunters as well as fishermen, and the site is closed if winds reach 25 mph. Another hazard hunters may face is fog.
"Since it's a warm water impoundment, cooler weather may cause heavy fog," Meents said. "If the fog is too heavy, the lake won't open. I highly recommend Global Positioning System equipment and compasses. It's easy to get lost out there."
Mazonia/Braidwood State Fish and Wildlife Area attracted nearly 700,000 visitors last year, 70 percent of them fishermen.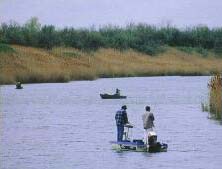 17 OutdoorIllinois
---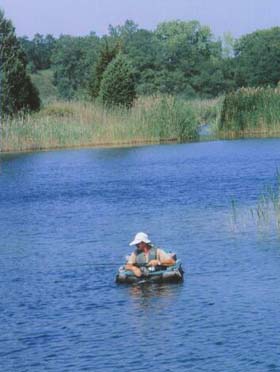 Though launch ramps are available on some of the larger bodies of water, the ideal way to fish Mazonia's more than 200 lakes is from a belly boat.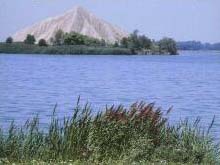 Braidwood Lake is dotted with islands created by former mining operations.
After the central zone waterfowl season closes, Mazonia is open to upland game hunting. Hunters seeking pheasant, rabbit and quail are required to wear blaze orange and sign in and out at the site office during legal shooting hours.
Archery deer hunting is allowed, but restricted to the south unit. In addition to the regular statewide archery permit, a special full-season site permit is required. Portable tree stands are allowed.
Mazonia also attracts another kind of hunter—those seeking fossils. When the area was mined, rust-colored masses of rock called Mazon Creek Nodules were dumped into the spoil piles. Left over from the "Coal Age" some 300 million years ago, the nodules contain a variety of plant and animals fossils, including the only known deposits of the Tully Monster, Illinois' state fossil.
Information you can use:

Mazonia/Braidwood State Fish and Wildlife Area
Address: P. O. Box 126, 5314 North Route 102, Braceville, IL 60407
Telephone: (815) 237-0063
website: http://dnr.state.il.us/lands/landmgt/
PARKS/R2/MAZONIA.HTM
Directions: Mazonia/Braidwood State Fish and Wildlife Area is located three miles southwest of Braidwood at the intersection of Illinois Route 53 and Huston Road.
Fossil hunting is by permit only from March 1 to Sept. 30, with permits available at the site office. Meents said several museums, including the Illinois State Museum, the Field Museum and the Burpee Museum of Natural History, sponsor fossil tour groups and offer more information about Mazonia's fossils.
Other activities offered at Mazonia include hiking, birdwatching and picnicking. The trail system is mainly old clay roads formerly used by the Peabody Coal Company. Trail lengths range from a half-mile to four miles. There are five trails in the north unit and four in the south. Birds that can be seen at the area include waterfowl, finches, cardinals and red-winged blackbirds. Limited picnicking is available, but there are no shelters. Also, Meents said there are no plans to expand Mazonia's offerings to include camping or swimming.
April 2002 17
---