The Pheasant Century
---
It's been more than 100 years since this exotic game bird appeared in Illinois.
STORY BY JOE MCFARLAND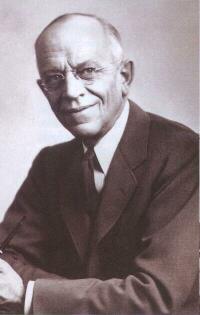 Legendary conservationist Aldo Leopold, also a hunter, conducted one of the earliest game surveys to record pheasants in Illinois.
It was the spring of 1929 when a scientist named Aldo Leopold spent three weeks in Illinois surveying the status of our wild game.
There was much to study. In the 111 years since Illinois had become a state, wildlife populations had experienced dramatic setbacks. By 1929, total extinction of a few species had occurred, with much of our large game extirpated. Elk no longer existed in Illinois, nor did black bears, cougars, wolves or wild turkeys. Beavers and river otters were exceptionally rare, and once-plentiful herds of white-tailed deer had been reduced to a few hundred specimens in rural pockets of the state.
Passenger pigeons and Carolina parakeets, once as common as blades of grass, were gone from Earth altogether.
It was clear the state of our wildlife had been altered tremendously by 1929; yet, wildlife officials realized they had another problem. Nobody could claim they sufficiently understood the current status of wildlife populations. Although pioneer explorers roughly documented the presence of various wildlife species in Illinois, the modern science of wildlife management, complete with formal game population estimates, didn't yet exist.
So Leopold, a professional forester and keen naturalist (who would later ascend to conservationist fame as author of A Sand County Almanac), set forth to complete his Game Survey of the North Central States, eventually published in 1931.
Leopold knew many historic species would not be represented in his survey. But as he traveled among the patchwork of farms in rural northern Illinois, he documented a colorful, new bird that hadn't existed there in 1818. It was the ring-necked pheasant.
The Asian native, already a prized game bird in Europe, technically wasn't a stranger in America. In the eastern United States, attempts to establish pheasant populations dated to colonial times when releases of these elegant fowl were made along the East Coast as early as 1728, but without success.
It wasn't until the early 1880s when birds imported directly from China became established at Oregon's Willamette Valley. News of that successful release—which offered hope that hunters might someday hunt wild pheasants elsewhere in America— spread across the country's depleted landscapes. Optimistic landowners
6 OutdoorIllinois
---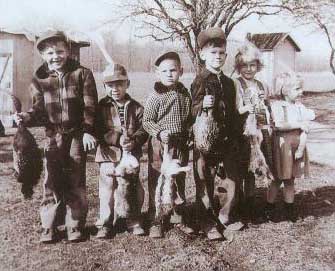 A new generation of Illinois hunters during the mid-20th century enjoyed the finest pheasant hunting opportunities the state would ever experience.
were importing eggs and chicks from overseas with the dream of creating a new wildlife population for sportsmen.
In Illinois, the first recognized successful release of pheasants came when a pair was released in the spring of 1890 near Macomb in west-central Illinois. A flock of nearly full-grown young pheasants was observed in the fall, and that success was all the evidence needed to convince sportsmen that pheasants were the game of our future.
In 1904, Illinois became the first state in the nation to open a state-operated game farm. Eggs and chicks were distributed to landowners, with some 36,723 pheasants having been released by the time Leopold began his 1929 study.
At first, pheasants were stocked anywhere hunters could imagine putting them. For unknown reasons, pheasants seemed to thrive in the northern and central portions of Illinois, but not in the south. Analysts suspected soil conditions were to blame or, perhaps, climate. Some releases did poorly in non-glaciated areas, suggesting key minerals or certain nutrients were either present or missing. Some mistakenly believed pheasants released in the south actually flew north. Occasionally, birds released downstate managed to survive and reproduce for a year. But then they would vanish within a few seasons.
Lack of scientific documentation compounded the survival mystery. By comparison, wildlife managers today have decades of detailed population studies at their disposal. When Leopold set forth to collect pheasant information in 1929, he encountered a paucity of facts.
"Census figures for other species are scarce enough," Leopold wrote in 1931, "but for pheasants, they are as yet nearly non-existent."
As he interviewed hunters and landowners, Leopold encountered the same stories. He found pheasants survived well while raised in captivity, even in the south. Yet, only northern birds did well in the wild.
"Why should southern plantings thrive under wire, or for short periods in the wild, but fail to thrive in the long run?" Leopold puzzled. "What is the 'cause' for success in the North and failure in the South?"
More than 70 years later, no definitive answers exist.
"They were never able to put their finger on one thing," explains Department of Natural Resources Grassland Wildlife Program Manager John Cole, who says studies were conducted and soils were analyzed, yet nobody could confidently claim they understood why pheasants in southern regions couldn't survive.
But Leopold had only scratched the surface and larger questions would arise.
As pheasants became well-established in northeastern and central Illinois, nobody realized the tremendous pheasant opportunities were a tempo-




As Illinois land use changed, pheasants were introduced to replace diminished populations of prairie chickens and other game—and hunters reaped the temporary bounty.
December 2002 7
---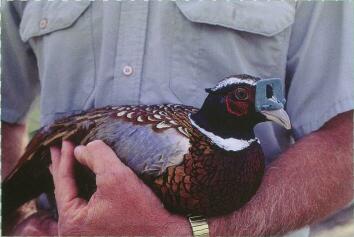 Ring-necked pheasants, a species native to Asia, were first introduced in Illinois in the late 1800s. Populations peaked in the early 1950s.
rary windfall. Pheasants thrived in habitat where native game birds failed, but overlooked was the larger issue of habitat loss, which precipitated much of the original wildlife trouble.
By the 1880s, nearly all of Illinois' original prairie sod had been broken up for agriculture. While pheasants were considered a successful, modern wildlife compromise, the victory wouldn't last.
According to the Illinois Natural History Survey, Illinois' pheasant population peaked in the early 1950s. As many as 160 pheasants per square mile were recorded in prime pheasant counties in north-central Illinois, even near Chicago.
A 1947 survey of pheasant distribution noted that a businessman could slip away from the office, put on hunting clothes and be standing in a field of pheasants a short while later.
"In metropolitan Chicago, literally under the noses of 4,000,000 hurrying souls, there is some pheasant hunting...enough to take, within commuting distance of the Loop, 100,000 sportsmen afield," the survey summarized.
Agricultural practices fueled the success of pheasants.
"Farming in the 30s, 40s and 50s was just what pheasants needed," Cole said. "Farmers would plant corn one year, then oats the next year, or maybe a clover and hay mix for a couple of years."
Unfortunately, as farming changed, pheasants couldn't adapt. A study of hunter success showed it took two hours for the average hunter to bag a pheasant in 1964. A little more than a decade later, following the brutal winters of 1976-77, it took hunters nearly 35 hours to bag a single pheasant.
A 1978 study concluded: "Unless extensive corn and soybean production with associated clean farming practices is moderated, 'boom' populations of pheasants in Illinois will remain only a memory."
Illinois' state-managed game propagation centers raise as many as 75,000 pheasants annually for controlled pheasant hunting programs throughout the state.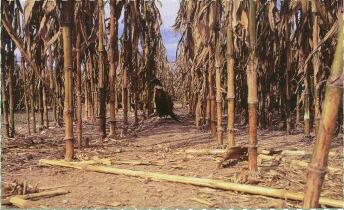 So what is the future of pheasants in Illinois? Wildlife managers say they reserve some hope agricultural lands set aside for conservation might offer temporary help. More than a dozen DNR sites manage parcels of land specifically for quality wild pheasant habitat, offering limited public hunting for wild birds during hunting season.
"I don't suppose it'll ever be the way it was, back when we harvested 1 million pheasants in a season," Cole observes. "But it's conceivable we could do better than we are now."
Meanwhile, pheasant hunting still exists in Illinois.
Approximately 90,000 pheasants— more than twice the number of pheasants released prior to 1929—are released annually at 16 DNR-controlled pheasant hunting sites. For young hunters, 14 sites offer special pheasant hunts for sportsmen between the ages of 10 and 15. Illinois also has 200 privately operated, licensed hunting preserves where the public can try its luck at harvesting some of the 220,000 pheasants released each year.
While the golden era of Illinois' pheasant hunting might be history, there are sincere efforts being made to prevent further losses.
For more information about public pheasant hunting opportunities in the state, check DNR's website at http://dnr.state.il.us/admin/systems/index.htm.
8 OutdoorIllinois
---