ILLINOIS' FINEST COOKING
Photos by Catrina McCulley
Lemon Cookies
Jerry Wendte

1 box lemon cake mix
1 Lg. ctn. Cool Whip
1 egg

Mix dry cake mix, egg and Cool Whip together. Place in the refrigerator until chilled. Make into 1-inch balls and roll in powdered sugar. Place on a lightly greased cookie sheet. Bake for 8-10 minutes at 325°. Do not place too close together, as these will puff up quite a bit. Chocolate or white cake mix will also be good to use.
Savory Crescent Chicken Karia
Johnson
1 (8-oz.) pkg. cream cheese
6 T. melted margarine
2-3 C. cubed, cooked chicken
1/2 tsp. salt
1/4 tsp. pepper
4 T. milk
2 T. dried chives, or onion
2 T. chopped pimentos
2 (8-oz) pkgs. crescent dinner rolls
1 C. Italian bread crumbs
Cream cheese and 4 T. of melted margarine. Reserve 2 T. of margarine. Add remaining ingredients and mix well. When opening can of rolls, unroll in sections of two; do not split into triangles. Simply pat together the triangles and spread slightly to form a rectangle. Put heaping tablespoon of chick in the middle. Bring edges to the center and pinch together. Melt the rest of the butter and brush over all pockets and sprinkle with Italian bread crumbs. Bake at 350° for 20-25 minutes or until lightly browned.
Blackberry Tea Bars
3/4 C. reduced calorie margarine
1-1/2 C. powdered sugar
2 egg whites
3/4 tsp. almond extract
2-1/4 C. all-purpose flower, sifted
1/8 tsp. salt
1/2 tsp. baking soda
1/2 C. blackberry jam
Preheat oven to 350°. Spray a 9x13-inch baking sheet with non-stick cooking spray. In a large bowl, use electric mixer at medium speed to beat margarine, sugar and egg whites. Using mixer on low speed, blend in almond extract, flour, salt and baking soda. DO NOT over beat. Spread dough into the prepared pan. Smooth top of dough with a rubber spatula. Lightly run spatula over the top of the dough to make 7 or 8 crisscrossing diagonal grooves. Fill grooves with jam. Bake for 20 to 25 minutes, until top is firm and edges begin to brown. Cool, and refill grooves with jam. Cut into bars.
Spaghetti Salad
Judy Siebert and Dianna Spannagel
1 (16-oz.) pkg. spaghetti, broken into pieces and cooked
1 bottle McCormick Salad Supreme for tossed salads
1 (16-oz.) bottle Zesty Italian dressing

Optional ingredients:
Onion
Green peppers
Radishes
Black olives
Celery
Carrots
Tomatoes
Cucumbers
Broccoli
Cauliflower
Drain spaghetti. Mix Salad Supreme and Italian dressing into spaghetti. Add any of the other optional ingredients you wish.
Visit www.icl.coop to see an archive of past Illinois Country Living recipes.

Illinois Country Cooks Cookbook Sale!!!
For a limited time, you can purchase our wonderful cookbook for the discounted price of $12. We will even ship it for free. That's a savings of nearly $6. Make sure you get one while supplies last. They make wonderful gifts. If you would like a copy, send a check for $12 for each copy to Illinois Country Living, Attention Catrina McCulley, PO Box 3787, Springfield, IL 62708.
22 ILLINOIS COUNTRY LIVING www.icl.coop
---





Broccoli, Cauliflower and Pea Salad
Nancy Lay

1 head cauliflower, chopped
1 bunch broccoli, chopped
1 bunch green onion, chopped
1 (10-oz.) pkg. frozen peas
1/2 C. sour cream
3/4 C. mayonnaise
3 T. dry ranch salad dressing
Bacon bits

Mix sour cream, mayonnaise and dry salad dressing together. Add to the vegetables. Chill overnight. Before serving, top with bacon bits.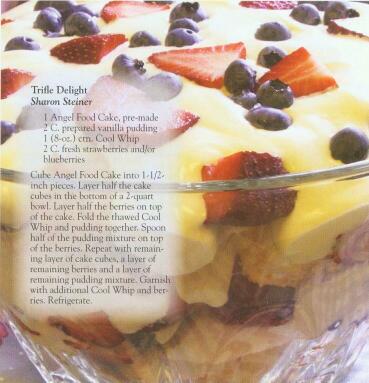 Summer Squash Casserole
Sharon Arnold
2 lbs. Summer squash
1 carrot, grated
1 onion, chopped
1 C. sour cream
1 can cream of chicken soup
1 stick of butter
1 pkg. cornbread stuffing
Cook, drain and mash squash. Mix butter with cornbread stuffing. Mix squash, carrot, onion, sour cream, soup and 1/2 the surfing. Place into a baking dish and cover with remaining stuffing. Bake at 375° for 25-30 minutes.
Mini Cinnamon Rolls
Sandy Salm
2 (8-oz.) cans refrigerated crescent rolls
1/2 C. margarine, softened
1/4 C.sugar
1 tsp. cinnamon

Glaze:
1 C. powdered sugar
2 T milk
Separate rolls into large rectangles, press perforations. Spread with margarine. Combine sugar and cinnamon. Sprinkle mixture over rectangles. Roll up each rectangle from the short end. Cut each roll into 5 slices. Place sliced side down in an ungreased deep dish or cookie sheet. Bake at 350° for 20-25 minutes or until golden brown. Mix powdered sugar and milk together and drizzle on top of warm rolls. Yields 40 mini rolls.
June 2004 www.aiec.coop 23
---