Boz in Egypt
At the height of his popularity
English novelist Charles Dickens
visited southern Illinois and the
American Bottom. It was the ultimate
disappointment in a tour that started well
in Boston and went downhill from there.
By Herbert Channick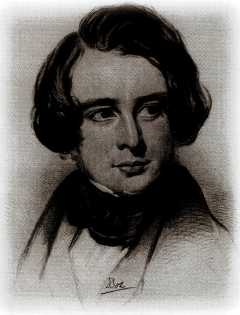 Charles Dickens at age 25, from an 1837 drawing by Samuel Lawrence.
In September of 1841, twenty-nine year old Charles Dickens, the English-speaking world's most celebrated living novelist with The Pickwick Papers, Oliver Twist, Nicholas Nickleby, The Old Curiosity Shop, and Barnaby Rudge to his credit, decided to act on a long-held desire to cross the ocean to America. The youthful Dickens regarded himself as a political reformer and radical, an enemy of conditions in his native England which had produced slums, poverty, child labor and a host of other social ills, and in the young republic across the sea he hoped and expected to find a model for dealing with these problems. Possessed of a lively and inquiring mind he also was plain curious and last, but far from least, he expected to make a good deal of money. Despite repeated denials before and during his trip, Dickens from the first planned to publish a book recounting his adventures in the New World and his American Notes for General Circulation would be published less than four months after he reached home.
The trip started well, once a stormy January crossing of the Atlantic was behind him. Dickens loved Boston and Boston loved him. "The city is a beautiful one," he wrote," and cannot fail to impress all strangers very favourably." He visited a hospital, a prison, an institution for the blind, a factory in nearby Lowell and found them all to be superior to their English counterparts. To his close friend and future biographer John Forster he wrote, enthusiastically, if not very accurately: "There is no man in this town, or in this State of New England, who has not a blazing fire and a meat dinner every day of his life."
He was surrounded by crowds of admirers, feted at balls and at public and private dinners and reveled in the companionship of a coterie of Boston intellectuals: Henry Wadsworth Longfellow, future abolitionist Senator Charles Sumner, Richar Henry Dana, Jr., author of Two Years before the Mast, and Harvard professor Cornelius Felton. Ever afterwards he would refer to Boston as "My American home."
But when he left the Hub City on February 5th, his honeymoon with America and Americans was about to end. The first seeds of disenchantment had been planted at a February 1st public dinner meant to be the Climax of Dickens' Boston visit. The young author decided to take the opportunity to speak out against the lack of international copyright protection, a condition which had allowed his work to be pirated freely. In consequence, while as his hosts had proudly assured him he was every bit as popular on this side of the ocean as in his native England, Dickens had received no part of what he understandably regarded as ill-gotten gains reaped from his talent.
Despite the first ripples of criticism from the press at his attack on this lucrative practice of American newspaper and book publishers alike, and despite advice from cautious American friends that even so celebrated a visitor as he should tread carefully when it came to criticizing the feisty and unbridled press of the day, Dickens repeated his attack even more forcibly in Hartford on the seventh. "...I felt as if I were twelve feet high when I thrust it down their throats" he wrote Forster. In New York there were renewed pleas to avoid the controversial subject but, Dickens once more took up the oratorical cudgel for international copyright protection. By now much of the press was thoroughly stirred up and its reactions were stronger than mere ripples. Dickens was accused of being a mercenary scoundrel, greedy, ungrateful and mendacious. The personal attacks, he wrote Forster, were something "an Englishman can form no notion of."
There followed a sea change in Dickens' attitudes to the New World. From this point on in his journey,
8 |ILLINOIS HERITAGE
---



America and Americans would be viewed with a much more critical eye than in the early days of his journey . As he traveled through the cities of the northeast as far south as Richmond and then westward he would still find much that he liked and admired, but much more that he didn't like at all. The climate

From
Baltimore, they
made their way by
stage coach, canal boat
and railroad to Pittsburgh
in about a week.

was impossible, the trains shabby and noisy. He was given no privacy and was disgusted by the "perpetual and incessant" spitting all around him, an unwelcome by-product of the widespread use of chewing tobacco.

Most of all he was sickened by slavery and by its defenders encountered in Washington, Baltimore, and Richmond. Originally he had planned to travel as far south as South Carolina but dispirited by his perception of an air of ruin and decay in Maryland and Virginia, and by the "dull gloomy cloud throughout the South," which, he concluded, were an inevitable product of the evil system, he decided to spare himself "the pain of living in the constant contemplation of slavery." Instead, he would head west straight­away. He had longed to see the great prairies, had dreamed "of cities growing up like palaces in fairy tales among the wilds and forests of the west." So, early in March, Dickens, his wife Catherine, Catherine's maid, and George Washington Putnam, a young man who had hired on in Boston as secretary and general factotum for the trip, headed westward toward an America very unlike the genteel and pleasingly different-yet-not-really-very-different surroundings which the young author had experienced in New England and New York.

From Baltimore, they made their way by stage coach, canal boat and railroad to Pittsburgh in about a week. There they lingered for three days and then embarked for Cincinnati by a steamboat which pleased Dickens by having considerably better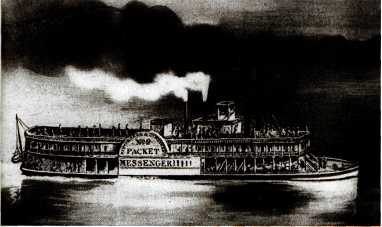 The steamboat "Messenger" on which Charles Dickens traveled down the Ohio from Pittsburgh to Cincinnati.

accommodations than the primitive canal boat they had taken from Harrisburg. The latter had slept twenty-eight male passengers on tiered bunks in a low-ceilinged cabin in which the hawking and spitting during the night exceeded anything Dickens, spit-hardened as he had become, had yet encountered.

At Cincinnati, he again decided to jettison part of his travel plans. He would not, as he had previously intended, go on from St. Louis to the fast-growing little lakeside city of Chicago from whence the party could return east via the lakes. Two local judges, "well-informed and most agreeable gentlemen," advised him that "the prairie travel to Chicago is a very fatiguing one and that the lakes are stormy, sea-sicky, and not over-safe at this season." Instead, he would "visit the prairies which are within thirty miles of St. Louis" and return by re-tracing his westward route.

The Dickens party left Louisville on the steamer Fulton on April 6 and as they neared the Ohio's junction with the Mississippi, the author got his first look at Illinois. "The trees were stunted in their growth" he wrote in American Notes, "the banks were low and flat; the settlements and log cabins fewer in number; their inhabitants more wan and wretched than any we had encountered yet." Then they arrived at Cairo. The place had been the subject of one of the many wildly optimistic town development schemes of the late 1830s, the infamous internal improvements era in Illinois. Bostonian Darius Holbrook, convinced that Cairo's location guaranteed its future and hoping to duplicate the wild inflation in land values that had taken place at Chicago at the opposite end of the state, had founded the Cairo City and Canal Company in 1837 to develop the site. Accompanied by drawings and plans of a grandiose future metropolis, its bonds had been marketed in London by John Wright & Company, sales agent of the State of Illinois in the British capital. Collapse of the state's credit led to Wright & Company's bankruptcy in 1840 and with it the end to Holbrook's Cairo plan and the loss of British and American investors' holdings in the bonds of Holbrook's company. While it has sometimes been asserted that Dickens had himself been an investor in the Cairo bonds, there is no evidence that this was the





ILLINOIS HERITAGE| 9
---
case. However, it is clear that the young reporter turned novelist was well aware of the Cairo debacle before he left England and, in American Notes, he vented his scorn on the place in his customary unrestrained prose:
"At length, upon the morning of the third day, we arrived at a spot so much more desolate than any we had yet beheld, that the forlornest places we had passed, were, in comparison with it, full of interest. At the junction of the two rivers, on ground so flat and low and marshy, that at certain seasons of the year it is inundated to the house-tops, lies a breeding-place of fever, ague, and death; vaunted in England as a mine of Golden Hope, and speculated in, on the faith of monstrous reputations, to many people's ruin. A dismal swamp, on which the half-built houses rot away ... teeming ... with rank unwholesome vegetation, in whose baleful shade the wretched wanderers who are tempted hither, droop, and die, and lay their bones; ... a hotbed of disease, an ugly sepulchre, a grave uncheered by any gleam of promise: a place without one single quality, in earth or air or water to commend it: such is this dismal Cairo."
Dickens wasn't through with Cairo yet. He went after it again in Martin Chuzzlewit, his first full-

"Eden," the fictionalized depiction of Cairo included in editions of Martin Chuzzlewit.

length novel after his return to England, where it re-appeared as Eden, a sorry collection of broken down log cabins located in a miserable swamp at the junction of two rivers.

A gullible Martin, seduced by grandiose plans and illustrations of a great city-to-be, had used his and his loyal friend Mark Tapley's last funds to purchase a home in Eden, sight unseen, only to find themselves stranded in a wasteland very much like the "dismal Cairo" described in American Notes. After months of sickness and misery, Martin managed to borrow enough money to permit the impoverished and desperate young Englishmen to escape Eden and start for home.

Dickens, too, gratefully left Cairo and headed to St. Louis. On the way he was less than entranced by the mighty Mississippi, a "foul stream" which consisted of "running liquid mud ...choked and obstructed everywhere by huge logs and whole forest trees ... rolling past like monstrous bodies."

While still in Washington he had been invited to St. Louis by a group of its leading citizens and, setting aside a resolution to accept no more invitations to public affairs, he determined to go to the city which he described to Forster with a somewhat shaky grasp of geography as being "some two thousand miles or more west of New York." What drew him was the prospect of visiting the great American prairie which, while still at home in England, he had read much about in the writings of such returned travelers as Harriet Martineau.

His St. Louis hosts were happy to accommodate him and, on April 12, an expedition which, according to Dickens, includied twelve lawyers and a Unitarian minister, boarded three carriages, crossed the Mississippi by ferry and headed for the Looking Glass Prairie some twenty-five miles cast of St. Louis near the St. Clair County town of Lebanon.

Once across the river, the horses struggling through the mud, the party made its way across the American Bottom and arrived at Belleville which Dickens described in American Notes as "a small collection of wooden houses, huddled together in the very heart of the bush and swamp." He noted that court was sitting and that the horses belonging to the lawyers, the judge and witnesses "were tied to temporary racks set up roughly in the road; by which is to be understood, a forest path, nearly knee-deep in mud and slime."

As his description suggests, Dickens saw Belleville, or at least chose to depict it, as a crude wilderness settlement populated by simple and credulous backwoods folk. As usual, exaggeration and caricature played a large part in what the celebrated young author had to say. The reality was quite different. Belleville was more of a place than Dickens described and the occupants were far from rural bumpkins. Among those who greeted him at the Mansion House Hotel was Gustave Koerner who had been educated in leading German Universities and had translated Demosthenes into German and Latin before he was eighteen. Koerner had fled to America in 1833 to escape arrest after being wounded in a revolutionary uprising at Frankfurt. In a long career, he would become an important leader of the German immigrant community in Illinois, a Justice of the Illinois Supreme Court, Lieutenant Governor of the state, and an important ally of Lincoln. In his Memoirs, Koerner noted with amusement



10 |ILLINOIS HERITAGE
---
Dickens' account in American Notes that a trial for horse-stealing was under way when he and his companions stopped in Belleville and that "it would most likely go hard" for the defendants. In fact, Koerner and another lawyer were then arguing a point of law before Judge Sidney Breese in a case having nothing at all to do with horse stealing. James Shields, Lincoln's future would-be dueling opponent, was also in court at the time and one of Dickens' companions, Judge Krum of St. Louis, came in and told Shields that Dickens was at the Mansion House. When the case in progress was concluded, Koerner and others trooped over to see the famous visitor and one of the St. Louis lawyers told Koerner that Dickens would like to see the local court in action but that he thought it a necessary condition of such a visit that the author be invited to sit on the bench with the Judge. Koerner hustled back to the court house and transmitted this request to Judge Sidney Breese, probably the most respected figure in the Illinois bar of the day. Breese, wrote Koerner "bristled up" and declared Dickens to be "one of those puffed up Englishmen who, when they get home, use their pens only to ridicule and traduce us. He can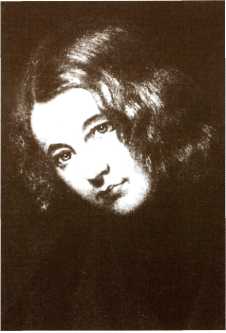 Charles Dickens, as he looked on his first visit to Boston in 1842, from a portrait by Francis Alexander.

come in like any other mortal." Although "puffed up" hardly describes the cheerful and lively young author, Breese was an accurate prophet of what Dickens would in fact write about southern Illinois when he got home.

The travelers pushed on from Belleville toward the prairie. In mid-afternoon they reached Lebanon where Dickens for the first and only time encountered something to like in southern Illinois. This was the Mermaid House, an inn built in 1830 by Lyman Adams, a retired sea captain which still stands and is maintained by the Lebanon Historical Society. Dickens reported that "One would scarcely find a better village alehouse of a homely kind in England."

Looking Glass Prairie had been carefully chosen by the St. Louisans to satisfy their famous guest's desire to see this feature of the west about which he had read so much back in England. J.M. Peck's 1837 Gazetteer of Illinois had described Looking Glass as "a large, rich, beautiful and undulating prairie

"The
widely-famed Far West
is not to be compared
with even the tamest
portions of Scotland
or Wales,"
Dickens wrote.

... on the eastern border of St. Clair County." But Dickens, homesick and fatigued near the end of his long and eventful American trek and generally disillusioned with the way the New World had failed to live up to his expectations, was doomed to further disappointment. "The widely-famed Far West is not to be compared with even the tportions of Scotland or Wales," he wrote Forster after seeing LoGlass. "I am exceedingly fond oand lonely scenery, and believehave the faculty of being as muimpressed by it as any man livinthe prairie fell, by far, short of mconceived idea. I felt no such eas I do in crossing Salisbury plaexcessive flatness of the scene mdreary, but tame."

Some twenty-five years later, now fifty-five years old and just a bit than two years from his much to death, Dickens visited America again, this time to give a series of reading from his works. He ventured no farther west than Buffalo, a scheduled Chicago visit having been canceled to avoid the strain of additional travel on the author. Near the end of his tour, the New York press gave him a farewell dinner at Delmonico's. Dickens reported his amazement at the vast changes for the better he had seen from the America of 1842 and his gratitude for the hospitable and considerate treatment he had been shown throughout his trip. Concluding, he told his audience, "Nor am I, believe me, so arrogant as to suppose that in five-and-twenty years there have been no changes in me, and that I have nothing to learn, and that I had nothing to learn and no extreme impressions to correct from when I was here first." These sentiments, he promised his audience would be included as an appendix to any future publication of "those two books of mine in which I have referred to America." And so they have been.

Herbert Channick of Highland Park is an arbitrator and mediator for the American Arbitration Association, the New York Stock Exchange, and other alternate dispute resolution forums. He is a frequent lecturer on government regulation of urban -planning and development, and has published widely on such topics. Mr. Channick is also a director and longtime member of the Illinois State Historical Society.





ILLINOIS HERITAGE| 11
---