RAILROADS
AND COMMUNITY LIFE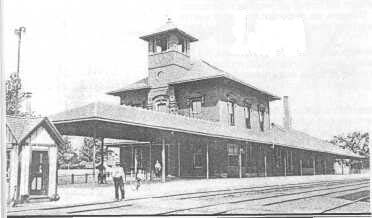 Illinois communities usually took pride in their local depots. And during the picture postcard-craze of the early-twentieth century countless cards were purchased and mailed, including this view of the Wabash Railroad station in Springfield.
H. Roger Grant
Historical Research and Narrative
Americans take to this little contrivance, the railroad," remarked Ralph Waldo Emerson, "as if it were the cradle in which they were born." Although this great man of letters made this observation in the mid-nineteenth century, it remained true for decades. Railroads were the transportation form that for generations most affected the daily lives of Illinois residents and their fellow Americans. Few would challenge the notion that the railroad has been an incredible instrument of change. For more than a century, the railroad resembled the Internet of the present day. It was the iron horse that shattered the isolation of the state, region, and nation by hauling shipments of freight and express, transporting passengers, carrying the U.S. mails, and making the electric telegraph part of every depot that had an agent or operator.
In some places, railroad lines covered the landscape like a morning dew. Following the Civil War, track-builders became active, and they were especially busy during the 1880s. Illinois was hardly exceptional. In 1890 the state claimed 10,213 route miles, and by World War I the total exceeded 12,000. Hundreds of communities benefited from the services of two, or even more, railroads. Gibson City, for one, had three carriers: Illinois Central, Lake Erie & Western (New York Central System), and Wabash. Pana claimed four: Baltimore & Ohio Southwestern (Baltimore & Ohio), Big Four (New York Central System), Chicago & Eastern Illinois, and Illinois Central. This rapid and steady railroad expansion paralleled the state's population explosion: 476,183 in 1840; 3,826,352 in 1890; 6,485,280 in 1920.
Although excitement for the iron horse knew no geographical bounds, the arrival of the first train in an Illinois community was usually much celebrated and remembered. Participants recalled the event and told their children and their children's children. County history books, particularly popular in the late-nineteenth and early twentieth century, inevitably contained a chapter or section on the coming of rail service. In his 1908 History of Whiteside County, Illinois, William W. Davis relates the local gala in Sterling held in July 1855 to welcome the first train on the Galena Road, later part of the Chicago & North Western:
Simeon Coe furnished a three-year old ox, which was roasted on a primitive arrangement of forked sticks, and then borne in triumph, bedecked
with flags and oranges, to an immense arbor of branches near the present Central school. After the banquet, B. F. Taylor, the poet, made a flowery address. The lion of the day was Stephen A. Douglas, who talked to the masses in his own earnest style..... Estimates of the multitude ran as high as five thousand.
While Sterling was not a "railroad town," many communities throughout Illinois could make that claim. In the days of slow-moving,
18
---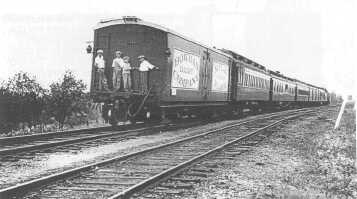 Several young boys have hitched a ride on a Chicago & North Western Railway "milk train" that operated between Freeport and Chicago. The year is 1933 and the location is near Elgin.
labor-intensive locomotives and rolling stock, companies realized that the distance a crew could handle a freight train during a typical workday was about one hundred miles. As a result "division" or "crew-change" points, along with facilities for "running" repairs, appeared at such intervals. At times these specially designated locations became the site for a major shops complex. Examples of the latter abound. The Chicago, Burlington & Quincy selected Aurora and Galesburg; Chicago Great Western, Stockton; Chicago, Milwaukee, St. Paul & Pacific, Savannah; Wabash, Decatur.
These railroad towns became well known for having sizable single-male populations. And these men often supported a variety of local businesses, including cafes, hotels, and boardinghouses along with such "sinful places" as saloons, brothels, and pool halls. Yet there were also railroad workers who developed strong, lasting ties to the community; they married, raised families, and became involved in various fraternal, religious, and other organizations. Railroads also attracted an often diverse ethnic and religious workforce. After the turn of the twentieth century and prior to the outbreak of

World War I, Eastern and Southern Europeans poured into these rail centers, often performing menial tasks such as track maintenance and engine-cleaning.

Having a railroad company select a community to become an operations center pleased most residents, especially merchants and tradespeople. Of course, there was the obvious economic connection. Much as did coal and lead miners, but unlike farmers, railroaders often spent more or all of their better-than-average wages, having a positive multiplier effect on the local economy. This is not to suggest that some railroaders were not savers, particularly those with families, but unattached males were considered to be "less thrifty" and more pleasure oriented. "Those boys had good, regular paychecks and they knew how to spend and they did," recalled a Wabash operative in the Decatur shops.

Yet not all individuals attracted to a community because of the railroad contributed much to the local economy. Railroad towns and other communities, too, especially where there were railroad junctions, sported "hobo jungles." There was that periodic flood of "boes" on the move when hard times struck, especially in the 1890s and 1930s, and during the annual harvest season, when they might pick fruit or husk corn in Illinois. A large hobo jungle, for example, appeared in Monmouth near the interchange between the Minneapolis & St. Louis tracks and those of the Chicago, Burlington & Quincy. The presence of a shortline—the Rock Island Southern—also added to the transient population in this western Illinois county seat. These folks, usually young, unmarried males, who rode the "side-door Pullman route," commonly selected an empty boxcar or flatcar or squatted on the roof of a freight car. If they actually "rode the rods," this meant placing their "tickets"—namely thick wooden planks— between the metal support trusses that once were found underneath most rail cars and lying horizontally on them. Another alternative was "riding the blinds." The bo stood in the recessed entry-way of a baggage or mail car or passenger coach that was positioned directly behind the steam locomotive tender or "tank."

But the entry to an Illinois town that most people used was the depot. Naturally, an increasing number of these

structures sprouted at trackside to provide a permanent place to conduct the transportation activities of the state's expanding rail network and population. More than twenty-five-hundred depot structures eventually were built, and each became an important entrance to the community that it served. The vast majority were "combination" depots, containing three track-level parts: a waiting room (or perhaps rooms), a central office, and a freight-baggage section. In the state's cities, whether Chicago, Joliet or Peoria, there were impressive "union" stations or large separate passenger structures, usually designed by an architectural firm rather than by railroad draftsmen, who designed the combination types.

At train-time the "dee-po" was a bustling place. "The depot is always a beehive of activity," observed a local businessman shortly after the turn of the century. "The hustle-bustle, which is America, can be found there." Examples of the depot's importance to a town's life are numerous. For one thing, the station served as a focal point for news. The station agent, who deciphered the cryptic Morse code, was probably the best-informed person locally. His (and occasionally her) chattering telegraph instruments carried more than routine railroad business (train orders, equipment requests, and the like); they brought commercial messages




19
---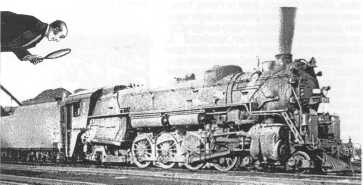 Track-side observers noticed that as time passed, steam locomotives got bigger and more powerful. In September 1946 a giant of the rails is getting ready to pull a long freight train out of the Taylorville yards.
from Western Union, Postal Telegraph, or other firms. Travelers also provided news and gossip. It is no wonder that "station loungers" became as ubiquitous as loafers at the courthouse, general store, or post office. The information they gathered at the depot was fresh and filled with import, and not the worn-out gossip picked up elsewhere. Not surprisingly, reporters might interview passengers, especially strangers, to ferret out any newsworthy tidbits to fill columns of their daily or weekly newspapers.
Before airplanes and trucks replaced railroads as principal transporters of freight, mail, and express, the depot provided the conduit through which commodities flowed. Freighttrain crews loaded and unloaded various shipments—so-called less-than-carload (LCL) freight—at the town's combination freight and passenger depot or freight station. Express and mail passed between trains and appropriate express company and postal representatives via the depot. And agents handled both in-bound and out-bound carload shipments.
The vital nature of the depot included more than its being a center for movement of goods and dissemination of news. It was a people place. The arrival and departure of a passenger train was always exciting—a highlight of a town's day. There might be family or friends to greet or to bid a tearful good-bye and always strangers to observe. There were those individuals who routinely used regularly scheduled trains. Perhaps most numerous were traveling salesmen who represented any number of businesses—grocery houses, hardware suppliers, retailers of clothing, farm implements, and the like. But they were not alone. In the late 1880s the Byron Express noted the arrival of a group of visiting Methodists who planned to conduct revival services, and the newspaper encouraged citizens to be on their best behavior.
Special events also attracted onlookers, at times in large numbers. Passing dignitaries, whether "whistle-stopping" politicians, entertainers, military heroes, or railroad officials, drew crowds as did immigrant, "orphan," troop, circus, and education trains. The latter included exhibits and usually came with accompanying lecturers who promoted better breeds of livestock or more productive ways to raise alfalfa, corn, and soybeans. Early in the twentieth century several railroads, including the Chicago & Alton and the Chicago, Burlington & Quincy, demonstrated in communities along their Illinois trackage the value of the "split log drag," an economical method by which rural residents could make their local roads passable during most of the year. Inspired by a Missouri farmer, this simple tool was easy and inexpensive to construct, and a team of horses or mules could pull this drag, helping to keep a country road rut-free.
Although trains continued to attract occasional crowds, railroad companies reduced or ended passenger service and subsequently closed most or all of their small-town depots as passenger traffic faded. It would be the automobile, most of all, that ended the community importance of depots, although periods of hard times also reduced passenger traffic. Both factors are reflected in the decline of ticket sales between 1929 and 1933 at Minneapolis & St. Louis stations at Berwick, Farmington, and London Mills, dropping from 1,415 to 97; 2,474 to 196, and 1,718 to 187 respectively. Technological advances to the automobile made this form of travel faster and easier. In 1916 the driver of a well-tuned car could make 100 miles a day; two decades later it was common to travel 300 or 400 miles. The triumph of the "good roads" movement also contributed greatly to this enhanced mobility. While gasoline and tire rationing during World War II temporarily restored the depot to some importance, the downward trend in public usage in Illinois and elsewhere accelerated in the postwar period, ultimately forcing creation in 1971 of Amtrak, the quasi-public National Railroad Passenger Corporation. A few depots in the state remain active, mostly along commuter lines in the greater Chicago area and also in cities served by Amtrak, including Champaign and Springfield.
Personal contract with the railroad is much more limited today for residents of Illinois. Since hundreds of miles of line have been abandoned, especially since the 1960s as result of declining freight traffic, corporate mergers, and the like, the chance to see a train is limited largely to the main stems operated by inter-regional freight giants Burlington Northern Santa Fe, Canadian National, CSX, and Norfolk Southern. But the Land of Lincoln has
20
---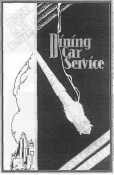 Part of the charm of travel during the Railway Age involved eating in the diner. Even a luncheon menu might offer a rich variety of food items. The Banner Blue passenger train, which operated over the rails of the Wabash Railway between Chicago-Decatur-St. Louis, surely pleased hungry patrons.
nearly forty rails-to-trails paths, including the popular Great Western Trail built on the abandoned main line of the Chicago Great Western between St. Charles and Sycamore, and a good number of former railroad depots, with some restored and housing a county or community museum.


Jamie Lynn Kassner
Overview
Main Ideas
The railroad entering Illinois from the east blew life into small working towns and connected them to the outside world. Railroads did not just carry goods from region to region, but over time began to provide ways to communicate, travel, and develop an economy, which ultimately changed the lifestyles of those living in the towns and the area surrounding the railroad stations. Towns began to prosper in Illinois as each railroad line established depots, which often became the local hot spot for people watching, gathering news, hearing political speeches, or waving loved ones good bye as they embarked on a journey. Over time, the hustle and bustle of life led to new inventions for travel. The automobile proved to be a quicker way to travel and, eventually, the people turned their backs on the traditional, slower ways of life, embracing new and exciting way to communicate and travel and, ultimately, to experience another lifestyle.
Connection with the Curriculum
This material would be useful in a United States history or a sociology classroom. The materials may be appropriate for the following Illinois Learning Standards: 15A.5b, 16A.4a, 16A.5a, 16A.5b, 16B.5b, 16C.4a, 16C.5a, and 18A.5.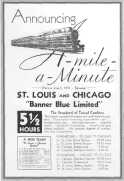 No only was good food treasured by trains riders, but speed, too, was important. In the 1920s the Wabash Railway emphasized that the Banner Blue Limited was a "ballast scorcher."
Teaching Level
The materials are appropriate for high school students, with adaptation possible for other grade levels.
Materials for Each Student
• A copy of the narrative portion of this article
• A copy of the student handouts from each activity
• Computer with Internet access if a lab is available
Objectives for Each Student
• Explain how the railroad connected Illinois to the rest of the country
• Understand how the railroad's connection of Illinois to the rest of the country was important
• Explain how the railroad was able to improve the economy and ways of life for each of the towns that had a depot
• Develop and translate a better understanding of how the railroads influenced Illinois
• Compose and create a viewpoint that was dependent on the railroad either economically, physically, or for an overall lifestyle
• Categorize themes or patterns that represent two different viewpoints towards the railroads
• Identify a specific railroad on a map and justify the reasoning for its location

Opening the Lesson
1. Prior to participating in the activities, ask the students how important vehicles are to our country today. What purposes do they serve?
This will help draw parallels to the importance of the railroad to the country during the era of the railroad.
2. Discuss what was happening in America in the 1860s to1880s. Where were people going and why? Discuss how the idea of having a connected country
would help develop our nation as a whole. What benefits would it bring?
3. If you have access to a model train set, bring it in and have it set up and running as your students are walking in. This will pique their curiosity.
Ask the students questions such as, "How many of you have traveled by train? If so, where were you going? Did anyone ever have to pick anyone up at a
train station? What did you observe when you there?" This could allow you to transition into reading the narrative when the train was the only quick transportation
for people, when it enhanced, communication, and when the depot was the town hot spot.
Developing the Lesson
1. Assign the reading and questions to the students as individual assignments or ask the questions after the article is read a class. You can do either or both
depending on the reading level of your class.
21
---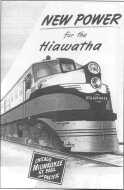 On the eve of World War II, the Chicago-based Milwaukee Road happily told the public about its diesel-powered Hiawatha, a high-speed passenger train that operated between Chicago and Minneapolis-St. Paul.
2. T-shirts in today's society have become a way to express one's thoughts or emotions of the moment. Divide your students into three
groups that represent three different perspectives of the railroad industry: business owners, hobos, and railroad owners. Have them
create a picture, a saying, or both to describe their relationship to the railroad.
3. The "Historical Head" activity allows students to be creative, but also to recognize and formulate their understanding of the different
sides of the railroad industry. Choose two sides to the railroad industry such as small-town business versus railroad owners, or
small-town needs versus railroad travel needs. On the back of the worksheet have the students explain their individual pictures and
have them relate their choice to the content. This activity can be completed with the assistance of another student or as an individual
effort. The teacher will need to make two copies of the head to make a complete set. Each head will represent one side of the industry.
4. Reaching your students can be difficult some days, but the Internet seems to always catch students' attention. Send your class to:
http://memory.loc.gov/ammen/../index.html and complete the journey by following the Internet activity. Create a number of professions
on note cards. These professions can range from a cattle driver to a general store owner. Have students draw a card and analyze the
best location to establish a strong business. This can be a quick lesson on geography if you give every student a different state in the
same year. They can then see and compare how the states develop.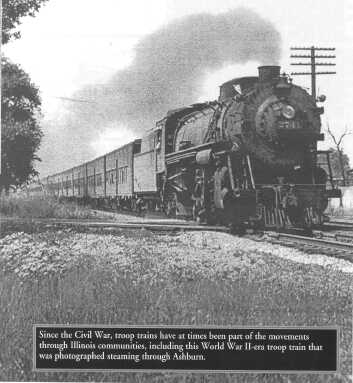 Concluding the Lesson
1. Activities 1 and 4 can be concluded by going over the correct answers as a class and further
discussing the material. Have the students compare their findings with the class and see if they have
similar or different outcomes. Then have a discussion to see if they believe such modern
transportation as airports or the Interstate system have the same effects on society as the railroad had
in the past.
2. Activities 2 and 3 encourage the creative talents of your students. Students can stand up, display their
talents, and explain their understanding of the content to their peers. To display their talents you can
place a clothesline in your class along the wall and affix your students' shirts or historical heads with
the clothespins.
Extending the Lesson
This could be a great way to make the transition to the expanding and developing West. The railroad system was a true technological advancement in aiding our fast developing, young country. You can continue with that idea by letting your students brainstorm an invention that could help develop our country today.
Assessing the Lesson
Students can be assessed by the number of correct completions in activities 1 and 4. In activities 2 and 3, assessment can be based on the students' abilities to justify their pictures or statements in relation to the main concepts of the material. Rubrics are a great way to allow students to see what is expected of them with each activity. Visit the three-dimensional rubric at http://www.isbe.state.il.us/assessment/aasocialscience/FRAMES.htm As always, assessment should be made throughout each discussion that the teacher has with her/his class.
22
---

Read the questions first to help aid you in the direction of the article. Read the article.
After reading the article, refer to the article as you answer the questions.
1. "Americans take to this little contrivance, the railroad as if it were the cradle in which they were born." How does this quote by
Ralph Waldo Emerson reflect the attitude of society towards the railroad? (Contrivance means a device that is very useful for a particular job.)
2. Why was the arrival of the first train in Illinois considered a historical event?
3. How did the Illinois towns along the railroad benefit from consistent returns of the train?
4. What was a "hobo jungle" and how did it contribute to railroad and community life?
5. Why would the depot of a town be considered a vital piece of property?
6. Analyze and explain how the invention of the automobile changed Illinois once again.
23
---

T-shirts in today's society are used for self-expression. They often have pictures or sayings that represent the moment or connection to something in your environment. Choose between a business man, a hobo, or a railroad owner and create a saying, a picture or both for how you connect to the railroad. When you are finished, flip your worksheet over and explain your picture and the significance it has to the railroad industry.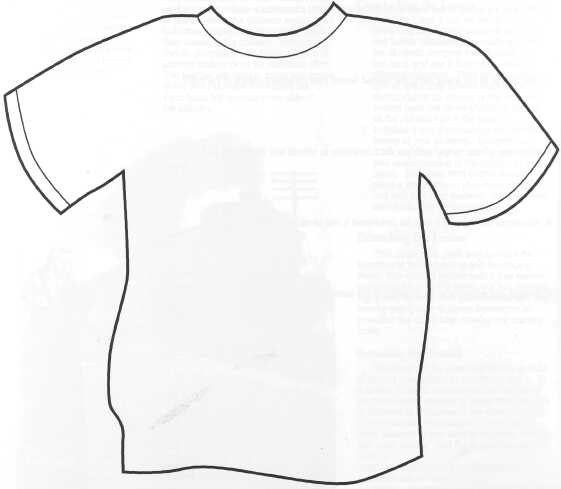 24
---

Below is a head that needs to be filled with ideas that represent a side of the railroad industry. The head will be completed when there are five pictures that represent individual points. You will then need to justify your picture, and its relationship to the content on the back of the paper. The justification is a two-part statement. The first part should explain your picture and the second part should explain why it connects to that specific side of the railroad industry.
Name of Head:_______________________________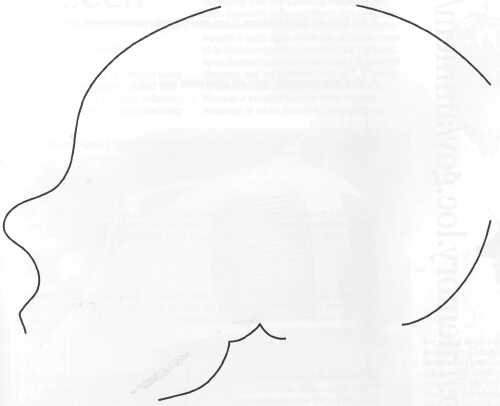 25
---

To complete this Internet activity, start at: http://memory.loc.gov/ammem/../index.html.
Then click on Maps. Then click on Railroads. Then locate and click on geographic locations.
Finally, scroll down and click on the state of Illinois or the state that you were assigned.
1. What is your state?
2. How old is your map?
3. Are there any distinct features of your map (legends, advertisements, etc.)?
4. What other geographic items are noted within your map?
5. Locate your specific county. Are there any railroads that travel through your county?
Why or why not would a train travel through your county?
6. Compare the Illinois map to another state map of roughly the same time period. What are four similarities between the two maps?
What are four differences between the two maps? What could have caused the states to have those differences?
7. Follow a specific railroad through your state. Based on your previous knowledge and your newly obtained knowledge from the reading,
justify why railroads were built in certain directions and towards certain locations.
8. Draw a card from your teacher. Decide a location within your state or another state that would establish a strong business.
Then explain why you chose it and how it would benefit your occupation.
26
---